The capriciousness of the elements is a perennial challenge for intermittent renewable energy sources. The wind doesn't always blow, and the sun hides behind clouds. While engineers may not be able to command the weather, they're getting better at harnessing as much wind as possible by bringing wind turbines to blustery places where logistically it could not have been done before. A profitable wind farm nestled in a Japanese mountain valley or rising from the slopes of rugged Greek hills is now possible because of the combination of new technologies and skilled service crews.
A powerful wind turbine can be a bit like an off-the-rack designer suit. The cut is great, the cloth is amazing — but when you put it on, it bulges over the shoulder and the sleeves are too long. But if a skilled, in-house tailor works their magic, you can walk around looking like a million bucks.

That's also the plan for GE Renewable Energy's new Cypress platform of onshore wind turbines . Just one of these models — they are called in industry parlance the 4.8-158 and the 5.3-158, where the first number stands for power generation and the other for rotor diameter — can generate enough equivalent electricity to power 5,000 European homes.

The turbine's 158-meter rotor diameter is more than twice the length of a Boeing 747, and contributes to an estimated 50 percent increase in annual energy production (AEP), compared to GE's 3-megawatt platform technology.

But creating that unique fit for all sorts of terrain is where the platform shines. Building off the core technology, engineers can tailor the wind turbines to optimize their annual output by varying component specifications like generator rating, tower height and noise rating in order to match local grid connection requirements or prevailing wind patterns. The platform also includes a 77-meter jointed blade with varying options for tip length, making it possible to transport these massive blades in two pieces through twisting roads in a hilly terrain and assemble at the site. "This platform allows us to interchange critical components to maximize power output for wind developers from the available land and the wind resource it has — you're not just choosing one turbine model," says Sheri Hickok, who runs product development for GE's Onshore Wind business.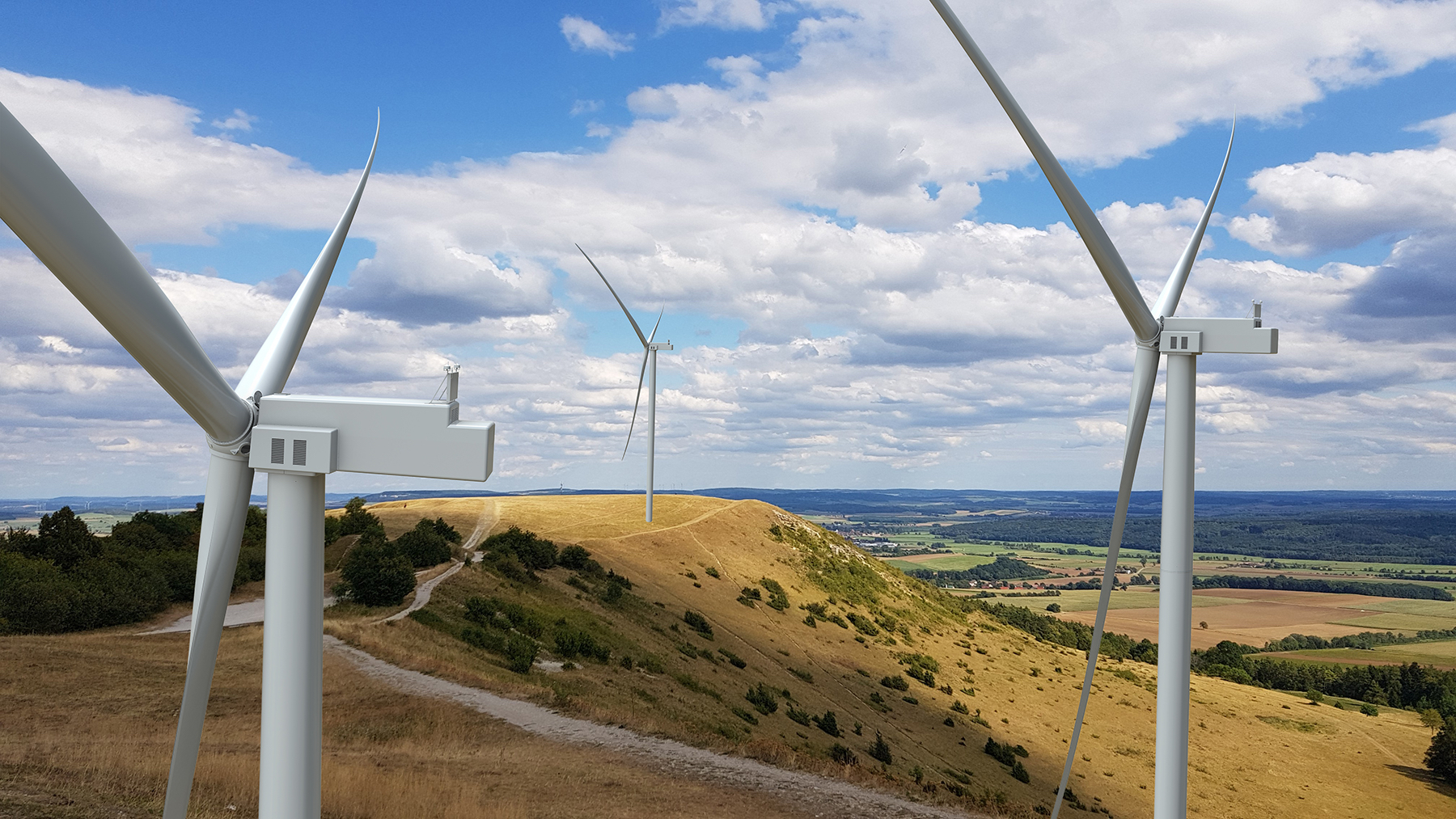 aiming to generate 100 percent renewable power supply by 2050, already has 28,000 onshore turbines with the capacity to pump 55 gigawatts into Europe's largest grid — 15 percent of Germany's demand.

But erecting a wind farm is a different matter in hilly places like Japan and Greece. The cost and logistics of the challenge limit the ability to take advantage of  these wind-rich areas. For example, with its 16,667 mountains, Japan has scant land available for wind farms. To make matters more complicated, it has the fourth-highest population density in the world among countries with over 100 million inhabitants.

All the hills and valleys also mean lots of tunnels and twisty highways — a driver's paradise, but a wind blade hauler's nightmare. This presents a huge challenge, according to Hickok. "Previously, the size of the turbine you could install depended on the size of tunnel, but we are now working to break through those restrictions," she says. It's the same story with the heavy-going terrain in Greece. "As wind turbine blades get longer, it becomes harder to deal with the curves in the roads," adds Peter Wells, GE's Onshore Wind regional leader for Europe.

Fortunately, the Cypress platform has another ace up its sleeve: the jointed blade. Hickok explains that the turbine's blades arrive at the wind farm site in two smaller pieces, the root and the tip, as opposed to one long blade. Then the blade is assembled on-site before it's ready to be installed. It's like a giant game of Meccano. "This jointed blade is a game-changer for our customers," Hickok says.

If you've ever hoisted a long piece of furniture up a stairwell, you can appreciate how the jointed blade can make once-precarious truck journeys simpler. The blade technology — the brainchild of a long partnership between GE Onshore Wind, GE's Global Research Center and GE's LM Wind Power — makes a bigger blade an option.

That's a big deal because using longer blades is one of the best ways to get more energy output from a single wind turbine. If you can only fit 10 turbines on a site, getting the most power from each can make the difference whether you build it or not.

"With the GE Cypress platform, we're at the leading edge of the game today, but we also built in the flexibility to continually evolve it," Wells says. "From Germany to Japan and Greece, we see the potential for it in every country."
Categories
tags