Panorama of coal supply at Tanjung Bin power station.
By Hong Chou Hui

In the 1989 French Open's fourth round, Michael Chang ate bananas and beat Ivan Lendl en route to become the youngest tennis Grand Slam champion, vaulting the humble tropical fruit into public consciousness. The banana, packed with vitamins, fiber and minerals, is loved by many around the world as a food and snack.

It also nearly prevented the successful construction of GE's second ultrasupercritical coal power plant in southern Peninsular Malaysia in February 2013, when staff working on the Tanjung Bin 4 project found one in the foundations. The Tanjung Bin 4 plant is Southeast Asia's second ultrasupercritical facility and work started on the $1.4 billion project in April 2012.

"February 2013 is when we discovered the big disaster," says Antoine Erbacher, GE's Senior Project Leadership Staff Manager who joined the project that same month as Deputy Project Director. "When we arrived to measure the alignment of the seven pulverisers' foundations, they were supposed to be fully aligned in a straight line but instead they were lined up in a banana shape." Pulverisers grind coal into powder before the fossil fuel is burnt to boil water and produce steam to drive turbines that generate electricity.

Guillaume Turc recalls hearing a loud bang, an impending sign of collapse, from supporting structures in an excavation ten meters deep where several hundred workers were evacuated before his arrival at the site.

"The ground conditions were so unpredictable that when you applied repeated stress to the soil, it would become liquid," says Turc, GE's Executive for Project Leadership, who lists Tanjung Bin 4 as one of the top three most challenging projects in his 24-year career.

A decision was made to demolish all the foundations that were laid and restart the construction process, despite the ensuing ten-month delay. The team combined the foundations of the pulverisers and boiler into one single piece via a redesign that increased the amount of concrete and steel used, raising construction costs. In addition, the liquidated damages for not being to complete the project on time was set at more than half a million dollars each day.

Under the leadership of Marc Villemin, GE Executive and Tanjung Bin Consortium Project Director, all forces were immediately mobilized and displayed an extraordinary energy to mitigate the impact from 2013 to this year.

To recover from the ten-month setback, the project's schedule was overhauled with building processes happening in tandem and not sequentially unlike traditional construction, added Turc. Tanjung Bin 4's turbine hall was built in this fashion, with cranes and excavators operating on a specially built deck that allowed digging to continue while the rest of the hall was erected.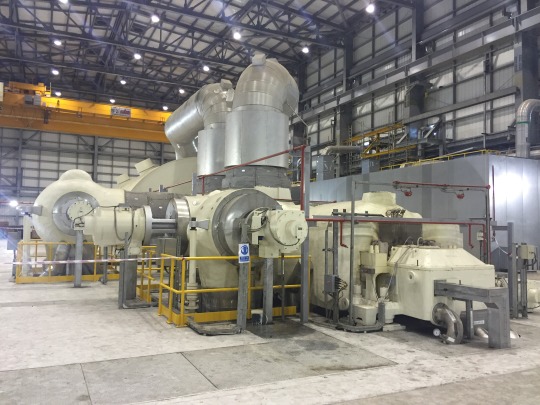 tags