In May, Atlanta committed to being powered by 100 percent renewable energy by 2035, making it one of the largest of the 26 other U.S. cities to take the pledge. While it's big news for the nationwide movement toward renewable energy, many Atlanta residents may not view the shift as a priority. Atlanta City Council Member Kwanza Hall explains how he's getting buy-in from citizens to go green.


As an elected official for the last 15 years, I am here to tell you that there are many Atlantans for whom climate change is not the most pressing problem in their lives. Some of our population is unengaged or disinterested in the topic. Others simply have what they feel to be more pressing concerns. These can include everything from juggling two or three jobs, trying to raise kids, caring for aging family members and figuring out how to get food on the table. From this perspective, the belief that climate change is THE issue of our generation is, quite frankly, a luxury.

So how do we make climate change relevant? The rule in politics always has been, and always will be: "Start where they are." While sea levels rise and the increase of vector-born disease may not be on the front burner for many Atlantans, what if you start by telling someone who is juggling three jobs that we can create tens of thousands of new jobs in Atlanta that pay between $17 to $36 an hour and don't require a college degree? Now you have my attention!

I was pleased to introduce legislation to set a vision and a plan for Atlanta to get to 100 percent clean energy within our city buildings by 2025 and across our whole community by 2035 that received unanimous support from our City Council a few weeks ago.

We are uniquely positioned in Atlanta to lead and be an example for competitiveness. We are the right size, we have flagship public and private research universities, and we have a solar industry that is growing stronger every day--already accounting for 4,000 jobs across our state with only 2 percent of our energy mix coming from renewables. We've only scratched the surface!

I believe that the commitment to 100 percent clean energy is the Apollo Project of our time. The same level of competitiveness that we have seen in our music and film industries can take place in clean energy if we simply connect the dots.

Our Atlanta Public Schools enroll about 52,000 students. With a graduation rate of 71 percent, every year over 2,000 students graduate, but only about half of them go on to a four-year college. What if we offered a track to train students for skills sets in the clean energy economy? Our potential is untapped and underutilized and, as we are seeing in our music and film industries, having more paths to success leads to more success.

I've been to Germany and I was amazed to learn that they are on track to have 52 gigawatts of solar installed in the near future. We have .0015 gigawatts in Georgia. How is Germany, which is about the same size as Georgia, doing more than we are? They hardly have any sun!

I believe that if most other U.S. cities join Atlanta to commit to this goal and emphasize the reason for doing this is to create good jobs that pay a livable wage in an industry that will help clean our air, protect our rivers and lakes, we can all be the Motown of clean energy. I hope you will second that emotion!

(Top image credit: Ian Schneider on Unsplash.)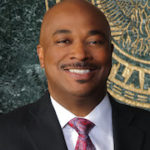 All views expressed are those of the author.
tags