The footage captured by drones used to be the stuff of stunt pilots or computer-generated effects: a bird's-eye view of a scientist standing disconcertingly close to a lake of bubbling lava; an elevated view of an epic nighttime ski session featuring an athlete outfitted in a glowing suit; being eye to eye with a worker fixing an antenna hundreds of feet above the ground.
These images and more are at the center of this weekend's second New York City Drone Film Festival, the world's first event dedicated solely to the unique perspective offered by camera-equipped unmanned aerial vehicles (UAVs).

The event will present the best pilots cinematographers using their skills to shoot everything from commercials to feature films. They will be rubbing elbows with robot builders and engineers responsible for making the latest drones, which can hover with five pounds of camera equipment. In fact, the festival's first prize is a high-tech, custom-made drone that can lift up to eight pounds. The drone was built by a team of engineers from GE Global Research led by John Lizzi, manager of the Robotics and Machine-to-Machine Systems. We caught up with him and the team on the eve of the event. Here's the edited version of our conversation. You can also watch this video about the drone:

https://www.youtube.com/watch?v=8gmrG0XUngA

GE Reports: Tell us about your drone.

Drone Team: We built it from off-the-shelf components in close cooperation with the New York City Drone Film Festival. There are several major components to it — the flight controller, motors, frame, battery, radio control transmitter, video transmitter and sensors, to name a few. The frame of the drone is primarily carbon fiber, and uses tapped aluminum pieces to join the various carbon pieces together.

GER: You said the drone was made from off-the-shelf components. What frame and parts did you use?

DT: The frame is a Griffin GD-8 octocopter with a motor-to-motor diameter of 1,200 millimeters. We chose a drone platform with eight motors to increase our payload capacity. It allowed us to install a larger variety of sensors and camera devices. We also needed design flexibility since we will also use the machine as a research platform. So we used a high-capacity lithium polymer battery called a Venom 16000mAh to increase run time.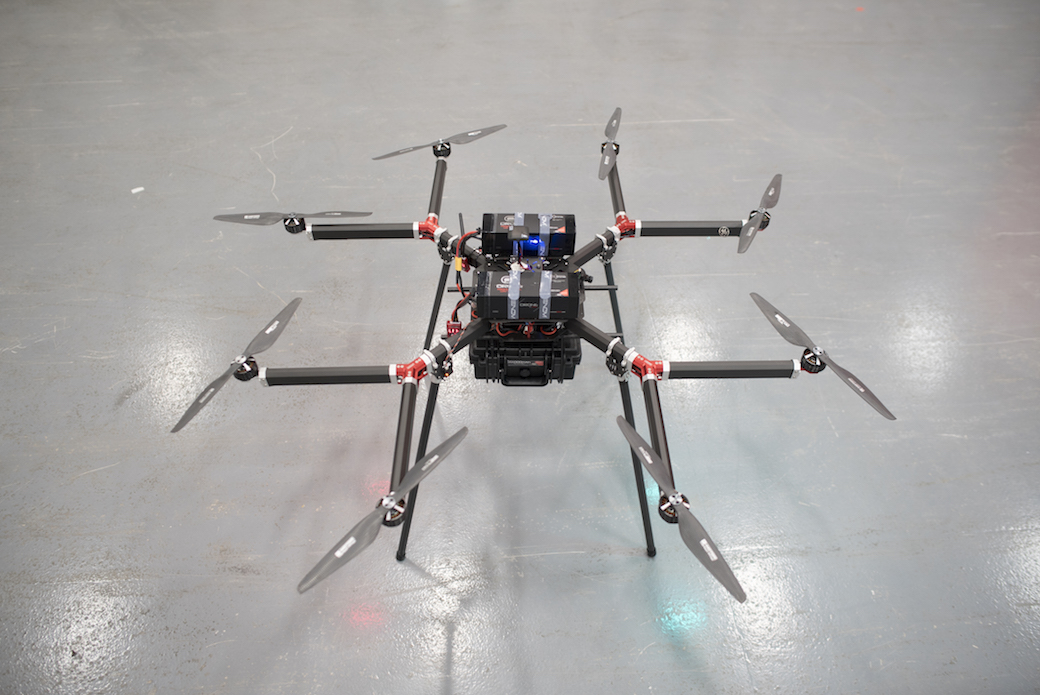 GER: Could anyone build the machine at home?
DT: The build process for a drone like this is not difficult for the average tinkerer with basic tools. You need hex wrenches, a soldering iron and so on. But it does require careful assembly and setup within the flight controller to be safe. It needs to be set up and coded for your particular drone application and specs like the vehicle's weight and the number of motors.

We built two drones and each drone took approximately 40 hours to build. As I mentioned, we are keeping the other one for research. The components themselves are independent devices, usually from different vendors, and they all need to be physically installed and wired together via soldering and connectors.

GER: What are applications outside making movies?
DF: The opportunities in cinematography seem to be endless. Indeed, you will see some of the best examples at the festival. But GE is an industrial company that also makes software. We are interested in using robots to tackle the dull, dirty and dangerous jobs that our employees and customers must do. With UAV robots, we can inspect hard-to-reach places and machines that are high up, like an offshore oil rig or a wind turbine. We can increase the inspection rate of these expensive assets without downtime, and find issues and schedule repairs quicker and safer.

(Video credit: GE. Image credits: GE Global Research)


Categories
tags