GE's new Center for Additive Technology Advancement (CATA) looks like a futuristic set for a Stanley Kubrick movie. Everything seems to be white: the walls, the gleaming floors, even the noise from rows of laser-powered 3D printers near the entrance, quietly making everything from jet engine blades to oil valves.
Located by a new highway exit just minutes from the Pittsburgh airport, the center, which opened in April, is so new even Uber drivers require human navigation. But the center is no mirage.

Few cities embody the boom-and-bust cycle of American industry more than Pittsburgh. Today there are no steel mills left, but the city is rising again, in part because it focused on science, research and education. Carnegie Mellon University is the place to study robotics, Google and Tesla Motors opened offices here and the world's most sustainable building is located at the Phipps Conservatory and Botanical Gardens. "We've tapped into America's best-kept secret," says Jennifer Cipolla, who runs CATA.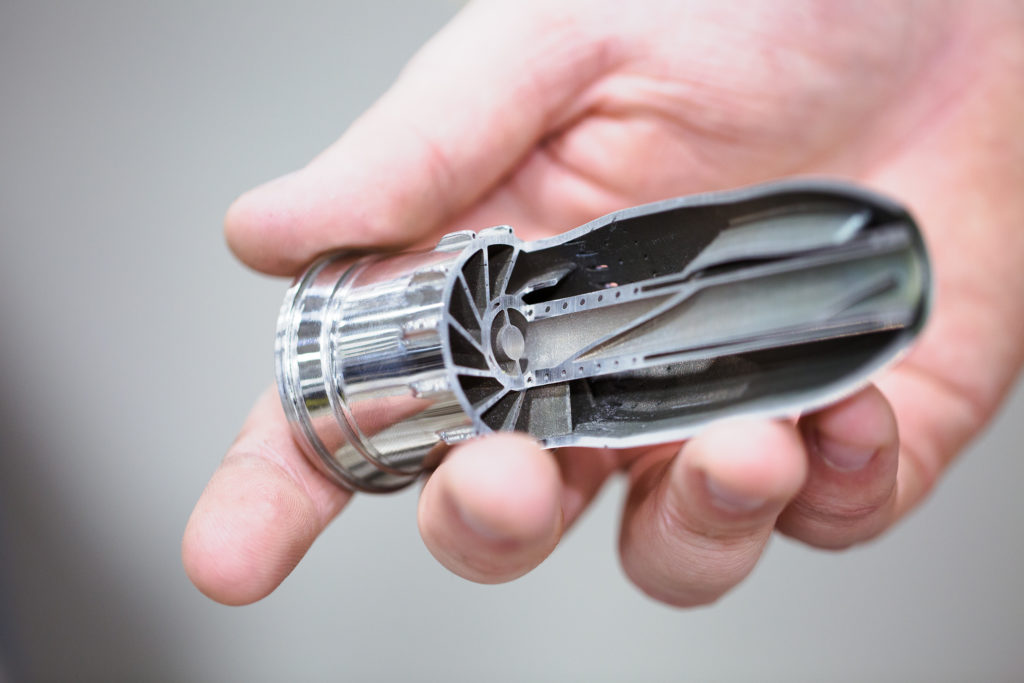 Top image: Additive manufacturing engineer Brian Adkins in full gear. Above: 3D printing reduces waste and allows engineers manufacture objects with complex internal geometries that would be otherwise very difficult or expensive to achieve, such as this fuel nozzle. Images credit: GE Reports/Chris New

Additive technologies like 3D printing are the latest twist on manufacturing. "Normally when you want to produce a part, you start with a big piece of metal and machine it down," Cipolla says. "But you also create a lot of waste. Additive allows you to grow something from the ground up from a bed of metal powder, sand or other material. There's hardly any waste because you can reclaim pretty much everything. It also allows you to create much more complex internal geometries that would be otherwise very difficult or expensive to achieve, creating parts with improved performance."

GE Aviation, for example, is already printing parts for jet engines, and GE Oil & Gas is using printers to make valves. The idea behind CATA, which is funded by each of the various GE businesses, is to bring additive into the mainstream for all of them. "Our mission is to ensure additive technology becomes a standard part of the tool kit for each business," Cipolla says. "By having a shared facility, they can share the cost burden and we can advance the technology across the entire company much more rapidly than if they were to invest individually."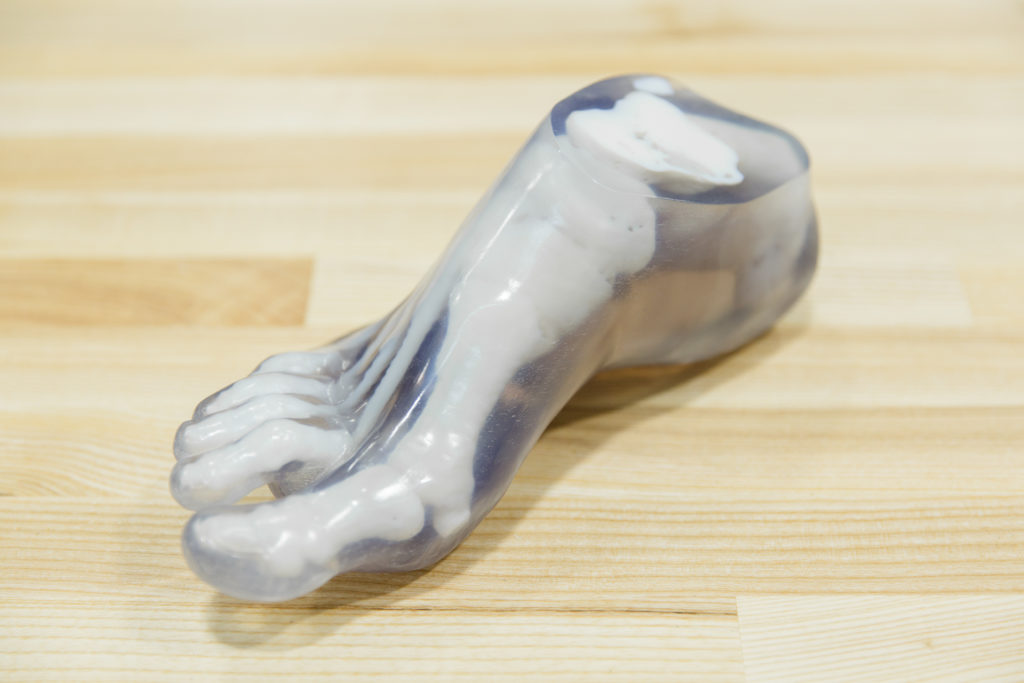 3D printers at CATA can use as many as four polymers at once (including one for the support structure), allowing designers to produce samples like this foot. Image credit: GE Reports/Chris New

Cipolla says there are a number of factors that are not yet well-understood in additive. Even though the machines can print very sophisticated fuel nozzles, for instance, "most additive machines are still not production-ready," she says. "But GE is at the forefront of innovation in this area, pushing the boundaries and driving their industrialization."

That's why CATA also has an "industrialization lab," where GE businesses can bring their 3D designs and figure out how to speed up the process from lab- to full-scale production. Cipolla and her team will help them optimize the design and simulate what actual production would look like.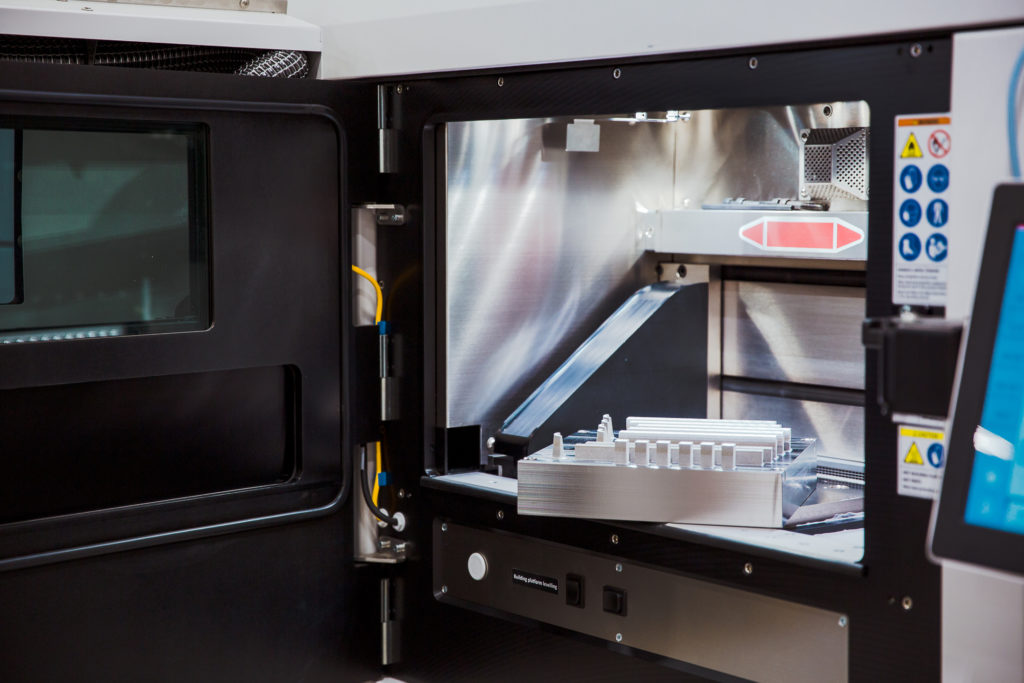 CATA's DMLM 3D printers can make parts from cobalt chrome alloys, the high temperature alloy Inconel and stainless steel. Image credit: GE Reports/Chris New

GE invested nearly $40 million in CATA, which will employ 50 workers. The facility has several direct metal laser melting (DMLM) machines, which can print parts in metal alloys. The company is planning to add $10 million worth of machines this year, including a $2 million DMLM printer with four lasers that can print four different parts at the same time and a laser hot-wire machine that can quickly and precisely restore worn-out parts.

Each DMLM machine breaks down a CAD design file layer by layer and uses the laser to fuse one fine layer on metal powder after another in the right design pattern. Each layer is between 20 to 80 microns thick and there are as many as 1,250 layers per inch — each less than the thickness of a human hair. The laser power ranges from 400 watts to 1 kilowatt, enough to burn a hole in a wall. "It's exactly like welding, but on a microscopic scale," says Brian Adkins, additive manufacturing engineer in charge of the machines.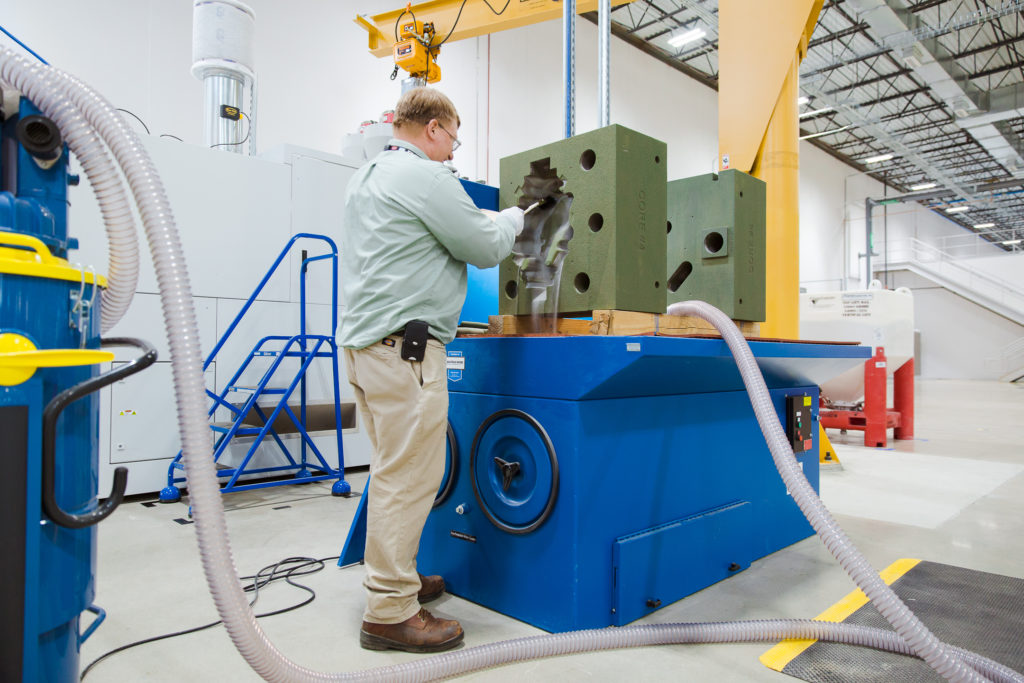 "We are making the Jell-O mold for the jelly," says Dave Miller, the engineer working with the sand binder jetting machine. Image credit: GE Reports/Chris New

While DMLM machines can be used for mass production, the sand binder jetting machine is a great tool for rapid prototyping. Instead of a laser, it uses a chemical binder to print casting molds from layers of fine sand, each 280 microns thick, infused with an activator. When the two chemicals mix, they start an exothermic reaction that hardens the sand into the desired shape. "We are making the Jell-O mold for the jelly," says Dave Miller, the engineer working with the machine. "The sand mold gets stronger as it ages. It's like concrete."

Miller can print one complex mold in a day and have the casting back from the foundry the next day. "This is a huge breakthrough for rapid prototyping," Miller says. "You'd normally spend many thousands of dollars and many weeks to achieve the same results. With this 3D printer you are cutting down costs and also your lead time."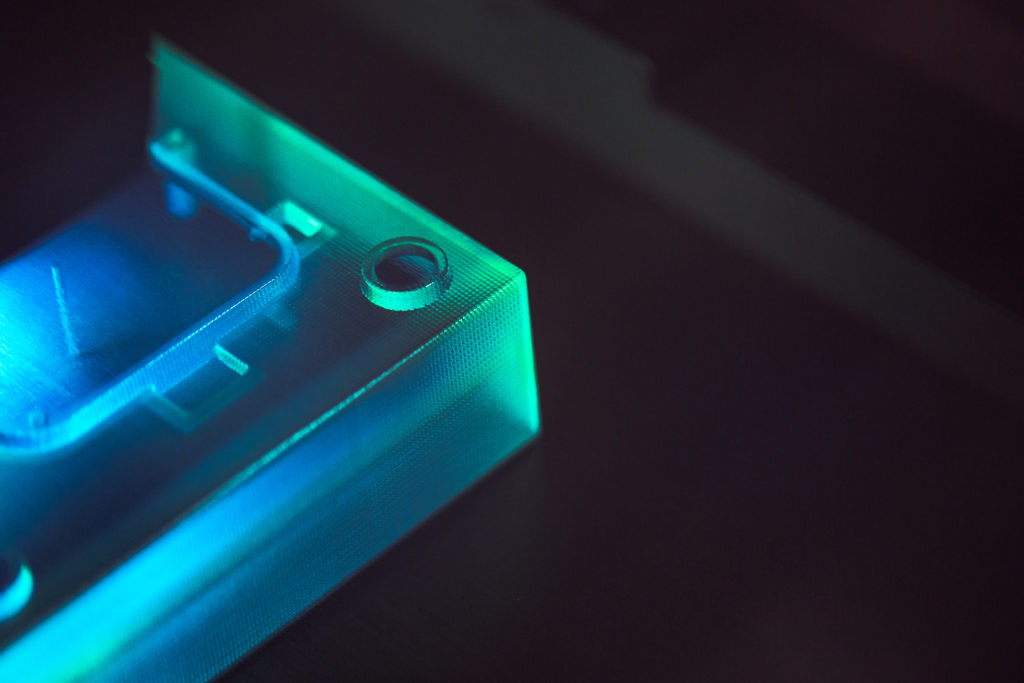 PolyJet machines machines harden polymer layers with UV light. Image credit: GE Reports/Chris New

The final group of printers creates products from polymers. After printing a layer from a liquid resin, the machine zaps it with UV light, which hardens it. The machine can print from four different polymers at the same time, including one used for support material. The polymers can be used in combination, resulting in material with different qualities and colors. "There's a cookbook that allows us to juggle the ingredients," says Ed Rowley, the engineer presiding over the machines. "It allows us to create everything from elastomers to rigid plastic."

The machines have applications from prototyping to tooling. Last week Rowley was printing an LED chandelier designed by the GE energy startup Current. It's currently displayed in the lobby of the CATA facility.

GE Reports visited CATA in the spring. Take a look.


DMLM laser printers can be working on dozens of components at the same time. Image credit: GE Reports/Chris New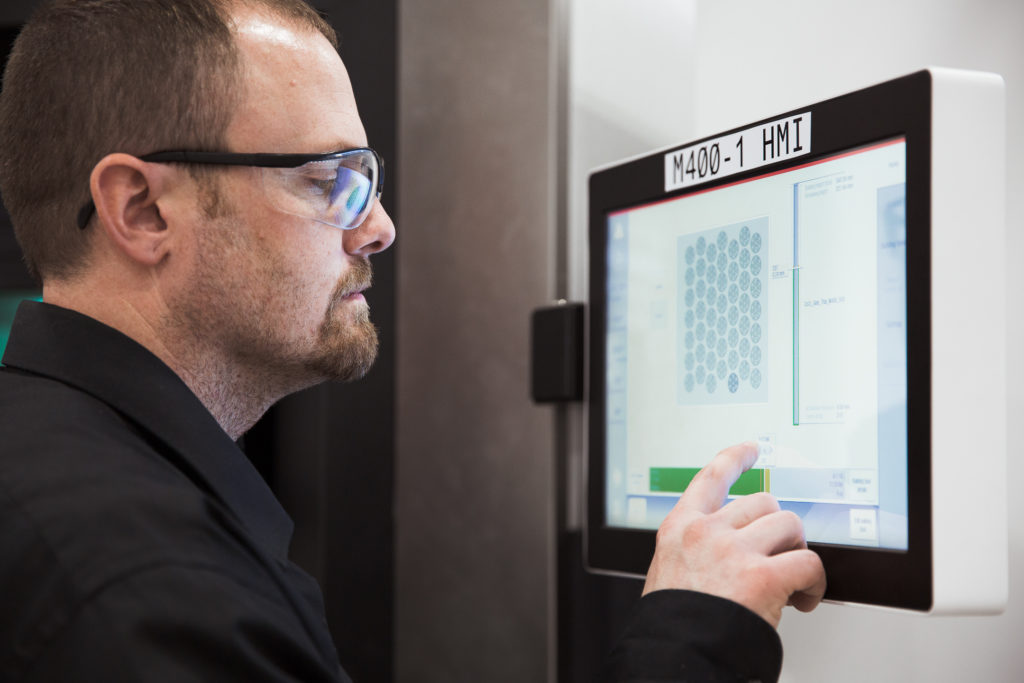 Brian Adkins programs the machine from a touch-screen. The green bar below his finger tells him long until the print is finished. Image credit: GE Reports/Chris New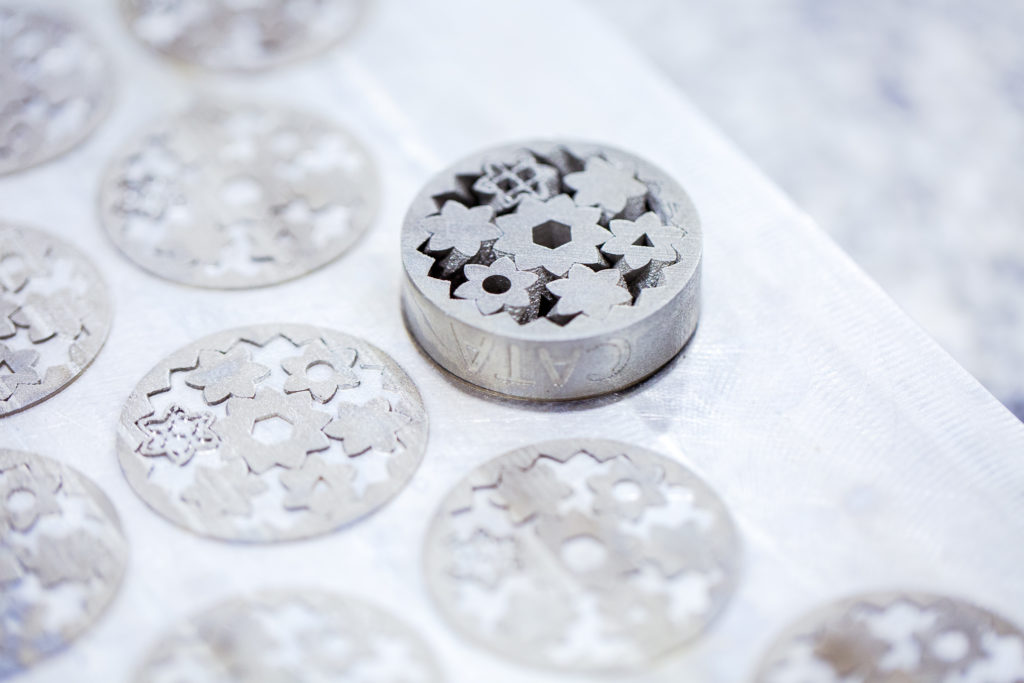 A finished 3D-printed sample for attendees of CATA opening on Tuesday. They included Congressman Tim Murphy, Pennsylvania Secretary of Community and Economic Development Dennis Davin, and GE Chairman and CEO Jeff Immelt. The gears inside the part can rotate. It would be virtually impossible without a 3D printer. Image credit: GE Reports/Chris New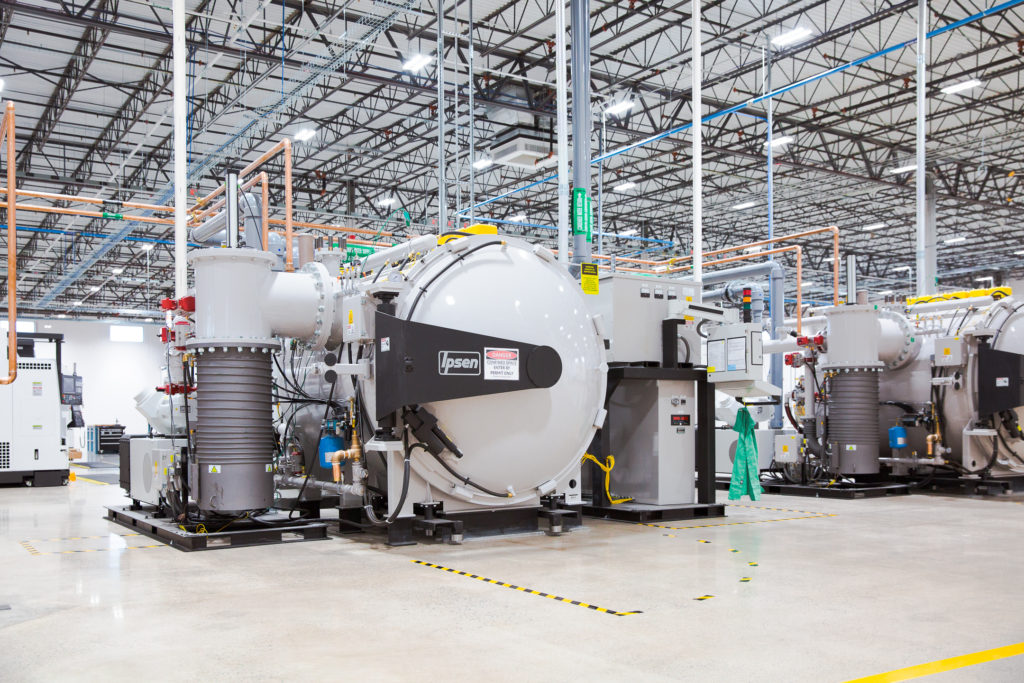 After printing, engineers place metal parts inside a pair of curing ovens filled with argon or nitrogen. "It's like going into a sauna," says quality leader Michelle Merwin. "The printed part heats up and relaxes. You can cut it off the support plate like butter." Image credit: GE Reports/Chris New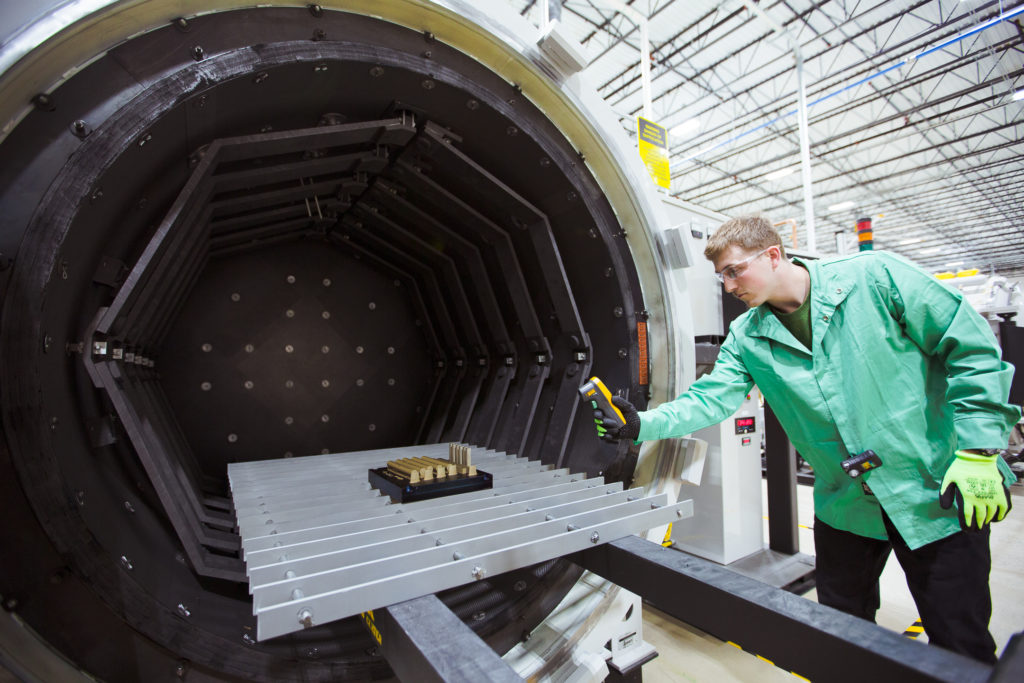 A worker is checking the temperature of components leaving the oven. Image credit: GE Reports/Chris New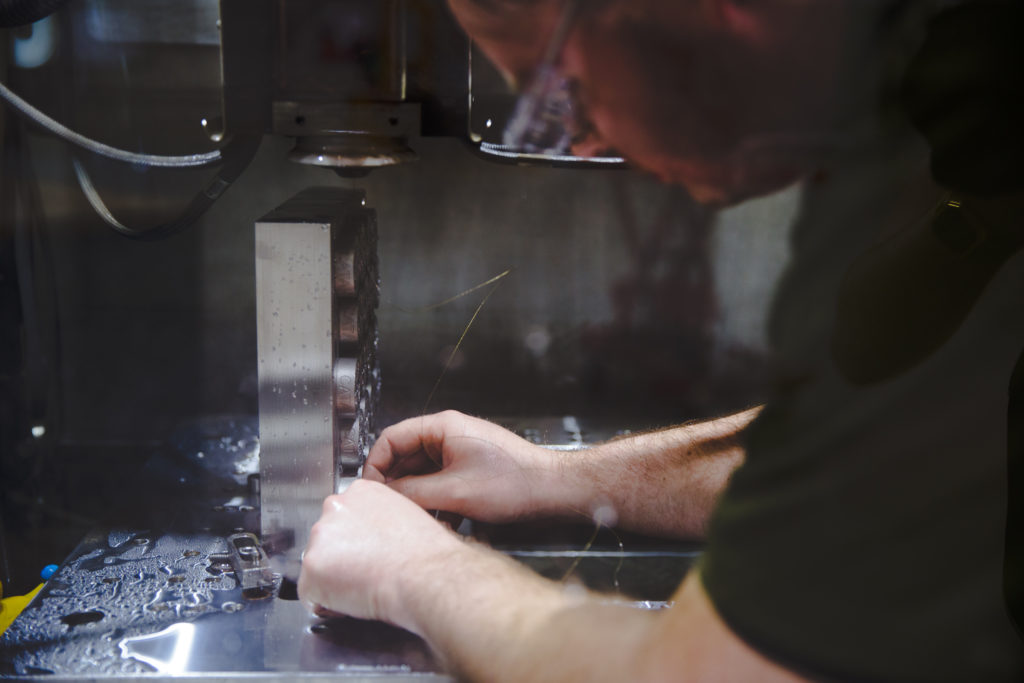 CATA workers are using electric discharge machines to separate printed parts from the support plate. Image credit: GE Reports/Chris New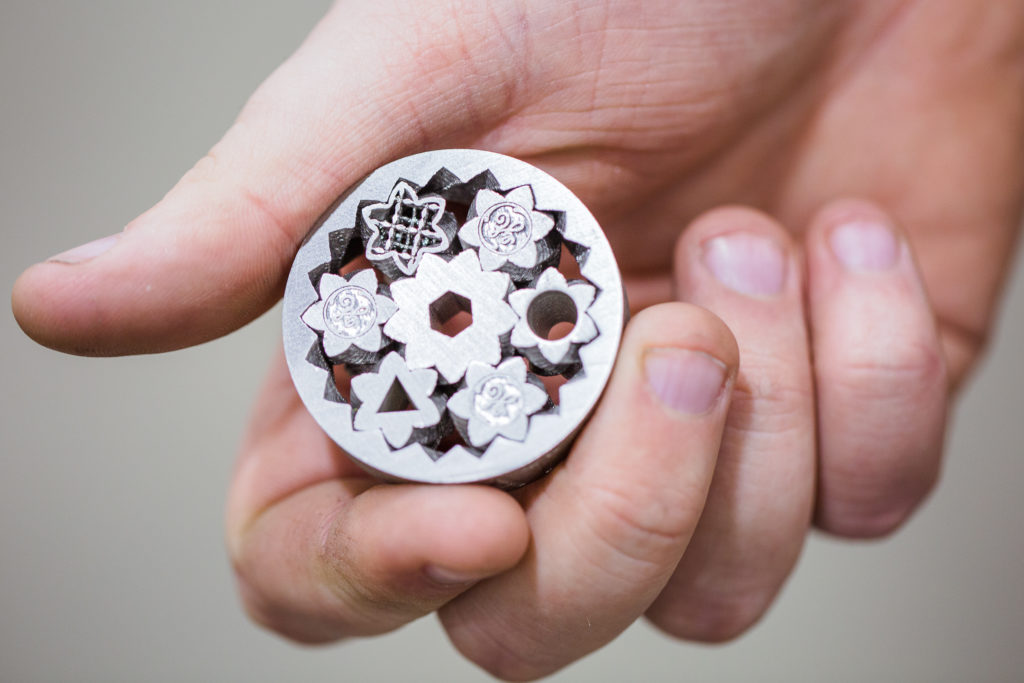 The finished product. Image credit: GE Reports/Chris New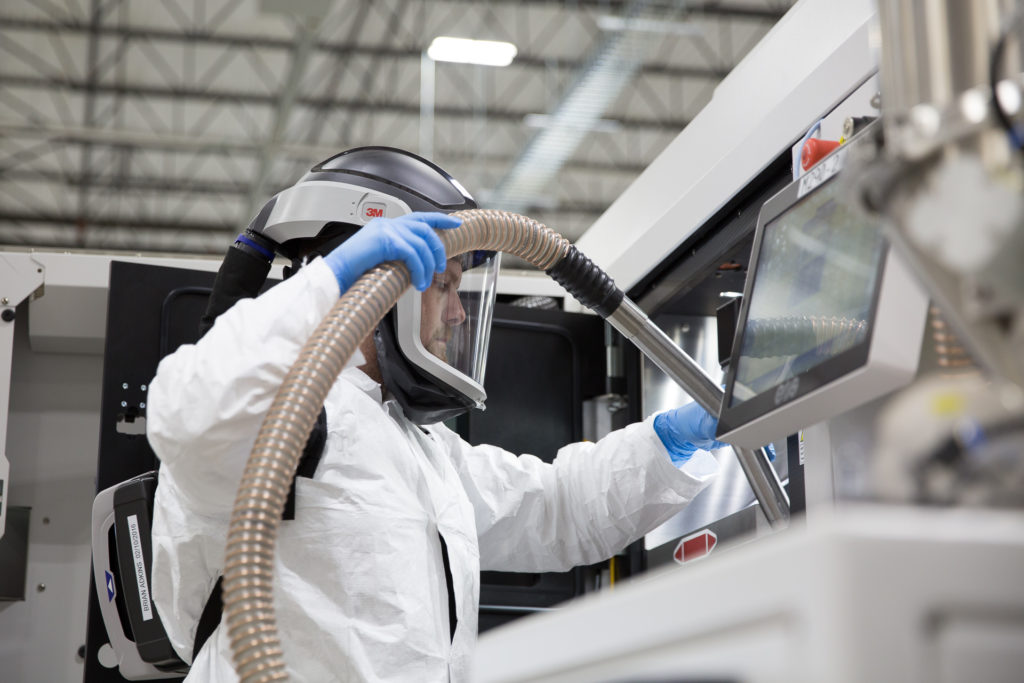 Brian Adkins is vacuuming a DMLM machine to salvage unused metal powder and prevent cross-contamination. Image credit: GE Reports/Chris New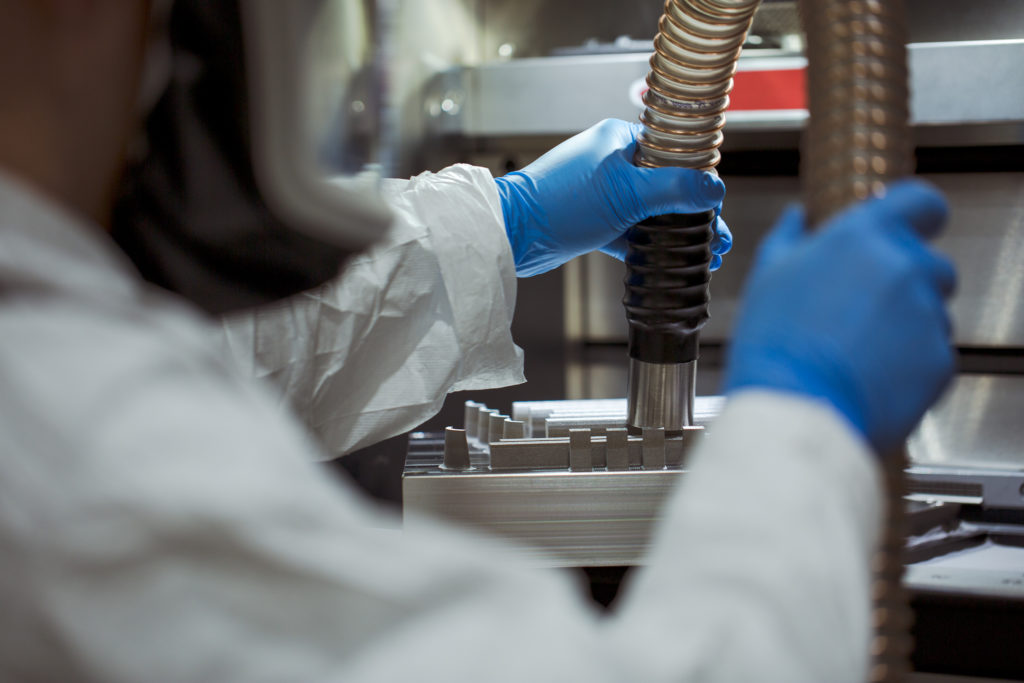 DMLM machines print parts on a support structure. Image credit: GE Reports/Chris New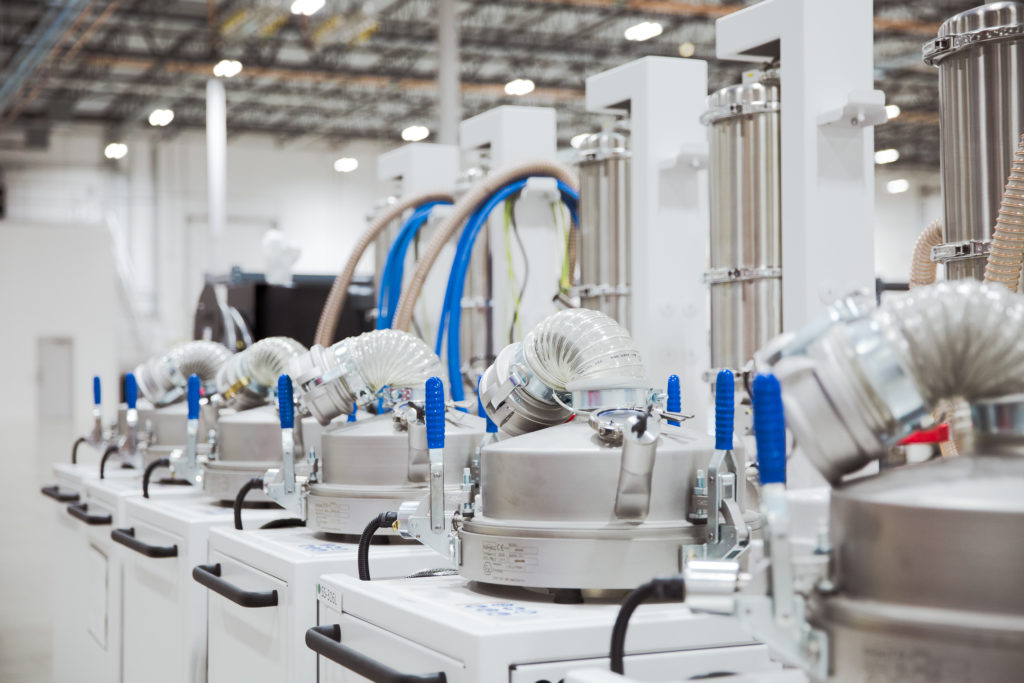 After vacuuming, the powder flows into sieves for recycling. Image credit: GE Reports/Chris New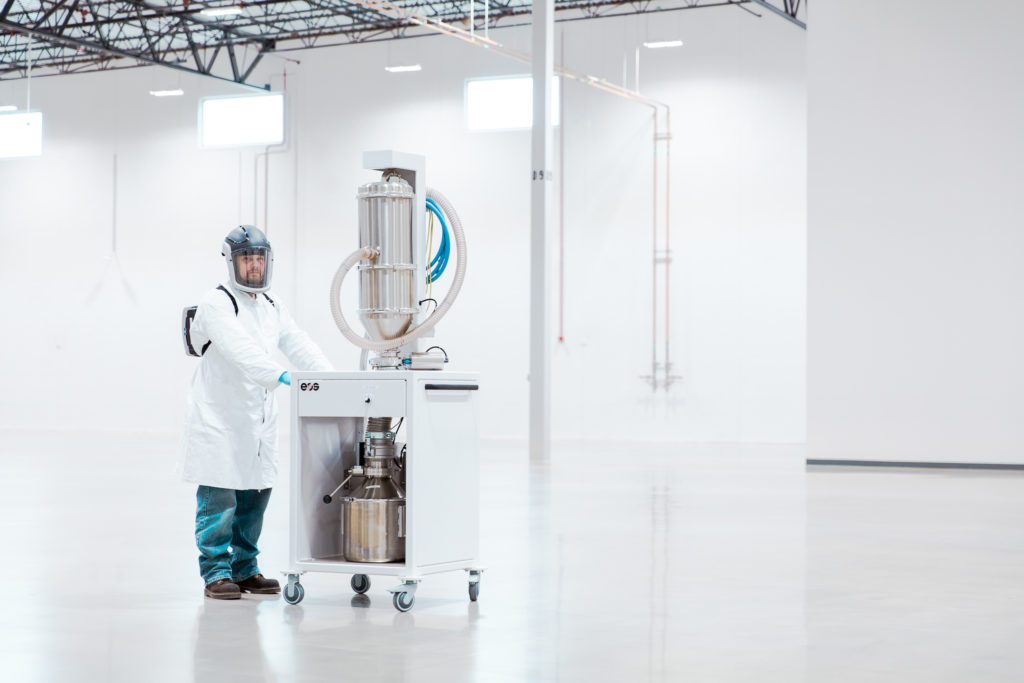 Brian Adkins wearing a protective suits is getting ready to vacuum. Image credit: GE Reports/Chris New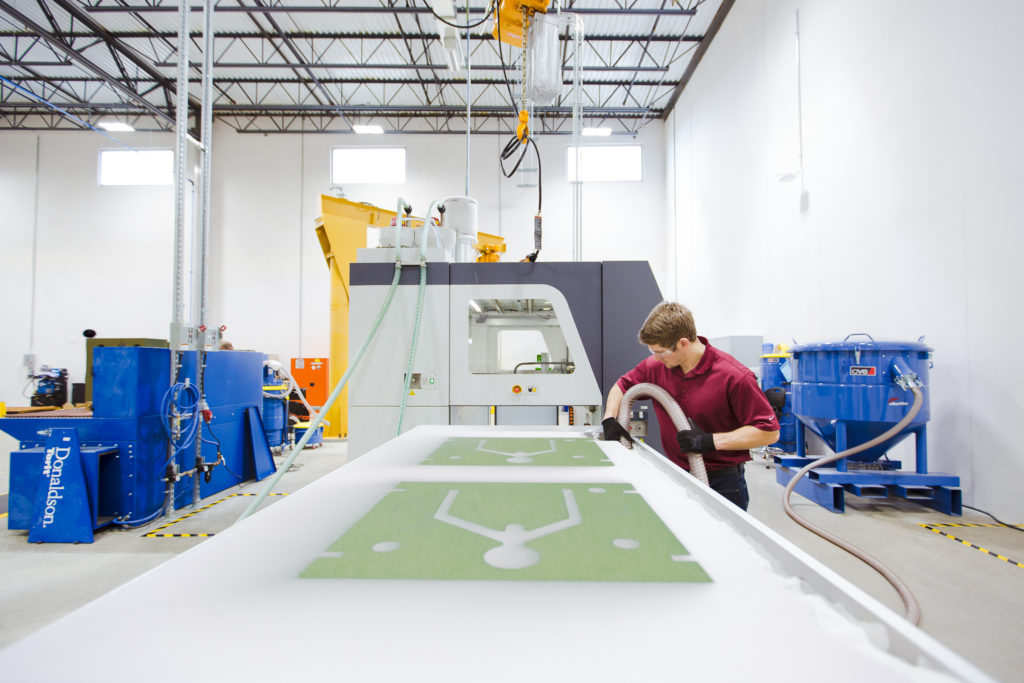 The sand binder jetting machine is a great tool for rapid prototyping. Instead of a laser, it uses a chemical binder to print casting molds from layers of fine sand, each 280 microns thick, infused with an activator. Image credit: GE Reports/Chris New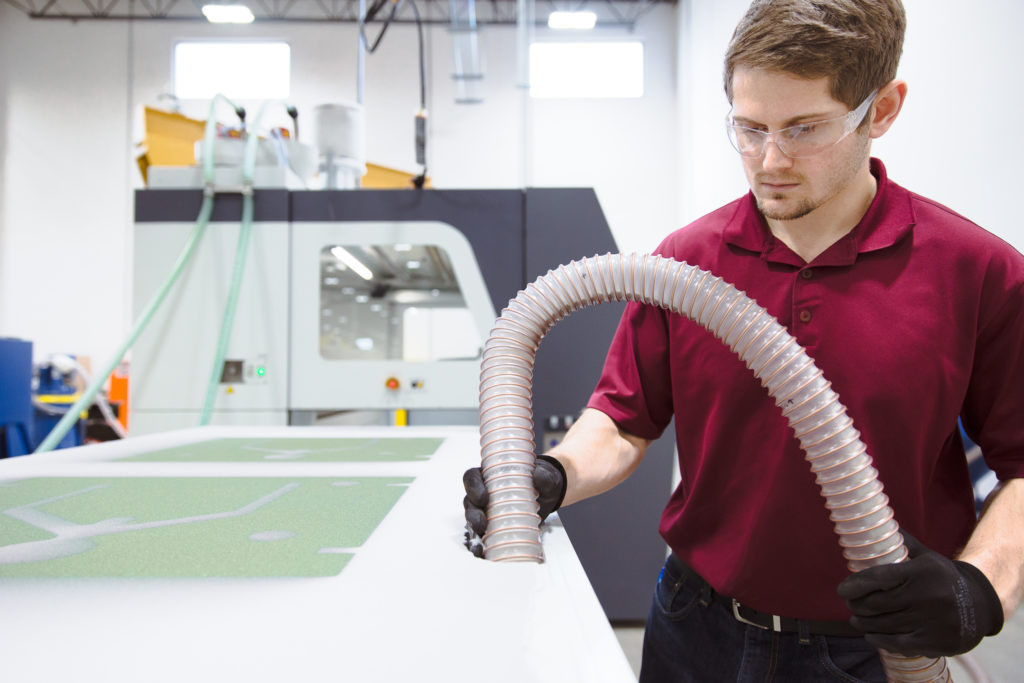 An engineer is removing unused sand. The printed mold is the green part. Image credit: GE Reports/Chris New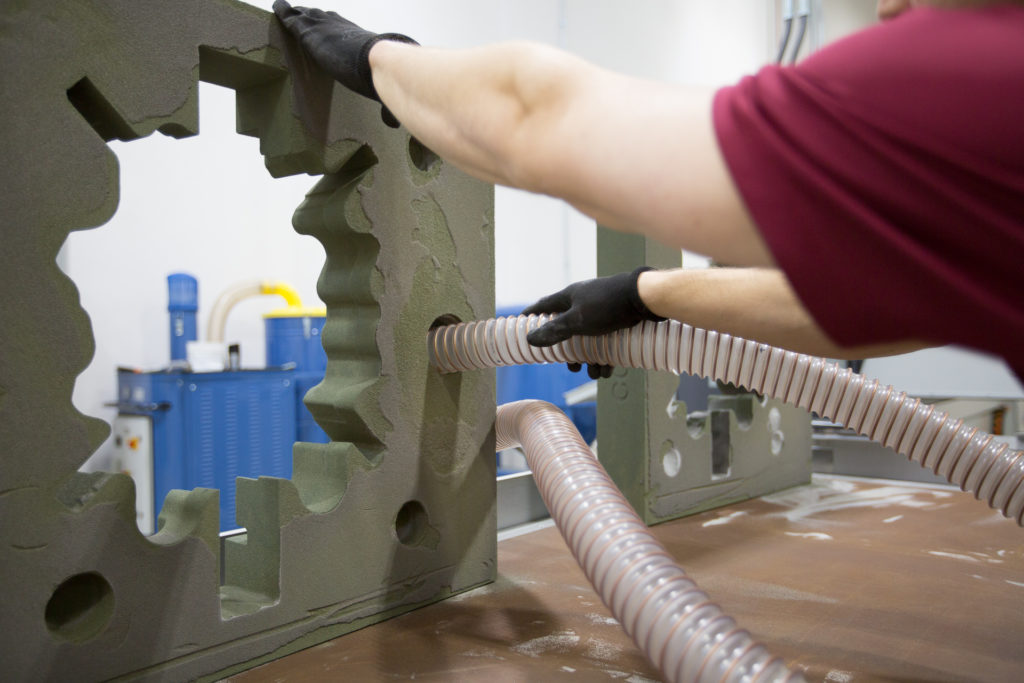 The machine can print one complex mold in a day and have the casting back from the foundry the next day. Image credit: GE Reports/Chris New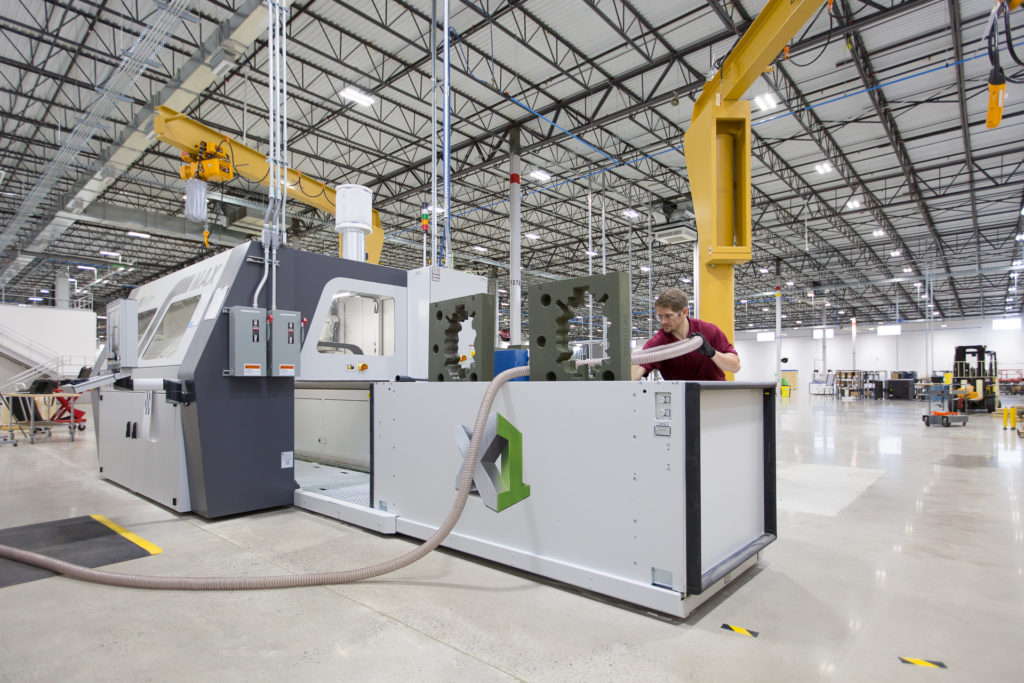 The machine's high-tech sandbox that holds the mold is 1.8 meters long, 1 meter wide and 0.7 meters deep. "You'd normally spend many thousands of dollars and many weeks to achieve the same results," says GE's Dave Miller. "With this 3D printer you are cutting down costs and also your lead time."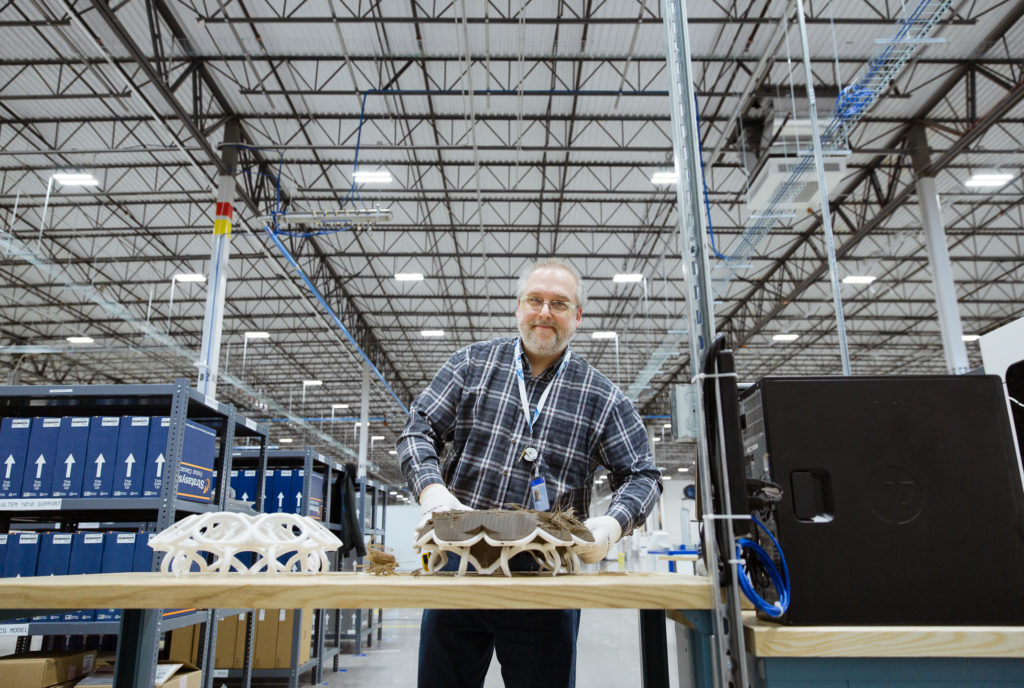 Ed Rowley is printing plastic components for an LED chandelier designed by the GE startup Current. Image credit: GE Reports/Chris New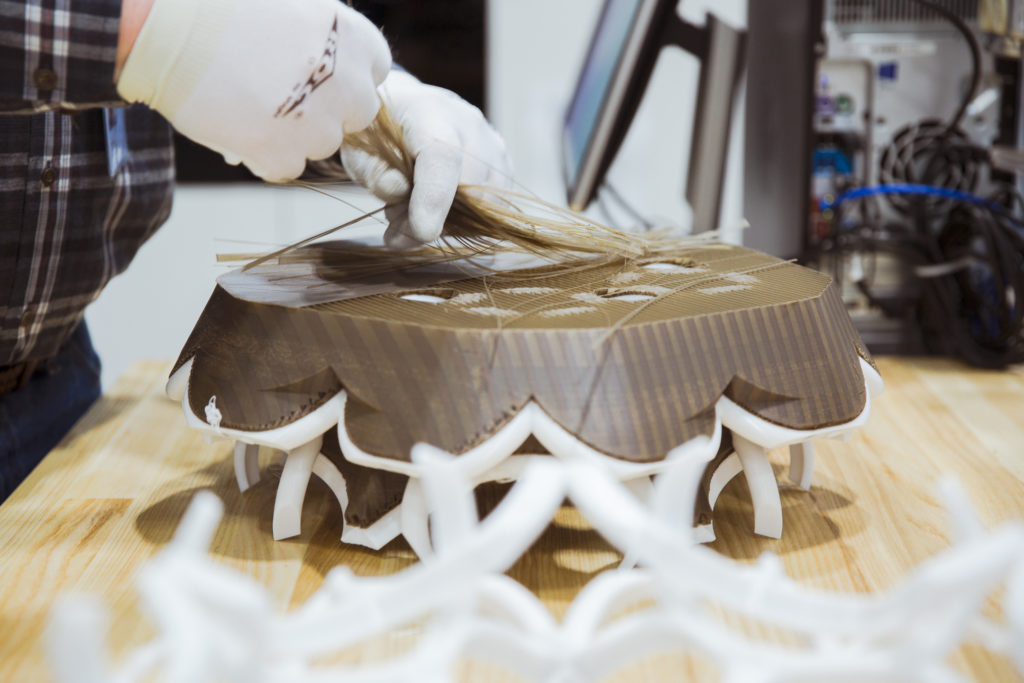 The chandelier (in white) is surrounded by support material (brown) that needs can be stripped of with just hands. Image credit: GE Reports/Chris New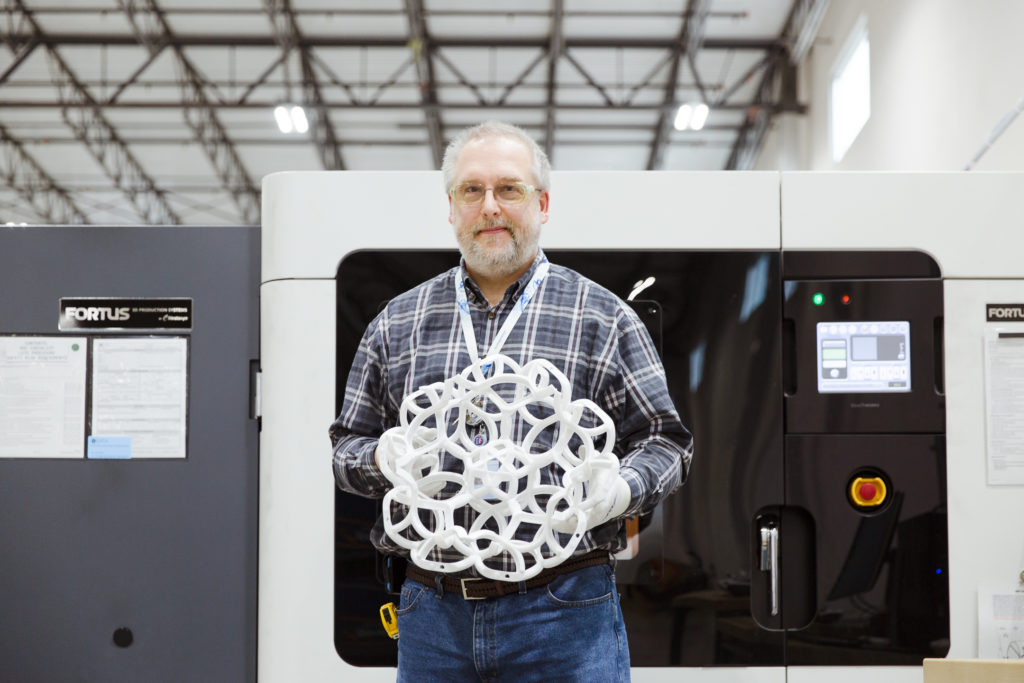 Rowley is holding the finished product in front of a polymer 3D printer. Image credit: GE Reports/Chris New
PolyJet printers can print from as many as four polymers at once. Their combination can produce soft as well as hard parts and hundreds of different colors. Image credit: GE Reports/Chris New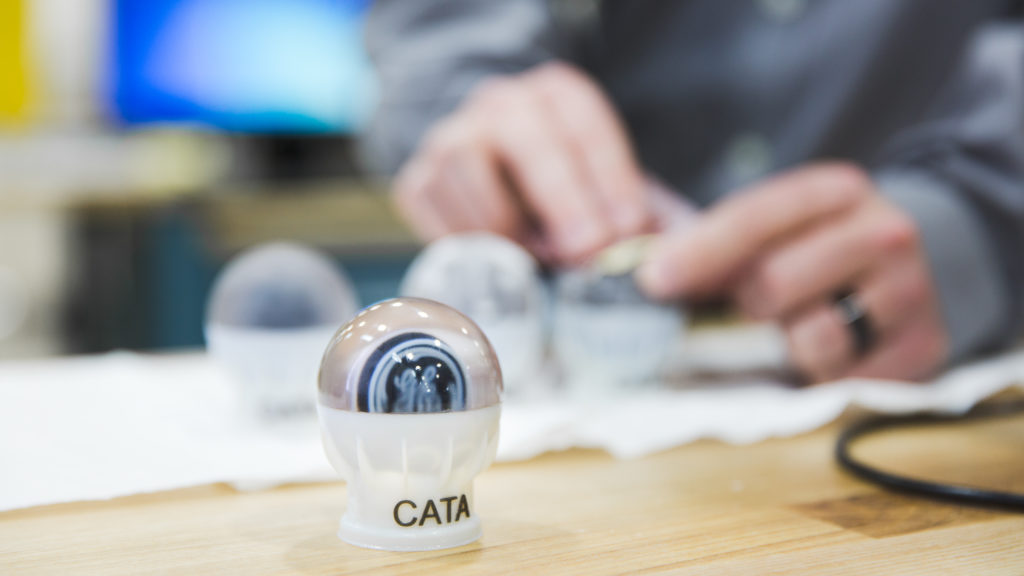 A gift printed on a PolyJet machine. Image credit: GE Reports/Chris New
Categories
tags