Marine biologist Professor Peter Ralph is leading his team at the University of Technology Sydney to a world first in demonstrating algal production of pharmaceuticals on an industrial scale. Stephen O'Sullivan, business development manager at GE Healthcare Life Sciences, wants to reduce the cost of high-end therapeutics for diseases such as cancer, and to see more Australian science graduates actually employed in Australian science. Together with the NSW Department of Industry, they share a passion for developing high-value, innovative industries in our backyard.
This triumvirate is now set to transform the local biotech sector, and with it the diminutive reputation of algae.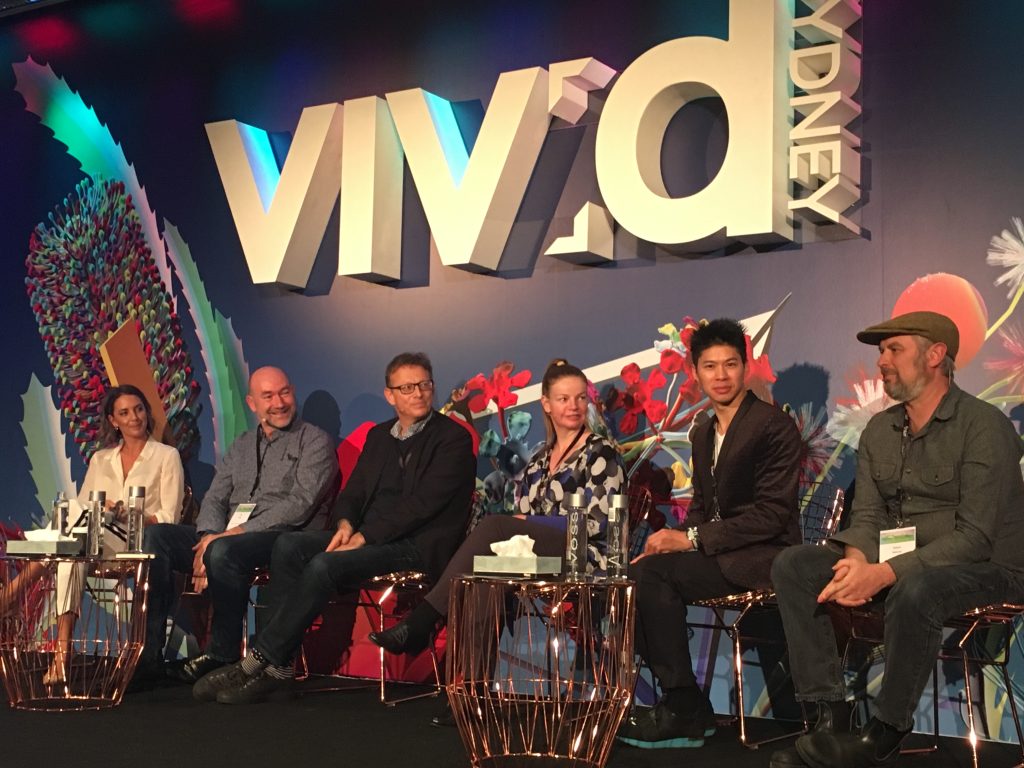 At Sydney's 2018 Vivid Festival of Light, Music and Ideas, UTS complemented its Living Lights installation of illuminated tubular bioreactors with a panel discussion, Algae is the new black, about the potential for this diverse living resource. From left: Triple J journalist Brooke Boney led the session with UTS Professor Peter Ralph; inventor and business consultant Nick Hazell; algae technologist and water-treatment scientist, Dr Donna Sutherland; sustainable fashion pioneer (yes, algae can produce fibrous cells for clothing manufacture) Dr Mark Liu; and Richard Adamson, co-founder of Sydney brewery Young Henry's.

Each of the estimated 300,000 species of algae on Earth is a potential biofactory, says Professor Ralph, executive director of the Climate Change Cluster (C3), which has the Algal Biosystems Research Group at its heart, in the Faculty of Science at the University of Technology Sydney (UTS).

In addition to sucking up CO2 at a rate that produces 50% of the oxygen in our atmosphere, algae, says Ralph, are capable of rapidly proliferating to "sustainably provide raw materials for dozens of industries, including pharmaceuticals, agrifood, human nutrition, waste remediation, plastics and fuels".

You could hit the "stop panic" button about the fate of the planet right there, except for that one significant challenge: being able to verify that these tiny and diverse manufacturers can be cost-effectively grown to yield commercial quantities of desirable proteins, oils and other natural or genetically implanted extracts.

Now you're looking at a different kind of factory, at industrial expertise, and at a workforce that understands Good Manufacturing Practice (GMP) — a system for ensuring consistency and quality of cellular production and for reducing the associated risks.

After five years of collaboration on growing algae in small-scale bioreactors to produce proteins for therapeutic use, UTS and GE Healthcare Life Sciences have signed a partnership that provides the university with greatly enhanced capabilities in each of the above areas, with the help of partial funding contributed by NSW DoI Boosting Business Innovation Program. DoI already funds the UTS Deep Green Biotech Hub, established to support companies and entrepreneurs in launching algae-based products backed by rigorous scientific research.

The future of these ventures centres around GE bringing a suite of its FlexFactory GMP equipment to the party.

GE FlexFactory is an advanced integrated biomanufacturing facility which will take UTS capacity from around 25 litres of production to 200 litres. It includes upstream processing (growing algae at volume) and downstream processing (recovery and purification of high-value molecules). And FlexFactory is based on the latest single-use disposable technology which facilitates flexibility in switching between batches and projects, eliminates the need for harsh chemical sterilisation, and lowers overall costs of production.





The partners envisage that development and verification of processes around producing high-value products, such as bio-pharmaceuticals and nutraceuticals, will help fund development of more mass-production processes — for, say, generating superior feedstock for farmed fish, or high-nutrient food for people.

O'Sullivan identifies the potential for algae to reduce the cost of producing next-generation human therapeutics, including those against cancer, by around 25% as a life-saving early development avenue. Currently, he explains, Chinese hamster ovary, or CHO, cells are commonly used as the growth platform for new drugs. CHO cells are expensive to source and are grown in expensive chemically defined media. Algae can be more readily and ethically sourced and the cells, engineered to produce therapeutic substances, can be grown using much cheaper media such as water, and light for photosynthetic growth.

"It's been an exciting road," says Ralph. "Partnering with GE has given us industrial insight into the pharmaceutical industry. As an R&D group we know how to engineer algae, but when it comes to functionalising that for an industry, we've relied heavily on the deep relationship with GE to ensure that the science that we progress is not only scientifically relevant, but industrially relevant."

O'Sullivan and Ralph outline three main priorities for the new facility, which is set to open in February 2019 and will be located in the UTS Science building in Sydney's Broadway precinct:



To train laboratory and factory technicians — science graduates and postgraduates, and people with a non-science background — in Good Manufacturing Practice, to form part of the future workforce for high-value, high-tech industries.


To facilitate the upscaling of UTS research into algae for producing recombinant proteins (proteins that result from genetic engineering of DNA in cells that will express or reproduce that protein) and other high-value products.


To offer scale-up facilities to the Australian biotech community, enabling new biotech discoveries to be locally advanced and verified as viable for commercialisation.



"Over the years a huge number of cutting-edge drugs created here in universities and biotechs has been taken to overseas companies for manufacturing," says O'Sullivan. The main reasons for this offshore migration of drug innovation are the lack of pilot-scale process-development facilities in Australia, the subsequent costs of set-up and production, and the shortage of trained technicians to carry out the various process requirements for bringing pharmaceutical products to market.

"We see the UTS facility as an ideal environment in which to foster the Australian biotech community," says O'Sullivan.

In addition to setting up and certifying the FlexFactory, GE will also co-fund the staff required for R&D, facility-management and teaching. Tim O'Meara, GE Healthcare's Regional Research Manager in Australia and New Zealand, has already been working in an adjunct appointment with the UTS C3 group, to help demonstrate the potential of algal-based pharma. Upstream and downstream specialists will soon be appointed, and PhD students will receive funding for specific projects.

"UTS is now leading the world in establishing algal-based pharmaceutical production," says Ralph. "This GMP facility, with algae as the unique driver can globally position Australia to attract researchers who want to discover how to use algae to sustainably produce a vast range of products. Whether it's a nutraceutical or a new enzyme for washing powder, the biochemistry of the algal cell can create it. All we need to do is discover how to get the cells to grow quickly, harvest them and get the product out of them."
tags