If you're shopping for a new business jet and money's no issue, it's time to call Bombardier. Starting at almost $73 million, the price on the Canadian aircraft maker's latest luxury jet, the Global 7500, is a showstopper.

Since it entered service a year ago, the plane's been setting performance records, including one in the last month: Powered by a pair of efficient Passport jet engines from GE Aviation, the jet flew on a single tank of fuel from Sydney to Detroit. The 8,225-nautical-mile trip was the longest nonstop city-pair flight in business aviation history flown by a purpose-built business jet.

But sleek looks, engineering and speed — the plane can travel just under the speed of sound — are only part of the jet's appeal. It also has smarts. In fact, the plane is the cornerstone of Bombardier's plan to build a fleet of "fully connected aircraft." Combining top-of-the-line hardware with the latest software analytics, the plane maker aims to bring to business aviation the same operational rigor and predictability common in commercial aviation.

"In business aviation, you have high-net-worth individuals, private corporations and publicly traded companies that buy a Bombardier aircraft, or two or three, and they operate these jets in a very different way from each other," says Jean-Christophe Gallagher, Bombardier's vice president and general manager for customer experience. "Our vision is very much driven by changing the ownership experience and using data and connectivity to be able to provide a whole new level of peace of mind, predictability and responsiveness for all operators of our business jets."

It's a big task, but Bombardier has lined up a big partner: GE Aviation's Digital Solutions unit, which has been helping large airlines like Qantas, AirAsia and others to get more out of their data. Speaking this week at the NBAA Business Aviation Convention & Exhibition, the National Business Aviation Association's flagship event, Gallagher and his GE counterpart, Andrew Coleman, announced a plan to equip Bombardier's Challenger and Global business jets with a smart system that brings owners, pilots and operators — along with service crews and suppliers like GE Aviation — inside "one digital ecosystem," Gallagher says. The size of the connected fleet, nearly 2,500 aircraft, should give the system the wealth of data and the network effect it needs for a speedy liftoff. Consider that American Airlines Group, which has the largest commercial airline fleet in the world, operates some 940 aircraft.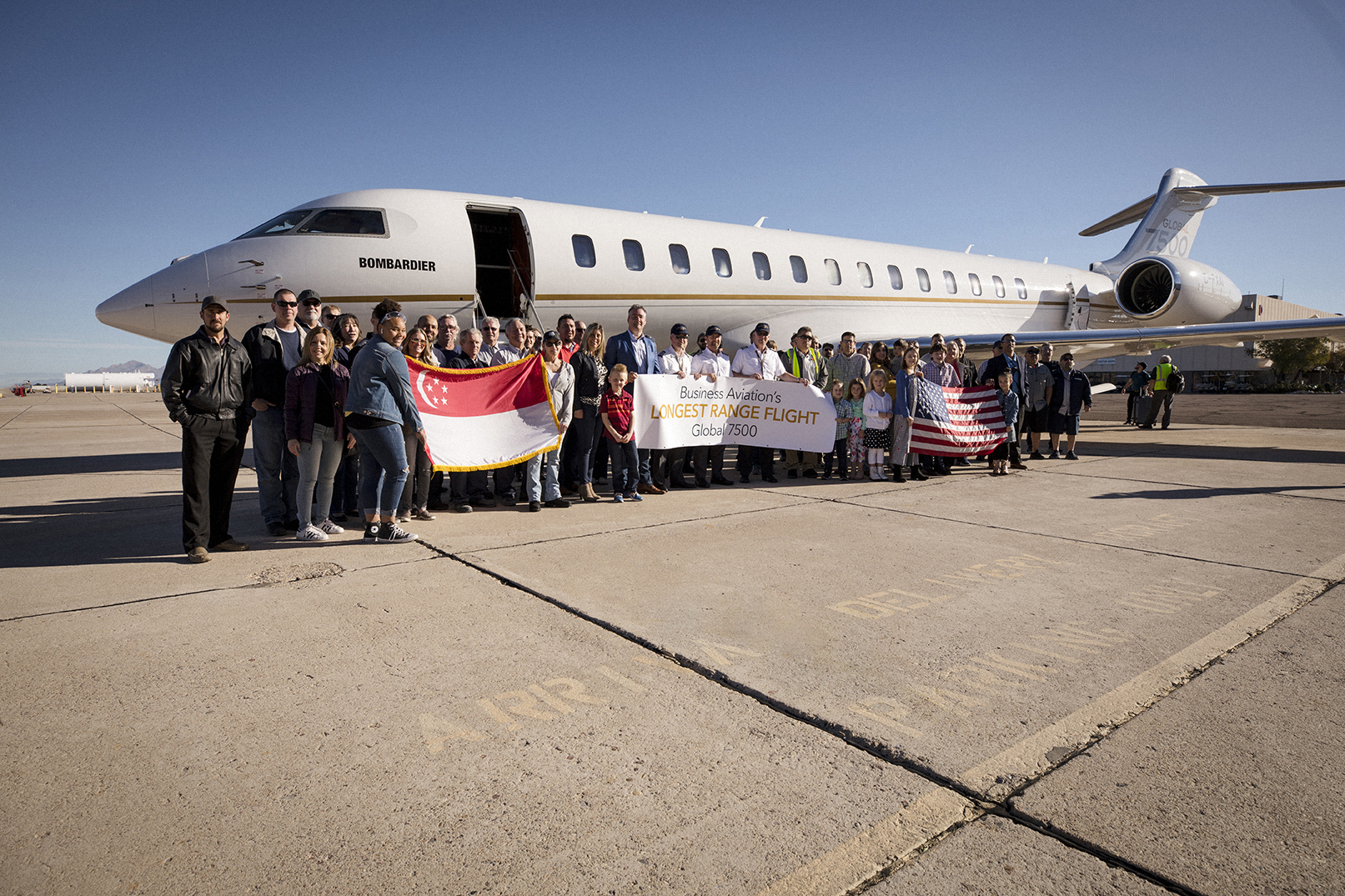 Top: Bombardier's new Global 7500 is a cornerstone of the plane maker's plan to build a fleet of "fully connected aircraft." Another cornerstone? Digital solutions provided by GE Aviation. Above: The Global 7500 has already set a number of records for range and speed. Top and above images credit: Bombardier.

The system, when fully operational, will enable jet owners and operators to use apps on their tablets and smartphones to monitor fuel consumption, predict and plan a stop in the service shop so it's the least disruptive, and perform many other tasks. For example, the system could enable the spotting of anomalies like rough landings or engine vibrations and dispatch a service crew to the right spot with the right parts to carry out preventive maintenance. "The industry has been talking about this for a long time, but to my knowledge Bombardier will be the first company to build such a platform," says GE's Coleman, senior vice president at GE Aviation's Digital Solutions unit. "Think about an Apple Watch. It gives you advice every day on how many steps you took, what your heart rate was. We're giving pilots this same level of visibility into how they fly."

But the technology also makes good business sense for Bombardier. The company has been opening new service centers in the U.S., Europe and Asia. Connecting its jets will allow the plane maker to learn more about how they perform in flight as well as capture more service revenue. "Every single day, we have more than 200 of our own planes in one of our nine service facilities somewhere in the world," Gallagher says. "So our ability to actually take this GE technology and retrofit the entire fleet will now allow us to have a fully connected fleet flying all around the world."

He continues, "We're not talking progressive evolution of service here. We're talking about a step change in the ability to respond to not only unscheduled events, but also to our customers' needs that we're not able to see today because we'll be able to better understand precisely how individual operators are using their Bombardier business jets."

Gallagher says the partnership with GE was a no-brainer. GE engineers built the jet engine for Bill Lear's Learjet 23, the plane that effectively launched the business aviation industry. GE engines are also powering Bombardier's Challenger 600 series aircraft, perhaps the most successful business aviation platform in the world with more than 1,100 aircraft delivered. "We've been together on the Challenger platform for a very long time," Gallagher says. "And we looked at that partnership that now has evolved into the most sophisticated engine ever created for business jets, the Passport. Along the way, we discovered GE held extensive knowledge, insight and capability from a digital perspective. We saw them as the key partner to collaborate with on this massive and transformative innovation within the business aviation industry."

An important building block of the new system, called the Smart Link Plus box, includes powerful, lightweight airborne hardware consisting of a server about the size of a paperback book along with a fist-sized transmitter. It is already at work on all Global 7500 jets being delivered.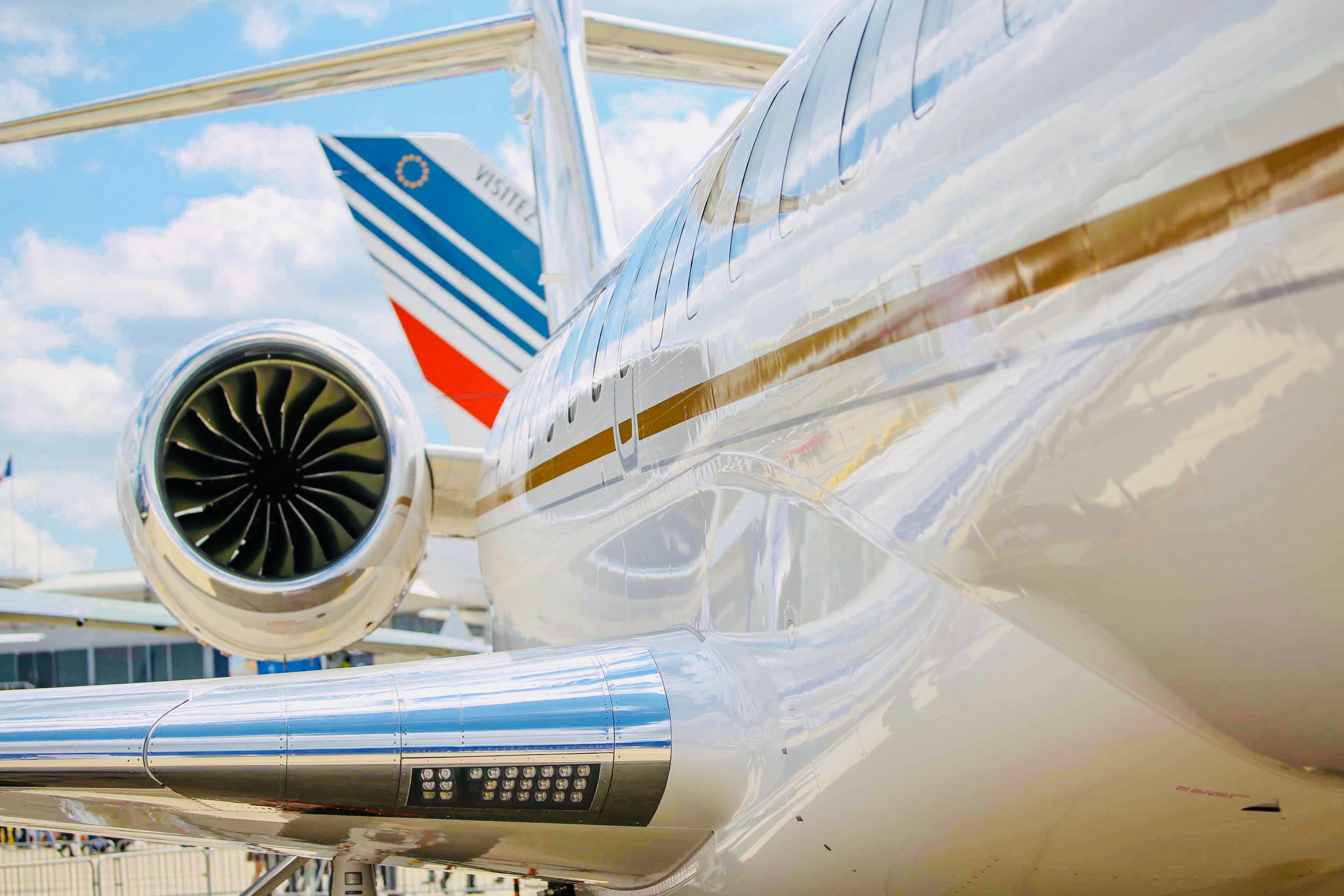 Bombardier's Global 7500 jets are powered by GE Aviation's Passport — "the most sophisticated engine ever created for business jets," according to Jean-Christophe Gallagher. Image credit: Alex Schroff for GE Reports.

Bombardier and GE are giving away the "smart" box for free to owners of Bombardier's Challenger business jets as well as to operators of all other Global models. "This isn't your standard 'We're selling hardware to an airframer' transaction. This is a partnership designed to bring a step change to our industry and in doing so will drive a great deal of disruption," Coleman says. "This is the equivalent of what Uber did to taxicabs. We believe that having the communications infrastructure on an airplane is going to lead not only to an additional revenue stream for us, but it will give us an opportunity to reinvent how all communications take place. If that happens, we're sitting on something incredibly special."

Bombardier and GE plan to keep the platform open so customers or a third party can write their own analytics apps. "We're in the spot of Apple's iOS operating system when they released the iPhone," says Coleman, using another Silicon Valley analogy.

This isn't the first time the aviation industry will be using GE software to work smarter. In 2018, the company partnered with Australia's national carrier, Qantas, to develop FlightPulse, an app that helps pilots analyze data after each flight and reduce the amount of fuel they burn. Today the app, used by more than 2,400 Qantas pilots, has helped the airline reduce significant amounts of fuel as well as carbon emissions.

But the Bombardier partnership is taking the insights to a new level. "We want to have a single source of information available to owners and pilots as well as our partners and our suppliers inside the ecosystem of companies that create this aircraft," Gallagher says. "We're opening the doors to a whole new world where the aircraft is in the palm of your hand, with all of the goodness that it will bring over the years in terms of our collective understanding of this product, this machine that we're operating."
Categories
tags