Brad Mottier can't leave his job behind. Then again, he doesn't want to.
Mottier runs GE Aviation's business and general aviation division, the unit responsible for aircraft engines and other technology for private and business planes. But he's also an accomplished pilot who has been flying for three decades.

Last Sunday, he flew his Aviat A-1 Husky two-seater nearly 500 miles from his home in Cincinnati, Ohio, to Oshkosh, Wisconsin, to attend the world's greatest airshow, the EAA AirVenture Oshkosh fly-in.

He was there on business, but that didn't stop him from having fun. He designed his own route and flew up to Gary, Indiana, the birthplace of Michael Jackson, past Chicago and along the Lake Michigan coast to Wisconsin. I was onboard for the 5-hour ride. The views were great but the experience was life-changing. Take a look.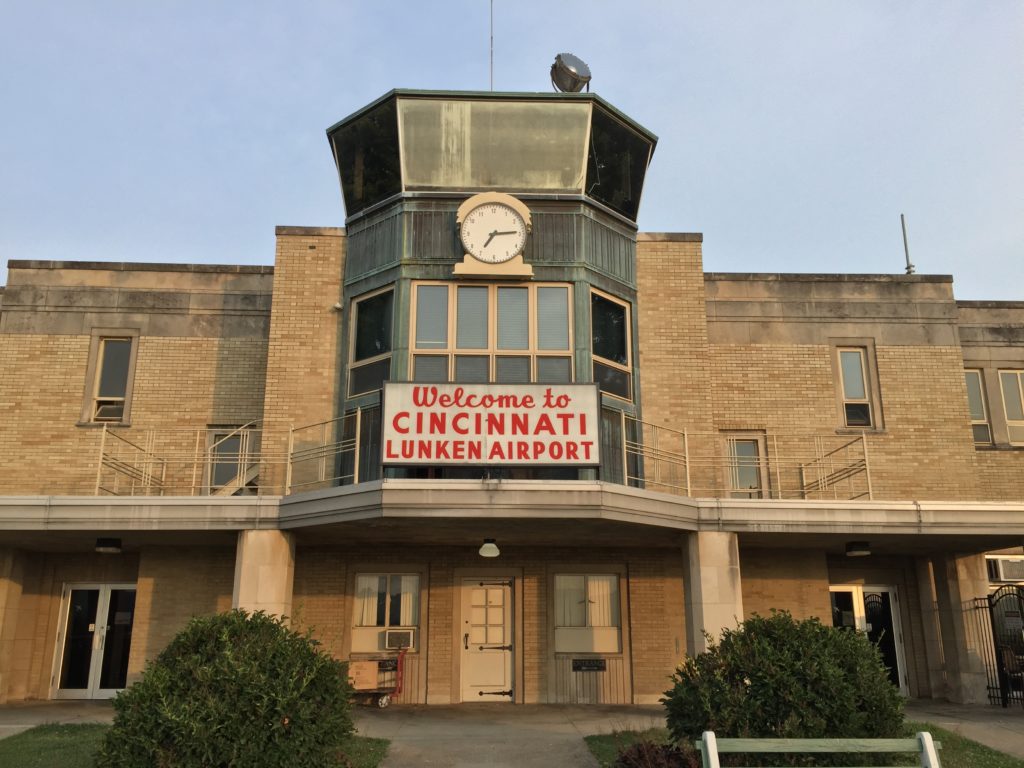 Mottier picked me up shortly after dawn at my hotel. We made a quick stop for coffee and drove to Cincinnati's historic Lunken Airport, where he keeps his plane. When we arrived, wisps of fog were still rolling over the empty runways. Charles Lindbergh landed there and so did the Beatles when they performed in the city in 1964.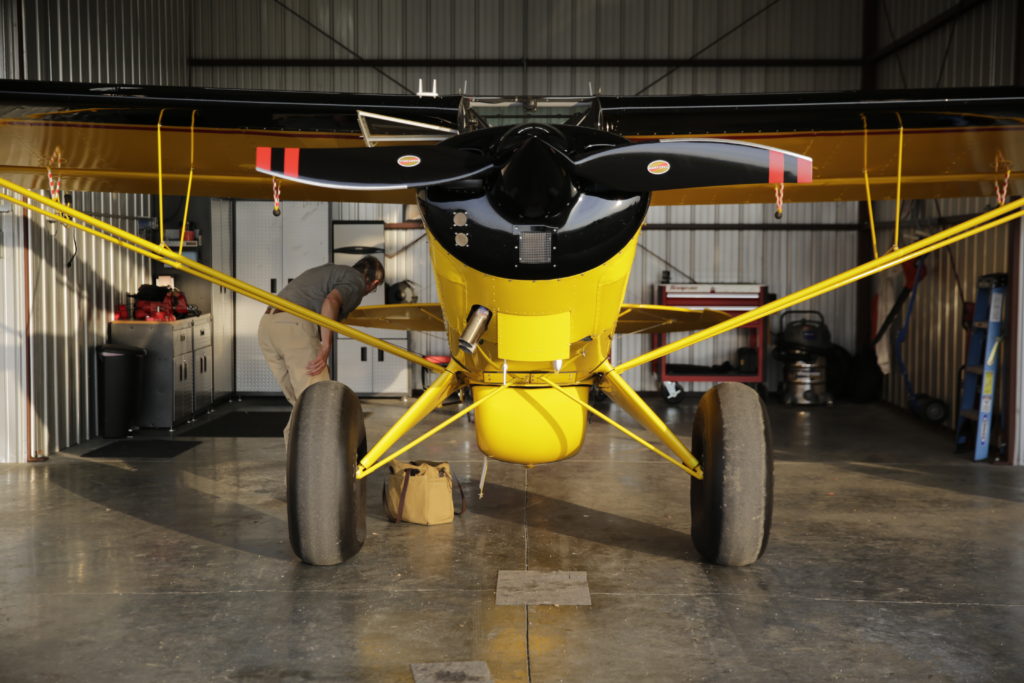 Mottier opened the door of his hangar, put down his flight bag and started his preflight inspection of his Husky.  The yellow two-seater would carry us 500 miles to Oshkosh.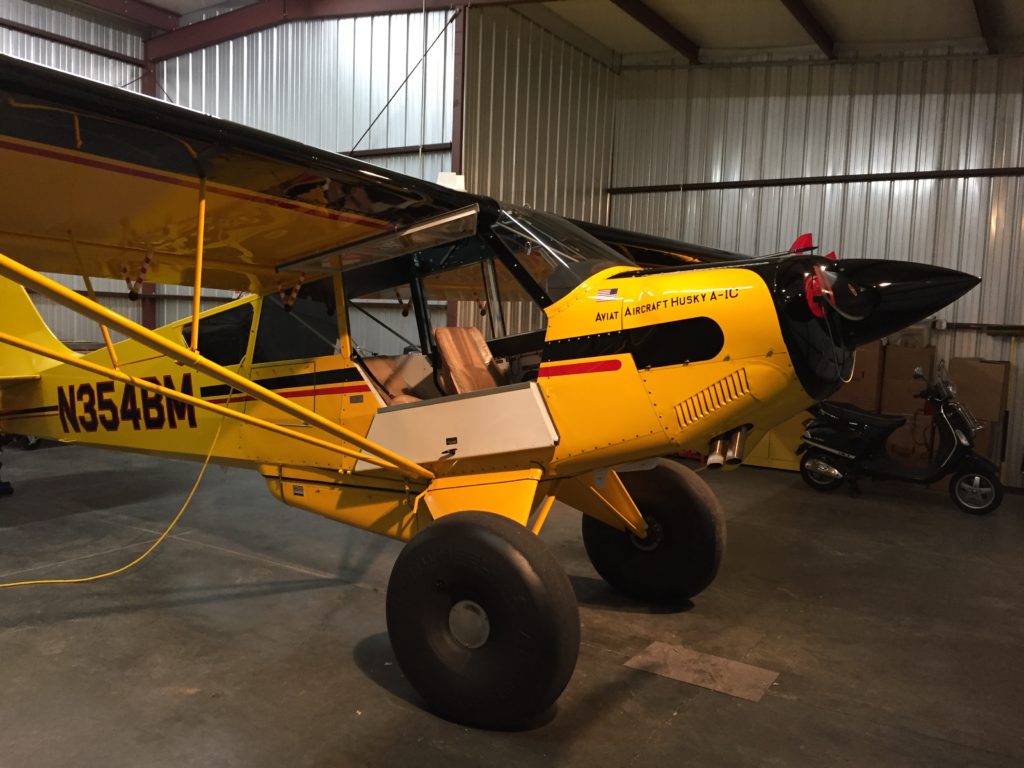 It took Mottier 20 minutes to check everything. He then added up our weight and the weight of our bags and punched it into his iPad to make sure the plane was evenly balanced. He also reviewed the weather and charted our course. The mixture of responsibility and independence was infectious. "When you're a pilot you are in many ways not bound by decisions that someone has made for you," Mottier says.
The approximate path of our flight. Image credit: Google Maps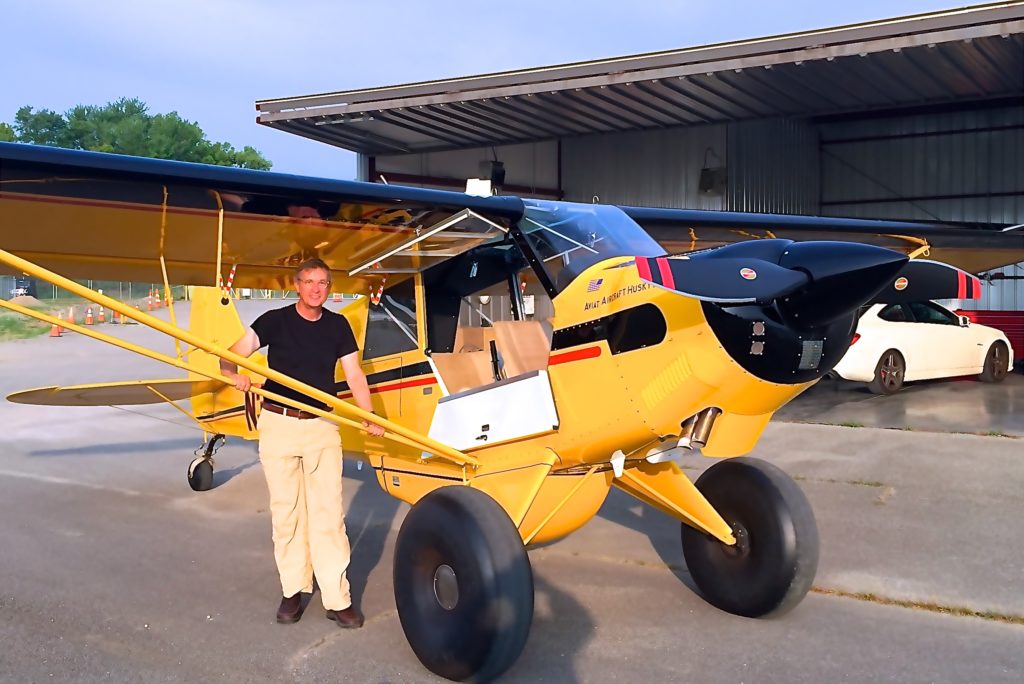 We pushed the plane with our hands onto the taxiway and climbed inside. The Husky's wings were already full of fuel, and we were ready to go.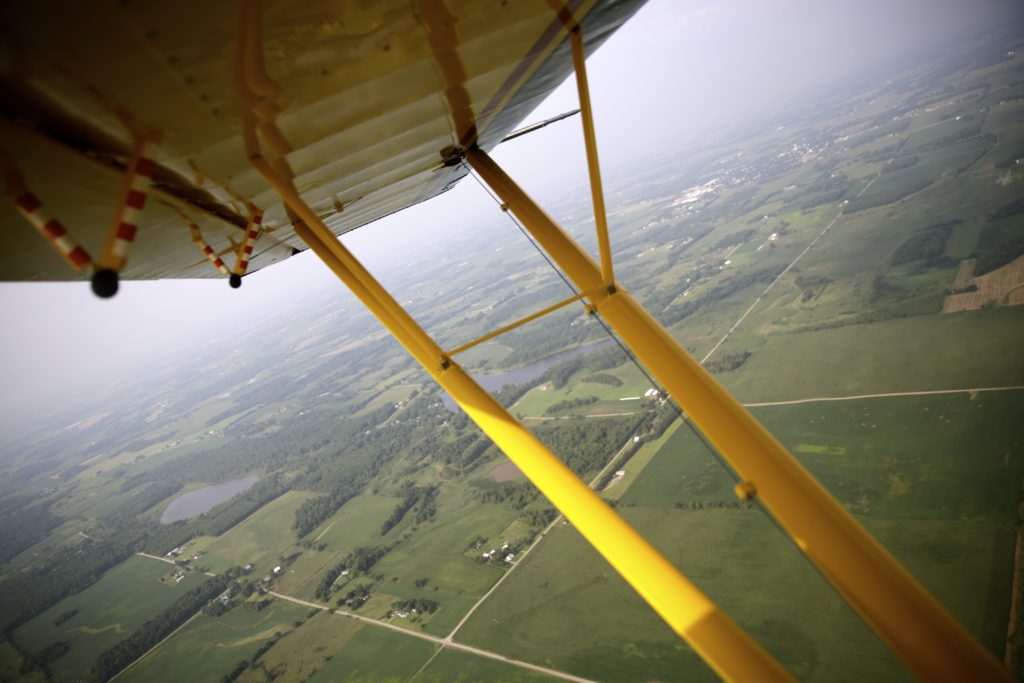 Mottier started the engine and we were airborne within minutes, soaring over the farms and green fields spreading beyond Cincinnati's suburbs. We made a circle over GE Aviation's jet engine factory in Evendale, Ohio, and set a northwestern course for Gary, Indiana—roughly the half-way point on our journey.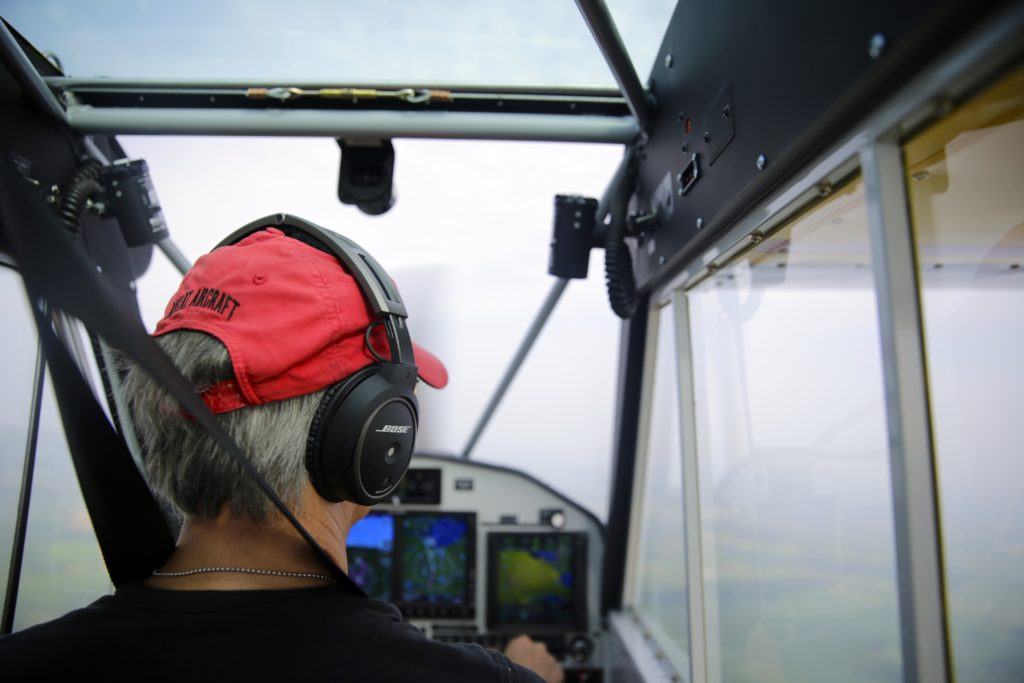 The Husky may be a small plane, but the all-digital avionics inside rival the most modern jets. They give Mottier vital information not only about his plane's speed, altitude and position, but also air traffic and weather data.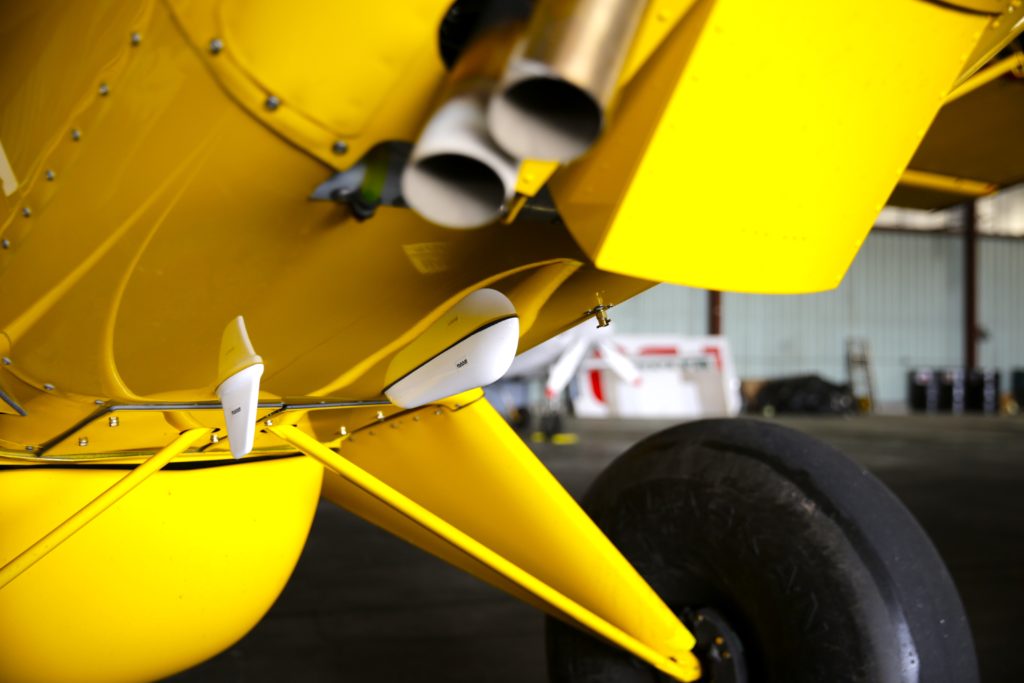 GPS and other digital information flows from sensors (the white fins) located below the plane.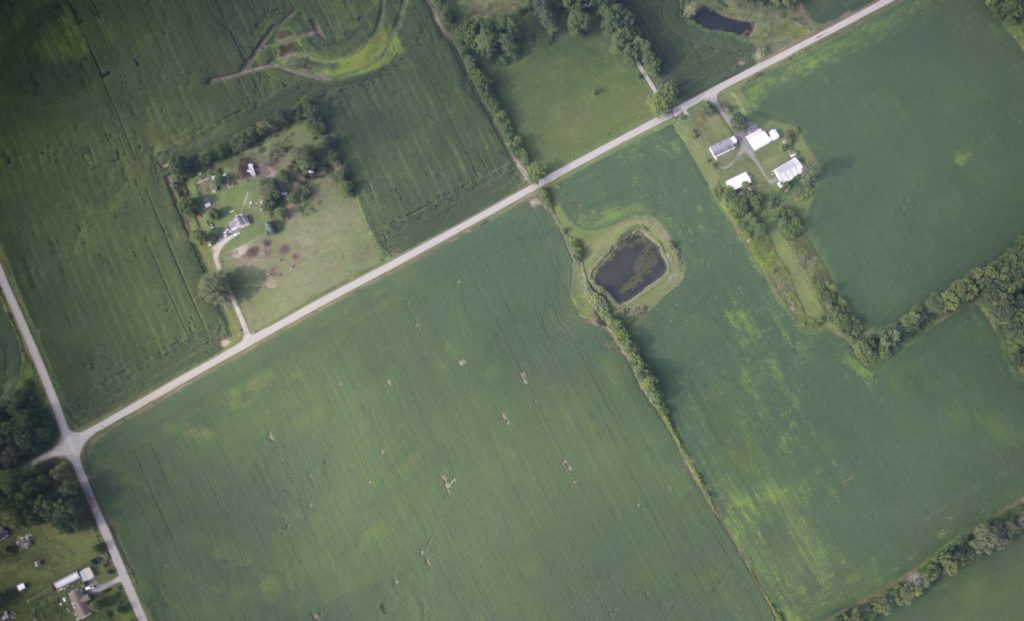 For the next two hours, we flew over a quilt woven from corn and soybean fields that stretched to the horizon in all directions.
Little more than two hours later, we arrived over Gary, the birthplace of Michael Jackson. Storms had swept through the area the previous night and left behind crosswinds that were now buffeting our plane.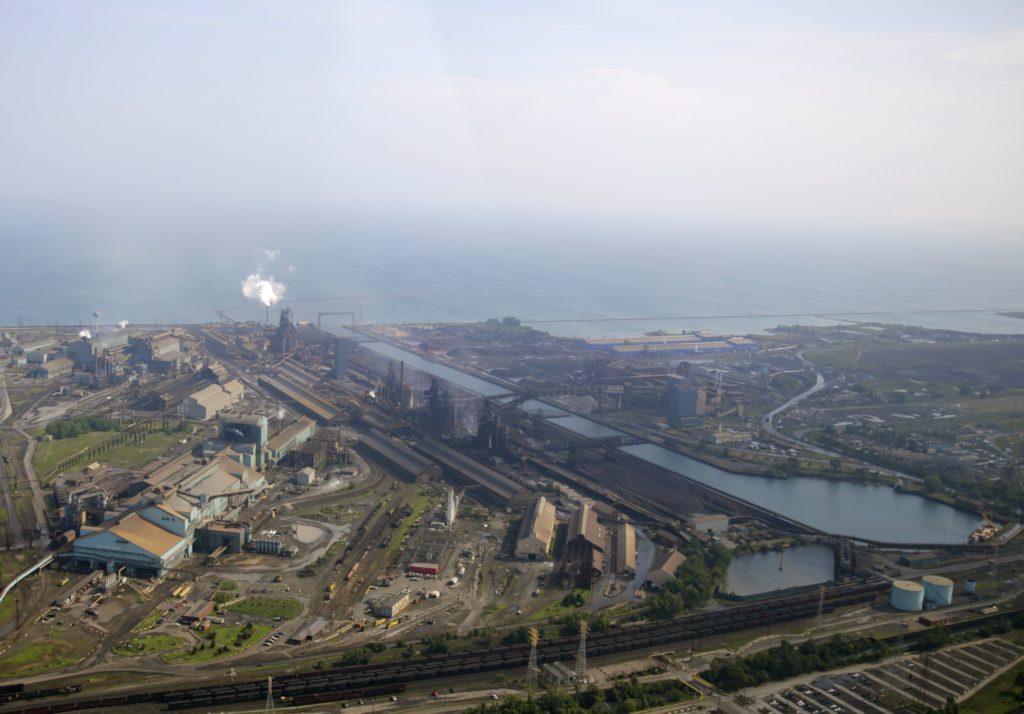 The landscape below us changed dramatically. Gary used to be one of America's industrial dynamos. U.S. Steel founded the city in 1906, but many of its mills have since closed. From the air, the evidence seemed to be everywhere.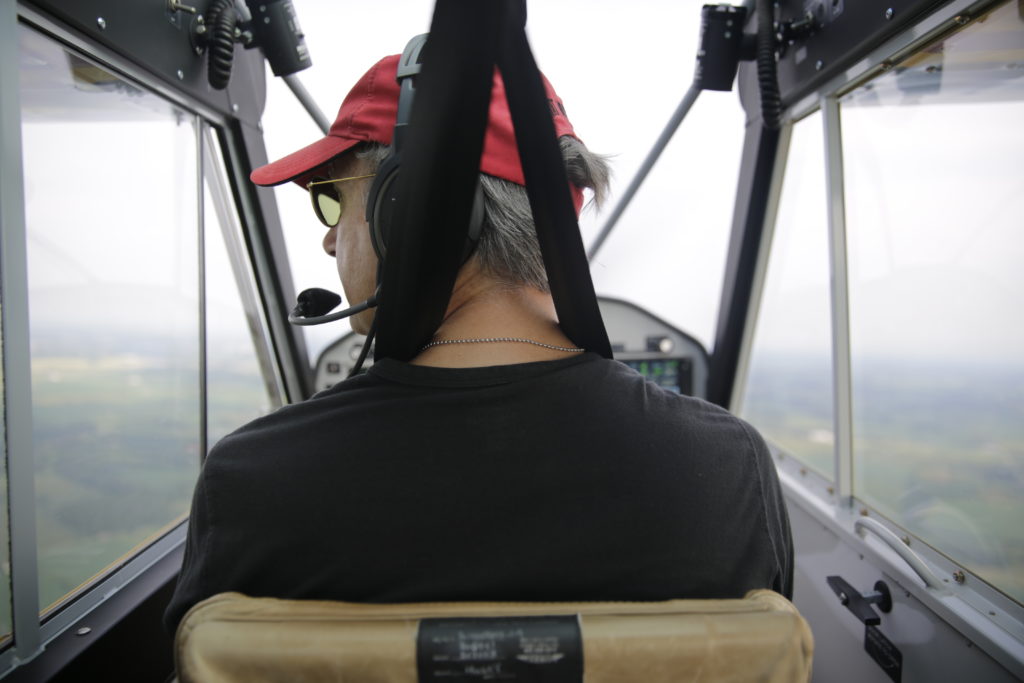 We landed softly like a feather and taxied to the private aircraft terminal.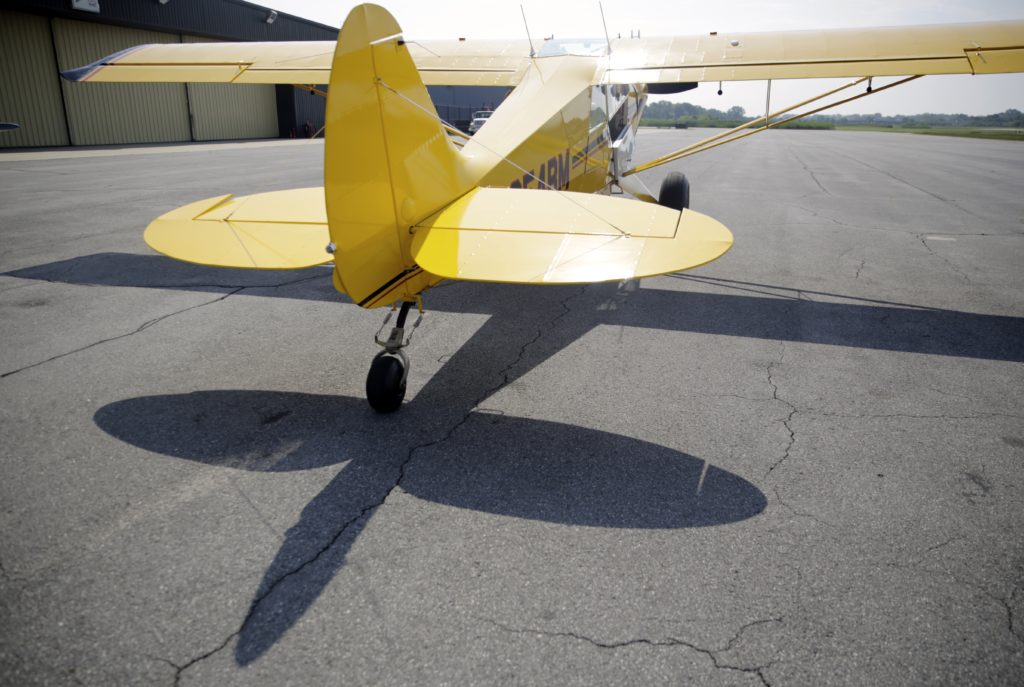 We checked in and inquired about weather and traffic in Oshkosh.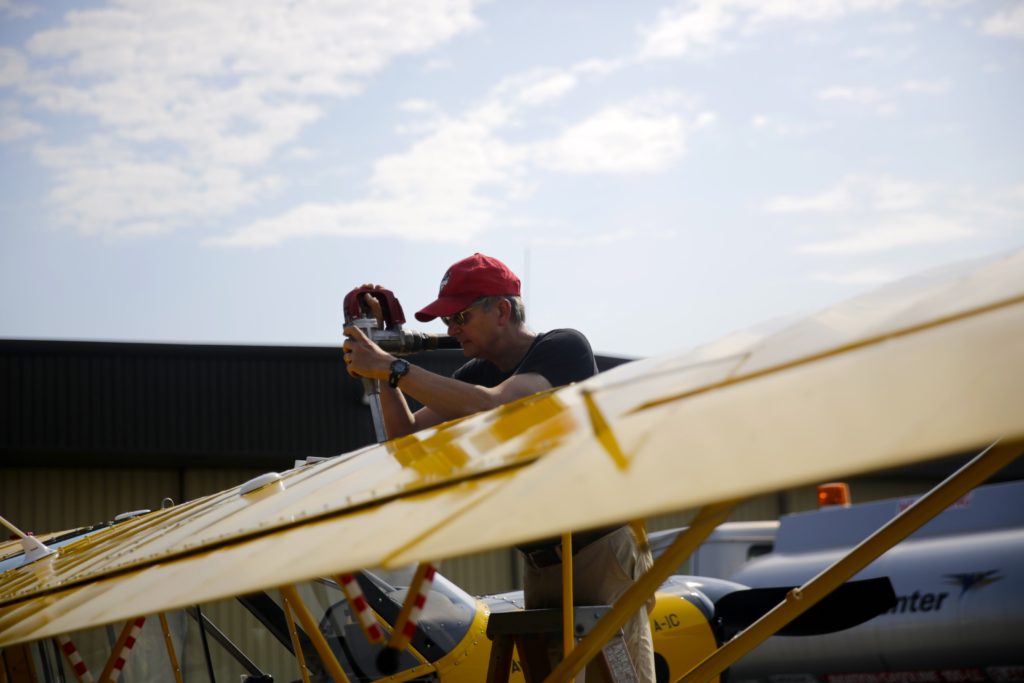 In Oshkosh it was still raining. We added more fuel just in case we couldn't land right away and had to stay in the air in a holding pattern over our final destination.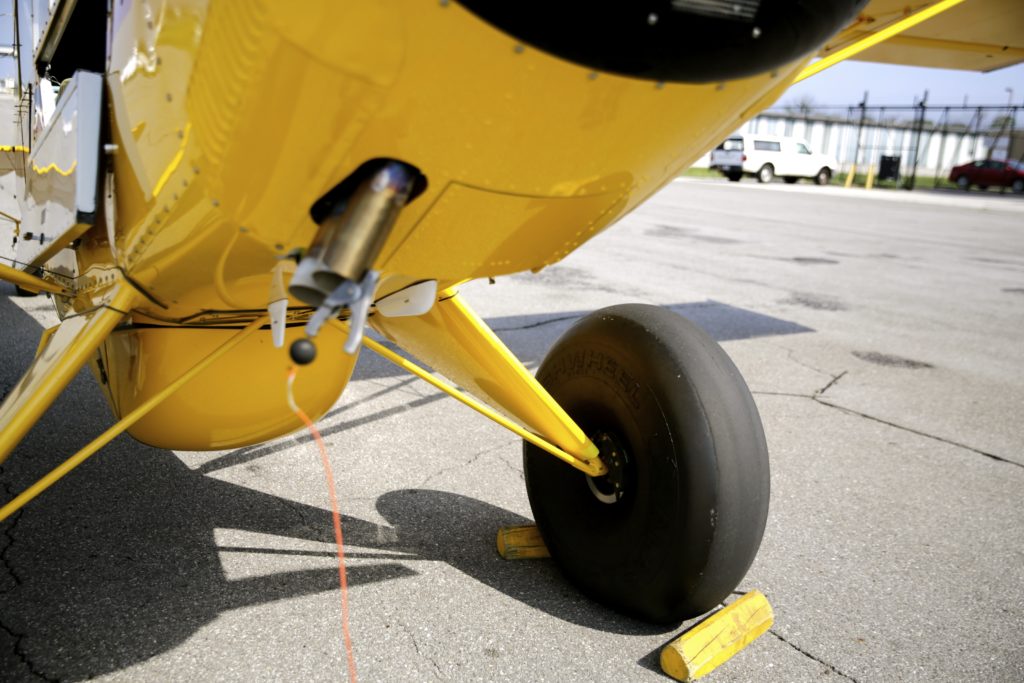 An airport technician grounded the Husky with a clamp and a wire to prevent static electricity buildup.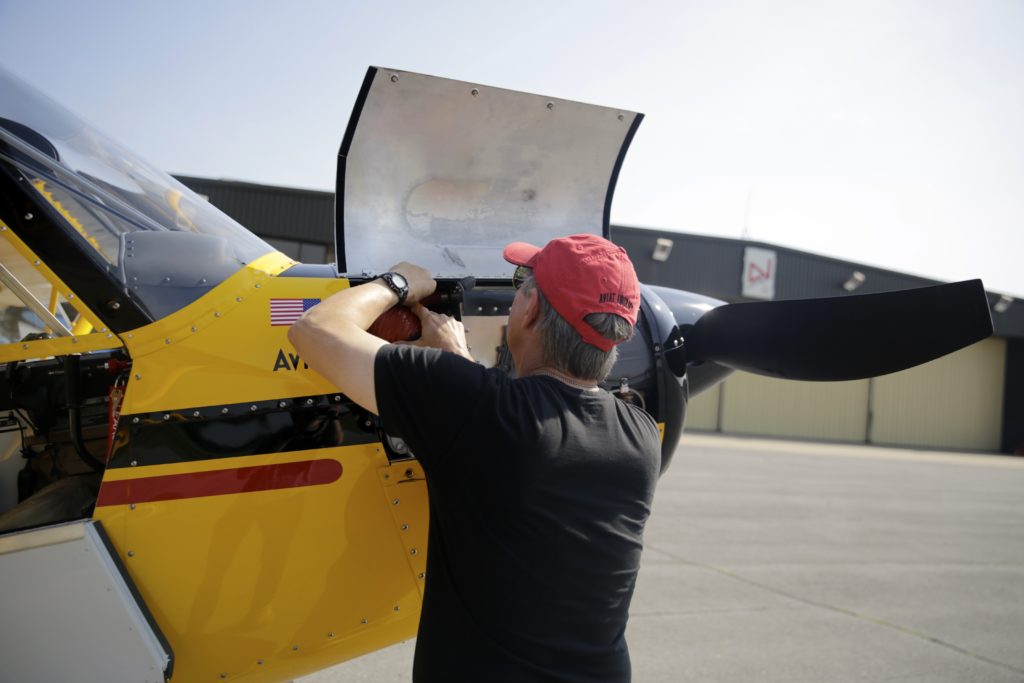 Mottier again rechecked the plane, and we were off and over Lake Michigan.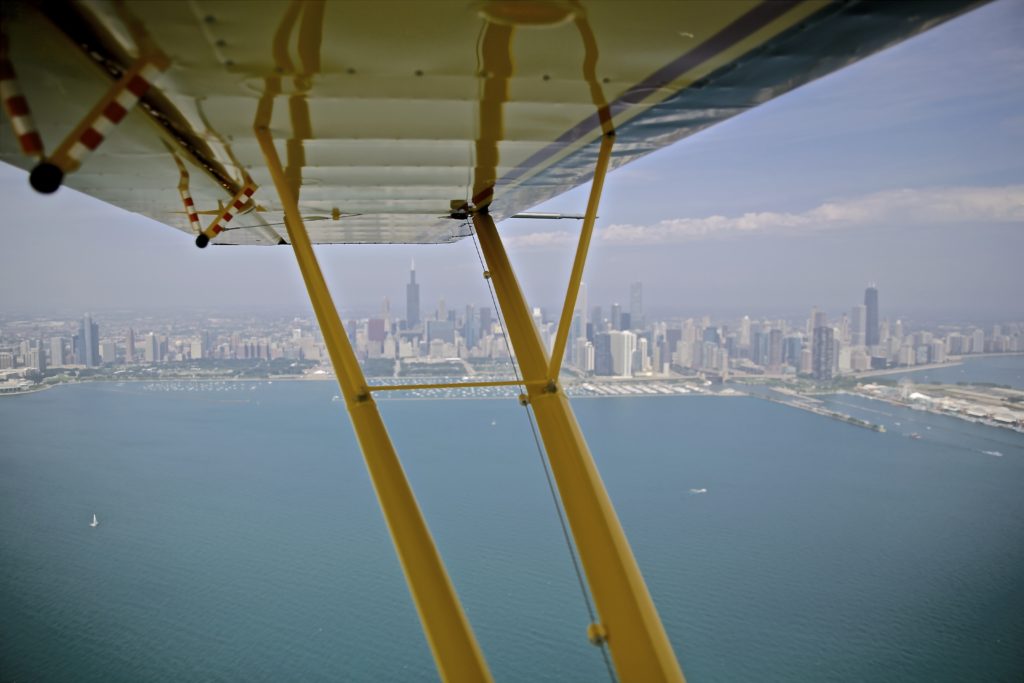 We kept the coastline on our left. Within minutes, the factories of Gary gave way to Chicago suburbs. Then, a beautiful vista of downtown Chicago appeared like a mirage from the mist.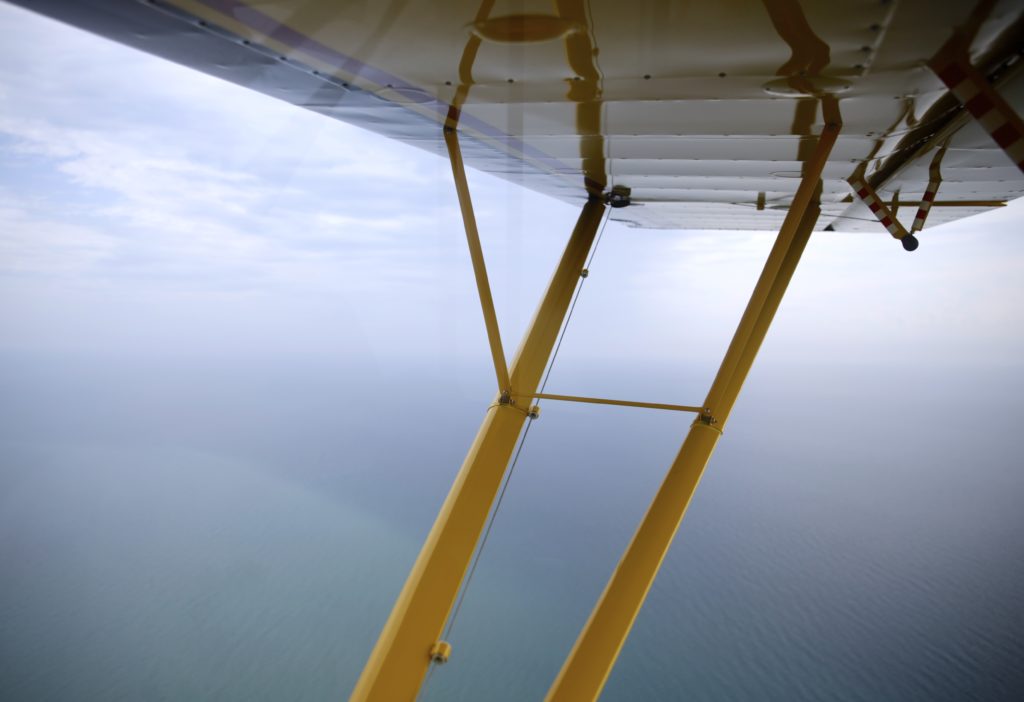 We climbed 1,000 feet over Lake Michigan and followed the coast for another 30 minutes. At an altitude of 2,500 feet, the sense of  freedom and possibility over the lake's blue expanse was almost palpable, despite the occasional bump.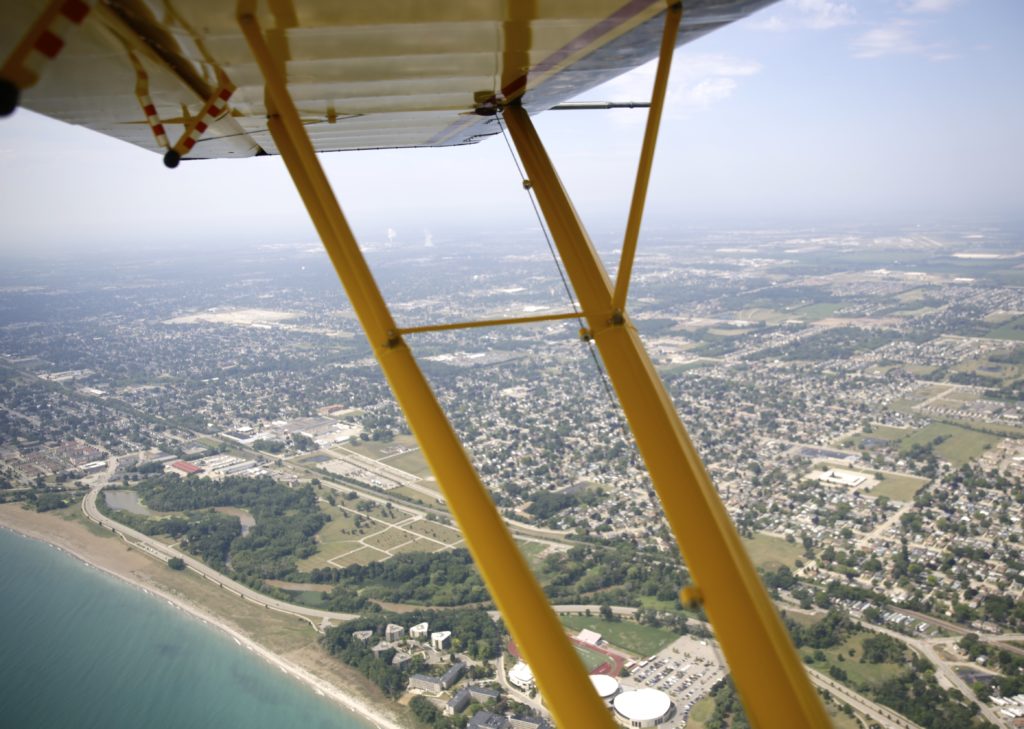 After we passed Evanston and Northwestern University on our left, we started turning inland. But the weather also started to turn.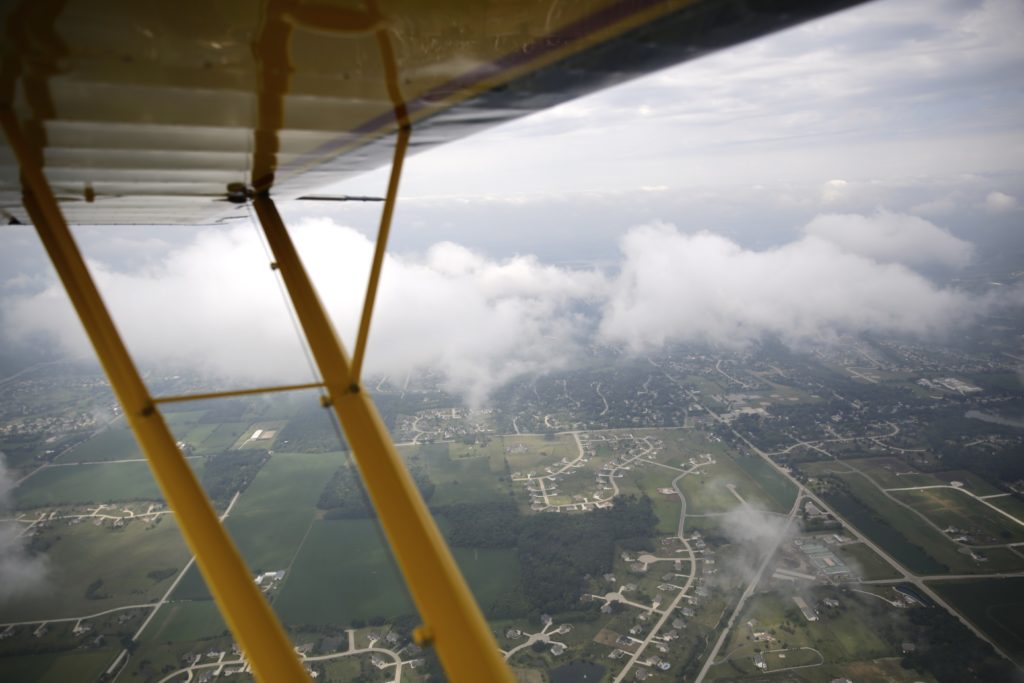 We were soon flying through low, fast-moving clouds.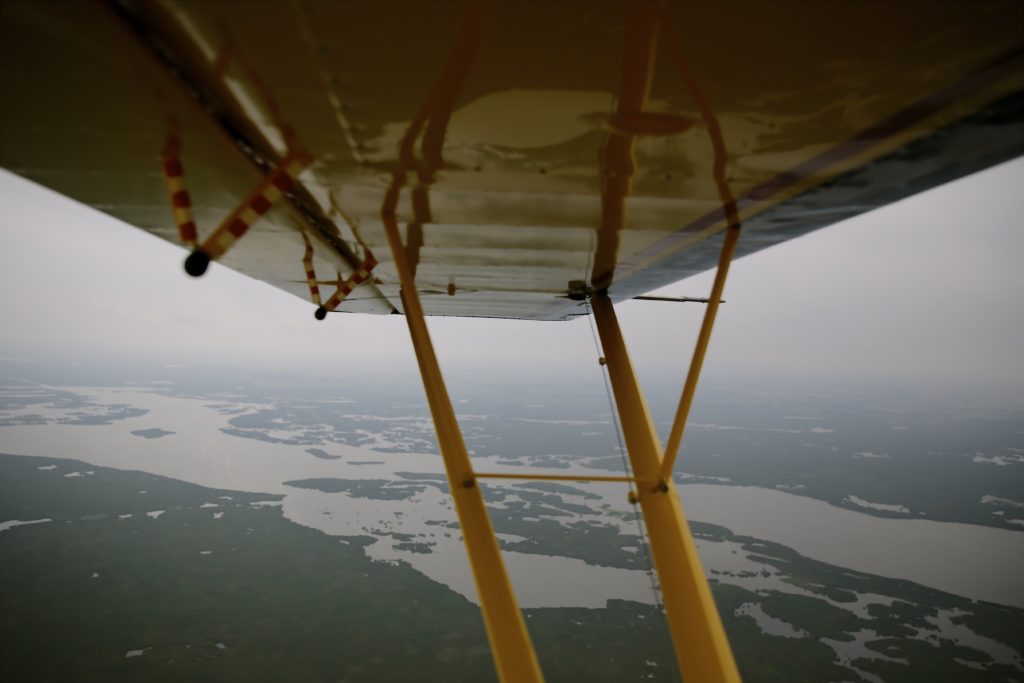 The farther north we flew, the wilder the landscape below us became. Just before Oshkosh, we encountered miles and miles of wetlands left behind by melting glaciers some 14,000 years ago.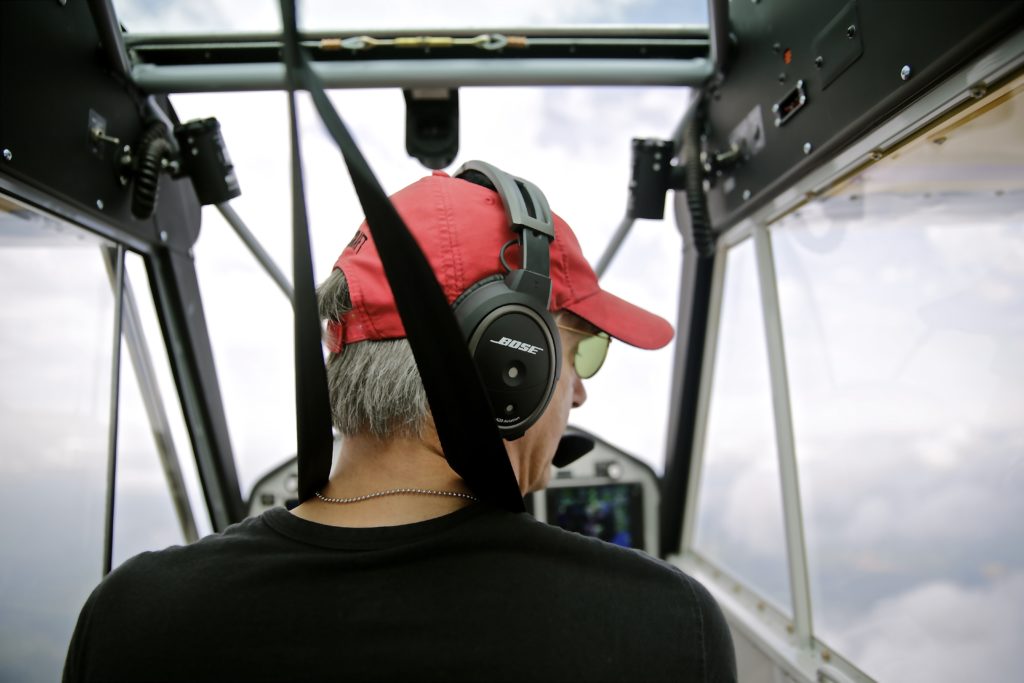 Near Oshkosh, we dropped under the clouds and the sky was suddenly full of other small planes zipping past us like swarming bees. Everybody was racing to the airshow. Our headphones crackled with radio chatter between the air control tower and pilots. During the week of the fly-in, the Wittman Regional Airport in Oshkosh becomes the busiest airfield in the world.
These are our instructions for landing at Oshkosh. "It is interesting how the FAA [Federal Aviation Administration] reverts to a more manual system to bring thousands of airplanes safely into Wittman Field," Mottier says.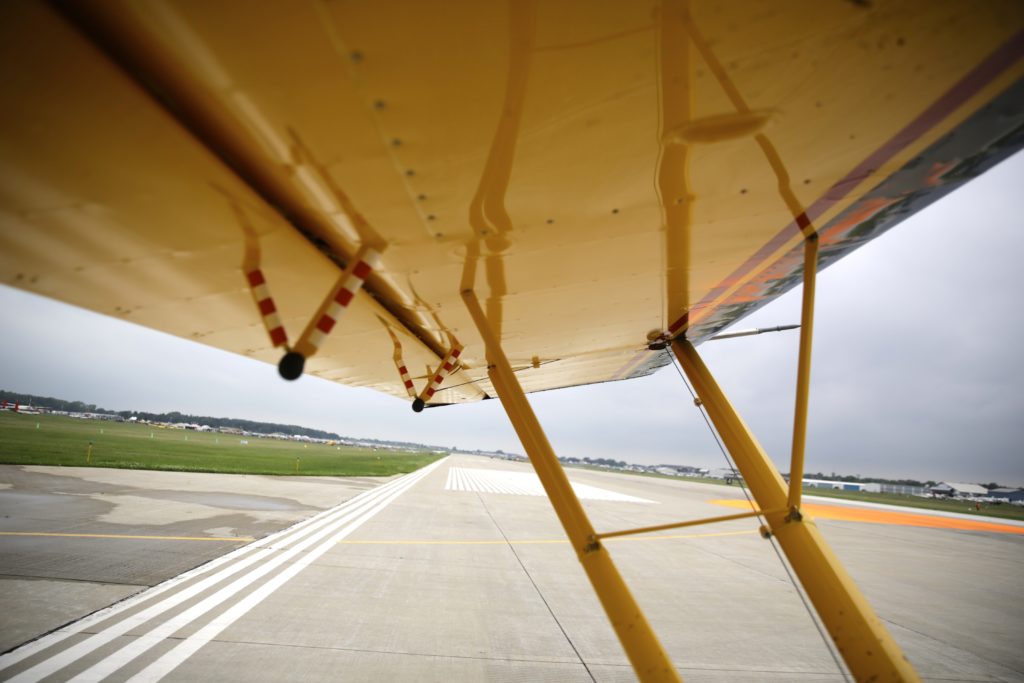 Mottier, who was following visual flight rules (VFR) during our entire journey, maneuvered us to a free landing spot and touched down on our prescribed landing dot painted in pink on the runway. Six colored dots mark the two landing strips, allowing planes to land quickly one right after another. (See an orange dot on the right.)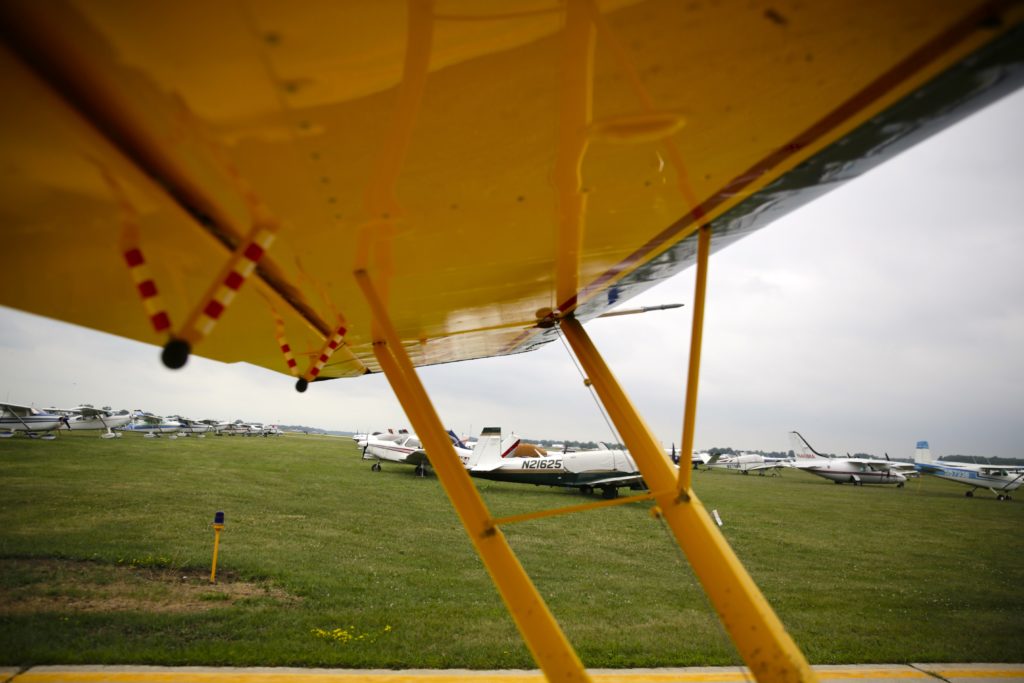 We landed under overcast skies and taxied past fields already filled with planes. Some 10,000 pilots will fly their aircraft to Oshkosh during the airshow.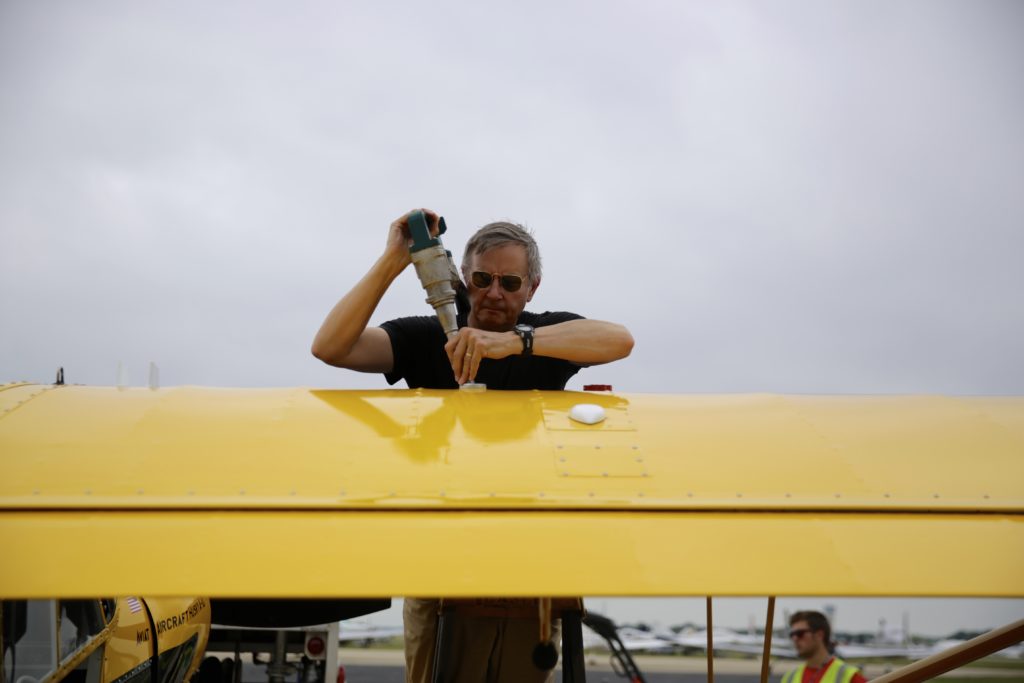 Mottier stopped outside a hangar and filled his plane with fuel for the return trip.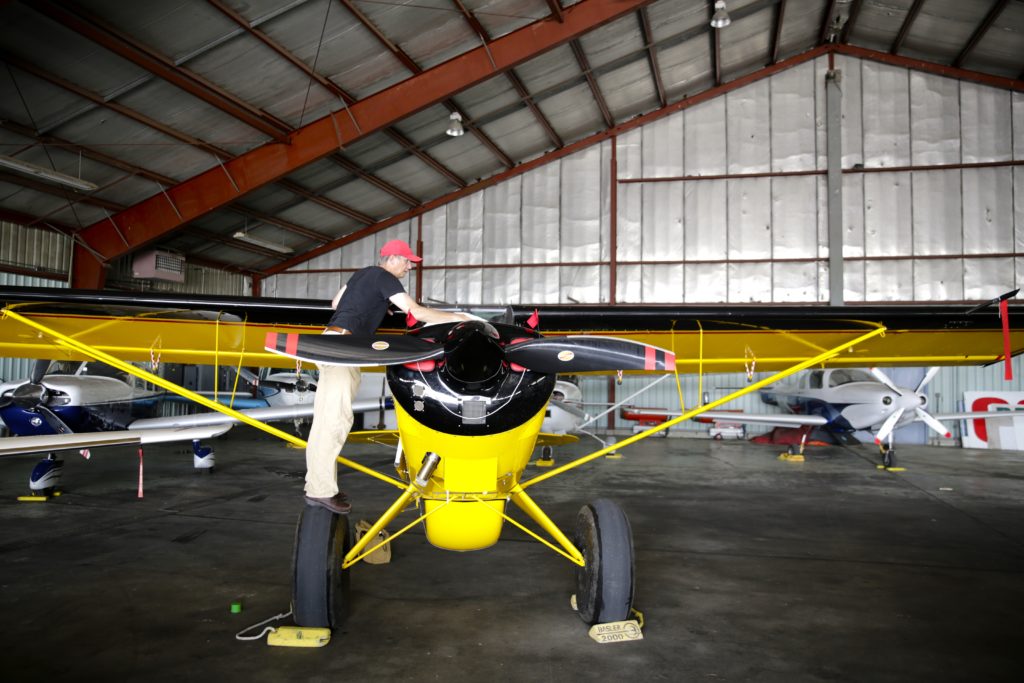 We pushed it inside and covered the engine.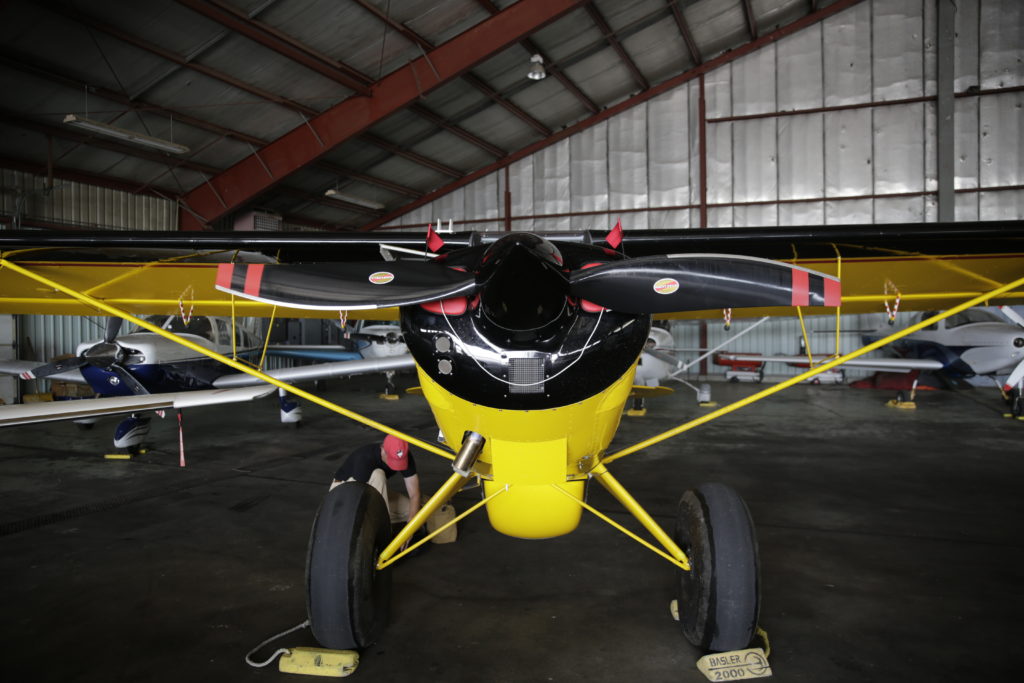 Then we closed the hangar door. Mottier is flying back to Cincinnati on Friday. His Husky is already wearing large tundra tires for landings and takeoffs from rural airfields. In August, he is taking the plane on a backcountry fly fishing expedition in Wyoming. "That's the liberation I am talking about," he says.
Categories
tags