The COVID-19 pandemic has sparked a global race for mechanical ventilators, the machines that may help some of the most critical patients breathe. Manufacturers have boosted production, and countries put in bumper orders for ventilators, which support respiration when the lungs aren't up to the task. Teams of service engineers in the Middle East and Turkey are exploring ways to strengthen the ventilator ranks and ensure the region's breathing machines stay in good working condition, even older devices or those with technical issues.
"We overhaul them and get them back to the hospitals as quickly as possible," says Hady El Khoury, general manager for GE Healthcare's services division in Eastern Growth Markets (EGM), which includes Turkey, Saudi Arabia and the Middle East. "Every ventilator we're able to put back into use means another device to help support a patient in need."
Many of these critical repairs take place at GE Healthcare's two regional repair operations centers in Turkey and Saudi Arabia. The centers' technicians have overseen around 100 repairs across these markets since the outbreak of COVID-19 in the region. The service team's work also includes on-site servicing of other critical equipment, such as computed tomography (CT) and magnetic resonance (MR) scanners and X-ray machines. But around 80% of the repair centers' workload right now relates to ventilators, explains Alper Cirpici, general manager of operations for the region. "That's the big priority right now."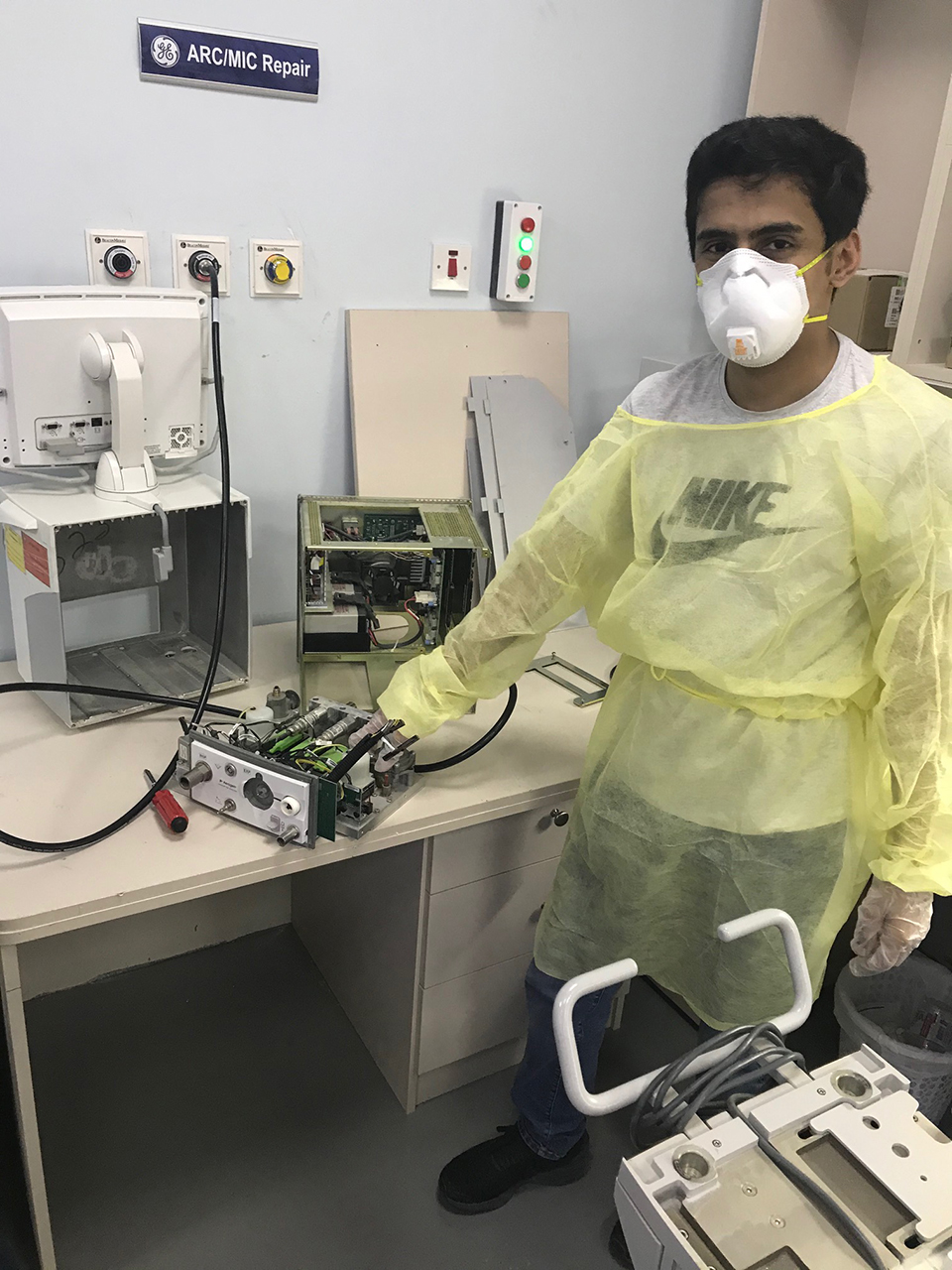 Above: Mohammed AlJammaz, a repair shop service engineer in Saudi Arabia, works on repairs to a ventilator. He's one of the centers' technicians who have overseen around 100 repairs across these markets since the outbreak of COVID-19 in the Middle East region. Top image: Teams from GE Healthcare's two regional repair operations centers in Turkey and Saudi Arabia continue to make critical repairs to ventilators. Some of those 33 regional experts including in Turkey: Service Delivery Leader Ismail Akkaya, Repair Shop Service Engineer Oguz Gürsesli, and Repair Shop Service Engineer Turkey Ali Hasir. Image credits: GE Healthcare
The region's 33 remote service experts can check on and carry out around a third of fixes to critical medical equipment with no physical intervention. That is because many machines are internet-enabled, which means that the workers can resolve software glitches, reset systems, and check error logs via a broadband connection. Sophisticated software such as GE Healthcare's OnWatch™ or Tube Watch also sends alerts when issues arise. Those remote interventions usually help hospitals get their essential machines back online quickly.
But ventilators are a little different. Most ventilator repairs involve physical intervention. In cases where a health system has a service contract with GE, a field engineer will visit the hospital to fix the problem, or hospitals can send those machines to the repair centers. Cirpici is keen to emphasize the repair centers have a 'safety first' policy for the field engineers — they must wear personal protective equipment — and also for the newly arrived machines. "We use lots of materials to fully clean all systems before they enter the repair center," he explains.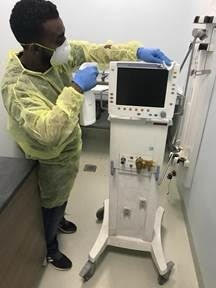 Billal Kahssy, a field engineer in Saudi Arabia also helped out with the cleaning and other center activities as needed. Image credits: GE Healthcare.
The repair job itself is usually quick. "The diagnosis and fix are generally pretty straightforward," Cirpici says, adding that technicians can often complete jobs in three to five hours.
Customers use commercial package delivery companies to post their ventilators, which weigh up to 40 kilograms excluding trolleys, to the repair centers. The majority of customers typically receive their machines back within two to three days.
Says El Khoury: "Their mission, our mission, has never been as critical as it is today."
Categories
tags