In a popular sitcom about the digital economy, a brilliant team of misfit coders and developers do valiant, if hapless, battle against a mega-corporation with unlimited resources but no inspiration. I work for a big company, but that vision of development looks like a kludgy nightmare to me, too. Thankfully, everyone at GE, from top to bottom, agreed that we should build our digital business like Thomas Edison would: through a restless drive to innovate, small teams and tight deadlines.
That's how a small, nimble team in GE's research labs built and deployed an entirely new set of "edge" technologies in under seven months. We also deployed our first app to use this new technology called Dispatch Optimizer, which a GE Power customer is now using to optimize their power plant operations.

What are "edge" technologies? They are a gateway through which virtually any industrial machine can connect to and creates a complete computing continuum from devices at the edge of the system, say, on a wind turbine, jet engine or a locomotive, all the way up to the Predix cloud, enabling "cloud-like" analytics and computing to run on the machine itself. They speak and understand a half a dozen different computing languages, have the most advanced cybersecurity features built into the system and enable new controls capabilities that allow machines themselves to act on new data insights to optimize their performance.

A bit of context: at GE, we work on apps that manage large machines like gas turbines and MRI machines. "Edge" computing revolutionizes how those machines operate. When machines connect to the Industrial Internet and the cloud, they're able to learn from the overall network (other machines, other sources of data, like weather and market conditions) and adjust accordingly, optimizing the system's performance. But machine controllers on the edge also learn and adjust based on their own experience, independent of the larger network. They don't have to be connected to the Industrial Internet to operate, but they can still learn and evolve.

Edge apps resemble mobile apps. They connect to and learn from the larger Internet and cloud, but they can also operate at the edge, making them doubly smart. If you don't have connectivity – for example, on an oil rig in the ocean – you can still use many apps, and they can still learn from how you're using them. Instead of iOS or Android, our apps use Predix edge technology, which is the stack through which all industrial assets, software and security can be managed.

Those are the kinds of apps our Edge Convergence team invents. They are working fast to define the future of the Industrial Internet. It's a bottom-up process that transforms the somewhat musty and mechanical concept of "industrial controllers" into a dynamic, digital one.

The edge mission is to securely connect and software define every new GE asset by the end of 2018. So far, Predix edge technology has been installed and tested on 13 different edge devices from multiple GE businesses. The edge team is working to enable these technologies on all of GE's 57 unique edge devices that span multiple businesses over the next 18 months.

This pace of development and breakthroughs is what will help us become the first company to offer an end-to-end, edge-to-cloud solution to optimize machine performance. This small, nimble team is putting the "digital" into the digital industrial model of the future, and delivering that future today.

Stay tuned. We'll be sharing more about how our Predix edge technologies are helping our customers benefit from the Industrial Internet at our Minds + Machines conference October 25-26 in San Francisco.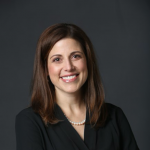 tags