Learjet ushered in a new era in aviation in the 1960s when it introduced the first private jet.
At the time, even flying economy was still so rare that people dressed up for the occasion. Even so, there was a market for flying with speed and convenience. The Learjet was built so it could take busy executives — as well as the famous — wherever and whenever they wanted. The first Learjet 23, powered by a pair of GE jet engines originally designed for a fighter jet, could cruise at 500 mph. Frank Sinatra, one of the first buyers of the Learjet, used it to shuttle his Rat Pack friends between Los Angeles and Las Vegas.

The Learjet 23 launched a new industry: Today, business aviation is a $26 billion revenue industry. Similar to other brands such as Xerox or Coke, "so significant was the design that for years 'Lear Jet' was synonymous with 'bizjet,' " according to the Smithsonian, which holds a prototype of Learjet's first jet from 1964, the Model 23. The plane and the GE jet engine are in the collection of its Air and Space Museum.

The company Learjet is now part of Bombardier Aviation, a leading builder of the most advanced business jets.

This week, Bombardier brought some of that classic Learjet swagger back to Las Vegas for the annual NBAA Business Aviation Convention & Exhibition. Again this year, Bombardier is displaying the industry-leading Global 7500, a next-generation business jet listed at $72.8 million. The aircraft entered into service less than one year ago and has already scored a number of industry records, including recently flying from Sydney to Detroit on a single tank of fuel.

Like the first Learjet, it's powered by a pair of GE jet engines. Called the Passport engine, it's "the most sophisticated engine ever created for business jets," according to Jean-Christophe Gallagher, Bombardier's vice president and general manager for customer experience. GE Aviation also is helping the plane-maker digitize its fleet and predict the optimal time when a jet needs service.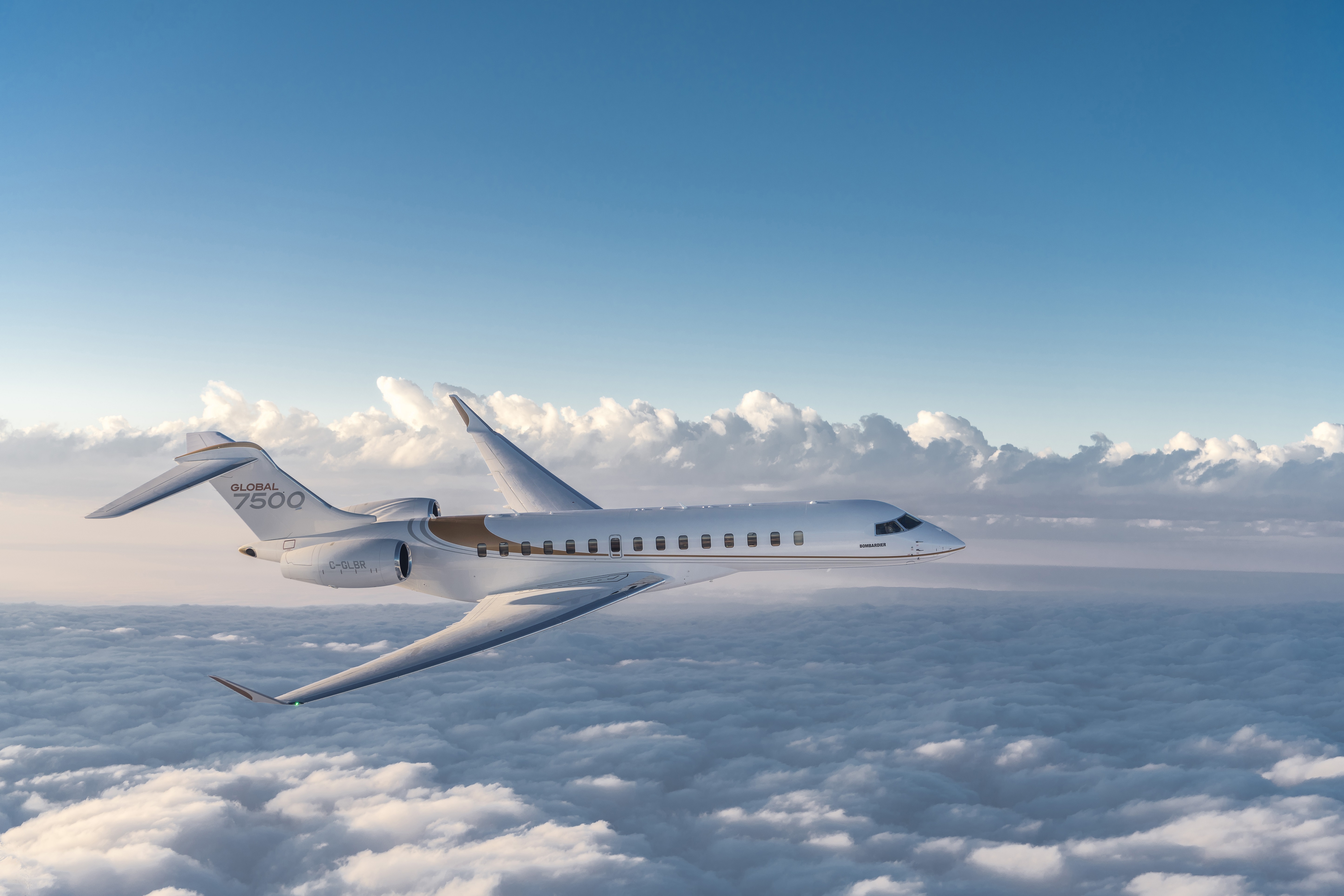 record-breaking flight between Sydney and Detroit.

This isn't the first time Bombardier has called on GE's engineering prowess. The company's engines also power Bombardier's Challenger 600 series aircraft, the most successful family of business aviation jets in the world with more than 1,100 delivered.

"We've been together on this platform since the beginning of time," Gallagher said. "That is the platform that created Bombardier."

But the Passport elevates Bombardier jets even further. It blends designs with technologies and materials that the company developed for its latest commercial engines. Laurence Vigeant-Langlois, the manager responsible for the Passport program at GE Aviation, says being able to build a new engine for a new plane allowed engineers at both companies to design a highly reliable "ultra-long-range aircraft" that also stays ahead of noise and emissions regulations.

For example, the Passport includes technology from the GEnx, the engine that powers Boeing 787 Dreamliners and 747-8 freighters. It also borrows from the LEAP engine, which powers fuel-efficient, single-aisle jets such as the Airbus A320neo. Designed by CFM International, a 50-50 venture between GE Aviation and Safran Aircraft Engines of France, the LEAP engine is the best-selling engine in aviation history, with orders and commitments valued at more than $255 billion.

Among the LEAP engine's key contributions to the Passport is its advanced engine core, or eCore. Made up of the compression, combustor and a high-pressure turbine, this essential component influences an engine's fuel efficiency, emissions and other factors. The Passport core includes parts from ceramic matrix composites, for example, which is a new heat-resistant material that's 20% stronger and two-thirds lighter than its metal counterparts.

All this technology gives the Passport broad shoulders to stand on. The LEAP engine's utilization rate has been at 96% since it entered service in 2016 — six percentage points higher than the engine's competitors.

"You take the number of days the plane is available for commercial business and you divide it by the number of days of the year," Sébastien Imbourg, executive vice president at CFM said at the Paris Air Show last summer. "The closer you are to 100%, the better you are."

That six-point advantage represents about 20 extra days of operation, or $2 million per airplane per year in extra revenue, according to UBS.

During a recent stroll through a pristine white hangar in Montreal where Bombardier employees were putting the finishing touches on a pair of new Global 7500 jets, lead engineer Eric Garneau reflected on his tenure as GE's Canadian liaison with Bombardier.

"I've been following the flight tests, and I almost felt like a Maytag repairman," said Garneau, who has a desk at Bombardier headquarters near Montreal's Pierre Trudeau Airport. "There were just no big issues with the engines, just little things."
Categories
tags