There wasn't much talk of Messi but a lot of conversations involving machines talking to machines in certain corners of Barcelona in mid-September, when more than 4,000 humans from over 50 countries converged on this Catalan city for the inaugural Internet of Things Solutions World Congress. This week, the digital caravan moves to San Francisco, where GE is holding its annual Minds + Machines conference in San Francisco – the font of Internet disruption.
Cisco, a big player in the field, believes that there will be 50 billion connected "things" by 2020, including everything from FitBits to jet engines. GE, which is investing billions in "intelligent machines" and turning itself into a digital industrial company, is focusing on heavy-duty end of the IoT spectrum: the Industrial Internet.

The sizes of both events – GE's expects 1,500 visitors and will take up San Francisco's imposing Fort Mason - illustrate that intelligent machines are quickly growing up. In fact, their progress invites comparisons with the rapid rise of mobile computing and smartphones.

 

In just one decade, their ecosystem has connected billions of people around the world and transformed how we live, work and interact. The digital industrial world is now starting to see something similar.

Last year, GE and a group of companies including AT&T and Intel formed the Industrial Internet Consortium (IIC) to create a digital ecosystem connecting billions of machines ranging from blowout preventers and locomotives to CT scanners. In just one year, the Consortium has grown to more than 200 members.

Jumping on this accelerating train makes a lot of good sense. There are hundreds of billions of dollars at stake in new growth opportunities in what Colin Parris, GE's vice president of software research, calls the emerging "data economy."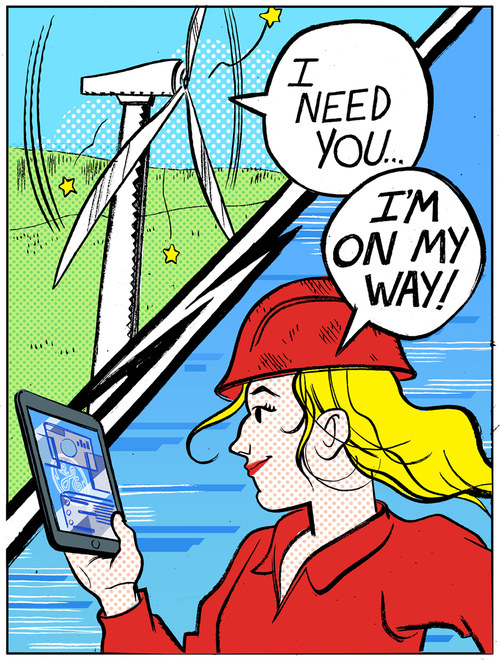 At the Barcelona event, Parris delivered a keynote address on GE's Digital Twin initiative and he's also coming to San Francisco.

Parris says that consumer juggernauts like Amazon, Google and Apple have already given birth to their own digital twins modeling human customers and suggesting new business models and value streams.

GE and other industrial companies are now doing the same by extracting, analyzing and modeling with data from machines and factories. The digital twin can simulate the operations of wind turbines, ships and power plants inside a computer and helps engineers to find and optimize the best designs before they even start making things from metal. "Through the digital twin, we will create continuously evolving digital models for machines that will extract value for the Industrial Internet in the same manner that companies in the consumer internet space have done," Parris says.

One of high points at the Barcelona congress was the introduction of new Industrial Internet test beds that allow IIC members to measure the efficiency of their products. The brains behind a test best developed by GE and Infosys will also be to Minds + Machines in San Francisco this week. It's already helping engineers find better ways to manage and maintain landing gear.

Jayraj Nair, who is also leading the test beds effort at Infosys, said the partnership with GE is was a great example of how the IIC is encouraging more collaboration and fostering industrial-strength solutions for the Industrial Internet.

Still, the opportunity for collaboration does not come without challenges. Speaking on a panel in Barcelona, Katherine Butler, general counsel for GE Software, said that open-source innovation was still not broadly understood and that more education was needed.

Forums like Mind + Machines are perfect place to get the word out about the rising digital industrial future.
Categories
tags