A strange thing occurred while Quinn Darragh was swimming from England to France in September 2020. He could swear his wife Sheree was swimming below him in the icy black water as he slowly crawled his way from Dover to a spot near Calais. Except his wife was a mermaid.
"Weird things happen" when you're as tired and cold as he was, Darragh says. "You hallucinate at certain points."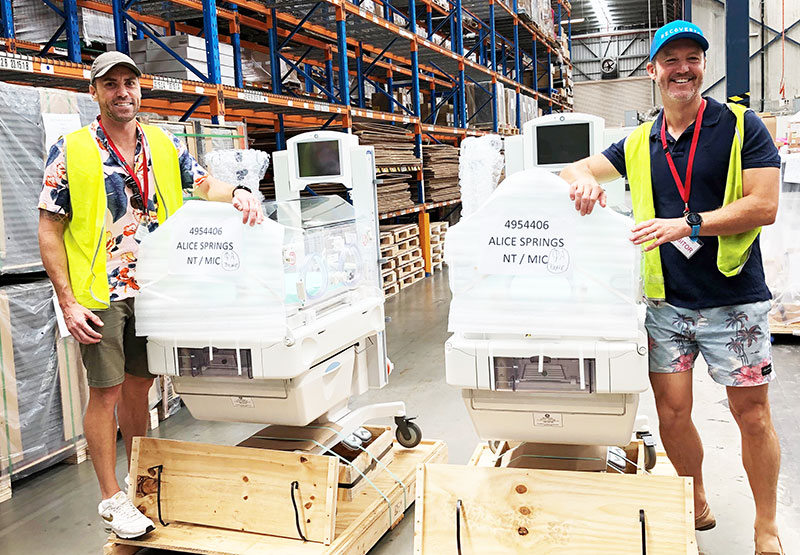 Darragh, along with his best friend, Luke Stewart, suffered seasickness and hypothermia. Ultimately, he pulled himself across the English Channel in just under 10 hours. The pair of fathers had a good reason to take on the punishing swim accompanied by months of open water training, ice baths to acclimate to the cold, Covid restrictions on travel and other hurdles. Darragh's son Ryder, who was born at just 27 weeks into Sheree's pregnancy, was saved by a ventilator bought with donated funds. Ever since the couple left the hospital with their baby boy, Darragh has wanted to show his appreciation for the doctors, nurses and donors who made Ryder's life possible.
"Ryder was born at 1 kilo (2.2 pounds) and resuscitated in the delivery room," Darragh, 43, told an interviewer. "It was really emotional and scary, and I felt very helpless as a father."
The friends decided last year that the time was right, despite Covid, to try something new, train harder than either ever had and raise enough money to bring modern neonatal equipment to the Sydney hospital that saved Ryder and to a medical center in remote Alice Springs. The latter serves a vast area of Australia's outback and an Indigenous population that suffers premature births and complications at a rate significantly higher than that of Australia's non-Indigenous mothers and babies.[i]
"It was a field of land mines and we didn't step on one," Darragh says of his son's early days, when it felt like they were always just one medical complication away from disaster. "We were really lucky with how early [Ryder] was and how well he's doing. I wanted to repay the neonatal unit."
He and Stewart succeeded, and then some, raising more than they had originally hoped, A$145,000 (roughly $118,000) in all, for the Australian charity Running for Premature Babies. The money enabled the Royal Hospital for Women in Sydney to buy the same NAVA-style ventilators that helped Ryder survive. It also funded the purchase of Giraffe Incubator Carestations and Panda Warmers, made by GE Healthcare, for the hospital in Alice Springs.
How the pair got to the finish, though, was complicated. Neither man was an elite swimmer to start with, though Darragh has served as a lifeguard. The cold was their first challenge — the Channel would be around 16 degrees Celsius (60 degrees Fahrenheit) during their swim window in September, cold enough to drain body heat over the many hours they'd be in the water — and neither had much body fat to serve as insulation.
"It's not just being able to have a technique that holds up in open water and swim for a long distance," Stewart said in a video he and Darragh made before the swim. "It's about the nutrition and managing energy, and the cold is a big part of it."
To cope, they'd see how long they could sit in a bathtub filled with ice water (a truly miserable-looking Steward filmed himself trying to break 30 minutes).
Covid presented even more problems: With pools and even beaches shut down, the two men had to find ways to squeeze training swims into busy work schedules and in any body of water they could find, from rivers, to lakes to the ocean — which sometimes meant jumping barricades in order to access it. Closed borders added even more uncertainty to their effort.
Ultimately both were driven by the knowledge that they were raising money to buy equipment that truly would save lives, particularly in Australia's vast outback, where patients have limited access to the best healthcare. Alice Springs sits near the nation's center, roughly 1,500 km (932 miles) from both Darwin in the north, and Adelaide in the south. The hospital's neonatal unit serves an area of 2.2 million square kilometers (more than 849,000 square miles) and cares for roughly 250 to 300 babies a year in its nursery, out of 800 born there each year, says Karen Miegel, clinical nurse manager of the neonatal unit. About half of those babies are premature and need incubators like the GE machines to stay warm.
"The smaller the baby, the less fat they have on them, the less able they are to warm themselves," says Miegel.
The new GE Healthcare equipment replaces machines that were 20 years old or older. The Giraffe Incubator Carestations provide a protected environment for delicate newborns, with a fine-tuned thermal system and a pressure-diffusing, rotating mattress that helps position babies comfortably for examinations and procedures. Panda Warmers are tiny beds that hold newborns while clinicians examine them and are kept within easy reach — especially in the case of high-risk deliveries. They are equipped with built-in blood oxygen and heart rate monitors and systems for resuscitation and suctioning, and an integrated X-ray tray so that the baby does not have to be moved to a separate machine. Also, they are mobile, allowing babies to be rolled about without disrupting or disconnecting any of their vital care.
Ethnic disparities play a big role in the population Alice Springs serves. Forty percent of the population are Aboriginal, and a 2017 report found that Aboriginal mothers in the Northern Territory were three times as likely to have not received appropriate antenatal care as non-Aboriginal mothers there, and were twice as likely to have low-birthweight babies.[ii][iii] Approximately 70% of the babies born prematurely in Alice Springs are Aboriginal, says Miegel.
Each year, roughly 10 infants born too early at Alice Springs must be airlifted to a larger hospital in Adelaide, a costly, draining journey. The new neonatal equipment cuts down on the need to make that trip, Miegel says.
"They're precious," Miegel says of the new Giraffe OmniBed and Panda Warmers, which first started arriving in October. "It's much better quality of care. It's a huge improvement."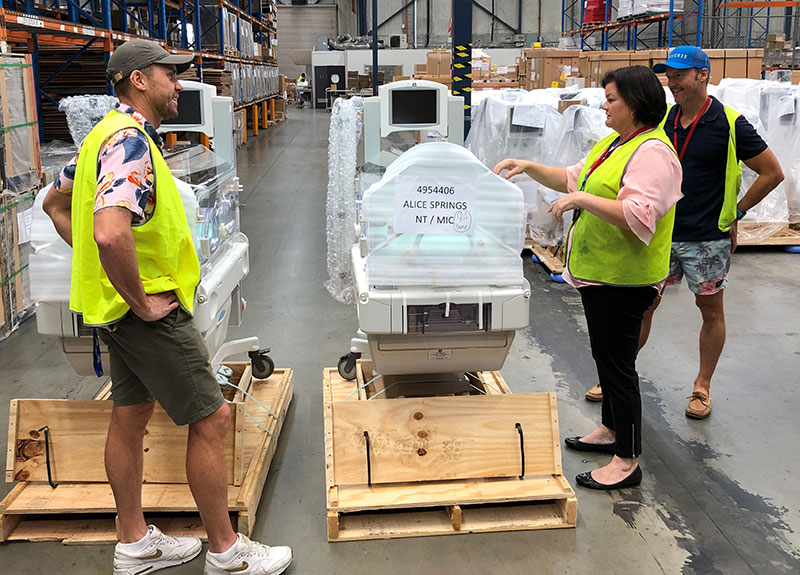 Though publicly funded, it's not at all unusual that the Alice Springs Hospital relies on donations to secure the latest in technology, says Sophie Smith, who founded Running for Premature Babies along with her late husband Ash after losing premature triplets some 15 years ago.
"These hospitals don't have the funding to just outfit their neonatal units with the best of the best equipment," Smith says, but the donations make a tangible difference in the care of these newborns. "We all know the advances in technology over the last 20 years have been significant."
Smith and her late husband decided to overcome their grief at losing their sons Henry, Evan and Jasper by running a half marathon and, as with Darragh a decade and a half later, their hope was to give something back to the institution that cared for their children. When they raised four times what they expected, a nonprofit was born. To date the charity has raised over $4 million and the equipment that money has purchased has been used by 6,000 babies, she estimates.
Darragh's and Stewart's Channel swim last September turned out to be harder than many. Darragh estimates he swam closer to 40 km (25 miles) than the planned-for 34 km (21 miles) because of currents. The pair passed a boat carrying migrants toward the U.K. at one point, a poignant moment in a grueling day that reminded them how much they had to be thankful for. Stewart ultimately had to be pulled out of the water three-quarters of the way through, but Darragh finished in the fastest time of anyone who attempted the Channel in 2020.
Both are glad for the experience and the show of support that will translate into better healthcare for babies across Australia.
After finishing Darragh told an Australian news broadcaster: "Luke and I shed a tear with how generous everybody's been and how the community's come together for such a great cause."[iv]
---
Categories
tags