High commodity prices and booming exports have been stoking Africa's economies over the last decade. Now the continent needs to take the next step and add value by creating new businesses, industries and services. But one basic growth ingredient is often missing: electricity.
More than a century after Edison started selling light bulbs, many parts of Africa are "still in the dark after nightfall," according to World Bank data. "School children often cannot read after dusk, businesses cannot grow, clinics cannot refrigerate medicine or vaccines, and industries are idled, hampering economic growth, jobs, and livelihoods."
That's why earlier this year GE and the US African Development Foundation challenged local innovators to apply their perspective and develop new electricity solutions for off-grid communities and companies. The partners just announced the first six winners from Nigeria and Kenya. They will receive up to $100,000 each to implement their ideas.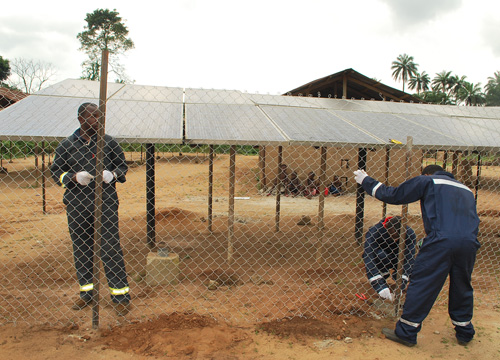 Communal solar arrays will help charge portable batteries in Rivers State in Nigeria and take them home. Top image: Afrisol Energy Ltd proposed to build bio-digesters in poor Nairobi neighborhoods to produce electricity from biogas. They take just eight weeks to construct and also alleviate sanitation problems with handling human waste.
One of the winners, GVE Projects Ltd., designed an 18-kilowatt mini-grid for 140 homes in the Rivers State in Nigeria. Residents will charge portable batteries from a large communal solar array to power their homes.
Afrisol Energy Limited proposed to build bio-digesters in poor Nairobi neighborhoods to produce electricity from biogas, and Trans-Africa Gas and Electric PLC designed a cold storage facility to allow farmers in the Nigerian city of Jos to cool and store their produce before bringing it to market. (All six projects are listed here.)
The jury reviewed more than 150 entries in the first round. "We looked out for applications that demonstrated new business models to deliver sustainable, renewable energy to underserved, marginalized populations," said Shari Berenbach, president and CEO of the USADF.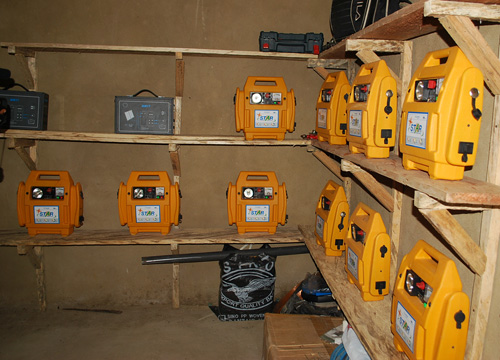 Residents can take charged batteries to their homes.
GE is already working with African countries like Nigeria, Tanzania, and Algeria to add more power to the grid. However, many people in Africa many never be connected to it. It's a situation similar to parts of India and Africa a decade ago, when cell phones leap-frogged landlines.
That's where GE's Distributed Power business comes in. Its engineers have been developing a host of cost-effective and innovative ways to provide power to isolated villages, towns and factories, and supply backup electricity during frequent blackouts.
For example, 24 mobile GE aeroderivative turbines capable of generating over 500 megawatts will provide electricity to a desert province in Algeria. Three GE Jenbacher gas engines will supply reliable, on-site electricity to an anti-malaria medical equipment plant in Nigeria.
Jay Ireland, president and CEO of GE Africa, says that the goal of the challenge is to engage local experts and find home-grown ideas and solutions to Africa's problems. "We bring in technology, but the people on the ground have valuable insights on what works best for Africa," Ireland says. "They can develop innovative solutions to meet the power needs of the continent."
The challenge will last for two more years.
Categories
tags