Concussion billed itself to US audiences as "the movie the NFL doesn't want you to see". That's heavy on the Hollywood hype considering that the National Football League has partnered with GE in the five-year $60 million Head Health Initiative to accelerate concussion research, diagnosis and treatment. Nevertheless, the film makes for uncomfortable viewing for anyone who's ever watched, played or loved someone who's been involved in any head-jarring sport.
There's a scene where tireless neuropathologist Dr Bennet Omalu (played by Will Smith) shakes an egg that's floating in a little liquid in a glass jar. Each violent, single shake is a simulated brain-shaking impact … a head-on tackle or a spearing crunch to the ground. His forensic autopsy on the brain Pittsburgh Steelers hero Mike Webster had revealed tangles of protein, the result of frequent head collisions creating tiny bleeds deep inside the brain and leading to cognitive impairment, including Alzheimer's-like dementia, depression and violent mood swings.

Omalu and his colleagues gave a name to this silent villain, a neurodegenerative disease which attacks its victims' brains "from the inside": Chronic Traumatic encephalopathy (CTE). And while professional American football was the reluctant poster child for CTE, it's clear that ongoing studies around the world will prove that many other sports, from amateur levels on up, pose risks if the brain is jostled, even inside a traditional crash helmet, as world-renowned Alzheimer's and CTE expert Professor Sam Gandy explained to GEreports. "Everyone thinks of concussion—loss of consciousness—as the most offensive injury," says Gandy. "That's not necessarily the case. There are sub-concussive injuries in which the brain is just sort of jostled without loss of consciousness, and those, too, can cause impairment over a long period of time."



Gandy cites the NFL's own terrifying statistic, released to shocked fans in 2014: it expects almost one in three of its players will dement due to repetitive head injury from playing America's beloved football.

"There's a lot more we need to know about concussion, and Concussion the movie highlights the pointy end of that: adults who are exposed to repeated concussions while playing professional football," says Dr Tim O'Meara, research leader for GE Healthcare Australia, NZ and PNG. "The other end of the iceberg is all those adults and kids out there who suffer a concussion and are currently not adequately managed."

Concussions in amateur and even school sport are commonplace but, says O'Meara, "typical scans will pick up major issues, such as a bleed, but the vast majority of concussions don't involve a bleed in the brain; the majority of them involve damage to the tissue and inflammation that won't be picked up on a typical CT scan."

Studying the frequency and impact of such seemingly mild head trauma by way of advanced PET scans and tracers is critical to diagnosis, treatment and devising ways to predict, detect and ideally avoid concussions in sport.

The US Head Health Initiative is entering its final phases, with the grand prize winner in the final of three challenges to be announced later this year. Challenge I focused on methods for diagnosis and prognosis of mild traumatic brain injuries. Challenge II looked for innovations to prevent and identify brain injuries and the final challenge is to develop advanced materials to mitigate head impact in sport, warfare and civilian life. (More details of all the challenges and the research projects and inventions proposed by earlier winners are on the Head Health website.)

In Australia, rugby union, rugby league and Australian Rules are either involved or looking at ways to join in studies into the effects of heavy tackles.

Already underway is a study being conducted at the Sydney Adventist Hospital by the Heart Research Institute and the University of Sydney's Charles Perkins Centre, beginning with scanning the brains and hearts of 20 former Wallabies, along with 20 athletes from non-contact sports.

Advanced-imaging technology is being used, providing data 10 times more detailed than previously available. The aim is to "provide some much needed hard data to inform recommendations around what constitutes safe sporting practice in Australia," lead investigator Professor Stuart Grieve said in a University of Sydney report on the beginning of the study.

The first stage of the research will study the players' brains using multi-band, multi-shell diffusion imaging, to detect changes in the brain circuits. "Understanding the damage to these networks will help us understand the future risk for cognitive decline or dementia in these players," Grieve said.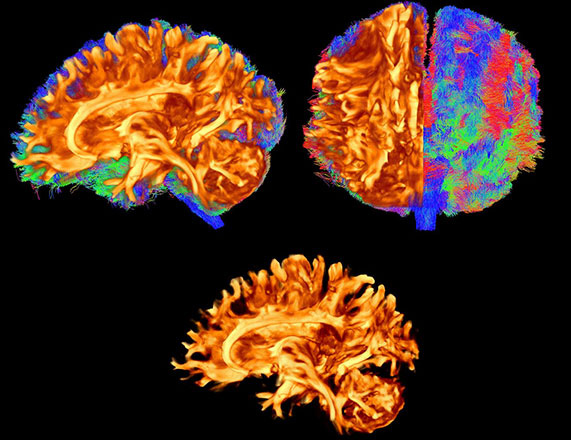 The GE study is acquiring highly detailed MR brain images to examine the impact of concussion in sports.

"They're not only looking at what's happening in people's brains, but also their hearts," adds GE's O'Meara. "There's reasonable evidence to suggest that either the knocks that these people get or the high intensity training they undergo are also influencing cardiac function, which was something that people hadn't realised until a couple of years ago."



O'Meara points out that those volunteers who sign on for studies such as this one are doing it for the greater good. "The ex-Wallabies are taking part in the study because they're concerned and want to help," O'Meara says. "It's not so much about the study being done on the individual player or ex-player, it's the impact that the study might have on their team-mates, the juniors in their club and their club."

The advances of high-tech MR and PET scanners and tracers in the past two years has enabled scientists to study the brains of the living in such detail, rather than via the autopsies that led to the discovery of CTE. The Hollywood spotlight on the issue with the movie Concussion will no doubt build the urgency with which administrators the world over seek to find out the true impact of contact sports.

Photo credit from Concussion: ROADSHOW FILMS

For updates on the results of the studies mentioned in this article and other technology, innovation and science features, subscribe to GEreports here.






tags