Last Thursday, GE held its Investor Conference at GE Aerospace's Customer Technical Education Center in Cincinnati, Ohio. The event comes at a pivotal moment in the company's 130-year history. In January, GE HealthCare successfully launched as a publicly traded company, and now GE Aerospace and GE Vernova are preparing for their next chapter as independent industry leaders sometime in early 2024.
GE Chairman and CEO and GE Aerospace CEO Larry Culp said, "The future is bright at GE. We are operating from a stronger foundation and as a fundamentally simpler business that is creating significant value today and going forward. GE Aerospace is defining flight for today, tomorrow, and the future with our differentiated technology and extensive service capabilities … And at GE Vernova, we are uniquely positioned to electrify and decarbonize the world while driving toward long-term profitable growth."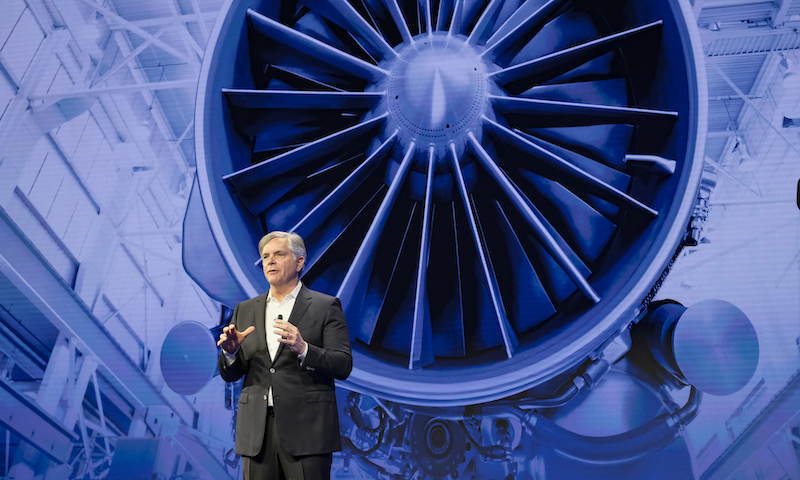 Culp began the conference by highlighting GE's transformation in recent years, having strengthened its foundation financially and operationally. GE has solidified its balance sheet, reducing debt by more than $100 billion since 2018 and providing the company with more flexibility to pursue organic and inorganic growth. Operationally, GE has assembled the right team to lead its new era and embed the principles of lean and decentralization more deeply across the organization.
At the Investor Conference, GE reaffirmed its 2023 guidance, which includes high-single-digit organic revenue growth,* adjusted EPS* of $1.60 to $2.00, and free cash flow* of $3.4 billion to $4.2 billion. Leadership also shared the long-term financial outlooks for both GE Aerospace and GE Vernova. For GE Aerospace, the company sees mid- to high-single-digit organic revenue growth,* continued margin expansion, and free cash flow* in line with net income. For GE Vernova,2 it sees revenue growth in the mid-single digits, profit margin in the high single digits, and free cash flow conversion*1 between 90% and 110%.
GE Aerospace
GE Aerospace is a global leader defining flight for today, tomorrow, and the future. The business operates in attractive growing sectors with highly differentiated technology and services, and the team is running the business with greater focus. Culp was joined by Commercial Engines and Services CEO Russell Stokes, VP of Engineering Mohamed Ali, Defense & Systems CEO Amy Gowder, and Chief Financial Officer Rahul Ghai.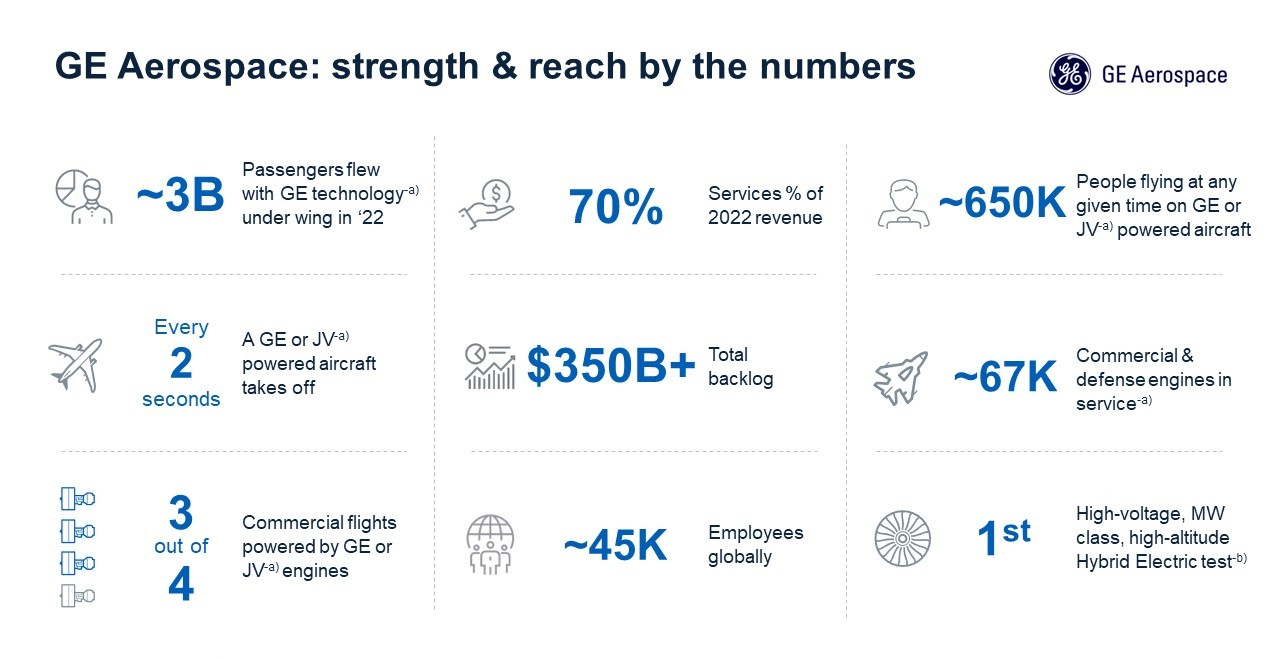 "There has never been a more exciting time to be connected to GE Aerospace … We have a large, diversified portfolio that delivers real value for our customers," said Stokes. "The team that is doing this is a resilient one — one that is excited to take on defining the future of flight. That I know we will do."
There is growing opportunity in the Defense & Systems business, which is operating in a strong and resilient sector with a diversified portfolio and backlog. Gowder noted that GE is well positioned to support the modernization efforts of both the U.S. and its allies.
GE Vernova
Later in the morning, GE Vernova CEO Scott Strazik took to the stage to discuss how the business is uniquely positioned to electrify and decarbonize the world, joined by Gas Power CEO Eric Gray, Grid Solutions & Power Conversion CEO Philippe Piron, and GE Chief Technology Officer and CEO of Onshore Wind Vic Abate.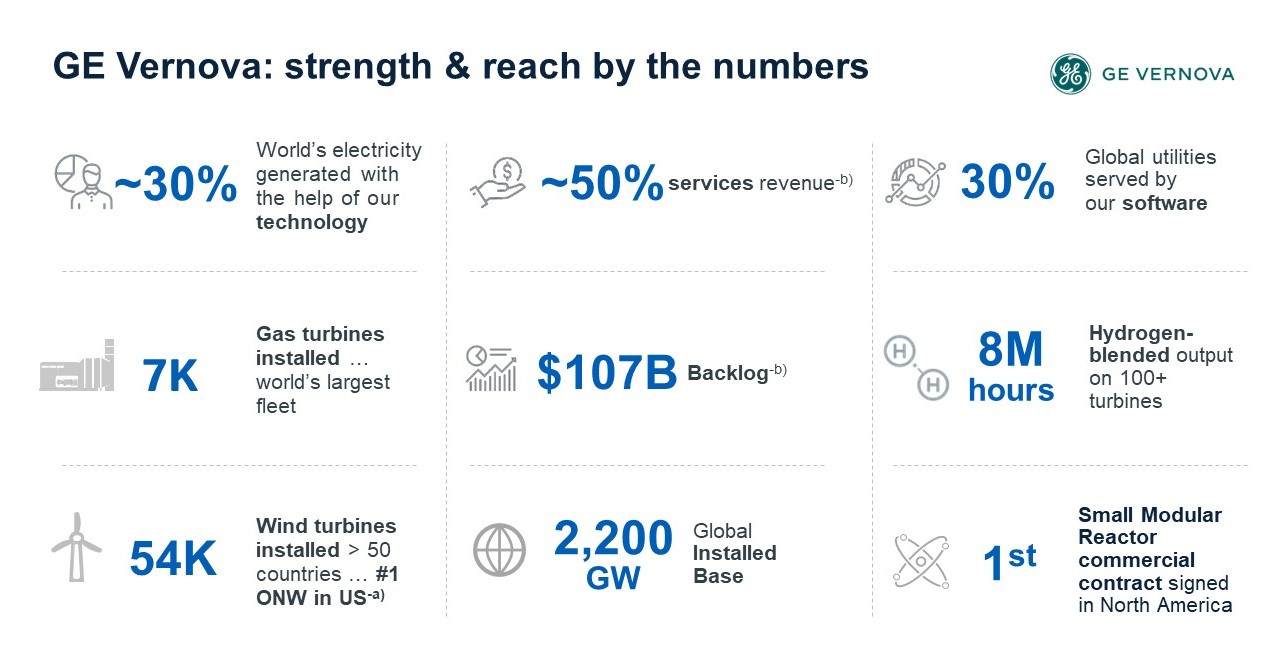 GE Vernova is an industry leader supporting customers through the energy transition. Power is delivering free cash flow* from its vast services installed base, and Renewable Energy is transforming to drive profitability while preparing to take advantage of secular headwinds like the Inflation Reduction Act. At the same time, Grid Solutions is poised to benefit from growing needs around electrification and remains on track to deliver a modestly profitable year in 2023.
"The secular tailwinds, the opportunity to run these businesses better, the product portfolio we have today, and the investments we're making in tomorrow — we see a clear pathway to grow the profitability of these businesses substantially while creating a company that is going to generate a substantial amount of free cash flow for a very long time for its investors," Culp said.
"It is a new era at GE," he added, "and our businesses are creating value for customers and shareholders while preparing to stand on their own sometime in early 2024."
*Non-GAAP Financial Measure. The reasons we use these non-GAAP financial measures and the reconciliations to their most directly comparable GAAP financial measures are included in our earnings releases and the appendix of this presentation, as applicable.
1. Free cash flow conversion*: FCF*/net income, as further adjusted to include restructuring expenses that are adjusted out of our non-GAAP financial measures.
2. For purposes of 2023 guidance, GE Vernova refers to the sum of our Renewable Energy and Power segments, without giving effect to eliminations and Corporate adjustments. On a stand-alone basis, GE Vernova will include GE's portfolio of energy businesses.
For important information concerning our forward-looking statements, please click here.
Categories
tags