GE Healthcare engineers in Finland have recently started working on a predictive software system that could one day collect human vital signs like blood pressure, temperature and breathing rate, and feed the data into a secure database for analysis. That information would be used to build individualized digital twins for each patient. The data would live in the cloud and could help spot health problems before they get out of hand.
The system, which runs on Predix, GE's cloud-based system for the Industrial Internet, is still some years away, but its predictive analytics and the digital twin technology are already starting to have applications in many industries. The most recent is power generation.

Salt River Project (SRP), a utility serving over 1 million homes and businesses in and around Phoenix, Arizona, has connected its power plants and electrical grid to SmartSignal, GE software that can monitor turbines, generators and other machines and minimize unplanned downtime. "It's like going to the doctor for a physical and they do the lab work, check your heart and your blood pressure. That's effectively what this software does for our assets, in real time," says May Millies, SRP's former Power Generation Services manager, who now manages of operations and maintenance at the Desert Basin Generating Station.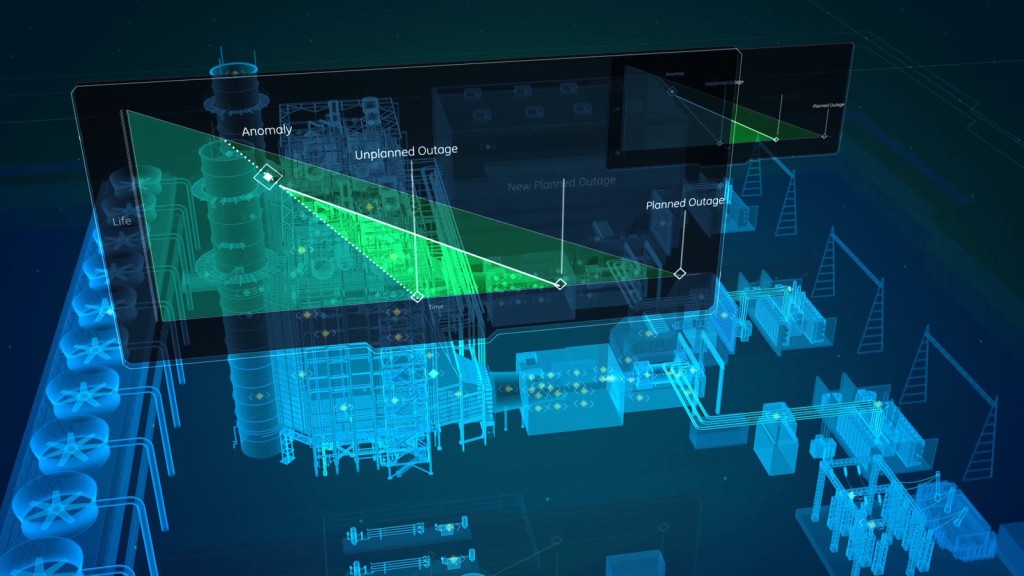 Top Image: The Navajo Generating Station is one of the power plants in SRP's portfolio. SRP, which serves nearly 1 million customers, has been in business since 1903. That makes it a decade older than its home state, Arizona. Above: The digital power plant is one of GE's applications for the digital twin technology. Image credit: Getty Images

This is important because like an undiagnosed illness leading to hospitalization, unplanned downtime is expensive. The world's power plants could save some $80 billion annually if they operated near their potential, according to a 2008 estimate by the World Energy Council. Millies says SmartSignal has been saving SRP as much as $400,000 a year by catching anomalies early.

SRP first tested SmartSignal offline, feeding it old equipment data. They wanted to know how the software would have dealt with a major failure that happened in the past. "We knew that the [historical] data showed a significant mechanical problem," said Millies. "The question was, if we had had the GE software, would it have seen the problem in advance and caught the outage?"

The cybersnoop wasn't fooled. "It read the data, found the anomaly and notified us on the software tool," she says. "If we had the software at the time, it would have prevented that very costly outage."

SRP has now connected almost all of its power stations to the Predix platform. When completed, the project will give them instant access to information of these critical assets. She wants to allow her team to make decisions that boost the utility's overall efficiency and reliability even during normal operations. "We are able to manage our costs and ensure a reliable system because we are able to plan our outage activity," Millies says. "Our assets are running predictably because we know what maintenance work we have to do and we are able to plan that work to get it done in a timely fashion."

SRP is now considering how to apply SmartSignal to businesses well beyond its power plants.Says Millies: "We want to expand it across our assets."

[embed]https://www.youtube.com/watch?v=f4-pFZEv3QQ[/embed]
Categories
tags