You can fashion almost anything on a 3D printer these days, from the most intricate airplane parts to near-perfect replicas of the human skull. But back in 2007, few had printed an object that could be implanted into someone else's body.
That is, until an Italian surgeon named Dr. Guido Grappiolo found a patient who needed a hip replacement. When the patient first came to him a decade ago, she had advanced arthritis and a titanium hip cup that doctors had already implanted with screws.

Grappiolo, of Fondazione Livio Sciutto ONLUS in Savona, Italy, joined forces with orthopedic implant maker LimaCorporate and Arcam, a manufacturer of 3D printers that is now part of GE Additive, for what would be a landmark operation. With their help, he implanted the world's first 3D-printed hip cup, the Delta-TT Cup. The TT stands for "Trabecular Titanium" a biomaterial "characterized by a regular, three-dimensional, hexagonal cell structure that imitates trabecular bone morphology," according to LimaCorporate.

A few months after the operation, Grappiolo looked at a CT scan of the patient and saw that her bone tissue had already started to grow into the 3D-printed hexagonal cells of the implant. "From a technical point of view, we immediately got a good feeling of stability," he said in a recent video interview, when asked to recall how the surgery went.

Grappiolo, who caught up with his female patient from 10 years ago to record the video, asked her to bend her leg back toward her chest. Then, he helped her rotate it. "The first patient is doing extremely well," he said in the video.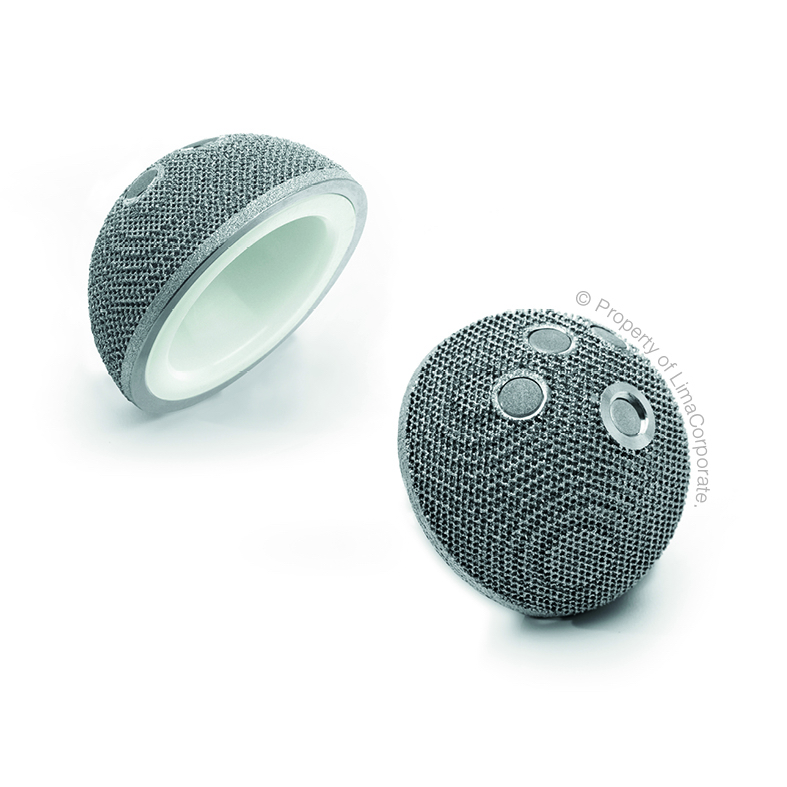 many others. The surgeon has since implanted close to 600 hip cups — his group has implanted over 1,500 — that were created by 3D printers made by the likes of Arcam. He believes the devices could last "a lifetime." Many other doctors worldwide use the 3D-printed Delta-TT cup for their daily practice, resulting in thousands of implants used in patients since the first implant. That promises an improvement on conventionally manufactured implants.

It wouldn't be unusual for someone with a traditional hip operation to get their implant replaced after 10 to 15 years, says Maria Pettersson, an orthopedic industry specialist with Arcam. Commonly, they could stretch that to well over 20 years, she says.

Orthopedic implant makers like LimaCorporate can also customize the design of the final implant according to the patient's and surgeon's needs, keeping the same features of the original structure, including the complex 3-dimensional hexagonal cells on the surface.

This level of design freedom and the ability to potentially tailor implants to different patient's necessities is why 3D printing also increasingly is being used for dental implants, hearing aids, prosthetics and even surgical tools.

Pettersson estimates that overall more than 100,000 hip cups have been made in Arcam printers and implanted in patients. There are likely hundreds of thousands more that have been made in printers from other companies.

While that is still a minor proportion of the overall number of hip replacements that hospitals are carrying out today, the demand from surgeons and manufacturers is growing, says Pettersson. "If you're not in it, you realize you're behind."
Categories