Cheser Lang, editor di Syracuse News Standard, sedang duduk di kursi kerjanya sambil memikirkan tentang GE. Hatinya gelisah. Sebagai seorang editor untuk edisi mingguan di koran tersebut, tugas Lang adalah mencari berita terkait industri yang bagus. Hanya sedikit perusahaan pada saat itu – ketika dia menjadi editor di tahun 1917 – yang bobot dan daya tariknya sama seperti GE. Tapi di sinilah masalahnya. "Ketika saya menulis artikel tentang General Electric, hasilnya sangat mengecewakan," dia menggerutu sambil mengeluh karena menerima kiriman "'artikel' yang ditulis dalam gaya bahasa iklan." Itulah salah satu kesalahan besar dari pihak pengirim.
Namun, Lang adalah seorang yang tidak mudah menyerah, karena itulah dia mengirimkan gagasannya sendiri kepada GE: Mengapa perusahaan tidak membuat "Kantor Berita yang sesungguhnya" dan yang meramu "tulisan artikel yang sungguh-sungguh merupakan berita," kenangnya. "Dari sekian banyak tulisan feature yang saya tangani, saya tahu bagaimana cara General Electric mendapatkan publisitas yang cukup bagus. Caranya, perusahaan itu harus menuangkan bahan-bahan tulisannya dengan gaya tulisan berita."
GE menyukai gagasan itu. Perusahaan itu mempekerjakan Lang dan membuka GE News Bureau pada Oktober 1921. Sejak itu para wartawan GE telah meliput berbagai kontribusi perusahaan tersebut, termasuk berbagai inovasi seperti mesin jet, medical imaging, jaringan kelistrikan, industri pembangkit listrik, laser, LED dan lain sebagainya. Tahukah Anda bahwa seorang eksekutif GE-lah yang memimpin NASA selama pendaratan bersejarah di bulan? Tahukah Anda bahwa ayah Steven Spielberg, Arnold, dialah yang merancang dan membuat komputer untuk GE? Pernahkah Anda mendengar bahwa Don Wetzel, pria yang menjalankan sebuah lokomotif dengan penggerak sepasang mesin jet GE, telah meluncur di sepanjang rel di Ohio dengan kecepatan 184 mil per jam, sebuah rekor dalam kecepatan melaju di atas rel di Amerika Serikat?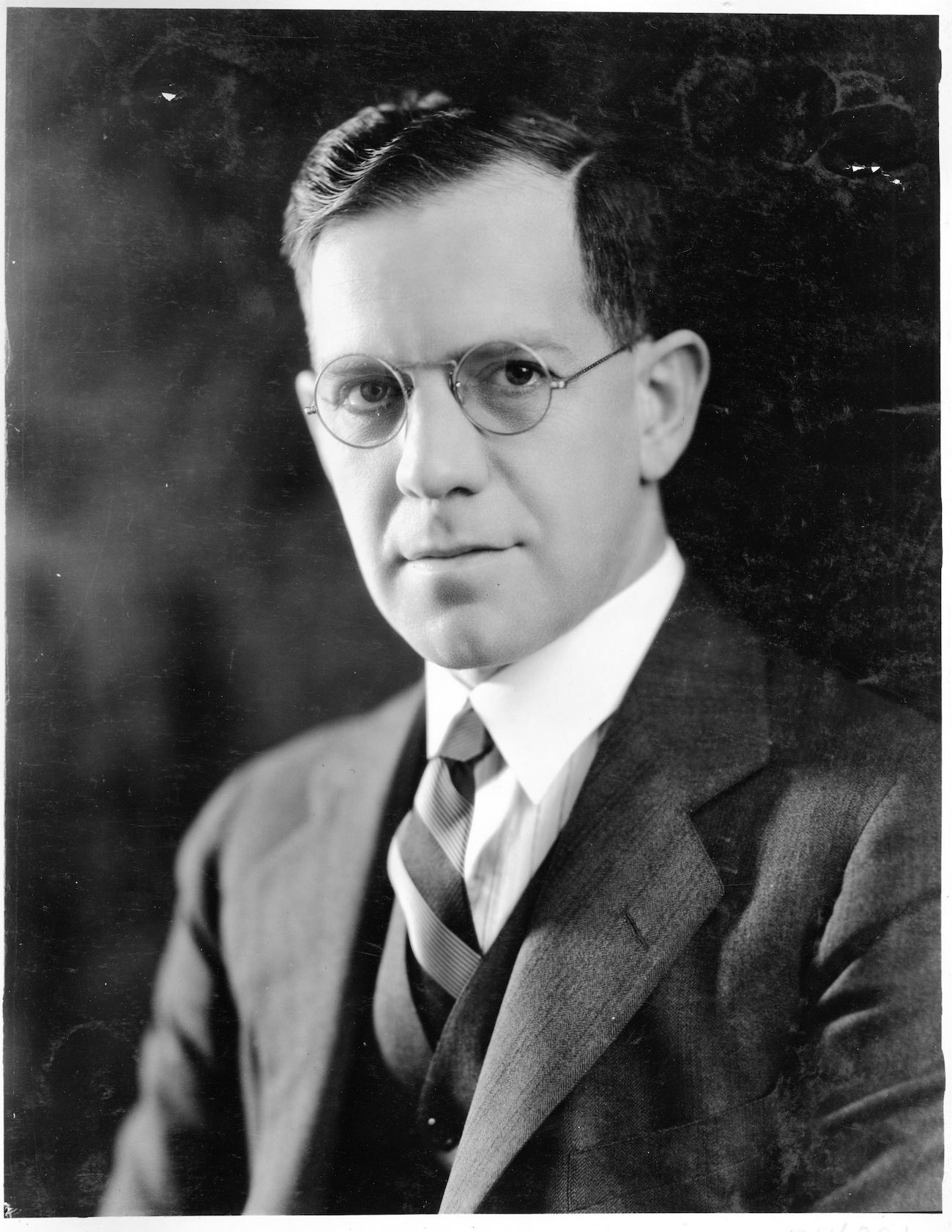 Chester Lang, difoto di tahun 1932, memimpin GE News Bureau (foto atas). Kredit foto: GE.
"Berbagai tulisan Lang membuat orang mengerti bahwa pekerjaan yang bersifat teknis dari para ilmuwan dan insinyur GE ternyata dapat memperbaiki kehidupan orang banyak," kata Chris Hunter, pakar sejarah dan wakil pimpinan bidang koleksi dan pameran di Musem of Innovation and Science di Schenectady (miSci). "Karya News Bureau menjadi tulang punggung dari koleksi kami di miSci, karena kami menceritakan tentang bagaimana para ilmuwan telah mengubah dunia melalui pembangkit listrik, peralatan elektronika, medical imaging dan transportasi."
Dan GE masih fokus di situ. Pekerjaan saya sebagai chief storyteller di GE adalah untuk memperkuat pondasi yang telah diciptakan oleh Lang dan terus mengembangkannya di masa depan.
Mengapa sebuah perusahaan industri berteknologi tinggi kelas dunia harus terus bercerita? Ada ribuan insinyur dan ilmuwan di GE yang tengah mencari solusi untuk mengatasi berbagai tantangan terbesar dunia. Penelitian mereka mengangkat perubahan iklim dan transisi energi, bidang kesehatan presisi dan penerbangan yang lebih berkelanjutan – semuanya itu merupakan permasalahan-permasalahan besar yang relevan bagi kita. Berbagai cerita mereka memiliki bobot yang sama kuatnya dengan teknologi yang mereka tekuni. Kami meminta mereka untuk membuat para pembaca memahami informasi dan terus mengikuti cerita-cerita mereka, membantu pembaca untuk mampu membuat keputusan yang cerdas, dan mempersiapkan diri dengan lebih baik demi menyongsong masa depan.
Cerita sudah ada bahkan lama sebelum adanya listrik, lama sebelum adanya buku, lama sebelum kita kenal tulis-menulis. Cerita menjadi ikatan kebersamaan kita, memberi makna pada kehidupan kita dan memberikan makna pada sejarah kita. Kitapun menanggapi cerita secara otomatis. Banyak buku yang menuturkan bahwa manusia adalah binatang yang mampu bercerita dan memiliki otak yang mampu merajut sebuah cerita. Adakah orang lain yang mengetahui cerita kita dengan lebih baik daripada diri kita sendiri?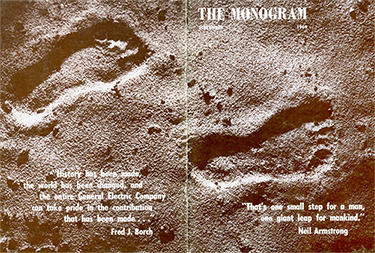 Majalah GE Monogram yang memperingati pendaratan di bulan pada tahun 1969. GE executive Thomas O. Paine memimpin NASA pada saat itu. Kredit foto: GE.
Dalam waktu singkat, Lang sudah menjadi pimpinan GE News Bureau. "Saya ingat bahwa kami sungguh sukses di saat-saat awal itu, khususnya dalam menempatkan tulisan berita sehalaman penuh" di berbagai surat kabar yang ternama, seperti The New York Sun, kenang Lang dalam tulisannya. Dia menjadi sukses karena mengunakan formula 'tried-and-true' yang masih kami gunakan saat ini: Berilah sebuah cerita yang bagus, maka orang akan berdatangan.
"Saya meminta para penulis di News Bureau agar mereka menyempatkan diri membaca untuk terakhir kalinya artikel yang mereka tuliskan dan membayangkan diri mereka ketika masih menjadi wartawan surat kabar," tulisnya. "Apakah tulisan itu akan disukai wartawan? Hal yang ada dalam pikiran saya setiap saat adalah bagaimana saya bisa membantu surat kabar, bukan untuk menyusupkan iklan gratis di tengah kesibukan seorang editor." Dia menambahkan: "Saya selalu mencari-cari 'angle' cerita yang tidak biasa, suatu perspektif yang akan membuat sebuah judul berita mampu menarik perhatian pembaca yang sibuk."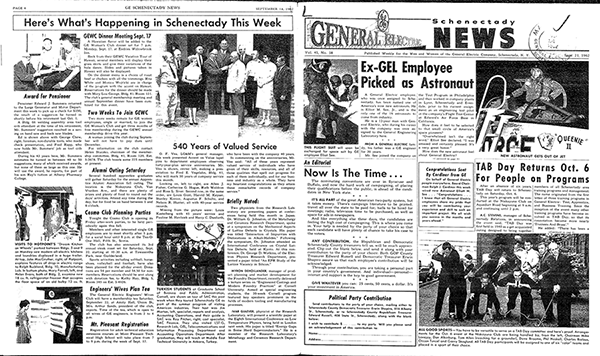 GE Schenectady News adalah salah satu terbitan perusahaan. Edisi terbitan September 1962 ini menceritakan tentang test pilot GE Elliot See Jr. Dia dan Neil Armstrong menjadi astronot pertama dari kalangan sipil yang masuk dalam pelatihan. Kredit foto: Museum of Innovation and Science Schenectady.
Bahkan seabad yang lalu, waktu yang dimiliki oleh seorang pembaca telah menjadi sebuah komoditas yang sangat mahal. Siaran radio komersial pertama di Amerika Serikat dimulai di tahun 1920, dan Lang melihat adanya sebuah peluang untuk memperluas jangkauan News Bureau. Dia tahu dari tulisannya sendiri bahwa GE sedang mempersiapkan radio. "Radio menarik perhatian saya karena radio merupakan alat komunikasi, alat menyebarluaskan berita, sama dengan surat kabar," tulisnya. Pendek kata, dia mengemas kembali berita untuk saluran distribusi berita yang baru, sama seperti sekarang cerita dari GE Reports dapat diketemukan di saluran online, misalnya di LinkedIn, atau dalam bentuk video di YouTube.
Awalnya, dia tidak tahu bagaimana caranya untuk mewujudkan hasrat barunya ini. Tapi pada tahun 1922, GE membuka stasiun radio pertamanya, WGY – salah satu dari sepuluh stasiun radio pertama di negara tersebut – dan siaran News Bureau menjadi bagian dari program reguler.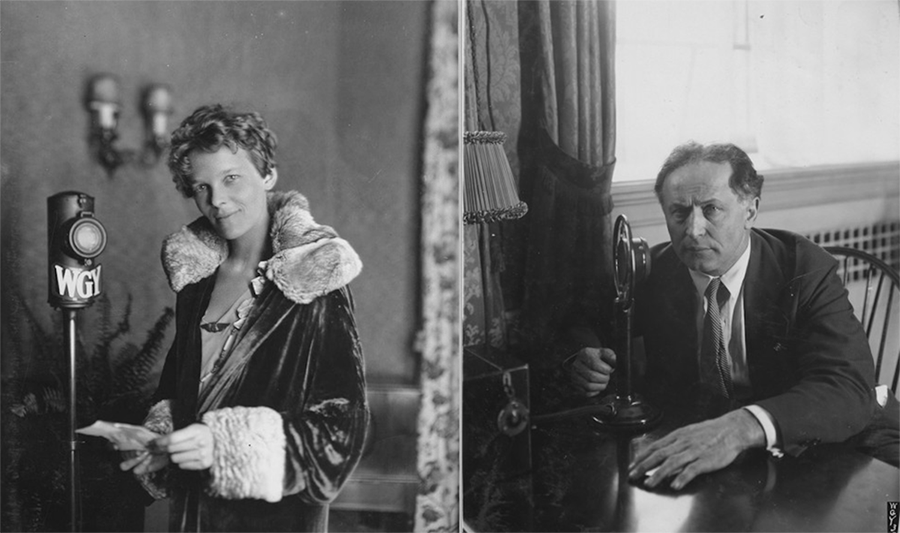 Tokoh yang melegenda Amelia Earhart dan Harry Houdini menjadi bagian dari banyak tokoh terkenal yang mengunjungi studio WGY milik GE di Schenectady. Menurut Hunter, pakar sejarah miSci, foto ini menjadi salah satu foto terakhir dari ahli sulap tersebut. Kredit foto: Museum of Innovation and Science Schenectady.
Memang, Lang sendiri tidak pernah menjadi orang terkenal. Dia sekedar mengompilasikan banyak kenangannya dengan menggunakan mesin ketik dan tulisan-tulisannya itu tersimpan di arsip Museum of Innovation and Science di Schenectady, New York. Namun, ternyata banyak orang yang menjadikan Lang sebagai panutan kemudian menjadi orang terkenal. Salah satunya adalah Kurt Vonnegut Jr., penulis novel "Slaughterhouse-Five" yang mendapat sambutan pasar yang luar biasa dan banyak novel terlaris lainnya. Vonnegut bergabung dengan GE pada tahun 1947 ketika dia masih mengejar impiannya untuk menjadi penulis novel. Saudaranya, Bernard, bekerja di GE Research dan memberi tahu dia tentang adanya lowongan pekejaan di GE.
Vonnegut bekerja hanya empat tahun di perusahaan, tapi pekerjaan itu menjadi pengalaman yang sangat menarik baginya. Beberapa tahun kemudian, dia mengatakan kepada akademisi Robert K. Musil bahwa "pekerjaan itu menuntut saya bertemu dengan para ilmuwan dan berbincang-bincang dengan mereka, lalu menanyakan kepada mereka tentang hal-hal apa yang sedang mereka upayakan. Sering dari pertemuan-pertemuan itu muncul cerita yang bagus."
Dia mengolah pengalaman itu menjadi novel pertamanya, "Player Piano", dan juga "Cat's Cradle", yang kemudian menjadi salah satu dari novel-novelnya yang paling populer. Katalis dalam alur ceritanya menyangkut sejenis es yang terbentuk bahkan di tengah cuaca yang hangat. Vonnegut memberi tahu George Plimpton bahwa gagasan mengenai es itu datang secara tidak langsung dari Irving Langmuir, penerima hadiah Nobel dan rekan dari saudaranya di GE Research. Ketika penulis H.G Wells mendatangi Langmuir, ilmuwan itu "berpikir bahwa dia mungkin dapat meyakinkan Wells untuk mempertimbangkan sebuah ide untuk penulisan fiksi ilmiah – tentang sejenis es yang tetap tak berubah bentuknya di dalam suhu ruangan. Wells tidak berminat, atau setidaknya tidak pernah menggunakan gagasan itu. Kemudian, Wells meninggal, dan akhirnya Langmuir pun meninggal. Saya pun berpikir sendiri: "Orang yang menemukan sesuatu berhak memilikinya – nah, ide itu milik saya sekarang."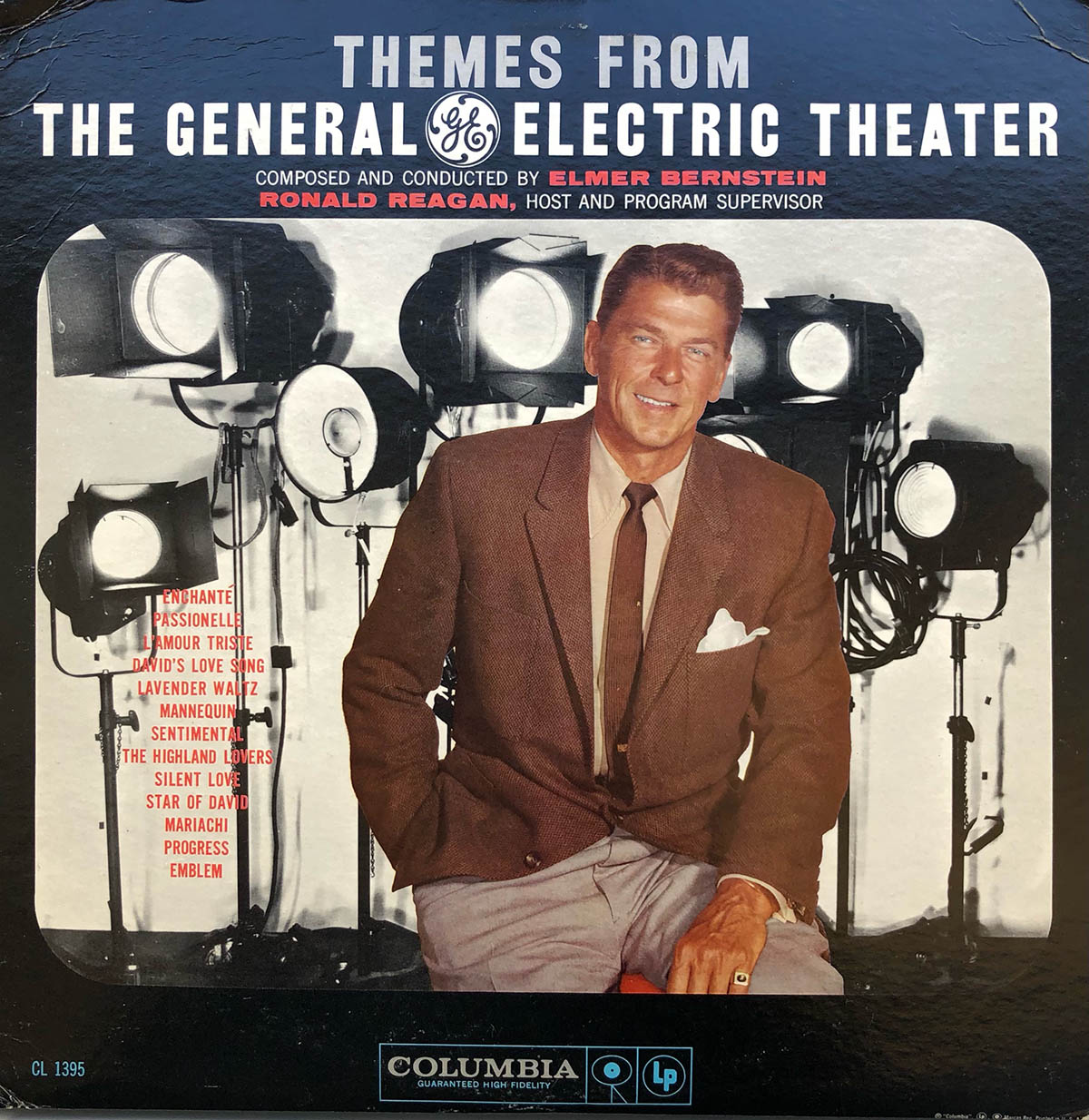 Pada tahun 1956, "General Electric Theater" menjadi pertunjukan yang paling terkenal ketiga di televisi Amerika, mendapatkan lebih dari 25 juta penonton setiap minggu. Kredit foto: GE Reports.
Tiga tahun setelah Vonnegut keluar, satu nama besar lainnya bergabung dengan bagian hubungan masyarakat (humas) GE. Di antara waktunya di Hollywood dan dua masa jabatannya di Gedung Putih, Ronald Reagan memasukkan cerita-cerita GE ke dalam jam tayang prime time di televisi nasional. Selama delapan musim, Reagan dan reporternya, Don Herbert, menjelajahi seluruh pelosok negeri dan mengunjungi lebih dari 130 laboratorium dan pabrik GE. Mereka melaporkan segala sesuatunya, dari mesin jet – teknologi ini masih berusia sepuluh tahun pada waktu itu – hingga listrik di masa depan. Pada tahun 1956, "General Electric Theater" menjadi pertunjukan terpopuler ketiga di televisi Amerika, ditonton oleh lebih dari 25 pemirsa setiap minggunya.
Bahkan setelah hadir di media cetak dan TV serta radio, GE tidak pernah berhenti dalam upayanya untuk menyapa khalayak baru. Saat itu, komik digandrungi oleh anak-anak dan remaja di tahun 1950-an sebagaimana halnya dengan Tik-Tok, Snapchat atau Instagram di jaman sekarang. Perusahaan pun melihat bahwa komik merupakan alat yang luar biasa untuk merangkul para remaja, membuat mereka menggandrungi ilmu pengetahuan dan mendorong mereka untuk masuk ke karir STEM. Salah satu artis yang dikontrak oleh GE adalah George "Inky" Roussos yang populer dari kisah Batman. Dia melukis serial komik yang diberi judul "Adventures in Science". Komik itu dicetak dalam jumlah besar – hingga 3 juta eksemplar – dan serial komik itu memasukkan segala sesuatu dari perjalanan ruang angkasa hingga tentang listrik. Tentu saja mutunya dijaga dengan baik. Menurut satu majalah GE, "lukisan komik diperlihatkan ke sejumlah vice president dan manager" sebelum dicetak. Anda mungkin berseloroh bahwa tugas ini sebenarnya adalah suatu kenikmatan bagi mereka.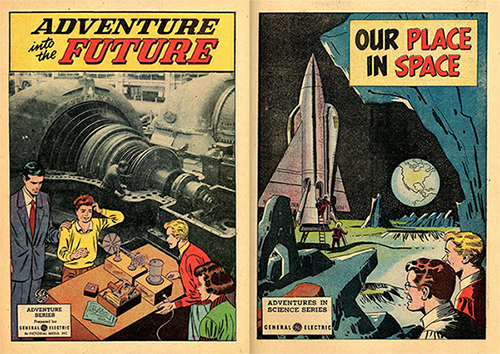 GE tidak pernah berhenti untuk menyapa khalayak baru. Kredit gambar: Museum of Innovation and Science Schenectady.
Sekarang, GE Reports tampil terutama melalui saluran online, namun masih menarik jutaan pembaca dan pemirsa. Sarana distribusi utamanya, buletin GE Brief memiliki 70 ribu pelanggan. Bisnis GE, antara lain Healthcare, Power dan Aviation, telah merajut cerita dan membuat podcast sendiri yang sangat menarik, serial video dan blog. Sebagai pimpinan peramu cerita di GE, saya merasa bangga, gembira dan mendapatkan inspirasi dari sumber cerita yang berlimpah di perusahaan. Saya sudah menonton Reagan dalam "General Electric Theater", membaca banyak tulisan Vonnegut dan mendengarkan dengan tekun berbagai gagasan Lang, yang sebagian besar masih terngiang-ngiang di telinga saya dalam rentang waktu 100 tahun.
"Saya paling berhati-hati agar tidak pernah lupa bahwa saya adalah insan surat kabar," tulis Lang. "Artinya, saya tidak akan mencoba untuk menuliskan suatu cerita yang bagi saya bukan berita… Saya pikir penanganan pemberitaan yang sangat hati-hati itulah yang menjadikan amplop bewarna biru dari General Electric disambut baik oleh para editor" dan tidak langsung dilempar ke tempat sampah.
Dan begitulah kenyataannya, seperti yang dikatakan oleh Vonnegut, 100 tahun kemudian.
Adventures in Jet Power. Kredit gambar: Museum of Innovation and Science Schenectady.
Berjumlah 38 halaman, The Story of the X-Ray menjelaskan kelahiran medical imaging dan aplikasinya. Kredit gambar: Museum of Innovation and Science.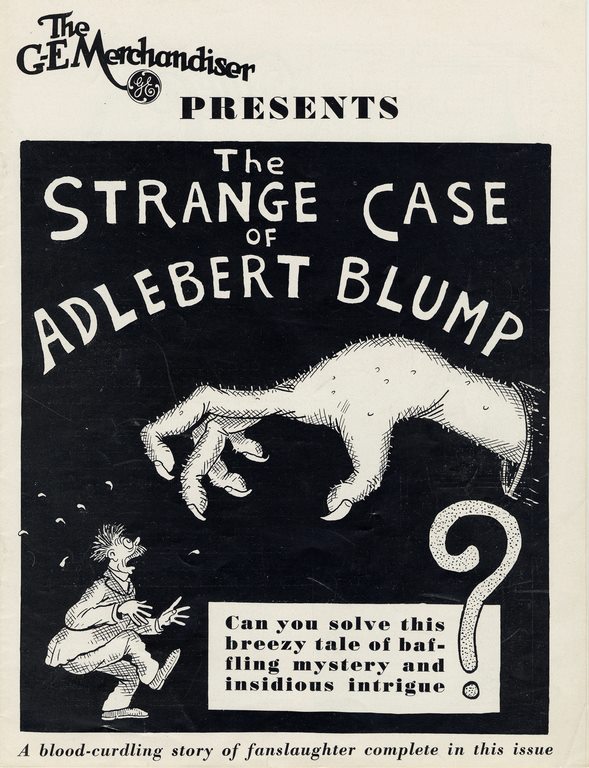 Beberapa tahun sebelum dia menjadi Dr. Seuss yang banyak digandrungi, penulis cerita anak-anak Theodor Geisel menciptakan The Strange Case of Adlebert Blump buat GE. Kredit gambar: GE Reports.