Breakfast croissants, all-day pizza and technical and commercial mentors on tap fuelled the thought processes of participants at GE's first Industrial Hackathon in Sydney on the weekend of November 28-29. There were other hackathons running elsewhere in the city, but at GE four industrial-sized problems had been posed. Eight teams—most of them formed on Saturday morning—hunkered down to create solutions in unfamiliar territory: remote-worker safety, railway maintenance, tracking licensing data of healthcare engineers, and optimising the energy usage of industrial users.
"There were other hackathons this weekend, but this was the most exciting because it's a little out of our comfort zone—it's industrial," says Niku Gorji, a marketing technologist and serial hackathon participant. She says of herself and teammate, Gary Weng, "We have a technical background, but we are in software—data mining, analysis and things like that, not really the industrial or engineering aspect. So it was very interesting, talking to the people here about problems they face, like energy-planning problems—we didn't know! There's a big opportunity to do something."

"Hackathons tend to be consumer-centric," says GE Chief Information Officer, Mark Sheppard. "Talent is channeled towards building more consumer apps, which can look very similar. In the industrial space we see a lot of challenges that aren't being addressed. It's exciting to take development talent and apply it to the problems faced by our customers—the resource companies, oil and gas companies, hospitals …"

Customers 'r' us

Commercial value was a focus of the GE Industrial Hackathon. Of the 25 mentors from GE, Optus and Amazon Web Services (AWS) who were there to guide participants over the weekend, many came from marketing, strategy and sales departments. "It's all about the pitch, about having a product that you can sell," says Matt Cechner, transportation solutions consultant at GE Transportation. "These participants are looking at where the value is, where the lever is that they can address. They are producing simulations, putting together evidence that they're capable of developing the product, but the bigger focus has been on where the benefit is going to be for the customer, and how to deploy the eventual product to that customer. It's business-minded, and I've been impressed with the teams' approaches."

It's exciting to take development talent and apply it to the problems faced by our customers—the resource companies, oil and gas companies, hospitals.

Late on Saturday afternoon, one team was still deliberating which project had the greatest potential: "We said, 'We'll sit down, analyse each of the problems, and figure out which one has the most value proposition.' So we did brainstorming for about seven hours, to figure out which problem to tackle," says Ran Peleg, who runs his own product-development company, Visionware.

While Peleg's group, four engineers in various fields, who met for the first time at GE, sorted out their preference, and a few differences...

Team Ro-Net, consisting of Su Myat Khine Win and Maerlyn Broadbent, a GE employee in the company's IT leadership program, assigned as her teammate, rapidly researched the need for a solution that could manage licensing records of engineers working on vital and valuable healthcare equipment. They posed the question: "If medical professionals have not been trained adequately to use machines, what can go wrong?" The list of possible outcomes included the potential for: injury or death, misdiagnoses, damage to equipment and costly litigation. They concluded that a credential-recording system is urgently needed!

There were other hackathons this weekend, but this was the most exciting because it's a little out of our comfort zone—it's industrial

Khine Win is a nurse health-facility planner for Health Projects International: "We are an architectural and health-services planning firm, and at work, I tend to look at only my role, not the holistic aspect. For this project we had to identify the problem, solve the problem and come up with the business case. I learned from the mentors here, and a lot from Maerlyn," she says.

Mark Sheppard believes that mentoring is a two-way street for GE staff: "The element of reverse mentoring is important: If I can get our leadership people here to think like the startups, to be excited by their enthusiasm and to experience what they see, it helps the company to change, to adapt."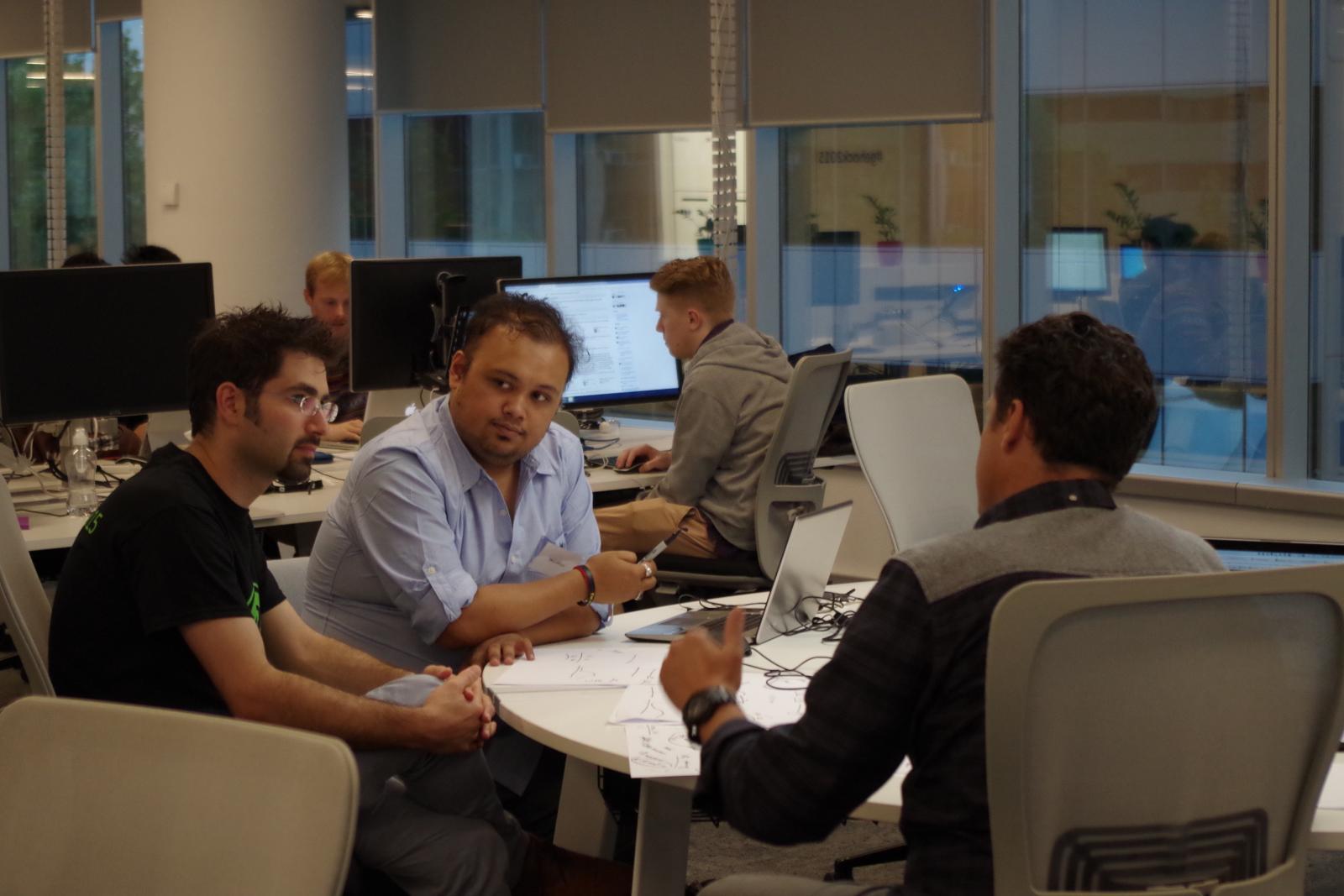 tags