The coronavirus pandemic was first and foremost a healthcare crisis, but it touched every corner of the world and every sector of the economy — and drew millions of people together in the effort to turn the tide. Across GE, factories ramped up to manufacture ventilators and patient monitors needed in clinical settings to treat patients suffering from COVID-19; technicians found themselves driving halfway across the U.S. to lend their expertise; in Italy, sales managers pitched in as volunteer ambulance drivers; and aviation plants in England were rapidly stood up to produce monitors instead. Here are just a few of the ways in which GE workers worldwide joined the fight.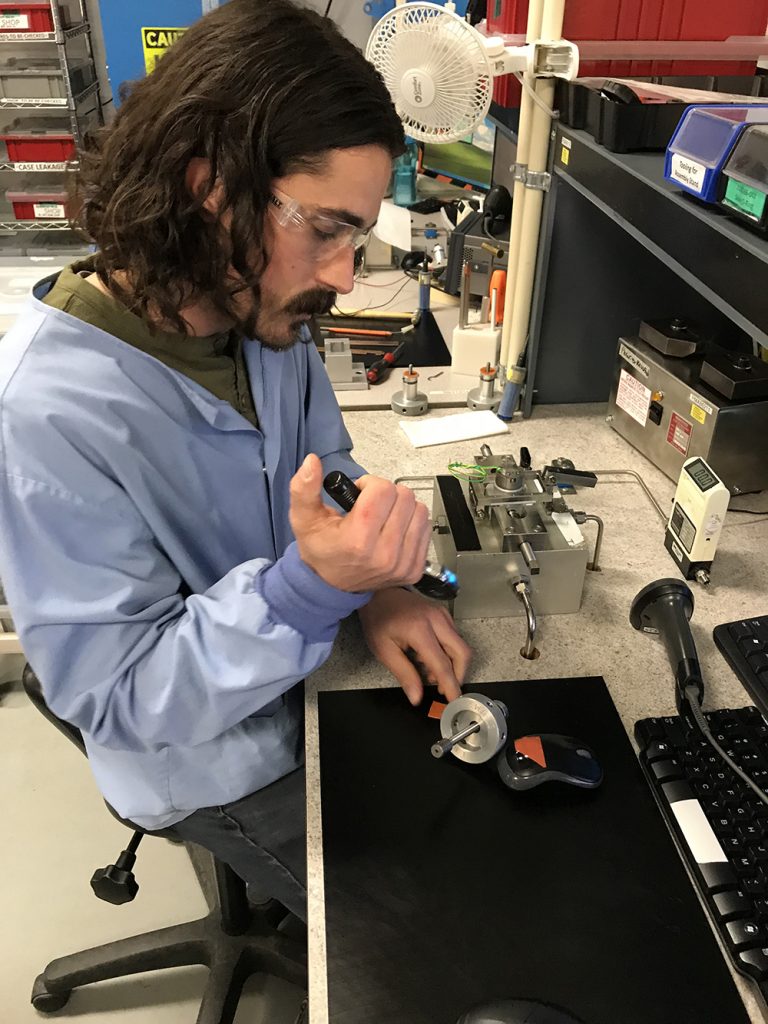 At home in Salt Lake City in March, Tyler Vermey got an urgent weekend call from his boss. Some 1,400 miles away in Wisconsin, a GE Healthcare factory was gearing up to increase its production of ventilators, a crucial tool in the fight against COVID-19. Vermey's help was needed: He has such a formidable knowledge of ventilator valves — a key part of the machine — that he's been called the valve guru. Some 100 extra workers and volunteers had flocked to the Madison plant. When Vermey got the call, he knew he would join them.
Vermey, his wife, Krista, and their dog, Bruno, piled into the car and drove those 1,400 miles to aid in the fight, encountering an earthquake before the trip and a blizzard along the way. They finally made it to Wisconsin three days later. Back at his old stomping grounds, Vermey — who normally works on X-ray machines for GE Healthcare in Utah — shared his skills with colleagues who'd come together for a common cause, acting as a teacher, quality-control expert and all-around troubleshooter. "This is definitely a marathon and not a sprint," he said. "So I am trying to make sure I transfer my knowledge as best I can."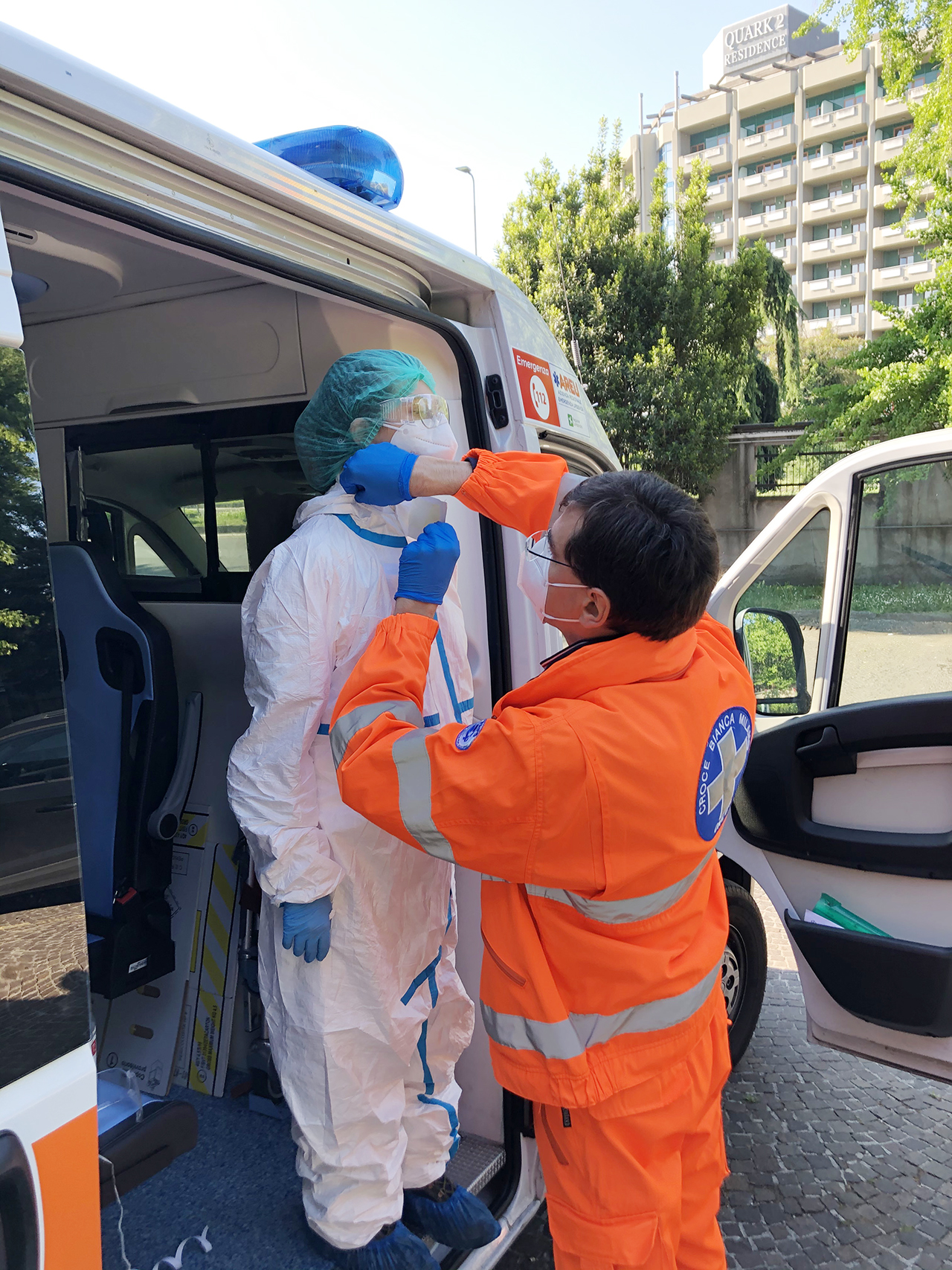 For centuries, Italy has relied on dedicated volunteers to help its ambulance corps during nights and weekends — and for the last 20 years, one of those volunteers has been Alberto De Monte. By day De Monte is a sales manager for GE Healthcare in his hometown of Milan. But volunteering in the ambulance corps, including as a driver in the last decade, has given him another kind of healthcare education: "I have been exposed to stories of poverty that, if I didn't do this kind of service, I would never see," he said. Still, nothing could prepare De Monte for what he witnessed in 2020, as Italy was rocked by the COVID-19 pandemic.
As casualties rose, doctors and nurses at Milanese hospitals fought to save as many of De Monte's neighbors as they could — and De Monte, tasked with getting those neighbors to the hospital, played a crucial role in that fight. But first he had to protect himself and his colleagues. "It's not like going to a big car crash where you have the evidence of what is happening," he said. "Here you must operate as though everyone is a possible COVID-19 patient. You need to take care of yourself." Face masks and other protective gear meant that those riding in De Monte's ambulance couldn't always see his reassuring smile — but they felt his warmth anyway.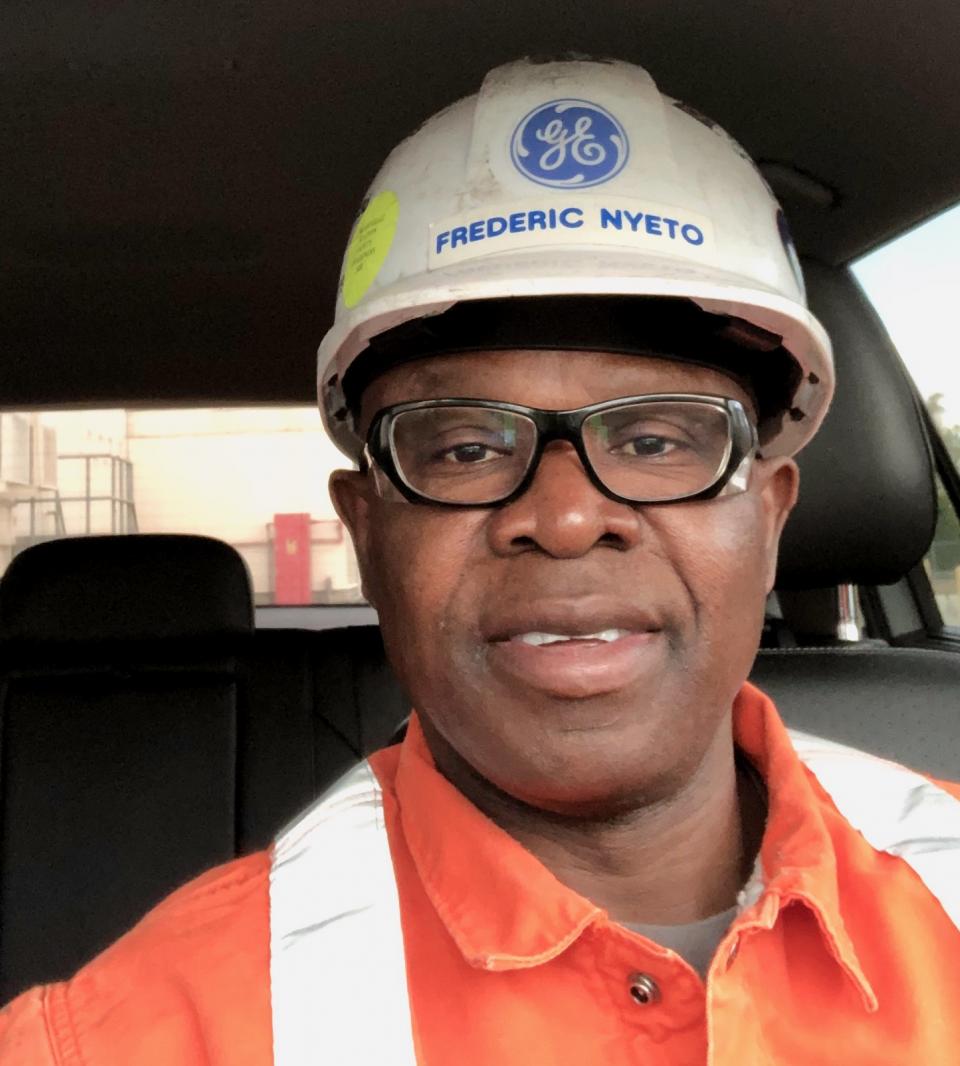 Frederic Nyeto had always dreamed of taking a road trip across the United States, and this spring he got his chance — sort of. As a five-year veteran of GE Renewable Energy's Grid Solutions service team, based outside Montreal, Nyeto often travels to handle planned repairs on power plants. In March, his supervisors were looking for a technician to perform vital maintenance on massive circuit breakers at a few sites in the U.S. But the circumstances were out of the ordinary: Because of the coronavirus, that technician would have to travel solo and practice social distancing measures. Nyeto raised his hand.
Thus began his great voyage. Flying to the Pacific Northwest, Nyeto rented a car and proceeded to drive 5,000 miles across the country, through 21 states. Going this way and then that, he started at a hydroelectric plant in Chelan, Washington, and then on to a generator in need of repair in Atlanta, and then back again toward Tempe, Arizona. It was a lot of time in the car and hotels outside of city centers, a lot of plastic-wrapped fruit and veggies from various local groceries. But, Nyeto said: "Boring? Certainly not! It is almost a dream to travel across these vast stretches of western and eastern United States. All these long straight roads, which seem to go on forever, allowed me to discover other facets of rural America. It's a wonder. It's almost like a fairy tale."
When the father of his closest friend died of COVID-19, Carlos Jimenez decided he needed to do more to fight the pandemic. "I wanted to go to the trenches and do my part," he said. In his case, the trenches were IFEMA, the largest fairgrounds in Spain, which were being converted into a makeshift medical center. That's where Jimenez wound up volunteering his time. As an executive account manager for GE Healthcare in Spain, Jimenez had overseen various medical equipment installations, and at IFEMA his task was similar — but on a much tighter time frame. And there were some logistical challenges to overcome.
Becoming familiar with IFEMA — a capacious campus of nearly 2.5 million square feet — Jimenez saw that life-saving equipment, like ventilators, was scattered throughout the facility, making it time-consuming to track it down. So he applied a lesson learned at his day job: The philosophy of lean, a system of continuous improvement that occupies an honored place in manufacturing and business operations and is now at the heart of GE's turnaround. Jimenez and colleagues got to work taking inventory and organizing the place, and began to see results within days. "That was the most gratifying thing to see," Jimenez said. "It was not just implementing order for the sake of order, but eliminating any undue stress on clinicians."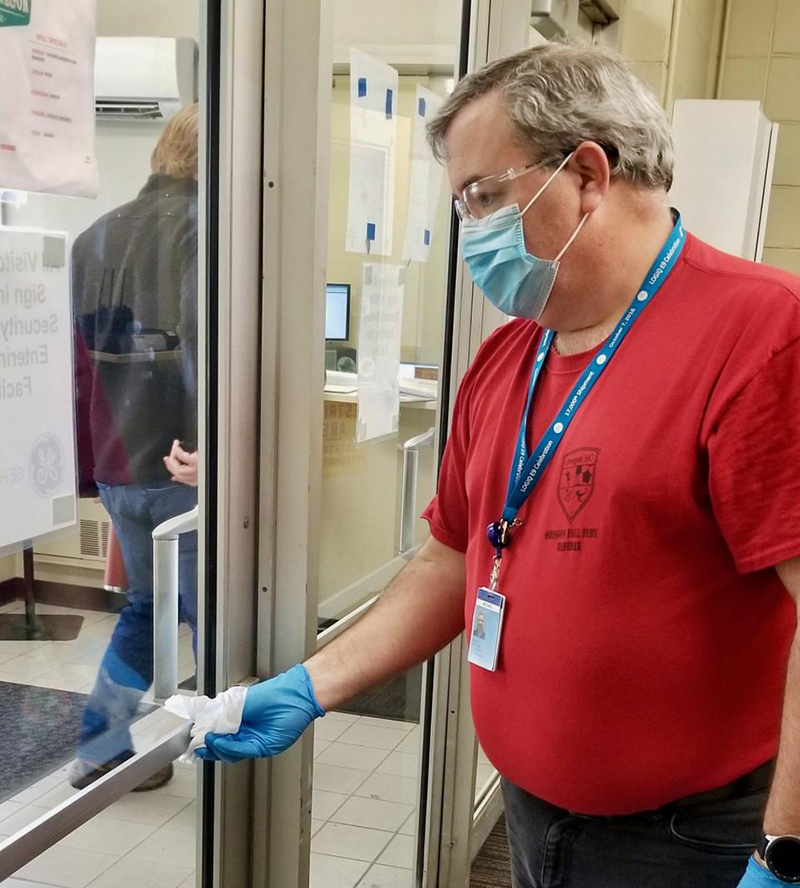 Mike Ledwidge works for GE Healthcare in Wisconsin as a global clinical marketing specialist for the company's LOGIQ ultrasound systems — and this year, in a familiar story, he found his days filled increasingly by video meetings. Ledwidge did find a reason to leave the house, though, when GE Healthcare's Madison plant ramped up its production of the mechanical ventilators needed in the fight against COVID-19. It was all hands-on deck and — because he answered the call for volunteers to join the effort — two of those hands belonged to Ledwidge: "I said, 'Wherever you have the most use for me, or whatever is the most challenging job to fill, that's what I'll do.'" He started the next day as a volunteer custodian, working the second shift.
At first, the work consisted of the usual janitorial duties, like taking out the trash. But Ledwidge found that he could use his decades of experience in clinical settings to help keep plant workers safe. He helped the custodial team reimagine their roles, establishing a rigorous disinfecting schedule. As the workers on the floor undertook their crucial tasks, that kind of close attention helped keep them healthy — but its effects were bigger than that. "From what I'm told, from the manufacturing floor, they can see us cleaning and it helps with their mindset," Ledwidge said. "They can be more at ease and focused, knowing that we're trying to keep them safe."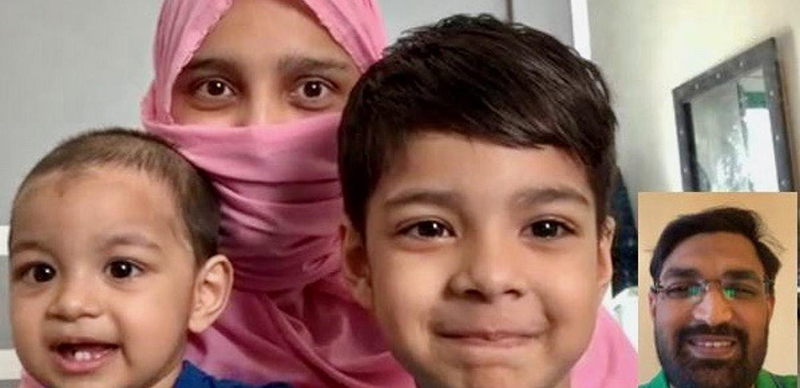 In February, a team from FieldCore — GE's field services maintenance company — headed to Kuwait to do routine maintenance on a couple of power plants. One engineer was Abdulsattar Mohammed, who left his wife and two sons at home in the United Arab Emirates, with plans to return in six weeks. Then the new coronavirus began to sweep the globe. In March, team leader Ibrahim Zein gave his colleagues a choice: Take advantage of a narrow window of time to head home, or stay and shelter in place. What was at stake, the team knew, was the good health of the power supply in a country of 4 million. As Zein put it, "If we did not have these people in the country, we could have up to 1,500 megawatts down, which is 10% to 15% of the power in Kuwait." All chose to stay.
Mohammed ended up living in a Kuwaiti hotel room, spending his days praying, working out in the hallways and getting on video calls with his family in the UAE. He and his FieldCore colleagues were also working with a team from GE Gas Power to execute not just the services they'd previously planned, but to take on other jobs as needed. "We were determined to help our customers because we knew other experts couldn't fly into the country to take on these jobs," Zein said. And to support one another. After the gym closed in FieldCore engineer Mohamed Khedr's hotel, a colleague from GE Gas Power quickly arranged for a special delivery: a set of dumbbells.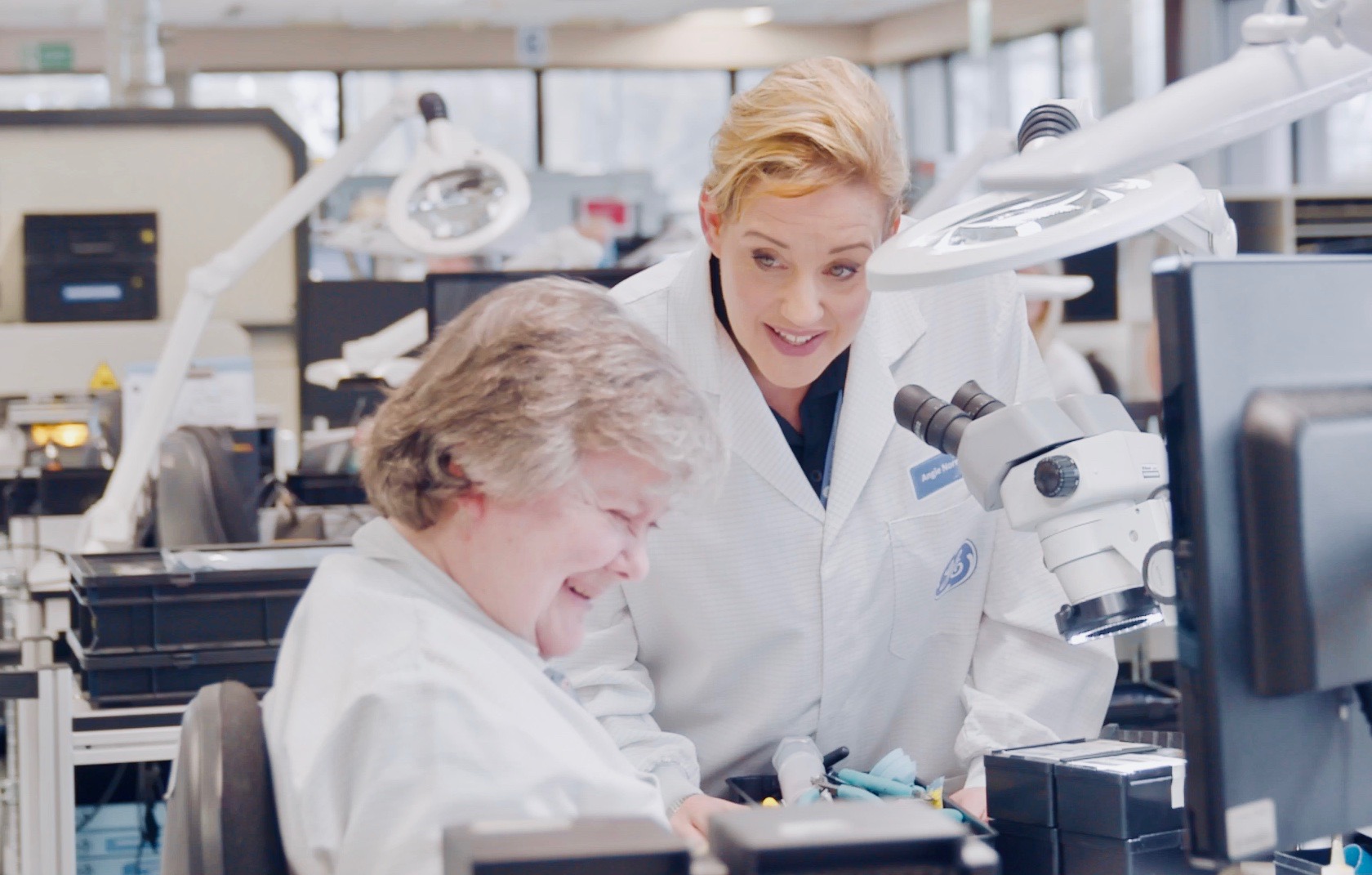 Angie Norman is comfortable with uncertainty. As one of GE's experts in lean management, it's her specialty to crack complex problems in an urgent need of a solution. So in March, when GE Healthcare needed to set up and attach accessories to thousands of medical monitors in record time to serve patients during the pandemic, she was exactly the right person for the job. These monitors track heart rate and other vital signs, and doctors and nurses need them to treat ailing patients. It was a complex task in a small window of time.
Norman doesn't even work for GE Healthcare; she works for GE Aviation. But she is an expert in lean management, the business methodology at the heart of GE's turnaround, which emphasizes waste reduction and efficient production. Applying her lean expertise to the situation, Norman got to work. She secured space to assemble the monitors in GE Aviation's Cheltenham plant in England, which typically makes aircraft power systems. She spearheaded worker training and drafted a plan with her team, who were soon putting in two shifts a day assembling the monitors. The first batch was ready to ship in early May, just six weeks after the project had begun. It was all about having a plan to execute, Norman said — and the teamwork to execute it: "It shows how powerful a common goal can be."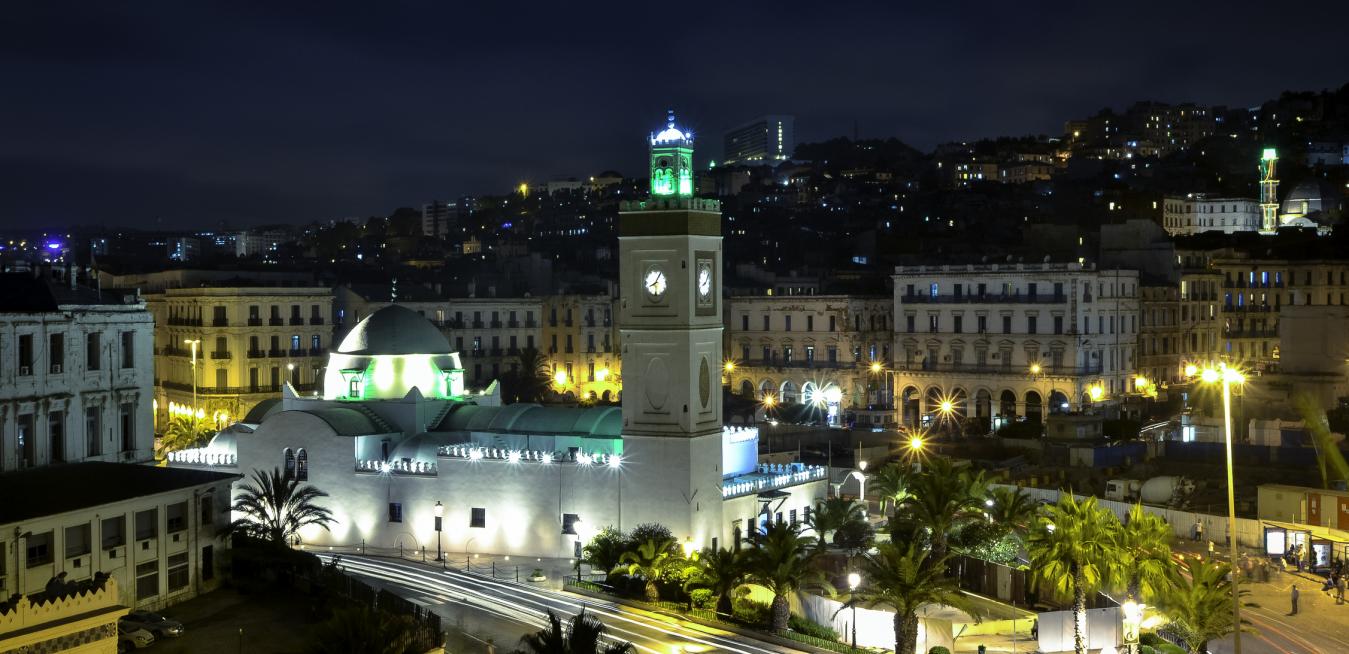 In February, when Algeria began taking measures to protect its citizens from the spreading pandemic, the leadership of SPE — a subsidiary of the SONELGAZ group, Algeria's national electrical and gas company — sprang into action. Their company was responsible, after all, for keeping the electricity flowing. Part of the plan they devised was for mission-critical work to be undertaken by staff working remotely at home. COVID-19 may have marked a disruption, but SPE was prepared: The software its workers use to oversee operations runs on GE's Predix Asset Performance Management (APM) platform, which came equipped with the capability to perform all functions remotely. SPE hadn't originally intended to use it for that purpose — but the coronavirus changed that in a hurry.
The digital technology-enabled three power plants to be monitored from a central management facility in the capital city of Algiers, with nine more scheduled to join them in 2020 and 2021. Even in normal times, Predix has proved to be a boon for SPE: With 10,000 sensors across the plants, its APM system uses predictive analytics and the continuous real-time data feed to estimate when parts may need repair, so SPE can schedule maintenance before something breaks down. Now, remote monitoring is letting managers keep tabs on things from home with Predix-enabled laptops. "Generally, the work of the analyst is the same remotely as in the control center," said Mehdi Adni, team leader for predictive maintenance at SPE. "The social-relations aspect is missing. Brainstorming has become Skype-storming."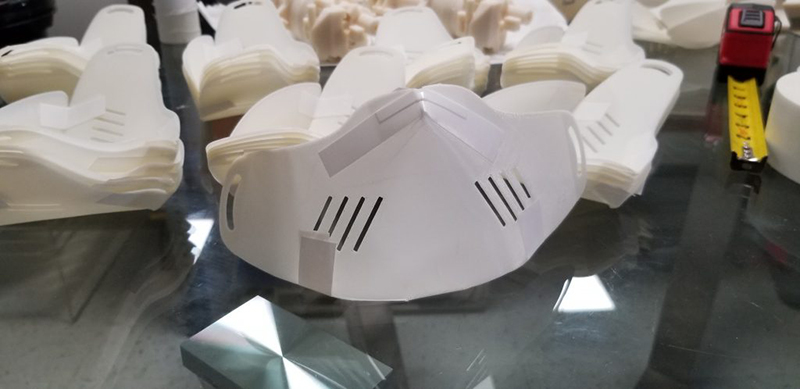 As the sourcing manager at GE Renewable Energy's wind turbine factory in Pensacola, Florida, Caroline Shaw didn't think her work would be affected much by the coronavirus pandemic — until she found an opportunity to help. Some of Shaw's colleagues had been tasked with screening employees for fever or signs of infections; her job was to keep the screeners supplied with protective equipment, including the N95 face masks that limit the spread of the disease. Shaw knew those masks were in short supply, though, and urgently needed by medical personnel. So she figured out how to use the tools of her trade to make them last longer.
Shaw learned of the Collective Shield, a grassroots effort to use a simple 3D printer to make a protective shield for N95 masks. The shield, limiting exposure to contaminants, was designed to extend the life of the masks, which are normally single-use. Using their own experience with the technology, Shaw and her co-worker Tiffany Craft 3D-printed shields out of a thermoplastic polymer that they were able to pass out to colleagues in Florida and South Carolina in just a couple of days. But the effort didn't stop at the factory walls: The pair have dropped shields off at local hospitals and joined with GE employees from around the globe in crowdsourcing improvements to the design and distributing thousands of shields to front-line workers while N95 mask supplies were limited.
Categories
tags