In a motel in Kingaroy, outback Queensland, this training session is instantly distinct from familiar corporate-education days: the facilitator has set off passionate discussions before the participants have even finished their first coffee. "What are the top dangers you have little or no control of when you're at work?" he asks. The focus in the room is unwavering as he writes up the answers they call out on the whiteboard. Forget the standard workplace gripes of inbox overload, pointless meetings, stolen lunches from the communal fridge. We're talking about life and death: weather, ignorant members of the public and bad choices can all make work a truly dangerous place for the people in the room here.
Kingaroy is the last stop on GE Renewable Energy's Near Enough Safety Campaign, presented for the teams working at eight GE wind-farm sites around Australia and an event in Melbourne's CBD. "Across GE, we are devoted to maintaining our deeply embedded safety culture and we wanted our customers to invite their site managers and safety leaders, as well as investors, consultants and contractors, to share that," says Steve Oswald, Country Executive for Onshore Wind in the region.

"The wind industry deals with gravity and high voltage – and you don't get a second chance with either of those risks," says Giles Rinckes, Director of Onshore Wind Projects and Services for GE Renewable Energy in Australia.

David May is project director for GE at the 453MW Coopers Gap Wind Farm, currently under construction for AGL Energy and the Powering Australian Renewables Fund (PARF) about 45 minutes from Kingaroy. "Especially where we are on the project right now, this is really important," says May. "This is the largest wind farm currently under construction in Australia, and it's a really intensive time on the construction side with large components — turbine blades — coming into the Port of Brisbane and a lot of activity on multiple fronts."

GE Renewable Energy tapped Active Training Team (ATT) for the safety workshop series. The award-winning UK-based outfit uses drama-based learning to bring about behavioural change across both individuals and organisations. That's right, they're actors. Construction workers in hi-vis vests and steel-capped boots and British thespians might not seem like the most natural fit, but ATT quickly disproves that notion. They use a combination of filmed and live drama and facilitated discussion to debate the issues around safety at work and reveal the behaviours that can undermine it, with potentially fatal consequences.


Active Training Team's Adam Christopher, who says experiential and immersive training brings about real behavioural change in people and organisations.

"People are so used to training being done in a boring PowerPoint-type way," says director Adam Christopher, who was on hand for part of the Australian tour and collecting material for ATT's debut podcast.  "We're hitting people in an emotional way, telling a story that involves them, and the more authentic we are, the more people suspend disbelief and jump into our story. All of our facilitators have come from an acting background, and if you want to address attitude and behaviour, then who better to bring into a training environment then people whose job is to study attitudes and behaviours in order to replicate them: actors."

This is ATT's second trip to Australia and for more than a decade, they've been taking their bespoke safety training around the world, from the Western Sahara to Macedonia to the multi-billion-dollar Tideway underground 'super-sewer' project currently under construction in London. For Tideway, a day with ATT is part of the induction process for everyone working on the project regardless of rank or role. "For this project it's a totally immersive experience — theatre sets have been built: inductees step into the flat of the guy who's killed in a workplace accident; they are part of the police interview in a police interview suite and they sit chatting with the characters in a works canteen," explains Adam Christopher. "It's a site-specific, promenade theatre multi-media show, combined with a series of communications-skills workshops. And during these workshops", he adds, "We're theory-light, practical-heavy … we get the participants to demonstrate behaviors and then we reveal the theory."

It would be giving the game away to describe much more, but suffice to say it's powerful and demonstrably improves safety cultures. "With Tideway, we can't claim to have sole involvement in the success [of workplace safety], but we're part of the machine that achieves this," says Christopher. "In every major infrastructure project in the UK, from the 2012 Olympic build to Crossrail to Heathrow Terminal 5, there's always been a spike in the reportable incident rate after three or four months, which is when complacency kicks in. With Tideway, we are now three years into the project and there's been no spike in the incident rate."

"The cost of safety incidents is well recognised however the value of pro-active safety campaigns is harder to define," says GE's Rinckes. "The ATT presentations were really valuable, and a great way to engage with our employees, contractors, partners and customers and drive the conversation about safety culture and communications." Nearly 300 people  took part in the Near Enough Safety Campaign as it toured the country.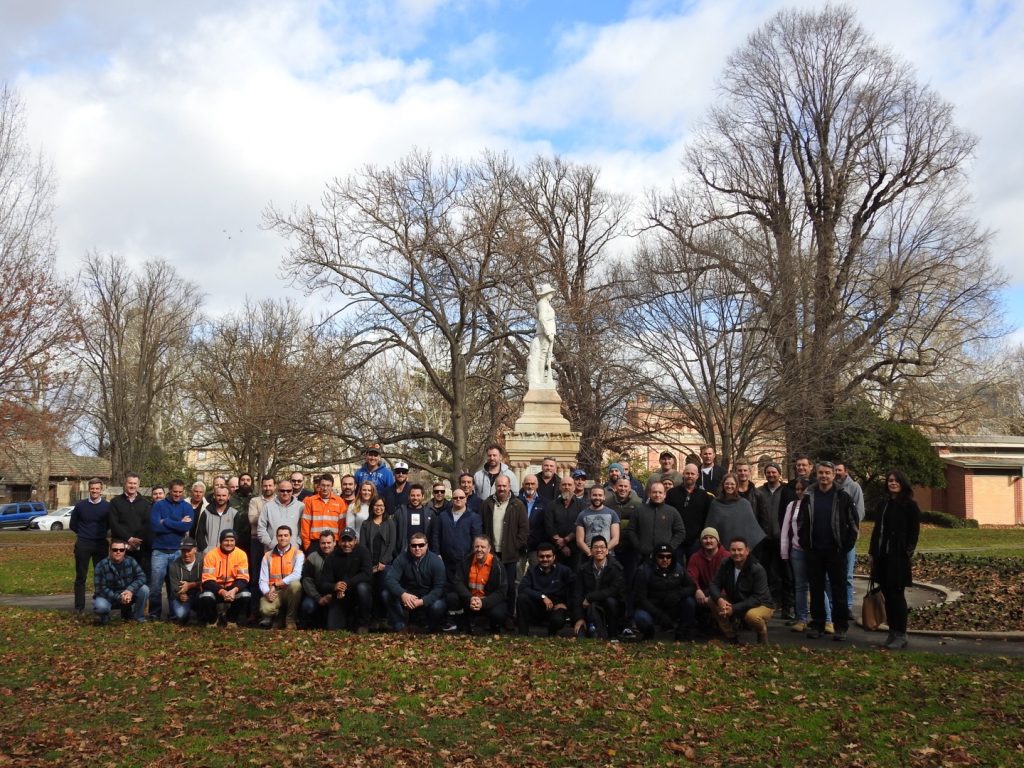 tags