It's not your grandfather's manufacturing anymore.




Manufacturing is revitalizing our economy and making America strong. Investments in manufacturing multiply across the economy, creating jobs and growth in other sectors. Every dollar in final sales of manufactured products supports $1.32 in output from other sectors — the largest multiplier of any sector. Manufacturing employs more than 12 million people with innovative and rewarding jobs that include salaries and benefits well above the national average.

Yet, manufacturers still cannot find the skilled workers they need, resulting in a skills gap of almost 2 million workers over the next decade. Part of this skills gap is due to the under-representation of women in the industry. While women make up 50 percent of the U.S. workforce, they make up only about a quarter of the manufacturing workforce.

Closing this gender gap will, in turn, help to close the skills gap. Women are essential to the future of the manufacturing industry. In order for the U.S. manufacturing industry to reach its full potential and become a global leader, women must be recognized as a priority for future employment.

The first step is to combat the industry's image problem and to attract more women to manufacturing careers by educating young workers — and the public in general — that manufacturing has changed dramatically in recent years. Today's manufacturing offers competitive wages and is high-tech, safe and clean. It is not your grandfather's manufacturing.

The Manufacturing Institute launched the STEP Ahead initiative to promote the role of women in manufacturing and offer best practices to attract, retain and advance female talent in the industry. The STEP Awards, part of the larger STEP Ahead initiative, celebrate women and their achievements at all levels of a manufacturing organization, from the factory floor to the C-suite.

This week, the Institute hosted the third annual STEP Ahead Awards, honoring 130 women and emerging leaders for their leadership and accomplishments in manufacturing.

By telling the real stories of these women, we can inspire the next-generation of talent to pursue careers in the industry and support current female talent within the manufacturing industry. Watch some of these inspiring stories in the video below:


(Video and top GIF: Courtesy of The Manufacturing Institute)



Jennifer McNelly is President of The Manufacturing Institute.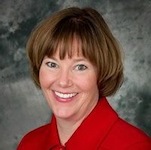 tags