Europe's struggles are well documented. The coming vote in Britain on EU status, the effects of the refugee crisis, security vulnerabilities, an air of disappointment amid years of slow economic growth – all of these are covered exhaustively.
But this is not the full story. Whatever Europe's problems, they are far outnumbered by Europe's opportunities.

I have a direct stake in Europe's success. In the years I have led GE, that stake has only increased. GE today employs 100,000 Europeans, operates in some 150 manufacturing plants and research centers, and generates more than 41 billion euros in economic activity. We've invested in 17 billion euros in acquisitions, including Alstom's energy and grid business – the single biggest industrial acquisition we have ever made. It's a game changer for GE; it gives us 50 years of installed base and supports our ambition to build our digital industrial reach and capabilities. Together, we're working to make a more competitive power and grid enterprise.

Europe has long been a standard-setter in meeting the world's challenges. It has pioneered technologies and polices that have dramatically reduced carbon emissions and transformed how the world approaches energy and environmental issues. Today, as we stand at the threshold of the next clean technology wave—Europe is yet again poised to take the lead in driving energy efficiency, notably the digital optimization of assets. But policymakers must embrace new technological trends, develop a better connected energy system, and create the right market conditions for low-carbon technologies to flourish.

Digital presents massive opportunity to transform industry. The Industrial Internet connects machines, product diagnostics, software and analytics, so that businesses can operate more efficiently, more proactively, can predict and be strategically automated.

Industrial Internet solutions bring greater efficiency to sectors accounting for 39 percent of the EU's economy. This translates into real growth. At GE, we've seen Industrial Internet solutions improve our customers' efficiency by an average of 20 percent. If all of European industry could realize these kind of gains—that would equate to $1.7 trillion per year in additional EU GDP by 2025.

I see a new era with possibilities for growth fueled by the Industrial Internet and open markets. A path for growth and opportunity amidst volatility. The path forward I see is fueled by competition among member states, and by industry that is on the cusp of a digital revolution. This will be the next wave of competitiveness.

A more digital and productive Europe is also one that can export. We believe that GE can increase exports from Europe; manufacturing costs can be competitive and export financing is an advantage. The Industrial Internet will unlock innovation that can impact core industrial industries.

Europe has chosen a common market, shared standards and laws, and a single currency. It would be a mistake to let unity of ideals and practices devolve into over-standardized rule-making.

Why not encourage EU member states to compete more with one another? This would go a long way in establishing a more investment-friendly environment. Likewise, why not support experimentation with policies meant to spur economic growth? As a company committed to growth in Europe, we will increasingly look to member state policies as a differentiator when making investment decisions.

Countries or regions that wall themselves off with data localization requirements will not be able to reap the full benefits of a digital revolution. Europe can lead this revolution and drive market share in this space, but will forfeit a potential "Productivity Revolution" by implementing protectionist regulation. It's a choice that should at least be made competitively, with each member state government applying the rules it thinks best, and each accepting the consequences of that policy.

Regardless of political, social and economic uncertainty, I am hopeful that Europe is poised to drive the Industrial Internet revolution. Europeans have long been leaders in providing innovative solutions to the world's greatest challenges including health, energy and environmental sustainability. Which is why GE, among other great companies, is placing a confident bet on Europe's future.

 

This piece originally appeared on LinkedIn.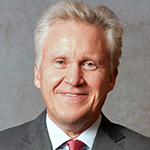 Jeffrey R. Immelt is the chairman & CEO of GE.
tags