In 1965, French radiologist Charles Gros built the first X-ray machine dedicated to screening breasts and effectively launched mammography as a viable breast cancer test. The machine, which was built by Thomson CGR, used a special X-ray tube developed by his colleague Emile Gabbay. It was made from molybdenum and emitted low-energy radiation that produced uniform images and contrast that allowed doctors to see breast tissue in greater detail.
GE acquired Thomson CGR in 1987, and mammography machines that followed Gros' original "Senographe" device remain the standard of care for breast cancer screening.
But they can't see everything. Some 40 percent of women in the U.S. have what physicians call "dense breast tissue," which can mask the visibility of tumors on a traditional mammogram. "Breast density is almost the perfect storm," says Dr. Rachel Brem, a radiology professor and director of breast imaging at the George Washington University Medical Center in Washington, D.C. "You can be perky-dense or you can be saggy-dense, it's really only something that you can see on the mammogram."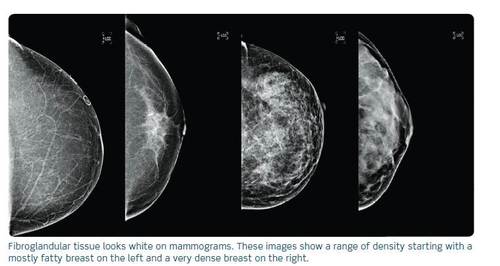 Brem says that women with dense breasts have a "substantially higher risk of developing breast cancer." She says that mammography can help clinicians find breast cancer in 85 percent of women, but in women who have dense breast tissue a third of breast cancers are not seen. "Although imperfect, mammography resulted in a 30 percent decrease in breast cancer," Brem says. "We are trying to improve the imperfections."
The U.S. Federal Drug Administration recently approved two GE systems that complement traditional mammography machines. The automated breast ultrasound exam (ABUS) has become the first technology for screening women with dense breasts approved by the FDA. While both dense breast tissue and cancer appear white on a mammogram, ultrasound displays tumors as dark (see image below). It's also faster. Compared to a traditional ultrasound test, which takes about 20 minutes, a technician can complete an ABUS exam in approximately 15 minutes.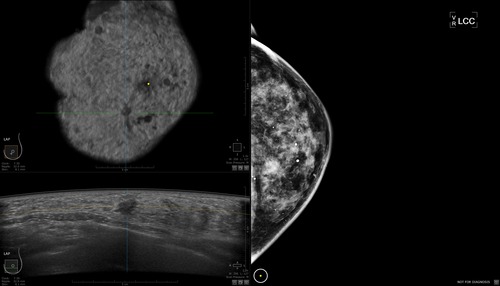 A comparison of a mammography image (right) and ABUS images (top and bottom on the left). Photo credit: GE Healthcare
The other system, SenoClaire*, is a low-dose, 3D X-ray system that allows doctors to image the breast in 1 millimeter slices (see top image), inspect each, and potentially reduce the amount of false positives. It uses the same amount of radiation like a traditional 2D mammogram.
Both Dr. Jacob and Dr. Brem were discussing breast health during an online Google Hangout organized by GE Healthcare and held at the annual meeting of the Radiological Society of North America (RSNA) in Chicago on Monday. They were joined by Dr. Kathy Schilling, medical director for breast imaging and intervention at the Center for Breast Care at the Boca Raton Community Hospital.
Schilling said that the new technologies complement mammography and allow doctors to be more effective in detecting breast cancer early. Her hospital is using an algorithm that weighs risk factors such as personal and family history, age, breast density and others to pick the best screening protocol. "It's all about personalized care," she said.
For her part, Brem believes that technologies like automated breast ultrasound, 3Dmammography bring breast cancer screening "on the threshold of an incredible exciting stage."
*Trademark of General Electric Company
Categories
tags