Boeing's 737 passenger jet became the world's best-selling aircraft last Wednesday, when the plane builder delivered the 8,000th jet to United Airlines. 
United was the first airline to order and take delivery of the second generation of the plane, the 737-200, in 1968. It has since received more than 550 737 aircraft.
Boeing has received more than 11,000 orders for the 737 family of jets since the 1960s, and it has more than 1,900 orders for the latest version of the plane: the next-generation 737 MAX. Stacked on top of each other, the jets would reach more than 77 miles high, past the 62-mile mark where space officially begins.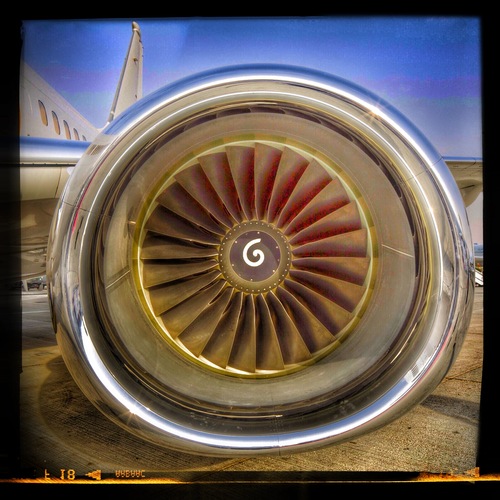 Boeing engineers started building the 737 in the 1960s to compete with France's Caravelle, Britain's BAC One-Eleven, and the iconic McDonnell Douglas DC-9 aircraft.
The majority of 737s have been powered by technology with GE pedigree. CFM International, a joint venture between GE and Snecma (Safran), has been the exclusive jet engine supplier for each new generation of the aircraft ever since Boeing started making an improved version of the plane, the Boeing 737-300, in 1984.
GE and Snecma launched their joint venture in 1974. The goal was to grow their presence in the short-to-medium-range aircraft market dominated by jet engines using the classic low-bypass turbofan design, like Pratt & Whitney's JT8D engine.
CFM engineers developed a new high-bypass engine similar to jet engines powering long-haul aircraft like the Boeing 747, with improved fuel consumption, reduced noise and quick turnaround time at the airport.
The result, an engine called CFM56, was bigger than its predecessors. Boeing engineers had to redesign the wing and suspend the engine in front of it, rather than below. The solution gives the engine its trademark oval opening (see picture above).
Today, there are more than 13,500 CFM56 engines powering planes used by 300 operators around the world. Most of the planes are 737s, but the engine family also powers Airbus and other aircraft.
CFM is now developing a next-generation engine called LEAP for the newest version of the Boeing 737 – the 737 MAX. It will enter service in 2017.
The LEAP engine is the first commercial jet engine in history to use 3-D printed fuel nozzles and special ceramic materials called ceramic matrix composites in its hot section to improve efficiency and cut emissions. The LEAP-powered 737 MAX will be 14 percent more fuel efficient than the current version. This could translate into billions in savings.
GE will open a new $100 million plant in Lafayette, IN, to assemble the plane.
tags