Five-year-old Wellingtonian, Albert Rich, has ambitions to be "a wind farm builder". At home and at preschool, he convinces his friends to take part in constructing turbines from cardboard tubing and any likely blade materials to hand, sometimes trucking them in from … another room.
Infigen Energy's Bodangora Wind Farm, the source of Albert's inspiration, recently delivered its first electricity to the National Energy Market, adding to the veritable forest of new GE turbines spinning renewable energy into the east-coast grid in 2017, and feeding Albert's dreams of participating in a renewably powered future.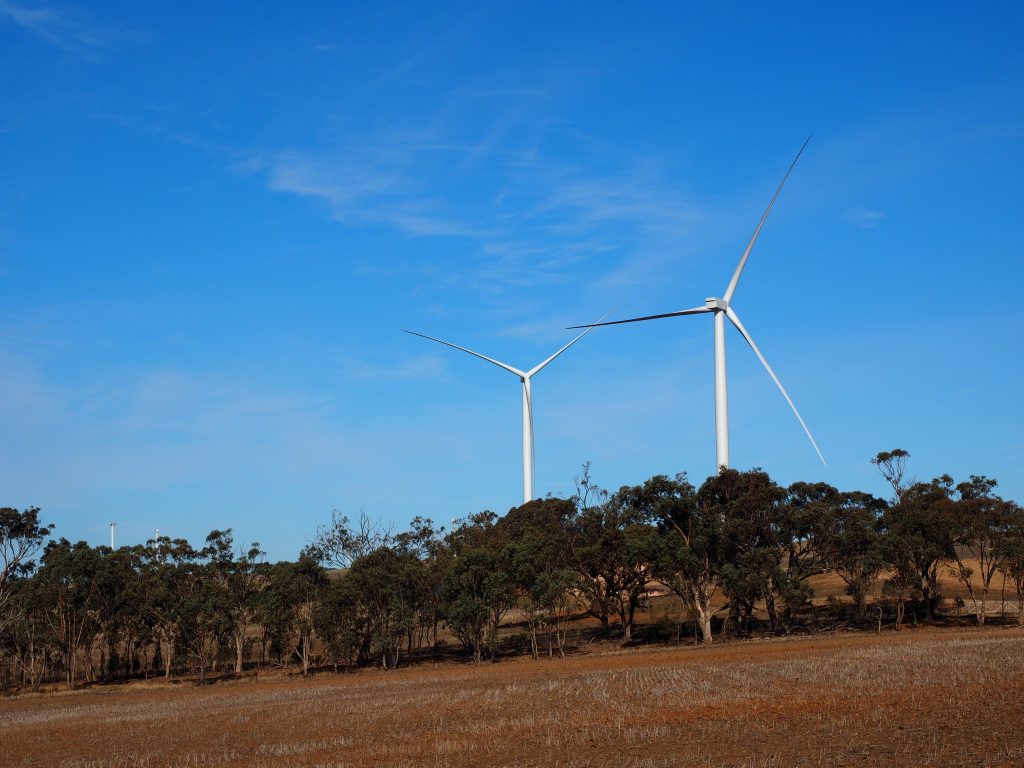 Above:  Wellington's hills are coming alive with the gentle swoosh of clean-energy-producing GE 3.4MW turbines.  Top image: The car park behind Elizabeth Rich is roughly where the permanent site office for Bodangora Wind Farm will be built. As future administrator for site operations, she's looking forward to her daily peaceful view across farmland and turbines: "I find them majestic and graceful to look at."

At the wind farm itself, a cheer went up as electricity from the first of 33 3.4MW turbines to be completed and commissioned flowed through the transmission lines. In the drought-stricken paddocks, sheep shook their orange fleeces coloured by the swirling dust, kangaroos twitched. The hi-vis-clad crews of GE, CATCON and Infigen at the site office nodded their hard-hatted heads, hoping for the right conditions to get on with the job of raising the rest of the budding turbines.

As is typical of areas with a strong wind resource, not every day is conducive to safely hoisting 63.7-metre blades designed to catch any passing zephyr and fix them to the top of their hosting towers. For the moment, the main red Mammoet crane was idly shooting the breeze beside one unadorned tower — a stalk without a flower.

A windy day in the life ...

In the GE demountable office, site administrator Elizabeth Rich (mum of Albert and his elder brother Archie), and Zen Crosby, site construction manager, face each other across the desks, juggling phones, schedules and questions from construction specialists and commissioning technicians eager to fulfil their roles. Most of them remember to keep hold of the office door as they enter or leave, to stop the wind slamming it against the steel wall.

Crosby has been up since 4.30am, preparing for the first of a series of dawn planning meetings that set each day's schedules: "Construction is not without its challenges," says this expert in running major projects in remote environments. "It's how we respond to the challenges that's important, collaborating on solutions that don't injure anyone and which lead to high-quality successful outcomes for the customer."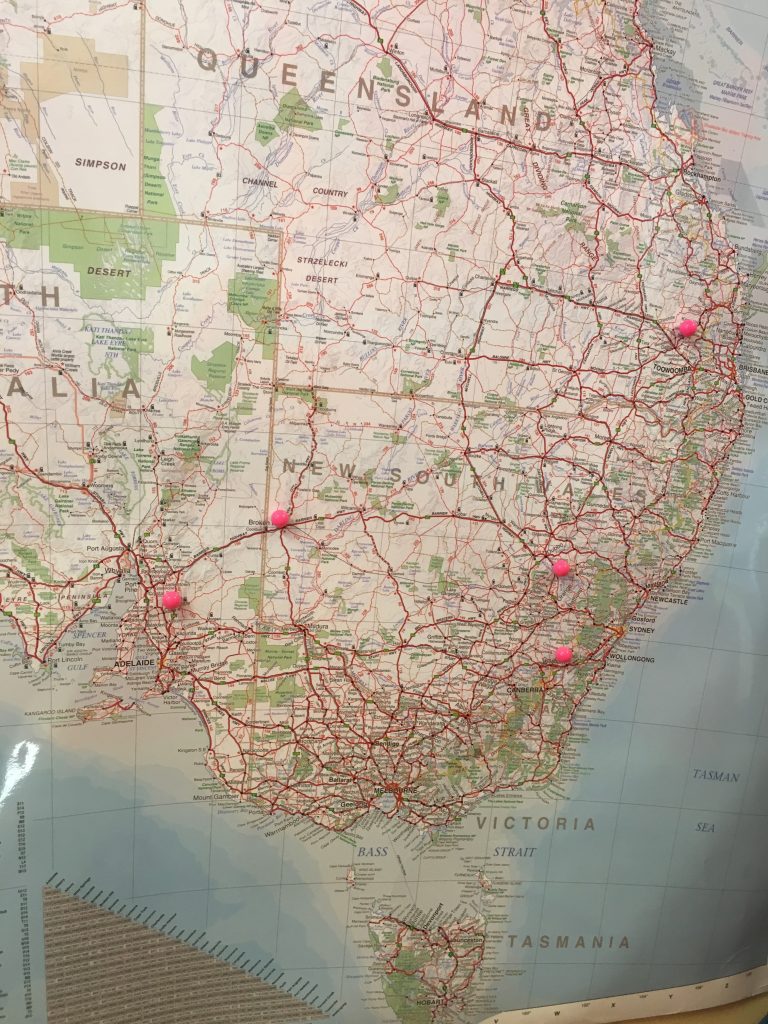 On the demountable site-office wall, behind Elizabeth Rich's desk, she's proudly marked a map of Australia with the five sites of GE-powered wind farms coming online in 2018. It's the greatest number of renewable energy projects to be delivered by any one company in a single year. With a total value of $1.2 billion, the projects have a total of 274 turbines capable of powering almost 600,000 homes.

Crosby, who grew up on a farm in the small town of Denmark, Western Australia, also believes in showing kids in regional areas the job opportunities provided by renewable energy projects. "It's key for companies like GE to get in at the grassroots level and provide information to young people in the community about really great careers in the industry," he says.

GE and Infigen each sponsors under-six and under-eight Wellington soccer teams — with electric team names such as GE Power Turbines and Infigen Energy Blades. And during the season Crosby, who works a contract that has him in Wellington for 21 days of every month, followed by a week at home in Perth with his partner and two young daughters, has played on the Wellington's men's teams. Together, he and Rich, ensure that all GE workers find accommodation in Wellington, and that the company's contractors and supplies are locally sourced whenever possible. The wind farm is expected to employ 120 local people during construction; seven in ongoing operations.

The benefits of mixed farming

Rich, a dyed-in-the-wool Wellingtonian, was snapped up by GE shortly after the amalgamation of Wellington and Dubbo councils. She had been working in economic development and events management and decided not to remain with the merged council because it would have meant commuting to Dubbo every day. Now a permanent GE employee, she will continue at Bodangora when the wind farm is complete, as administrator for the operations and maintenance team.

She says, "I was pro renewable energy before the wind farm was proposed, and I was then pro the wind farm because I'd had a bit to do with economic development at council, and obviously something like this project for my town was going to be big. The fact that it's renewable energy is a great bonus because I want my kids to have a sustainable future."

Rich knows the seven families hosting turbines and transmission infrastructure and says the wind-farm income they receive will be particularly welcome during the current severe drought. She and her husband Aaron farm crops and livestock on a property on the other side of the nearby Catombal Range. Rich says they usually grow at least enough wheat for their sheep, but this year there was no harvest and they're trucking in feed, so she's relieved that her job is not reliant on the land.

During the life of the wind farm, Infigen estimates that some $3 million will flow into community funds, some of which will be generated by one turbine designated to spin for Wellington's benefit.

A guaranteed $50,000 a year of investments in not-for-profit groups in town during the first 25 years of the wind farm's operation started flowing from December 2017, with Wellington Senior Citizens Club, St Johns Ambulance, and Information and Neighbourhood Services among the first beneficiaries.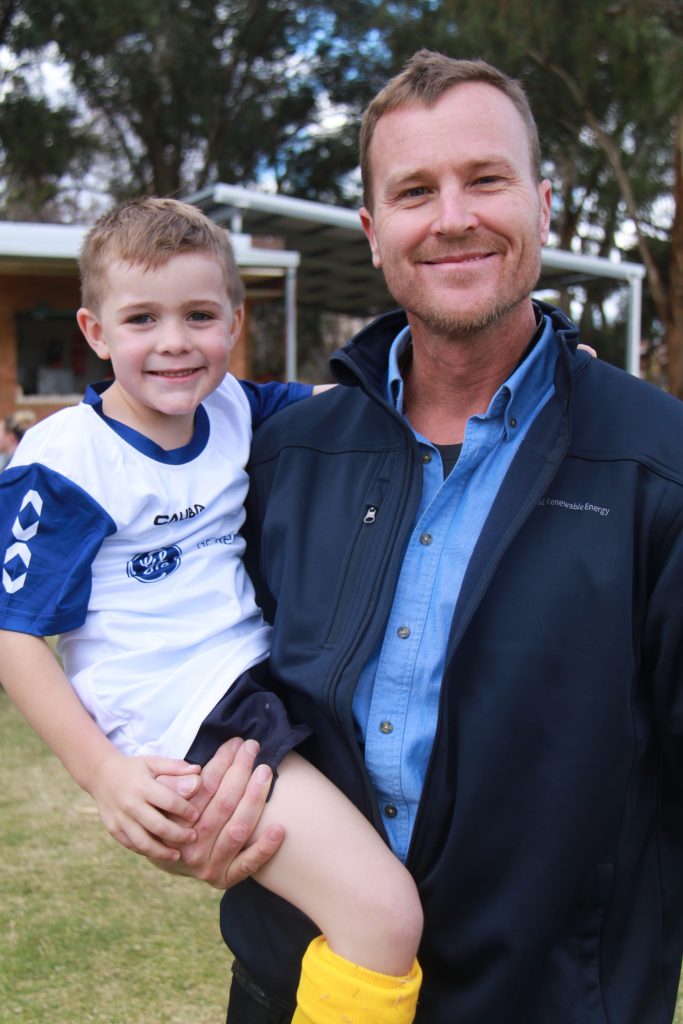 Wellingtonion Albert Rich, and Zen Crosby, Bodangora Wind Farm site construction manager, have become firm friends, sharing a love of soccer (Albert plays for the GE Power Turbines) and wind farming.

"It makes a massive difference to Wellington," says Rich, who is especially pleased that the volunteer-run Mt Arthur Reserve Trust, which maintains the walking trails, picnic facilities and bushland of the famously beautiful recreation area overlooking Wellington, also received a more than $8,000 funding boost.

Rich is proud to have contributed to the fact that accommodation providers in Wellington are almost at full capacity hosting wind-farm construction workers. "And that helps the restaurants, cafes, petrol stations, tyre shops and lots of other businesses — especially at the moment when the farmers aren't spending. It's nice to know that our town might be able to push through the drought because of this project."

Albert's love of Bodangora Wind Farm is not misplaced, though his mum took a little umbrage when, after 12 years serving significant roles on Wellington Council she first put on her hi-vis GE shirt and he said, "Now you've got a real job!"
tags