China's Zhoushan City archipelago, a sprawling collection of more than 1,390 islands about 100 miles south of Shanghai in the East China Sea, is a popular tourist destination, a center for commercial fishing, and home to half of one of the world's busiest ports, the Port of Ningbo-Zhoushan. Now it's also welcoming some of China's most ambitious economic development projects. Government-backed efforts to establish new maritime industry development zones in Zhoushan are well underway, as are plans to rapidly expand the region's hydrogen energy industry. In just over a decade, Beijing's intention is for Zhoushan City to serve as a model "hydrogen island" that demonstrates the benefits of hydrogen-based energy for all of China.
The rapid growth in Zhoushan, of course, means that demand for reliable energy is also quickly increasing in the region. To help meet this demand, the state-owned utility Jineng (Zhoushan) Gas Power Generation Co. will soon start construction on a new combined-cycle power plant on Zhoushan, the archipelago's largest island, and it's calling on GE Vernova innovation to help make it happen. The utility has just placed an order for two of its 9HA.02 combined-cycle gas turbines in collaboration with Harbin Electric Corporation, with whom GE Vernova has a long-term strategic cooperation agreement in China.
"The new power plant is the first gas power generation project and the first H-class gas turbine project in Zhejiang Province, where Zhoushan is located," says Ma Jun, general manager of heavy-duty gas turbine sales for GE Vernova's Gas Power China.
Scheduled to begin operations by the end of 2025, the plant is expected to deliver a total of nearly 1.7 gigawatts (GW) of electricity for Zhoushan (some of which will come from other sources). The 9HA.02 DLN2.6e combustion system is designed to operate on up to 50% hydrogen by volume, well above the plant's initial goal to operate on up to 10% hydrogen.  
"This lower-carbon project will not only help meet the power demand from rapid development in Zhoushan but also mean a lot for the development of more sustainable electricity compared with coal-fired plants in Zhejiang," says Ma Jun.
China plans to begin tapering off CO2 emissions no later than 2030, with full carbon neutrality planned for 2060. But gas-powered plants will continue to be a valuable source of reliable electricity during the transition, with lower carbon emissions compared with coal-fired plants. Even as Zhoushan develops new wind and marine-based energy — experimenting with wave and tidal stream generation, for example — it will also rely on gas power to meet demand when renewable energy is not available. The new plant is expected to increase the Zhejiang grid's overall power supply, and because the turbines can be turned on and off quickly, they will be used to efficiently support changes in power demand throughout the day.
The benefits of gas plants are substantial. The plants release roughly 50% of the CO2 emissions produced by coal-fired plants of the same size — and that drops to a third when powered by GE Vernova's advanced H-class technology, and more significantly when they run on a 10% hydrogen blend. They release less mercury, sulfur oxide, and nitrous oxide into the air, too.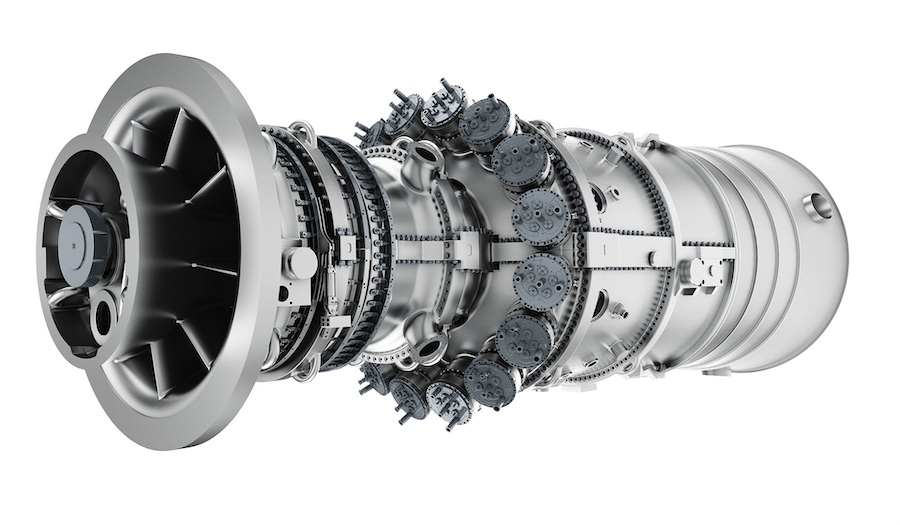 "It would take about 1.35 million tons of coal to produce the energy this plant will produce in one year when running at full capacity," says Ma Jun.
The new combined-cycle power plant will be located in the Zhoushan High-Tech Industrial Park, a 10-square-mile (27-square-kilometer) development zone on Zhoushan Island that's been constructed as part of China's 14th Five-Year-Plan for Zhejiang Province. The industrial park includes smaller clusters of manufacturing and research enterprises, each focused on a specific industry, such as aviation, aerospace, high-tech port equipment, and new marine energy technologies.
"The industrial park is part of the Zhoushan Marine Industrial Center, one of the provincial industrial aggregations built by the government," says Ma Jun. The center also comprises the Zhoushan Port Comprehensive Free Trade Zone, a hub for marine fuel processing, ship building, and more. "At present, it has attracted more than 10,000 registered enterprises, and Zhoushan now ranks among the top ten bunkering ports [where cargo ships refuel] in the world."
A plant that can utilize hydrogen is particularly appropriate in Zhoushan as the region invests in its hydrogen industry, bumping up H2 production and storage and scaling up the manufacture and use of fuel cells. If all goes according to schedule, by 2035 Zhoushan will be energy self-sufficient, a so-called hydrogen island relying on renewables and locally produced hydrogen to power its growing marine-based economy.
"It will become increasingly common to see hydrogen used in industrial production, transportation, power generation, and other fields," Ma Jun notes. "Finally, a hydrogen society will come into being."
China already holds the title of the planet's largest producer and consumer of hydrogen, according to the International Energy Agency. The country's national plan for hydrogen development outlines goals of increasing production of "green" hydrogen — hydrogen produced from water via electrolysis using only renewable energy sources — by 2035, so it's reasonable to expect green hydrogen to have a place in Zhoushan's future as well.
For now, GE Vernova and Harbin Electric are focused on delivering the new H-class turbines, and proud to be a part of this landmark project in Zhoushan.
"As GE Vernova's most advanced and efficient gas turbines, the 9HA.02 turbines offer superior performance, flexibility, and reliability while supporting mixed combustion of hydrogen," says Ma Jun. "This new plant will play a demonstrative role in the transformation and upgrading of the energy infrastructure in Zhejiang Province as well as in the exploration of near-zero carbon emissions in the power industry."
Categories
tags