As Hurricane Harvey drenched the Texas coast in August — and Irma devastated the Caribbean and soaked Florida last week — the media was filled with scenes of flooded streets and gymnasiums crowded with people seeking shelter. But those harrowing images represent just a glimpse of the economic devastation that Texas Gov. Greg Abbott warns is likely to linger for years to come. "We need to recognize it will be a new normal, a new and different normal for this entire region," he said.
If earlier disasters are any indication, a key to these regions' recovery may lie in how soon they are able to restore electricity to the millions of people who lost it. In the case of Hurricane Sandy in 2012, New York's innundation with salt water knocked out power across New York City and and in many seaside towns, slowed down recovery efforts, and made it impossible for many people hit by the storm to return to their normal lives — and their jobs. According to some estimates, power and other infrastructure failures may have more than doubled Sandy's long-term economic losses.



thousands of sensors and "smart switches" to monitor the system and redirect electricity to where it's needed, the solution was designed to minimize outages and — in case they do occur — minimize their duration.

Its effectiveness was apparent during tropical storm Irene in 2011: NSTAR's system had 506,000 power interruptions, almost half of which were fixed in less than an hour. "On average, it took utilities about a week to restore service after Irene, but NSTAR was able to substantially restore power within three days in a large portion of their electrical network," Assimakopoulos says. During Sandy, NSTAR's network was again tested in Massachusetts, and again it proved itself: While 400,000 of its customers experienced power outages, 274,000 were restored within a day.

This technology, which GE calls Distribution Automation, focuses on large systems and the way they distribute power. But other resilient grid designs, such as microgrids, work from the opposite direction. Microgrids are smaller power systems that can integrate with the grid or work independently in campus or community environments. In 2016, GE partnered with Ameresco Inc. and installed a microgrid system at the Portsmouth Naval Shipyard in Kittery, Maine. Using a 500 kW battery, a 4MW backup generator and a 10 MW combined heat and power plant, the design was able to maintain uninterrupted critical operations at the shipyard in the event of a grid failure.

The company also helped to develop a microgrid feasibility plan for 11 cities in New York state as part of the New York Prize program hosted by the New York State Energy Research and Development Authority (NYSERDA). One of these communities was the Hunts Point market, in the Bronx. Home to one of the largest food distribution centers in the world, Hunts Point is the gate where 60 percent of New York City's food — including half of the region's meat — comes into the city. While it emerged largely unscathed from Hurricane Sandy, the storm was in many ways a wake-up call: Had electricity to the market been cut off, tons of food would have been spoiled, food distribution in the region would have been crippled, and tens of millions might have gone hungry. With a microgrid, Hunts Point could continue operations, even in the face of a massive power outage.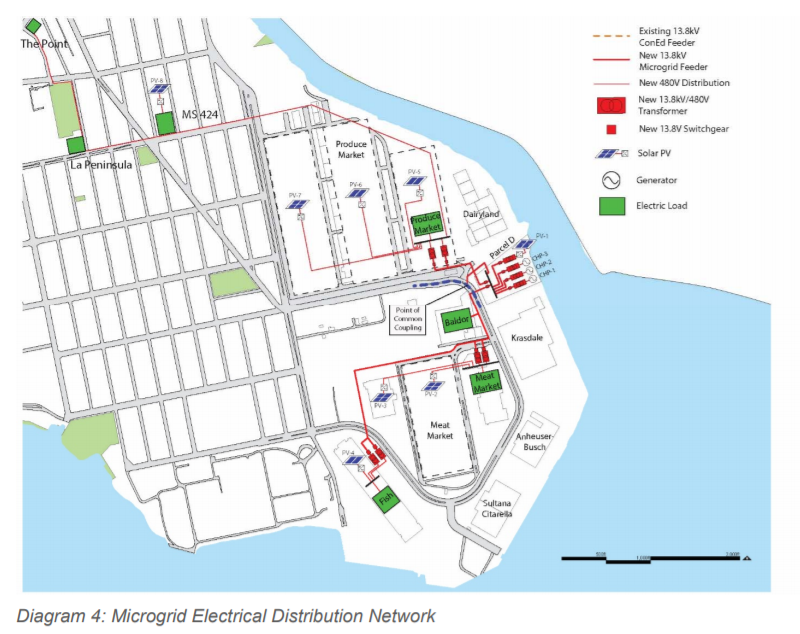 Categories
tags