Northern lights and elk steak dinners aside, living in northern Finland is not for the faint of heart. As the region is bisected by the Arctic Circle, local thermometers frequently dip below zero — Fahrenheit, that is — during the winter months, when night reigns in the far north and daylight lasts no more than a few hours a day farther south. The place can also be quite solitary. Though geographically the northern region takes up half of Finland, cities are few and far between, and the area is home to just 740,000 souls, or 13% of the nation's population. Many of them live in Oulu, Finland's fifth-largest city, where one will find Oulu University Hospital, the only specialized university hospital serving this vast area.
The bustling 6,700-employee medical center treats 134,000 individuals and logs 600,000 outpatient visits every year, including those seeking diagnostic screening such as magnetic resonance imaging (MRI). But what about those patients who need a scan but are too sick to travel? Increasingly, Oulu comes to them.
In 2008, the hospital purchased a special truck capable of carrying a mobile MRI unit and outfitted it with an MRI system from GE Healthcare. "We wanted to serve our customers near their homes," says Jaakko Niinimäki, chief radiologist at Oulu University Hospital.
The mobile MRI was such a hit that Oulu wanted a second one. However, the hospital first needed to address a significant concern that had emerged as the first trailer aged: The original MRI's bore — the hole in the MRI doughnut in which patients lie during scanning — was only 24 inches across, which some patients found unnervingly tight. It could also be too narrow for larger patients or those attached to IVs or tubes. The time had come to introduce the newer, roomier MRI model with a 28-inch bore. If northern Finland isn't cramped, why should its mobile MRIs be?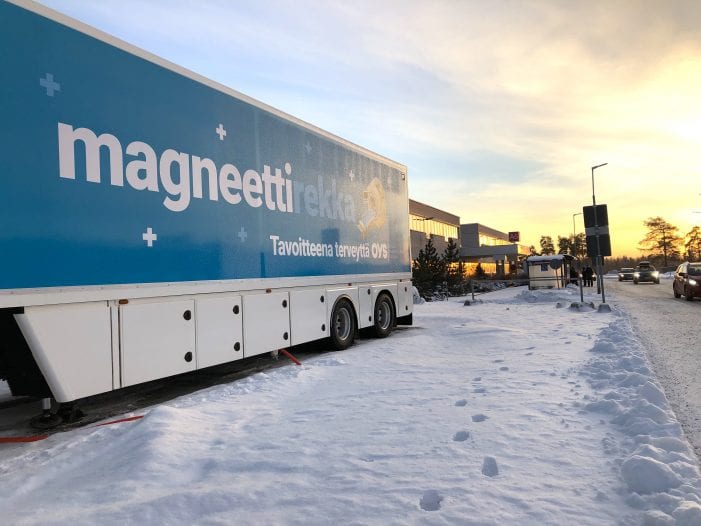 No reason, other than engineering. The gray doughnut of the MRI scanner hides a huge magnet that generates a powerful magnetic field that the machine uses to image the body. A typical MRI system in a hospital can weigh tens of thousands of pounds and occupy three rooms: the room with the machine, the technical room for the cooling system and other equipment (the magnet must be supercooled almost to absolute zero to work properly), and the control room, from which clinicians run the machine. Fitting all this inside a hospital typically requires a crane and a construction crew; getting it inside a 44-foot-long trailer is a job for a designer with the mind of Houdini.
Roope Salonen, a field engineer with GE Healthcare, was part of GE Healthcare's global engineering team that answered that call. They listened to the customer's needs and delivered a state of the art, wide-bore MRI machine on wheels that could survive arctic weather called the GE Voyager. The mobile unit was specifically designed to work in the most demanding locations on the planet. But when you step inside, you would never know it. "When doing a scan, patients feel the same as though they were inside a hospital,"

Salonen says

.


For example, MRIs require indoor temperatures between 66 and 72 degrees Fahrenheit to function properly, a challenge to maintain during Finland's cold spells. The truck maker, Lamboo Mobile Medical, added heated walls, floors and doors as well as insulation for the trailer. Since MRI systems, including the SIGNA Voyager 1.5T in the trailer, cannot work on an uneven surface, the trailer comes with a leveling device to help drivers park on flat ground.




Each week, the truck travels among hospitals in Raahe, Oulainen and Oulu, roughly an hour's drive from one another. The facilities provide the unit with all the power it needs to operate. An onboard generator keeps systems running while the truck is on the road. And the MRI can store images when Wi-Fi is scarce, delivering them once drivers get to a location with better internet connections.




The net result is that when patients step into Oulu's mobile MRI unit, it's as though they're transported to a major city hospital with state-of-the-art equipment. With a little imagination, they might even pretend the facility is in balmy Miami or Honolulu.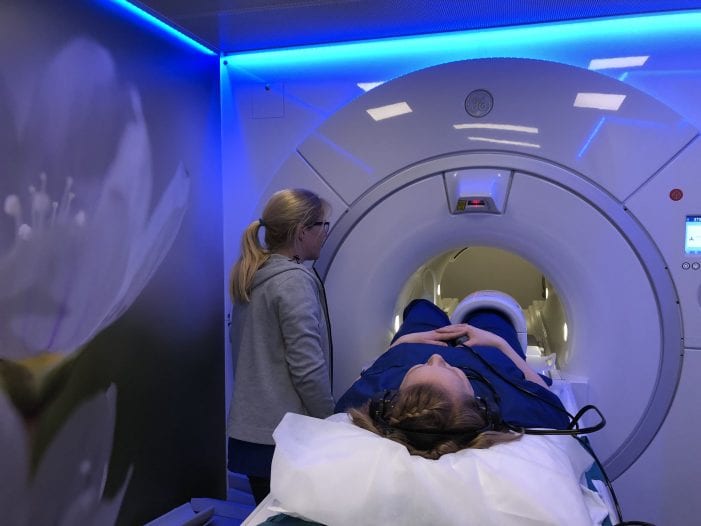 A version of this article originally appeared on The Pulse, GE Healthcare's newsroom.
Categories
tags