When Dr. Rajesh Kumar meets his patients for the fist time, they can often fit into the palms of his hands.
Kumar is a medical specialist who cares for tiny infants in Jharkhand, the largely rural Indian state located west of Kolkata. Jharkand has 33 million residents, but just a few doctors like Kumar. On any given day, Kumar's team of twenty pediatricians and neonatologists working at the Rani Children Hospital in the state capital of Ranchi have up to 100 newborns in their care. Some weigh less than two pounds at birth. The babies sorely need modern medical technology to grow and get better, but it had been slow to reach them.
Things started changing three years ago, when Kumar's neonatal intensive care unit installed new Lullaby baby warmers and photo-therapy technology developed by GE in India specifically for the rigors of the local market.
The units are not the same high-end machines you might find in an American hospital, but sturdy and more affordable clones. In Jharkand, for example, the annual per capita income is just $680 and working electricity is not always a given.
Coming up with the right design required a new kind of insight. "You can't take a product and simply strip it down and replace expensive parts with cheaper ones," Vikram Damodaran, director of healthcare innovations at Wipro GE Healthcare recently told The New York Times. "It has to come from the ground up, with a lot of input from the people who might actually use it."

On a typical day, the Rani Children Hospital is using GE technology to care for as many as 100 tiny patients. Top image: GE's Lullaby phototherapy system.
The Lullaby warmers are helping Kumar's tiniest patients maintain their body temperature. The GE engineering team redesigned the machine's controls and included buttons with intuitive icons and dials to give nurses more time to focus on the baby, rather than switches.
The Lullaby warmers work in combination with Lullaby phototherapy systems, which were also re-engineered by GE. Doctors use them to treat infants with neonatal jaundice, a common illness caused by their immature livers. Left untreated, the yellow byproduct of dying blood cells called bilirubin can build up in the body and damage the developing brain. Without phototherapy, they would have to receive blood transfusion but the technology helps the tiny bodies to get rid of the substance.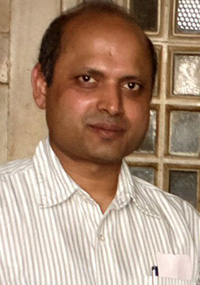 Dr. Rajesh Kumar is using redesigned GE medical machines to care for his patients.
Engineers working at GE's research center in Bangalore, India, equipped the new phototherapy machines with special LED lights that can last almost six years, or 50,000 hours, 25 times longer than standard fluorescent lamps that use five times as much electricity. "Technologies like low cost baby warmers and LED phototherapy systems can help save many newborn lives every day, especially in a country like India," Kumar said.
Hospitals in Europe like the simplified functions so much that they have placed their own orders for the redesigned machines. "There has been a shift," Shyam Rajan, chief technology officer at Wipro Healthcare, told the Times. "Before, it was India for India. Today, it is India for the World."
Categories
tags