On Wednesday, Nov. 11, the U.S. will celebrate Veterans Day. GE currently employs thousands of veterans and continues to hire more. A network throughout the company helps veterans not only learn skills and grow — it also helps them find new job opportunities in all of GE's businesses. Below is a short list of GE veterans we profiled over the last year. Take a look.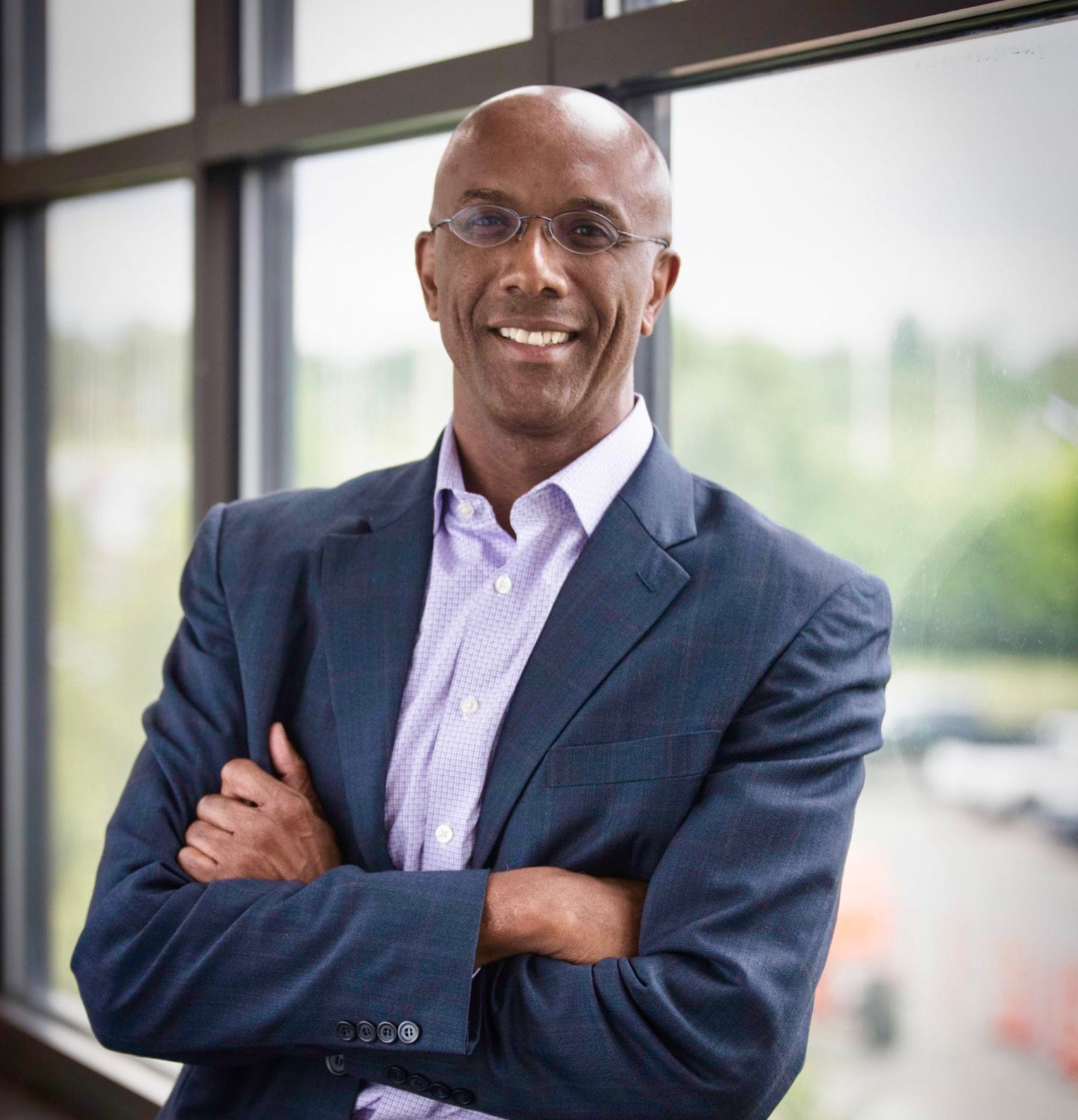 Like many kids, Tony Mathis spent a lot of time with his head in the clouds. Fascinated with aviation and engineering, Mathis participated in a high school summer program for aspiring African American engineers and joined the Air Force after college as a flight-test and propulsion-project engineer. He learned the ins and outs of jet fighters, sure — but Mathis also learned the importance of teamwork, lessons he would bring with him in 1997 when he joined GE Aviation. Working his way up, in 2016 Mathis became GE Aviation's president and CEO of military systems. But he never forgot where he came from.
In his first couple of years at GE, Mathis met Lloyd Thompson, an African American executive who became a mentor and close friend. "It was kind of intimidating to be that early in my career at GE but to have an audience with somebody I had admired and watched from afar," he said. Now a top executive himself, Mathis is a committed mentor to those coming up behind him, involved with the Omega4Life Leadership Program — a partnership with a fraternity that influenced him heavily — as well as the GE Aviation African American Forum Chapter. "Because I've come from such a humble beginning and have been able to live my wildest career dreams," he said, "I spend a lot of time and effort trying to make sure that the Tony Mathis of some other name is afforded the opportunities and support that I got."
Jenna Dolan: The Few, The Proud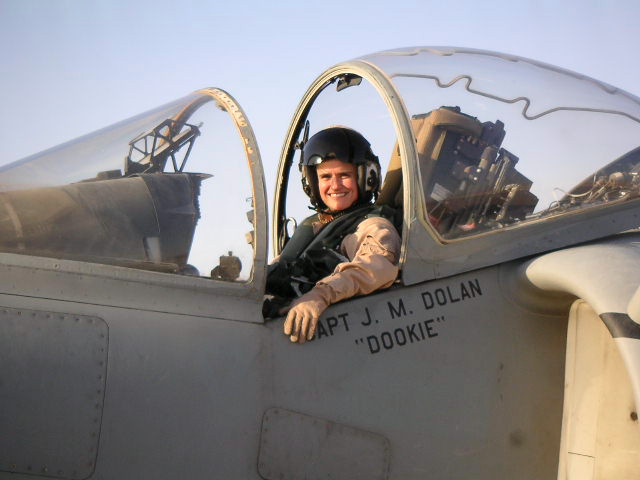 When Jenna Dolan was appointed to the Naval Academy in 1992, women weren't allowed to fly combat aircraft. That policy soon changed, though, and Dolan — who grew up wanting to be a pilot in the U.S. Marines — embraced the challenge with gusto. Her focus and precision helped break boundaries for female Marine pilots: During the Iraq War, Dolan was the first woman in combat to fly the McDonnell Douglas AV-8B Harrier II jet, which can take off and land vertically. She flew more than 120 combat missions, mostly at night, in two tours of duty. Dolan was considering accepting a third term when her husband, Matt, was diagnosed with cancer. That's when she knew it was time to come home.
Matt is healthy today, and Dolan still enjoys a high-flying career. In 2009 she joined GE's Junior Officer Leadership Program, which gives officers transitioning into civilian life the opportunity to complete three eight-month rotations in different GE functions. She's one of many veterans who have found a home at GE, which has made a point of hiring service members: Currently, about one in every 13 U.S. employees at GE is a vet. Dolan's a natural fit, of course, and today plays a role in military customer support, working on the F414 Super Hornet jet engine. "The ability to handle stressful situations and keep a good head on your shoulders is something that I really take from the challenging experiences that I had in the military," she said.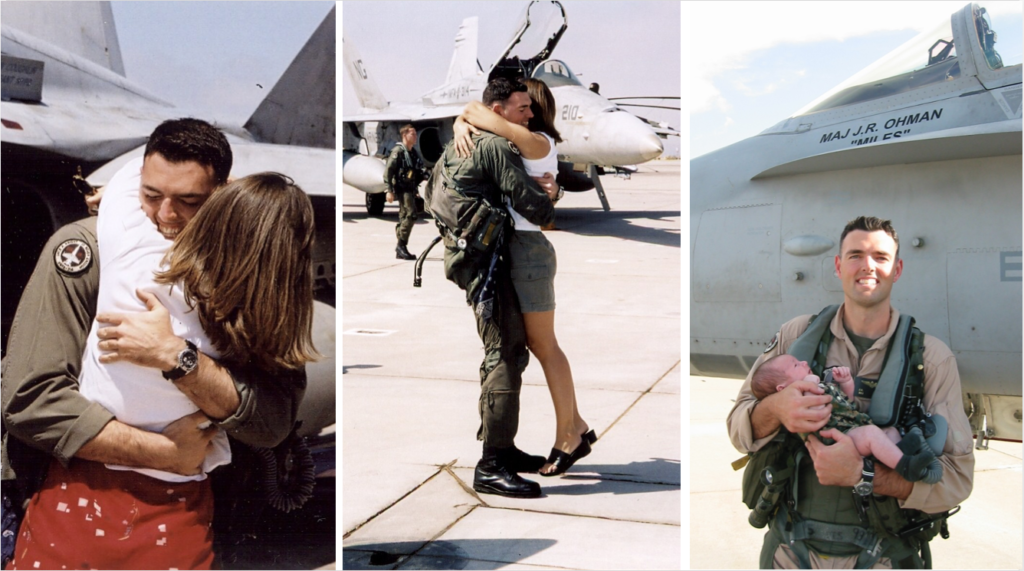 Growing up, Jon Ohman knew he wanted to follow in the footsteps of test pilot Chuck Yeager, the first person to fly faster than the speed of sound. Yeager and contemporaries like Bob Hoover "established what it means to be a test pilot," Ohman says. "They were pushing the boundaries of what humans were doing in the air." After stints in the Marine Corps in Iraq and Afghanistan, then as a military test pilot, Ohman landed at GE. As the company's chief test pilot, Ohman had the high-altitude honor of being the first to try out the GE9X — the world's largest jet engine, which the FAA recently certified for commercial production.
"It was certainly exciting to be the first person to fly the largest engine in the world, to be part of an aviation first," Ohman says. "But it's a really humbling experience, too." And a feat that a test pilot can't pull off alone, no matter how daring or talented. Ohman flies with 15 to 20 flight engineers and plenty of computers that can measure and modify various engine parameters in flight. And before the 747-400 ever takes off, Ohman and his crew go through an elaborate process that involves ground tests, simulations and various other prep work. (Ohman told GE Reports about the ins and outs of testing the GE9X here.) The GE9X was designed for the Boeing 777x, but Ohman's got another satisfied customer closer to home: his daughter, Emily, who says she's not scared of airplanes because "my daddy tests them and makes sure they're safe."
Categories