Where do tattoo needles come from? Once upon a time, there was a great inventor called the Wizard of Menlo Park. His name was Thomas Edison. One day, he built an electric pen designed to relieve clerks of the drudgery of duplicating documents. It had a sharp vibrating needle inside that traced text written on a sheet of paper. The needle punctured the text 50 times per second and turned it into a stencil. Ink would seep through the tiny holes and replicate the writing on sheets placed underneath. The invention, patented in 1876, didn't exactly catch on, but it presaged the copy machine and, in the hands of artists, revolutionized tattooing.
Browsing through Gene Barretta's fascinating new illustrated book on Edison, Timeless Thomas: How Thomas Edison Changed Our Lives, there's barely an industry that has not been touched by Edison's genius. The book is primarily for kids, but parents and grandparents will find inside much that is new and surprising. Yes, Edison built the light bulb, but he also developed an alkaline battery for the first electric vehicles, and launched the movie business in his Menlo Park lab by building the first film studio, called Black Maria, and the first motion picture camera. Less glamorous, but equally revolutionary were his power plants, cement kilns, and vending machines.

Barretta does a great job bringing all of these inventions to life. He juxtaposes each colorful page dedicated to an Edison idea with a page showing the invention's modern use.

Timeless Thomas is Barretta's third book dedicated to inventors. He has written and illustrated books about Benjamin Franklin, Now & Ben: The Modern Inventions of Benjamin Franklin, and Leonardo da Vinci, Neo Leo: The Ageless Ideas of Leonardo da Vinci. He says that Edison belongs in their company. "He has been an idol of mine and I wanted to give the kids the same thrill," Barretta says. "I wanted them to get acquainted with the world they are living in."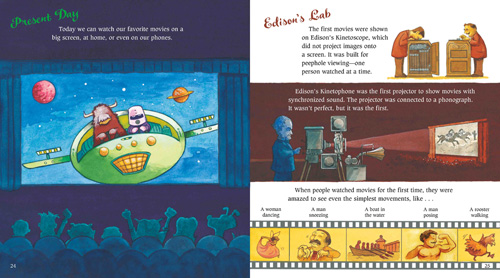 Before there was Hollywood, there was Menlo Park. Edison developed thetechnology behind the first movies.
tags