In the early fall of 1962, Neil Armstrong climbed into a car with GE test pilot Elliot See Jr. at what is now called the Armstrong Flight Research Facility in Edwards, California. They set out from the Mojave Desert town for NASA's Manned Spacecraft Center in Houston some 1,600 miles away. "I don't remember whether the car was his or mine," Armstrong mused in the book Fallen Astronauts: Heroes Who Died Reaching For The Moon. "If it were his, it would have been a convertible; he loved convertibles. He was enjoyable company; we enjoyed being together and wondering what our future would be."
The entire world knows what Armstrong's future held: he became the first human to walk on the moon. But See, whose prospects were as bright as Armstrong's when they set out east from California on that day, had just four years to live.
Armstrong and See — then 35 and a father of three, including a month-old son — were part of a batch of nine astronauts NASA brought on board for its Gemini and Apollo missions. Their group, dubbed the "Next Nine" because it followed the "Mercury Seven" astronauts like John Glenn and Alan Shepard, expanded the profession to just 16 members. It included Frank Borman, who would later become the commander of Apollo 8, the first mission piloted by humans to orbit the moon. There was also Jim Lovell, the commander of Apollo 13, who safely guided his wounded spaceship home after disaster struck 200,000 miles away from Earth. Armstrong and See were the only civilians.
In their time together at NASA, Armstrong and See became good friends, according to The First Man: The Life of Neil A. Armstrong, the astronaut's biography. (The actor Patrick Fugit plays See in the Hollywood version of the book.) In 1965, they were picked to be the backup crew for the Gemini V mission. "This was to be the first long duration flight," Armstrong told the authors of Fallen Astronauts. "From the spring to fall of '65 we were together constantly; flying to the Cape [Canaveral], to North Carolina (for astronomy experiment development), to McDonnell Aircraft (to test the spacecraft), sitting in the simulator for endless hours developing rendezvous techniques and entry profiles, and learning the spacecraft systems."
But they never got to see the Earth from space together. In 1966, See was selected as the commander of the Gemini IX mission together with Charles Bassett. It would be their first space flight and they were to perform a spacewalk and dock with a satellite. On February 28, 1966, See and Basset climbed inside a trainer jet and flew to St. Louis, Missouri, where McDonnell-Douglass had just finished their Gemini capsule. Trying to land in bad weather that day, their plane crashed and they were both killed. They are buried next to each other at Arlington National Cemetery in Washington, D.C.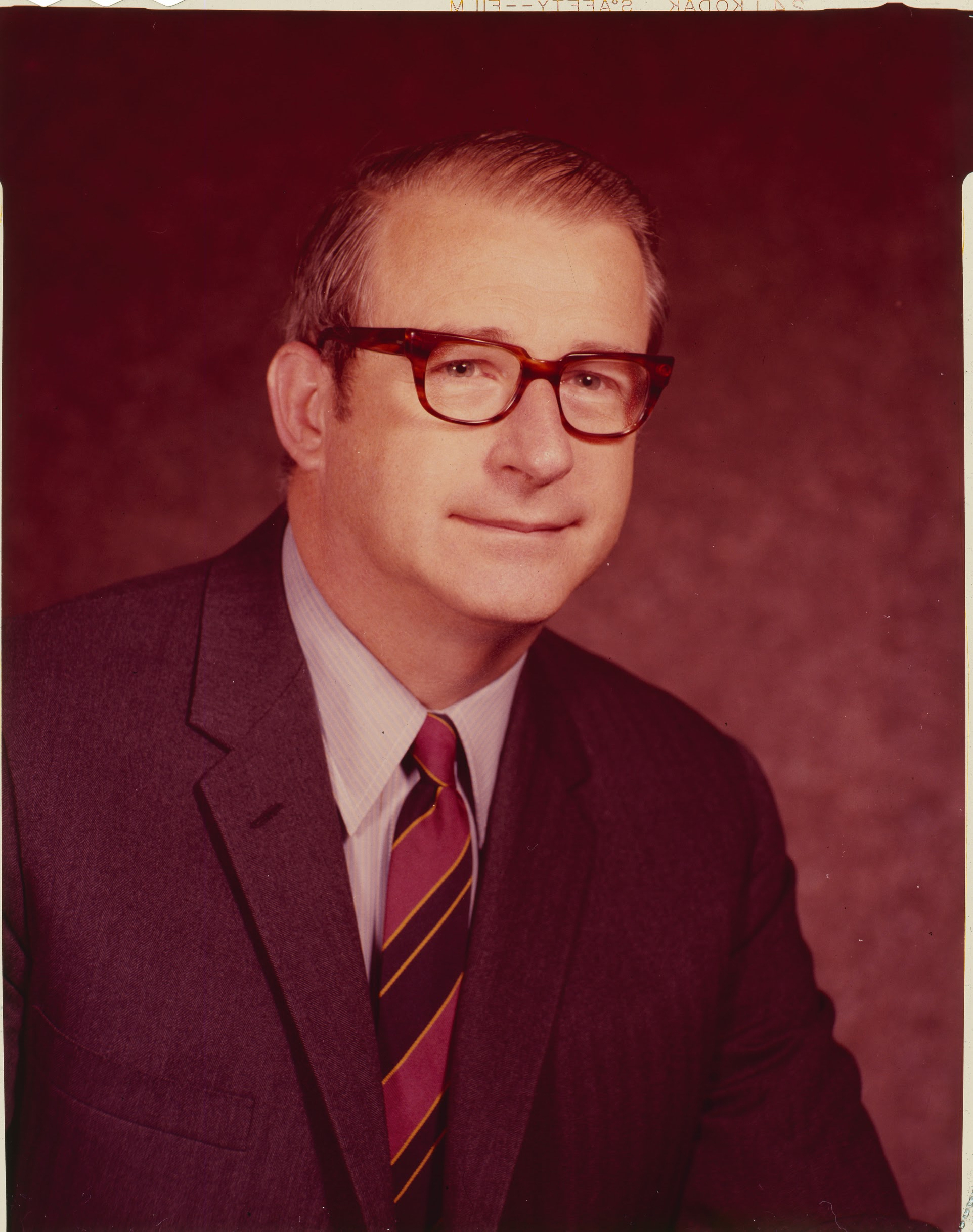 Some 6,000 GE employees were involved in the Apollo program, including Tom Paine, who led NASA during the historic first moon landing. Image credit: Museum of Innovation and Science Schenectady. Top image credit: The Monogram/Museum of Innovation and Science Schenectady.
See had flying and engines in his blood. Born in Dallas, Texas, in 1927, his father, Elliott See Sr., was an electrical engineer who spent 36 years working for GE. Following his dad's footsteps, See Jr. earned his engineering degree from the Merchant Marine Academy and joined GE in 1949, first on the company's "test program" at a switchgear factory in Philadelphia, Pennsylvania, and later in Lynn, Massachusetts, where GE manufactured gas turbines for some of the first jet engines.
It was in Lynn where See got his first taste of flying. As GE was ramping up its jet engine production, it also launched a flight test group. Meeting the members of this small team at the factory inspired See to start spending time at an airport in Revere, a town close to the plant, and earn his private pilot's license.
But his engineering career was also propelling him across the country. Within a few years, he was dispatched to GE Research in Schenectady, New York, where he was assigned to work on afterburners for jet engines and ramjets, even today a revolutionary form of aircraft propulsion. By 1951, he was able to fuse his deep engineering knowledge of jet engines with his passion for flying, becoming a flight test engineer at Evendale, Ohio, now the headquarters of GE Aviation.
Always seemingly on the rise, he joined the Navy in 1953 to become a jet pilot but returned to GE three years later as a test pilot at the company's Flight Test Center at Edwards Air Force Base in California. By the time he applied to be an astronaut, he had logged 3,700 hours of flying time, including 3,200 hours in jet aircraft, some powered by GE's first supersonic engine.
NASA picked See and the other eight astronauts from 253 applicants, which the agency whittled down to 31 who got invited to the final round of tests and interviews. See got the good news from Mercury astronaut Donald Slayton, who phoned him in September 1962. "Overwhelmed isn't the right word," he told The Monogram when the GE magazine asked him about his reaction. GE Chairman Ralph Cordiner also telegraphed his congratulations. "I know that all General Electric employees share my pride that you will be contributing your experience and skill to such an important project. We all wish you success in the months ahead." Added See Sr.: "I wish I were younger and could trade places with him!"
A few days later, Armstrong was waiting in a car.
Categories
tags