Humans have been sending objects and each other to space for close to 50 years. GE technology has been near the launch pad since the beginning. On March 17, 1958, for example, a GE-powered Vanguard rocket blasted the Vanguard 1 satellite to space. That probe is today the oldest man-made object in space. (The first two Russian Sputniks and the U.S. Explorer 1 that preceded it fell back to earth decades ago.)
In 1960, GE's Discovery XIII satellite became the first man-made object to be recovered from orbit around Earth. After completing 17 trips around the earth in 27 hours, Discovery brought back the first color photos of our planet from an altitude of 700 miles.

This list could go on. GE engineers keep working with NASA to crack tough problems and solve scientific riddles. When the Space Shuttle Columbia broke up on descent from orbit in 2003, GE scientists together with NASA and industry partners developed repair kits for astronauts to fix up damage to the shuttle fleet in space and prevent similar disasters in the future. The team designed the kits from special ceramic composite materials whose offspring now serve inside next-generation jet engines like the LEAP and GE9X.

Another riddle involved eyesight. NASA documented at least seven cases where astronauts with healthy eyes returned to Earth with altered vision. Engineers at GE Global Research developed a special ultrasound probe to track changes in their vision during exposure to microgravity. It has been since used on the International Space Station. Scientists hope that back on earth the research could advance the understanding of the underlying causes of traumatic brain injuries and lead to better monitoring of changes in brain pressure in people who sustain blows to the head.

Today, anybody can experience multiples of early GE space power. The GE rocket engine that took Vanguard 1 to space produced 30,000 pounds of thrust. GE's largest jet engine, the GE90-115, can generate up to 127,900 pounds. They power many Boeing 777 aircraft.
Take a look at our slideshow.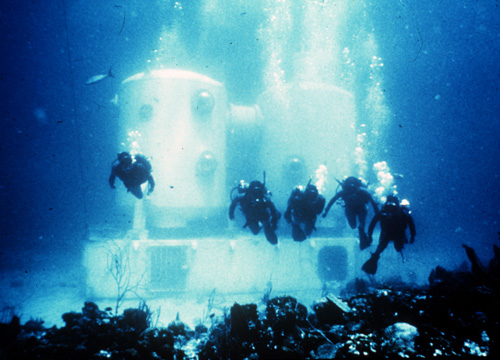 In 1969, GE built an underwater habitat off the Caribbean island of St. John. Called Tektite I, part of the habitat's purpose was for NASA to conduct research on how crews would behave during long-duration space missions. It was built from two steel cylinders that were connected via a passageway. The program lasted two months, and aquanauts spent a total of 432 man-hours in the habitat. Image courtesy OAR/National Undersea Research Program.
To help engineers figure out how to get space vehicles off the Earth and to far away destinations, GE created this circular slide rule called the Space Propulsion Calculator. On the front are solutions for rocketry beam power, thrust, propellant consumption, specific impulse and exhaust velocity. The calculator also let users compute numbers for chemical, nuclear and photon rockets as well as magnetohydrodynamic and ion drives. The back offers calculations for planetary data like revolutions, gravity and astronomical constants. Production date unknown. Image courtesy International Slide Rule Museum.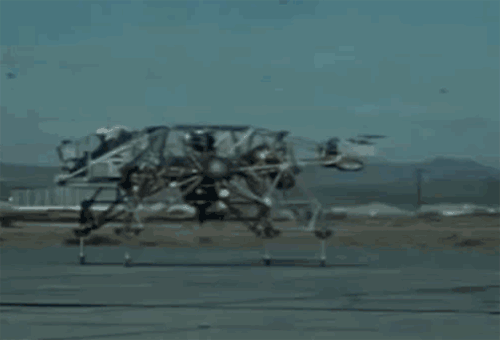 GE engineers ground-tested Apollo 11's command and lunar modules. NASA attached a GE jet engine to the Lunar Lander Test Vehicle to simulate the moon's weaker gravity.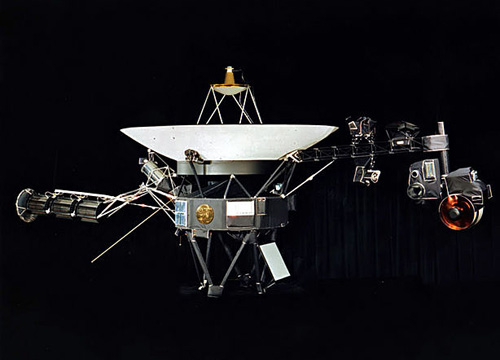 The Voyager 1 and Voyager 2 spacecraft launched in 1977. They are currently exploring the edge of the solar system. GE engineers designed the Voyagers' command computers directing the flight path and providing communication links with NASA Mission Control. They also developed the probes' electricity generator for the spacecraft's instruments, computers, radio and other systems. The Voyagers have sent back detailed images of the solar system planets and their moons, confirmed the existence of Neptune's rings, and gathered data about stars near the edges of the Milky Way.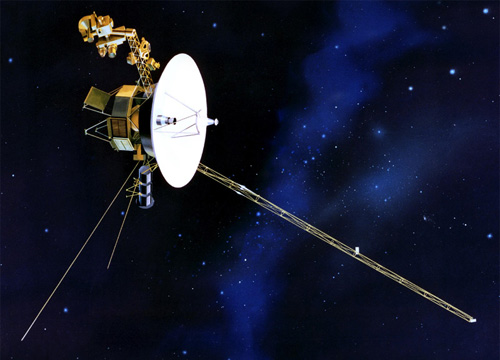 The Voyagers's next mission is to explore the boundary of the Solar System. NASA now estimates that the probes will survive until 2025. The Voyagers also carry cargo designed to communicate a message from Earth to extraterrestrials. Each probe holds a special phonograph record, a 12-inch encoded gold-plated copper disc containing music, sounds and images selected to portray the diversity of life and culture on Earth, from Bach and Chuck Berry to birds, heartbeat, and laughter.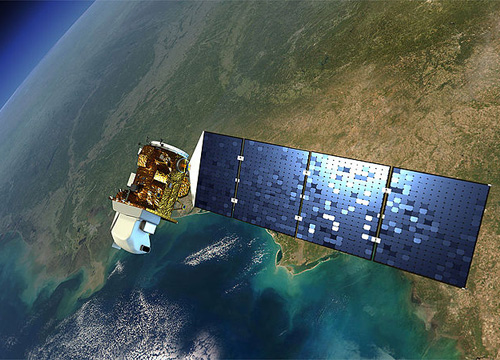 GE engineers led the design, integration and testing of the 14-foot, 4,400-pound Landsat 4 and Landsat 5 satellites that photographed Earth from 1982 until 2012. GE also managed the flight and ground missions of the spacecraft, and GE's digital image analysis lab in Lanham, Maryland, processed their images to reveal details as small as 30 meters long, such as highways and bridges. In March 2012, Landsat 5 entered the Guinness World Records book as the "longest-operating Earth observation satellite." The spacecraft was designed for a three-year mission but served for nearly 30 years.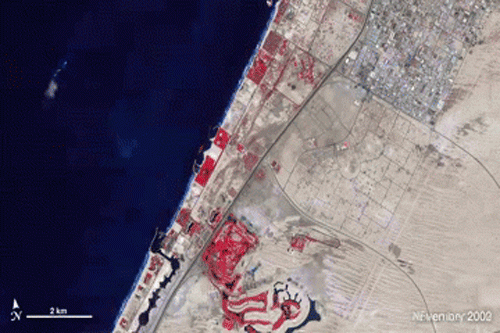 GE engineers led the design, integration and testing of the 14-foot, 4,400-pound Landsat 4 and Landsat 5 satellites that photographed Earth from 1982 until 2012. This time-lapse compiled from Landsat photographs shows the rate of Dubai's growth at one frame per year from 2000 through 2011. Source: NASA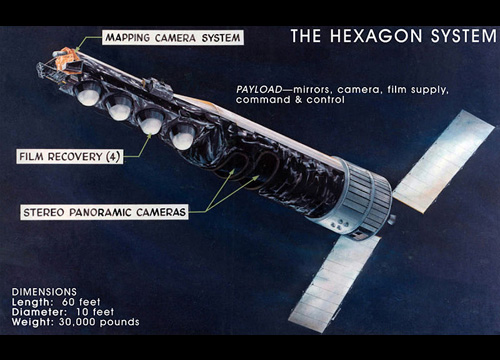 The Hexagon and Gambit were among the largest spy satellites ever built. They were the size of a tractor trailer, 10 feet in diameter and 55 feet in length. GE engineers designed and built recovery vehicles, command systems, mission planning software and other systems critical for the mission.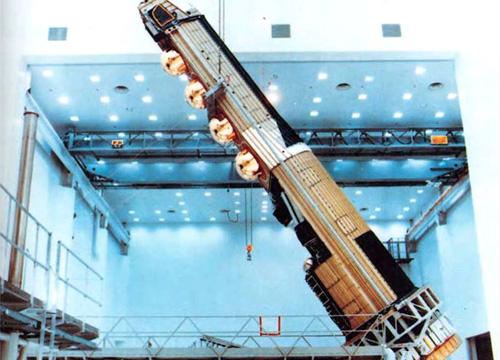 The top secret spy satellite programs ran from 1963 to 1986. In 1984, President Reagan commended the engineers and others who worked on the satellites. But the presidential honor remained secret until 2011, when the program was declassified.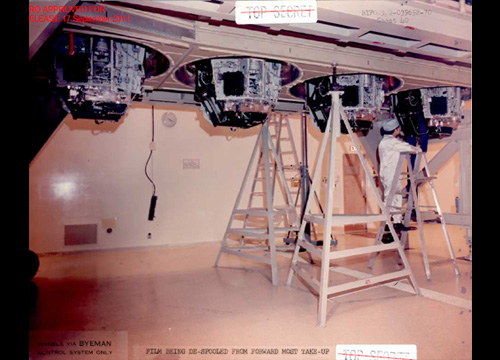 The technology to beam images from space wirelessly was then still in its infancy. This formerly top secret photograph shows workers "de-spooling" film from recovery vehicles.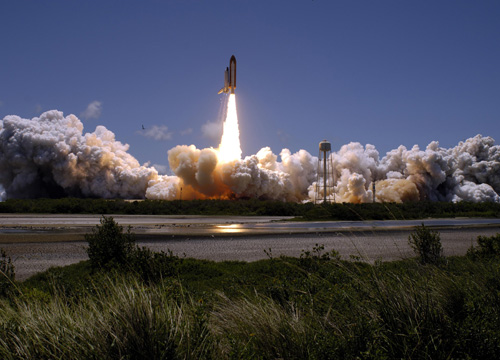 GE engineers, in collaboration with NASA and industry partners, helped design and fabricate unique patches to plug up in space debris damage on the shuttle's wings and belly that caused the Columbia disater. The patches were made from a special ceramic composite material that could survive wild temperature swings, from minus 250 degrees Fahrenheit in orbit to a 3,000-degree inferno caused by the drag of Earth's atmosphere during the shuttle's 17,000 miles-per-hour descent.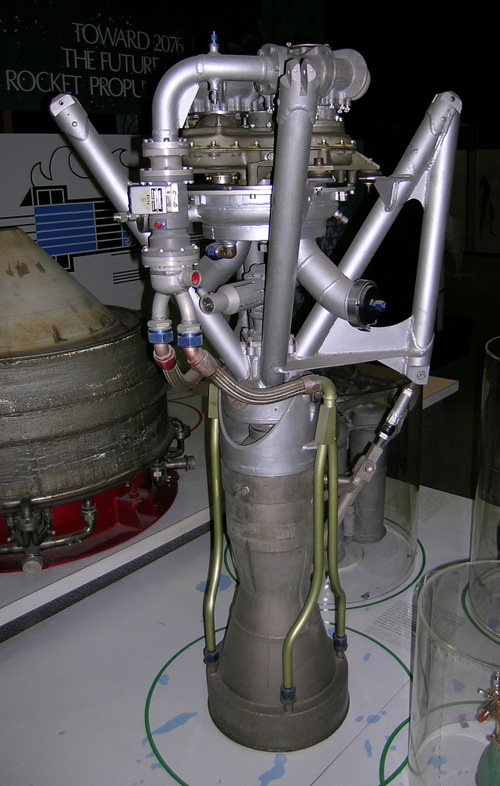 GE built the X-405 liquid-fueled rocket engine for the first stage of the Vanguard rocket, which successfully placed America's second satellite into orbit in 1958. Image courtesy National Air and Space Museum.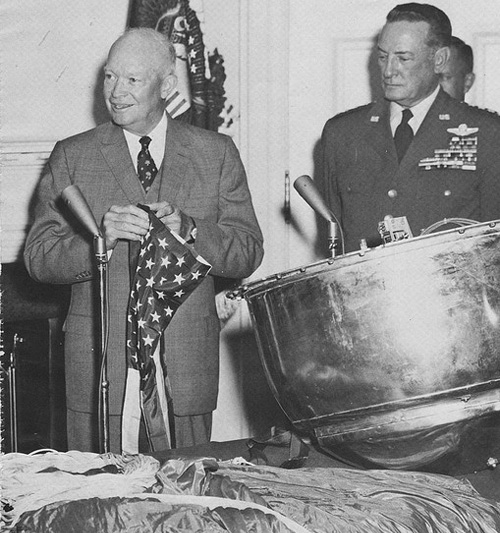 President Dwight Eisenhower stands with the recovered Discovery satellite. In 1960, GE's Discovery XIII became the first man-made object to be recovered from orbit around Earth. Completing 17 trips around the earth in 27 hours, Discovery also brought back the first color photos of our home planet from altitudes of up to 700 miles.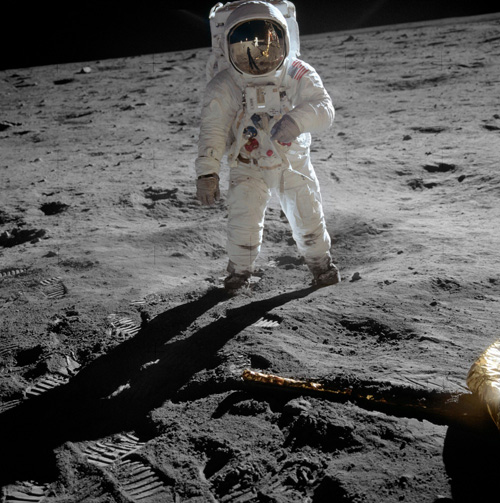 Buzz Aldrin poses on the moon. His visor reflects Armstrong and the lunar lander. More than 6,000 GE employees worked to help put Apollo 11's Neil Armstrong and Edwin "Buzz" Aldrin on the moon in 1969. In fact, Armstrong's first step on the moon occurred with boots made from GE silicone rubber. The company also supplied the Apollo program's overall quality control, systems engineering support, launch vehicle test facilities and the ship-to-satellite system that provided the first live color TV pictures of splash-down and recovery. Courtesy NASA.
tags