In the relatively short time that it's been around, 3D printing, also known as additive manufacturing, has upended the idea of what engineers can design and produce. Sure, past designers could come up with all kinds of outlandish-looking concepts that could make machines more efficient. But their drawings would often elicit the same response from colleagues tasked with bringing their vision to life: But can you actually make it?
The answer was often no — until 3D printing arrived on the scene. That's because the technology can produce intricately designed parts by fusing together fine layers of metal powder with a laser or an electron beam, often in a shorter time and for less cost than traditional casting and forging methods would require.
In the last decade GE has honed additive manufacturing to make parts for aircraft engines, gas turbines, medical scanners and other machines. It even launched a business — GE Additive — dedicated to developing 3D printers and providing printing powders and consulting services to the fast-growing industry.
But using 3D printing to produce a replica part is just one facet of the field. Designers and engineers also use it to fast track development and "rapidly prototype" their ideas so they could test in real-world conditions and make them even better.
One machine in GE Additive's portfolio that is helping it achieve both goals — fast prototyping and production — is the binder jet. It can create parts faster and in greater numbers using less energy than printers using lasers.
Binder jet technology uses a printer head that moves across a bed of metal powder laying down a proprietary liquid binding agent or "glue" one layer at a time to form complex parts. Rather than using lasers to fuse the metal, the binder jet bonds the metal powder into the shape of the part. When the process is complete, the bound parts are removed from the unbound powder and cured in an industrial oven to make them strong and durable.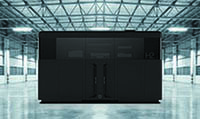 This is very appealing to certain segments of the industrial manufacturing sector, in particular the automotive industry, where the ability to scale parts production quickly and reliably is of huge importance. To meet that need, GE Additive has announced a public-private partnership with the Indiana Economic Development Corporation (IEDC) to provide its binder jet technology to a smart manufacturing hub that will aid tech innovators, startups and manufacturers in research and development, as well as help workers learn 21st-century production skills.
Why Indiana? With 8,500 manufacturing facilities within its borders, it has the highest concentration of manufacturing jobs and supports the second largest automotive sector by GDP in the United States, producing more than 1.3 million cars and light trucks a year. "They've really invested quite a bit in technology," says Christine Furstoss, GE Additive's chief technology officer. "They've been part of the Rust Belt for a long time, so they have hundreds of great suppliers. Being embedded in their backyard, being able to work with them side by side either on binder jet applications or on new technology we may want in our machines and have them be suppliers for machine parts for the future, is just a great opportunity."
To make good on that opportunity, GE Additive will be supplying one binder jet machine to the Emerging Manufacturing Collaboration Center, or EMC2, which is slated to open next summer. Situated in the 16 Tech Innovation District on the edge of downtown Indianapolis, the EMC2 will serve as a kind of learning center for GE Additive's binder jet beta program, providing access to state-of-the-art equipment for training and contract manufacturing. "It's not a showroom," says Furstoss. "It's really meant to be for collaboration."
Josh Mook, GE Additive's innovation leader, has helped develop 3D-printed parts for some of GE Aviation's most advanced engines. He agrees with Furstoss. "Collaboration with industry sits at the very core of our strategy," he says. "We deliberately set out to identify a select group of strategic partners that could help us develop a real-world solution. It's critically important that when we bring our solution to market next year it can deliver value from day one."
The beta program has so far attracted six global tech and automotive sector partners, including Cummins, Wabtec and Sandvik, all of whom are working closely with GE Additive to figure out how to commercialize binder jet technology. By co-developing new uses for binder jet tech in factory settings, the GE Additive team sees the potential for advances in materials, automation, software development, even artificial intelligence.
Speed is of the essence — not just in terms of getting binder jet technology into the market, but in the market itself. Quality control in automotive applications differs greatly from aerospace applications, another space where additive technology is taking off, due to the volume of parts (millions versus thousands) and the speed at which they need to be produced. "Being able to take advantage of things like machine learning, artificial intelligence, new types of quality inspection that actually can occur while the part is being built — these are all things that we're looking forward to finding key partners to continue to work on," Furstoss says.
Along those lines, Furstoss even sees the potential to work with the tooling industry that made the Rust Belt famous. "Not everything can be additively built," she admits. "There will always be a pressing industry; there will always be a forging industry. But can we work with tooling industries to make their tools faster? We really want to hear from customers what are the barriers today to their additive adoption. And then work right alongside them to help break those barriers."
Categories
tags