RainDance Technologies is developing new "liquid biopsy" systems using tiny droplets separated by oil to analyze DNA. Researchers using the technology are evaluating its ability to identify whether the samples may contain cancer, viruses, pathogens and markers released by the immune system.
The new tools could allow doctors to test tumors and cancer cells with a simple needle prick. RainDance, which is based in Billerica, Mass, just received a new $16.5 million round of financing from a group of investors including GE's venture capital arm, GE Ventures.
Alex de Winter, who invests in clinical diagnostics startups at GE Ventures, says that each droplet becomes a miniature bioreactor that can amplify target DNA inside a RainDance analyzer.
De Winter says that instead of sequencing the whole genome, the droplets allow researchers to focus only on the relevant pre-identified genes, or as little as 1 percent of the sample. "You don't waste time and you don't waste sequencing power," de Winter says.
The technology is now being used only by researchers but the new investment will allow RainDance to expand research and speed up possible commercial applications. The company, which was launched in 2004, has raised more than $100 million in financing, including the new round.
Sue Siegel, CEO of GE Ventures and healthymagination, said that GE has followed RainDance "for many years" and was "impressed with how the company's cutting edge technologies are advancing the market and helping to bring in a new era of more accurate, non-invasive and cost-efficient testing for complex genetic disease research."
The investment in RainDance is one of GE's many projects involving cancer and non-invasive medicine.
GE's healthymagination challenge, for example, launched an open innovation quest looking for the best new ideas in breast cancer detection and treatment.
Last year GE Ventures also invested in HeadSense, an Israeli company that is developing disposable ear buds to monitor intracranial pressure in the brain. Doctors normally drill a hole in the skull to do the job and the new system could help them get around the invasive procedure.
Says Siegel: "We believe technology will play a major role in transforming patient care and by partnering with leading innovators we can help scale the best new ideas in major industries like healthcare."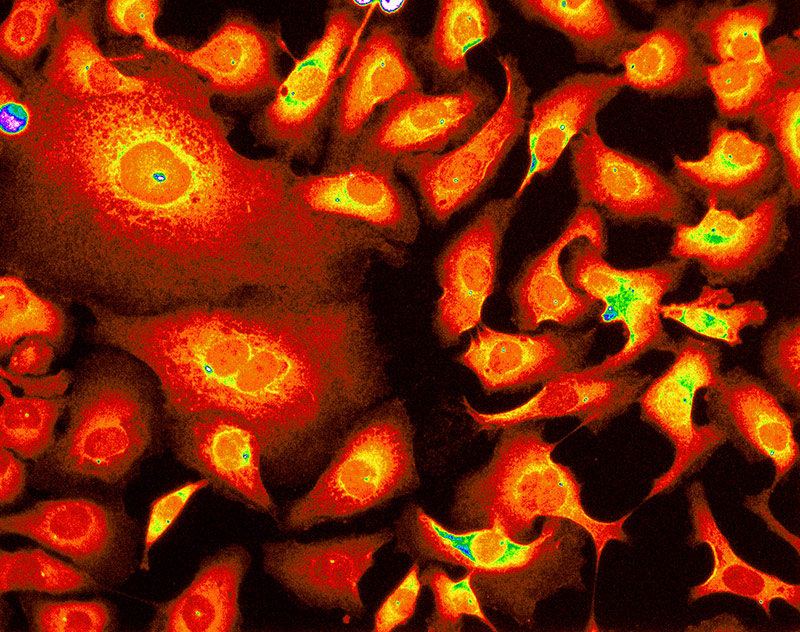 Photo illustration: Ovarian cancer cell culture imaged by GE's IN Cell Analyzer.
Categories
tags