Ever since Charles Brush built the first wind-powered generator in Cleveland, Ohio, in 1887, engineers have been looking for a practical way to squeeze more power out of wind turbines, stretching their blades and making them grow taller. Now a combination of 3D printing, materials science and robotics could unleash a new growth spurt for the industry.
GE Renewable Energy, which already makes some of the world's most powerful wind turbines, has partnered with two innovative European companies, COBOD and LafargeHolcim, to give their machines a chance to grow taller and catch more breeze.
A global leader in building materials, including cement and concrete, LafargeHolcim knows a few things about breaking new ground. The company supplied cement and concrete for the Millau Viaduct, for example, at 340 meters is the world's tallest bridge. COBOD, on the other hand, is developing ways to 3D-print structures from concrete. The company has helped build Europe's first "fully permitted" 3D-printed house, for example, and designed the largest construction printer in the world, measuring 27 meters in length and 10 meters in height.
Together at the wind farm site, the partners plan to use 3D-printing and high-performance concrete to manufacture turbine bases that could add as much as 80 meters — and possibly more — to the turbines' height. By taking existing wind turbines higher, wind farm operators could increase their output by as much as 30%. "3D concrete printing has advanced significantly over the last five years," said Matteo Bellucci, advanced manufacturing technology leader for GE Renewable Energy. "We are committed to take full advantage of this technology both from the design flexibility it allows as well as for the logistic simplification it enables on such massive components."
The science behind taller turbines is straightforward. By reaching higher above the earth's surface, the machines can tap steadier and more powerful winds. The average 5-megawatt turbine set at 80 meters generates 15.1 GWh annually, for example, enough to power the equivalent of 4,200 European homes. Boost the same turbine to a height of 160 meters, and it could generate 20.2 GWh, enough for early 5,600 homes. Just by taking existing turbines higher could help speed up the transition to renewable energy underway in many countries.
But going higher is easier said than done. The mechanics and logistics of building taller turbines have traditionally pushed back against the economic case. One German company has gone as high as 178 meters — the tallest onshore wind turbine right now – but its approach has been difficult to scale.
The new partnership could change that. The group is thinking about building wind turbine towers that will stand 150-200 meters above ground, about twice the height typical in the industry.
Logistics has been the main problem preventing the rise of the giants. A prefab concrete base wide enough to support a super-tall tower is too wide to be trucked to a remote location. And building a base that large at a remote wind farm dramatically incurs higher costs in labor, transportation and materials.
But 3D printing offers a nifty solution. GE is familiar with the technology on a smaller scale — the company routinely 3D-prints from metal parts for jet engines and medical scanners. To access concrete expertise quickly, its engineers reached out to COBOD and LafargeHolcim for help.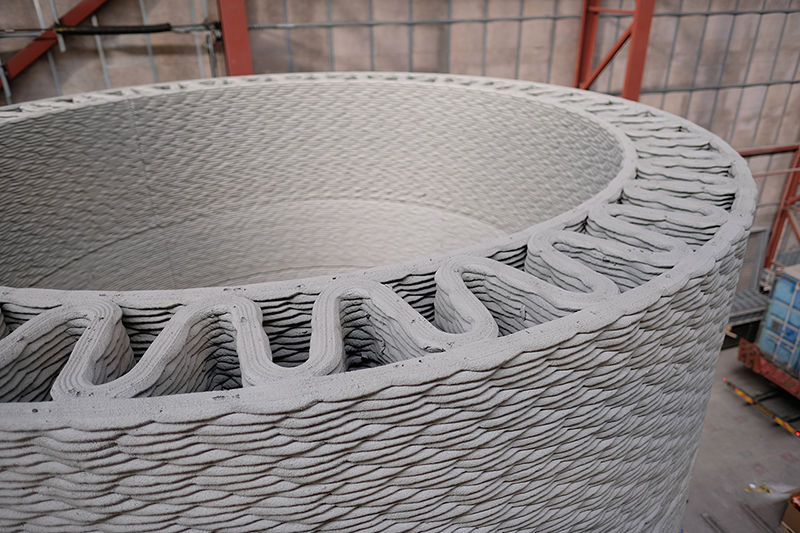 The pair were open to the challenge. COBOD came up with a 3D printer that could be trucked to the future wind farm. Once there, the system will suspend a printhead from an elevated track like a magic marker with a tip the size of a gallon milk jug. The tip releases the concrete through a print nozzle as it follows its programmed course. "It's an automated construction factory on wheels that we have, and we bring it to the site," says Henrik Lund-Nielsen, COBOD's founder and general manager.
The 3D-printing process also requires a special concrete blend developed by LafargeHolcim. For example, it has to stiffen quickly to support each additional layer as the printer moves along its track, but not too fast that it doesn't clog the printing nozzle. As the printer traces the tower's perimeter, the structure rises like icing on an invisible cake being, layer upon layer.  
The process started with first printing a 10-meter-tall base. The team is now focusing on making the first 20-meter-tall section work structurally before they can start looking at ways and ideas to reach an 80-meter-tall tower section. The rest of the turbine tower, made from steel tubes, will attach to connector pieces sunk into the concrete and cables that bring the structure together. Like modern skyscrapers, the steel upper tower will have enough flexibility to absorb the blows of the wind. 3D printing would also enable GE Renewable Energy to customize tower height, depending on site-specific local needs, being able to print sections that range from 10 meters up, thus enabling even more power output.
The partners say their approach helps lower labor costs of such tall turbines because the robotic 3D printer needs as few as two people to operate. They plan to break ground on the first production model in 2023. Says Edelio Bermejo, LafargeHolcim's head of research and development: "This is the first step of something great."
Categories