Serious physical training is all about making the body tougher and figuring out the weak points. When GE Research engineers sent the first generation of their adhesive sweat patch to a U.S. Air Force Academy boot camp simulation in March 2018, cadets were encouraged to go hard on the Band-Aid-like wearable device designed to wirelessly detect specific levels of electrolytes in their sweat. "We told them to break it, to understand its vulnerabilities during use," says GE materials scientist Azar Alizadeh.
And they did. After several hours in the field with the Air Force, the patches were falling off the cadets' forearms while they were performing special ops training. The hours on sweaty, hardworking bodies provided the engineers with invaluable feedback to build an improved version of the patch. "We went back to the drawing board," she says. "We redid the design to make the patch more compact and include more capabilities, like new sensing modalities, better data handling and ergonomics."

The team developing the patch includes GE scientists as well as outside partners from the Air Force Research Laboratory, NextFlex, the State University of New York at Binghamton, New York state's Empire State Development and the Nano-Bio Manufacturing Consortium. They've added a mobile app to monitor multiple sensor channels simultaneously. They've also improved the wireless connection to ensure the patch's signal stays connected to the app, even when it is more than 30 feet away. And if the connection is lost, the patch will continue to record data onboard.

The new version of the palm-size patch, which users now attach to their backs (the most comfortable and optimized location for this application), also contains two key components from the original device that passed the boot camp with flying colors, albeit now more finely tuned: microfluidics technology and sensors.

The GE team tapped microfluidics know-how originally developed for jet engines to manipulate cooling air flowing through the engine and channel it to optimize efficiency and performance. The updated sweat patch uses tiny pathways to channel perspiration across three sensors: the first two seeking to detect levels of electrolytes such as sodium or potassium in the sweat and the third measuring sweat volume. That's an upgrade from the original device, whose sole sensor measured only a single electrolyte. "We added sweat volume because the amount of sweat lost correlates with other information like core body temperature," Alizadeh says.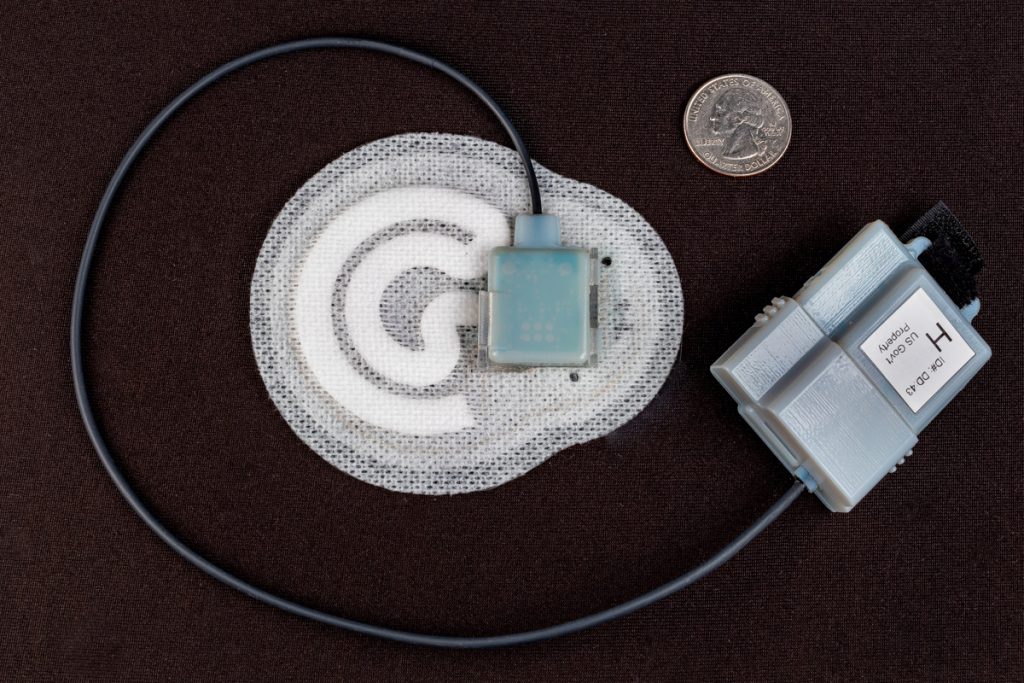 tags