Just about every day, Stevin Creeggan trains for international competition in three sports. Four to six times a week, he hits the gym for 90 minutes. He gets on his bike five to six days a week — 30 minutes each time. His wheelchair basketball team meets three hours a week for practice and a game. Because he's new to that sport, he'll spend an additional two to three hours working on his own. In between, he fits in archery practice, learning to shoot with his stronger but nondominant left hand.
The constant effort is preparing Creeggan, who lives in North Queensland, Australia, to participate next year in the Invictus Games, which Britain's Prince Harry founded in 2014 for wounded, injured or sick military-service personnel and veterans. Creeggan's commitment to his training shows that he's persistent and resourceful. He had to be, after sustaining injuries in a military helicopter crash in 2010, which killed everyone aboard but him. The accident required doctors to rebuild his body and Creeggan to learn a new way of living.
When Creeggan applied for the games last year, "I found that certain things caused a lot more pain than what I could handle, but I gave things a go," he says. "With the cycling, I could get some speed and some power back into the pedals, even with my legs at different lengths at that stage."
But with his right leg nearly an inch shorter than his left — caused by shattered bones and the surgery to reconstruct them — Creeggan could never fully get into a rhythm. That is, until a team of New Zealand Defence Force (NZDF) engineers crafted a slim, 3D-printed titanium spacer to close the distance.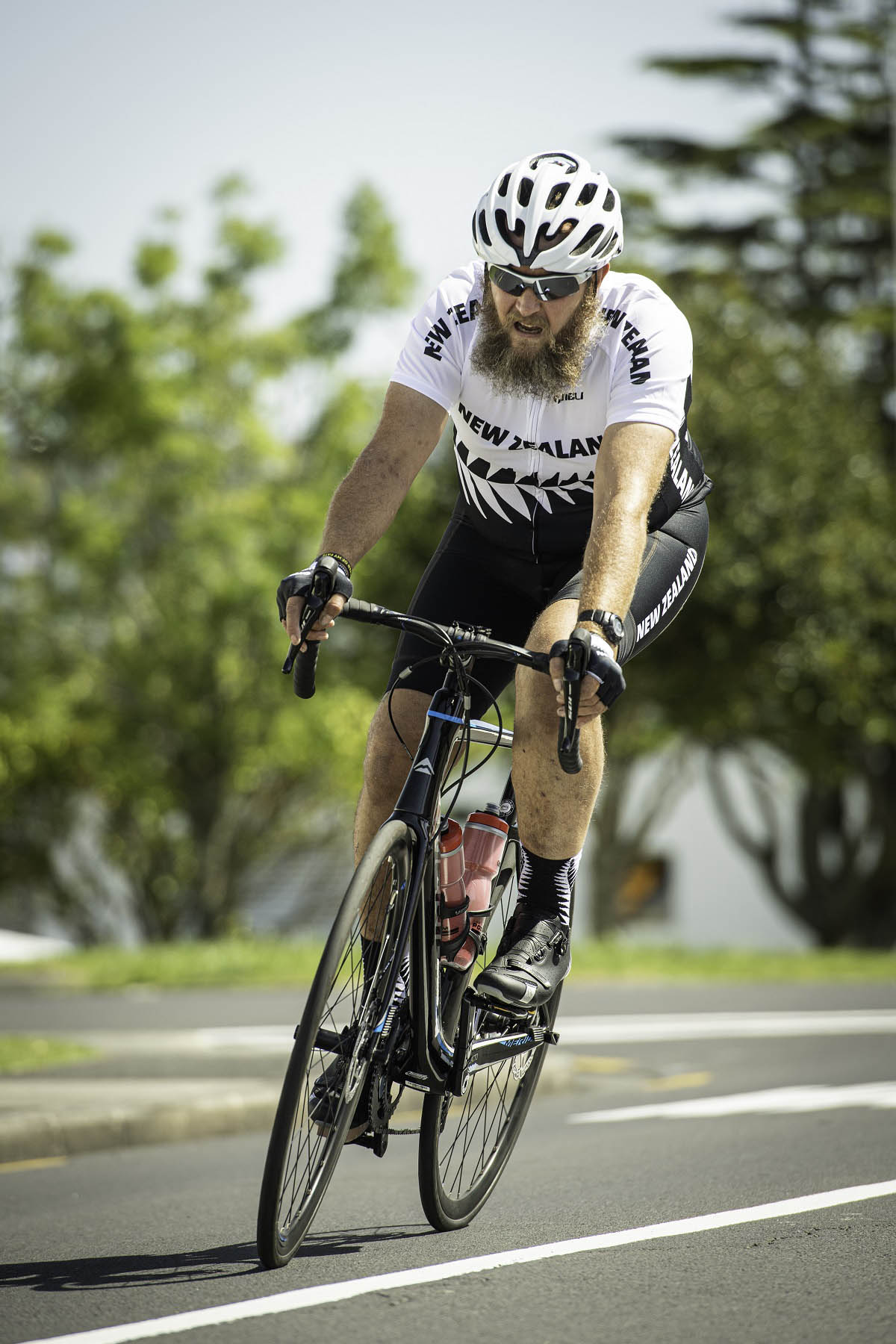 To create the custom metal part, which connects to Creeggan's pedal — fitting snugly against his cycling cleat to compensate for the gap between his shorter leg and the pedal — they turned to Zenith Tecnica, a company based in Auckland, New Zealand, that specializes in a type of additive manufacturing known as electron beam melting. It's a form of 3D printing, which builds up an object in layers. Zenith Tecnica uses titanium powder to manufacture objects that are lightweight and strong — exactly what an athlete needs to withstand the rigors of competition.
Most industrial-grade 3D printers use computer-guided laser beams to melt layers of metal powder that are used to form the object. In electron beam melting, instead of lasers, Zenith Tecnica uses electromagnetic coils to generate a stream of electrons that can be directed with speed and accuracy. Zenith Tecnica uses printers built by Arcam EBM, a company that is part of GE Additive. In the past, designs from Zenith Tecnica built on Arcam printers also aided Anna Grimaldi, a long jumper who won gold for New Zealand at the 2016 Paralympics.
Initially, Creeggan had fashioned his own spacer made from bog, a flexible body filler typically used like wall putty for car repair, but it was heavy and not particularly ergonomic. When he saw Creeggan's stopgap solution, David Pilgrim, the former manager of the NZDF Invictus Games team, recruited engineers Ewan Conaghan and Martin Campbell to help.
Campbell, who grew up working in his uncle's bicycle shop, was excited to tackle the custom project. He and Conaghan spend most of their time designing soldiers' equipment such as weapon ancillaries to military vehicle parts. It's rare that they get to focus on one person. "The basic version that Stevin made was just a solid block," Campbell says. "3D printing lends itself to an organic shape better. But trying to remove as much material as possible while trying to retain strength and shape has its difficulties, because you're taking that material away from the main structure. That was one of the biggest challenges."
After working on the spacer design for about a week, Conaghan and Campbell turned to Peter Sefont of Zenith Tecnica to refine the 3D model for titanium printing. Zenith Tecnica usually produces parts for the aerospace and medical sectors, among others, so Sefont was also eager to craft something with a different purpose. "Because 3D printing is so new, one of our biggest challenges is letting people know what the capability is," Sefont says. "Doing this sort of thing and being able to show it off — it was really fantastic to be a part of."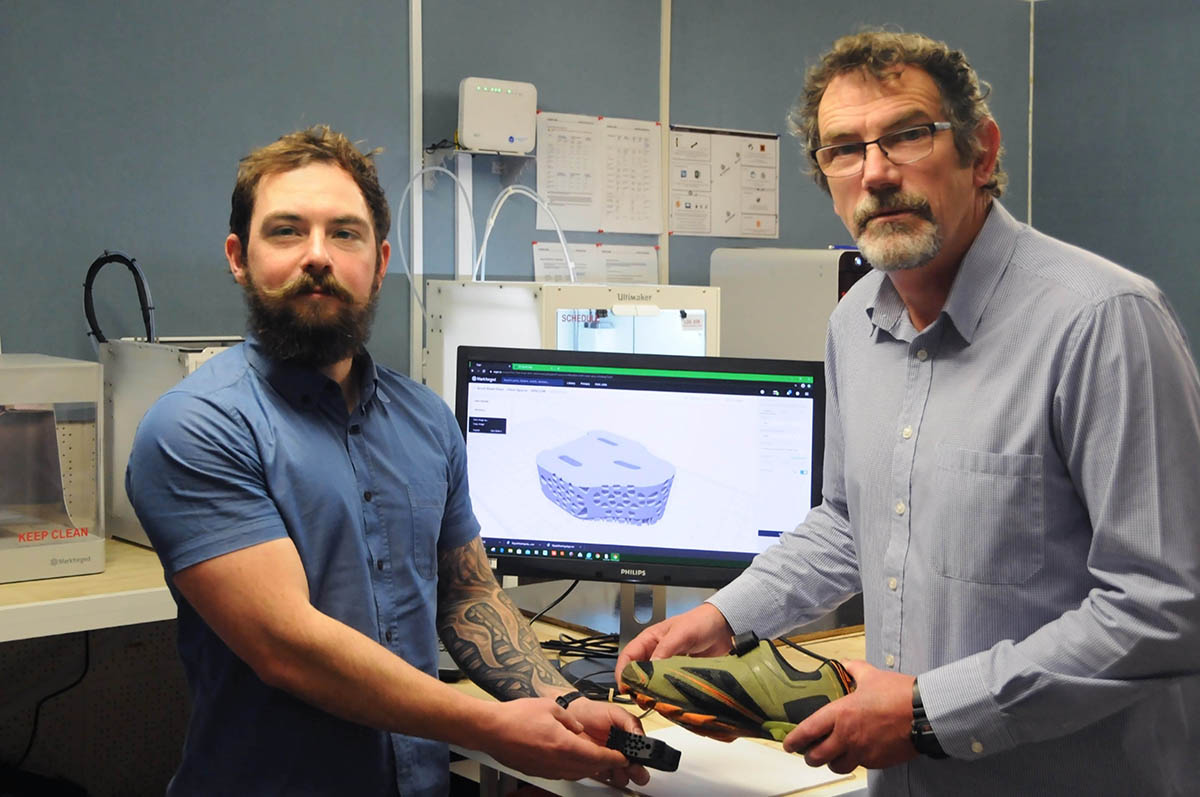 Additive manufacturing is well-suited to creating parts that would be too expensive or even impossible to make with traditional methods. GE is using the technology to produce parts for medical scanners and jet engines, including the world's most powerful aircraft engine, the GE9X.
The team was able to print a titanium spacer that is partially hollow in the middle and conforms to Creeggan's cycling cleat. They dramatically reduced its weight: While Creeggan's homemade version weighed a noticeable half-pound, the new spacer weighs only about one-tenth of a pound. "Just to be able to do this little bit to assist him was amazing," Conaghan says.
Creeggan was shocked by the improvement. He had a chance to give the team his feedback in person, after his first training session using the new design. "Having quite a large weight that I was trying to pull up when I was cycling, the leg wasn't very appreciative of it," he says. "The difference was just huge." He now experiences less pain on the bike, and he's dropped three to four minutes off his 20K time in the track criterium, a closed-circuit cycling race.
That doesn't mean Creeggan's progress is easy. He copes daily with neck, back and leg injuries from the crash. And he missed his chance to compete this year when the Invictus Games were postponed because of COVID-19.
Still, he's training hard to travel to The Hague when the games are scheduled to return next year. He's appreciative of his new titanium spacer; of his black Lab puppy, Loki, who's training to become his service dog; and of everyone who supports his efforts to keep moving forward. "You can wrap yourself in cotton wool and stay at home and do nothing," he says, "or you can try and get out there and live life and make the most of it."
Categories
tags