Most rockets begin their journey to space from a launch pad that is firmly attached to the earth's surface. Virgin Orbit's LauncherOne is no ordinary rocket. Its mission is to deploy small satellites into space, and it does so by launching not from the ground, but from under the wing of Cosmic Girl, a modified Boeing 747-400 aircraft that is powered by four GE CF6 jet engines. "We hope to open access to space for companies or organizations who want to put small satellites into orbit by making launch affordable and flexible," Kelly Latimer, Cosmic Girl's chief pilot, told GE Reports in an email. "[We want] to open up space to more people."
Last month, Cosmic Girl lifted a 70-foot rocket into the California sky. "It marks the first time a 747 has carried a rocket, let alone a space rocket, in its 70 year history and is a big step forward for the company as we look forward to reaching orbit in early 2019," Virgin Orbit wrote in a blog.

A commercial space company formed in 2017, Virgin Orbit is part of Sir Richard Branson's constellation of businesses operating within the Virgin Group. It is seeking to hoist satellites to space by launching them from the air, rather than relying on busy terrestrial launch locations. Virgin Orbit's CEO Dan Hart has said the company will be an alternative for launching most small satellites that weigh 300 to 500 kilograms to low Earth orbit. These satellites, which provide GPS, phone and internet connections and other services, now ride to space on rockets. Virgin Orbit hopes to provide their operators with a "dedicated service" intended to place them not just anywhere in space, but in specific orbits. "Because Cosmic Girl can deploy the rocket from pretty much any latitude, it gives us better access to orbits that would otherwise be more difficult to reach," Virgin Orbit spokesperson Kendall Russell told GE Reports in an email.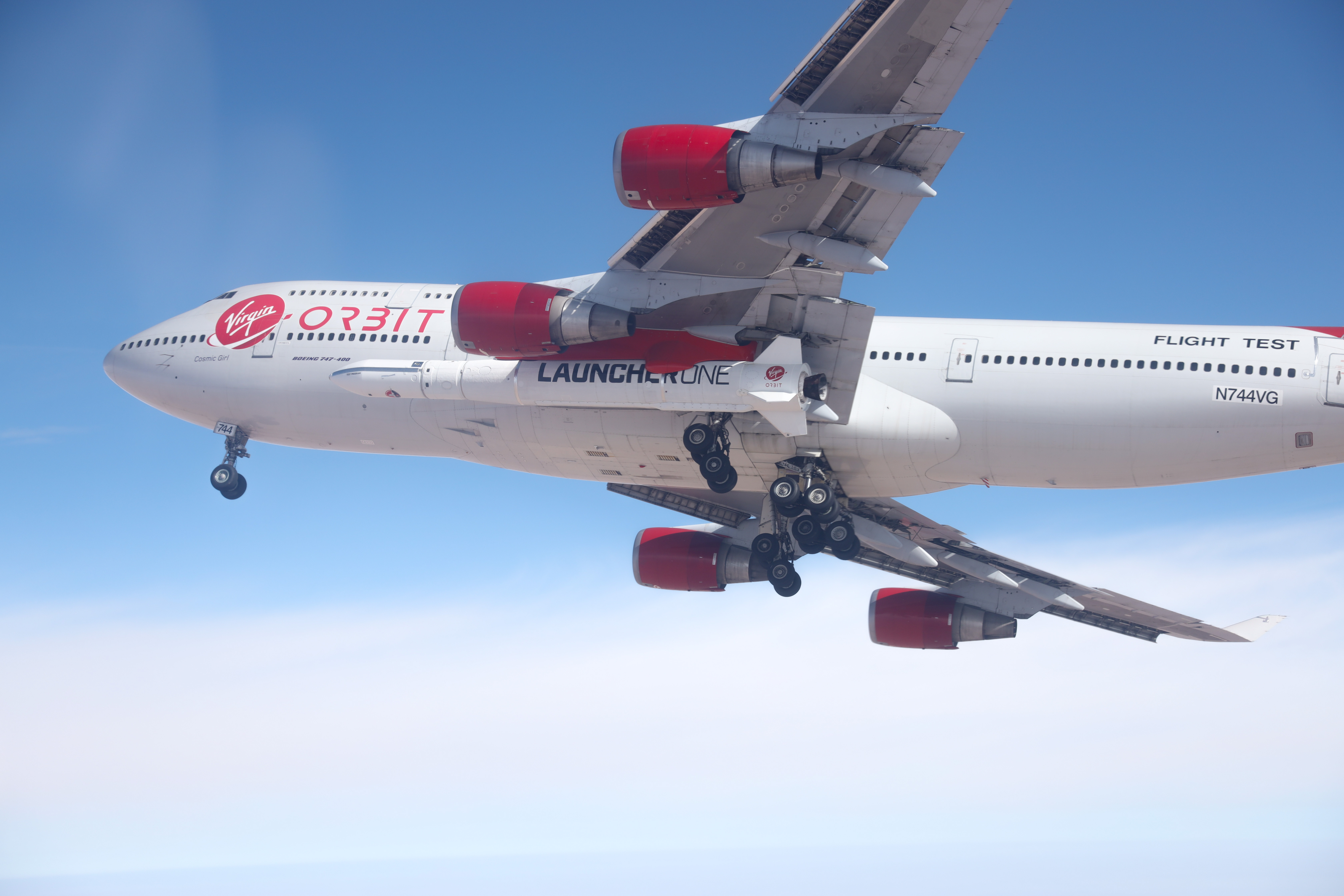 He says Virgin Orbit's service is like riding a taxi rather than waiting for a bus. "A ride on [a larger rocket heading to space] might be slightly cheaper for a small satellite operator, but chances are your satellite won't be dropped off right where it needs to be, and your schedule is dependent on whoever else is sharing that ride with you, meaning you could be waiting for months to years," he says. "With a dedicated [small satellite] launch vehicle like LauncherOne, you control your own schedule and can get dropped off exactly where you need to be for your mission."

Virgin Orbit took over the satellite launch project from Virgin Galactic, a sister space tourism company developing spacecraft for suborbital flights. With an initial launch just "months away," Virgin Orbit has already modified the 17-year-old Cosmic Girl plane from a passenger jet that was part of Virgin Atlantic's fleet into a mothership designed to lift LauncherOne to 35,000 feet. At that point, the expendable vehicle decouples from the plane and rockets off into orbit.

Virgin Orbit shaved about 65,000 pounds from Cosmic Girl. Gone are the seats, the Upper Class bar, the overhead luggage compartments and other jetliner features. Engineers also designed and built a custom mechanism called a launch pylon that hooks the LauncherOne rocket to the underside of Cosmic Girl's wing. "There was already a spot for a fifth engine carry between the number two engine and the fuselage," says Latimer, referring to the left wing engine closest to the body of the plane, "so we knew there had already been some analysis done by Boeing to hang a large object at that location."

The four jet engines powering Cosmic Girl have their own galactic pedigree, in a way. GE originally developed the engines for the C-5 Galaxy cargo planes used by the U.S. Air Force and later modified the engine for civilian flight. The design, called a high-bypass turbofan because it moves a large amount of air around the jet at the core of the engine to generate thrust, allows it operate more efficiently than pure jets.

Today, virtually all civilian jets use this design, but back in 1965, the original engine, called TF39, was revolutionary. It allowed GE engineers to boost the engines' thrust to 40,000 pounds and cut fuel burn by a quarter compared with other engines in use at the time.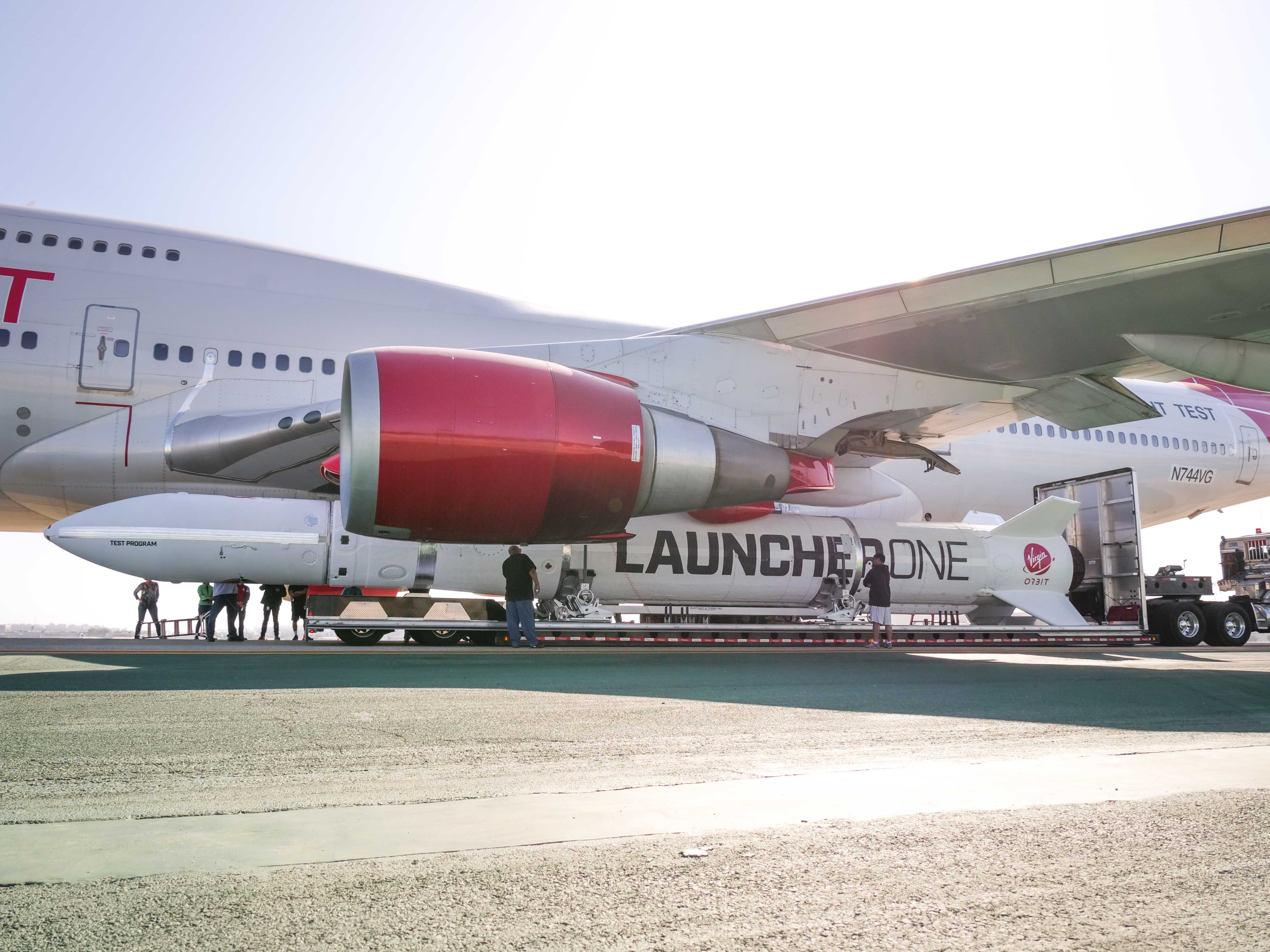 Air Force One — to Airbus long-haul jets and Beluga cargo lifters. GE has delivered more than 7,000 of them to 250 airlines in 87 countries. The newest versions on the engine are expected to fly until 2040.

Russell says that among the reasons Virgin's Cosmic Girl was a perfect choice for their program were the Boeing 747's global supply chain and a long flight heritage. "Most airports are equipped to support the system, which is important for us as we emphasize quick and responsive flights to space — much like how airlines make money by keeping their planes flying as often as possible," he says.

The latest test flight took off from Victorville, California, where GE has its 747 flying test beds. Talk about birds of a feather flocking together!
Categories
tags