Service before self.
That was the message Gabrielle "Gabbe" Kearney, a GE Aviation lead security analyst, heard throughout her upbringing. Her father, Brig. Gen. Ron Wilson, had a full-time job with the National Guard, but also found time to volunteer with the PTA and fire department, coach youth sports and work part time for American Airlines.
"He is so selfless," Gabbe says. "Growing up, I just wanted to be like that."
Across six years of active military duty and three years in the Air National Guard, Kearney learned a lot about technology, and also soft people skills. From her long military tenure through her involvement with the GE Veterans Network (GEVN), she is a testament to the power of veterans and a champion for their advancement through the corporate world.
But Kearney's was a circuitous route — one that, at first, looked like it might avoid the military altogether. As a teenager, she recalls resisting following her father's path, thinking, "I don't want to wear a uniform. I want to live my own life." An interest in veterinary medicine led her to Michigan State University (MSU). Throughout her first year, Kearney questioned her choice of degree — along with her purpose, the meaning of life, "questions every 18-year-old goes through," she says.
When she stumbled into MSU's Reserve Officers' Training Corps (ROTC) detachment, Kearney began to find answers. Upon learning that the ROTC could cover her full cost of tuition (and then some), she eagerly signed up for a degree in interdisciplinary studies with a minor in Russian, started waking up at 6 a.m. for physical training, donning a uniform, wearing her hair in a bun, and shocking her father. "My dad was like, 'Who are you, and what have you done with my daughter?'"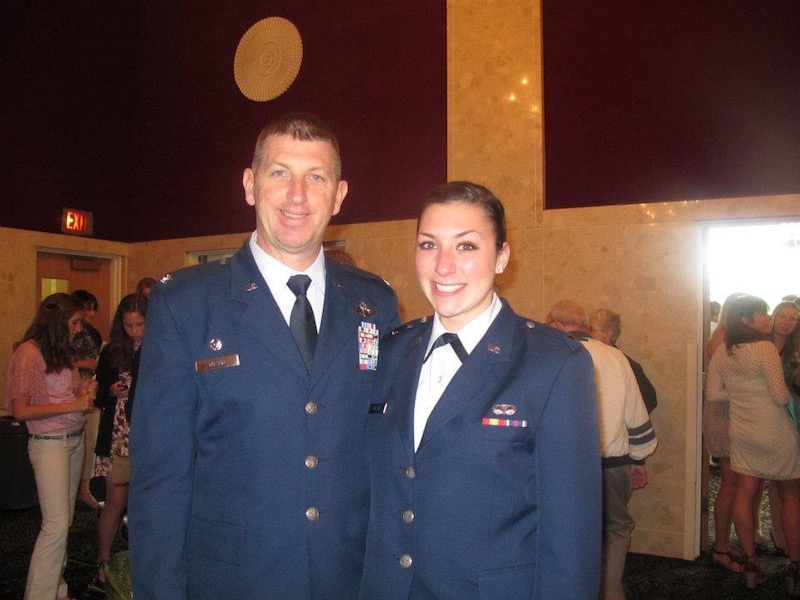 After three undergrad years with the ROTC, Kearney launched into a military tenure defined by productive discomfort. A 22-year-old, fresh out of college, Kearney commissioned as a second lieutenant in the Air Force, stationing at the Ramstein Air Base in Ramstein-Miesenbach, Germany. As the assistant officer in charge, she oversaw 300 airmen and maintained 14 aircraft bound for real-world missions to Turkey, the Middle East and Europe.
"It was crazy," she says. "If I would've come straight to the corporate world after college, would they have put me in charge of 300 people? Probably not. That's a rare opportunity that the military affords you."
Over the next six years, Kearney's life was a whirlwind of geographical and professional variety. In the United Arab Emirates, she led the Maintenance Operations Center, handling all maintenance and scheduling for six different types of aircraft: F-22 and F-15E fighter jets, KC-10 tankers, EQ-4 unmanned aerial vehicles, E-3A early warning jets, and U-2 spy planes. Shortly thereafter, she was promoted to executive assistant for the Al Dhafra Air Base's wing commander, a role meant for someone two ranks above her. "I was in a lot of high-level meetings and managing a schedule for the busiest guy on the base," she says. "It was fast-paced and crazy, but man, did I learn a lot."
From the UAE, she was transferred to the Langley Air Force Base in Hampton, Virginia, where she kept working fighter jets, tankers and bombers. But throughout these years, Kearney's favorite work came in one-on-one interactions with people.
"There's just something that changes you when you impact other people's lives, their careers, their families," she says. "Something that makes it click, that life is just so much bigger than you. Yes, I wanted them to become amazing at fixing airplanes. But I wanted it to extend beyond the military: Be better leaders, husbands, wives, spouses, daughters."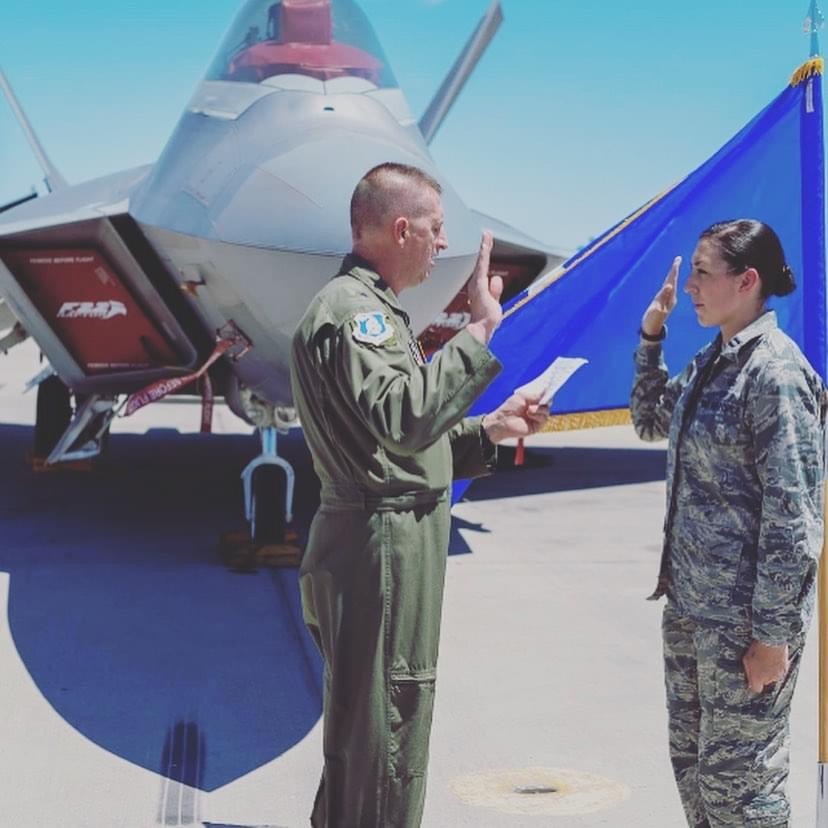 Upon becoming a mother for the first time in 2017, Kearney took over full-time childcare duties, reducing her military involvement to a one-weekend-a-month role with the Portland, Oregon National Guard. While her husband, a tactical air control party (TACP) specialist, completed a deployment in Fairbanks, Alaska, Gabbe moved to Ohio and needed a full-time job to afford a rental for herself and her daughter. It was then that she made first contact with GE, via a test supervisor job at GE Aviation's Vandalia site.
Through the role, she linked up with an old friend, who recommended GE's Junior Officer Leadership Program (JOLP). The program helps ex-military members find their first civilian roles, providing three eight-month rotations in different positions with one of GE's businesses. Kearney applied, interviewed and began her stint with GE Aviation.
"It was fate," Gabbe says.
At first, the transition to corporate life intimidated Kearney, but the military had made her adaptable. Despite being a self-described "awkward person," Kearney learned the value of asking questions and admitting when she didn't have all the answers. "In the military, I found that if I didn't say anything, I'd get left behind," she says.
In the GEVN, Gabbe gained an outlet for promoting veterans. "Hiring veterans is hugely important for the success of companies," she says. "Military members get rigorous physical trainings, in-depth technical trainings, early-career leadership opportunities and soft people skills development. With the right support, these are natural strengths in the corporate world."
This September, the Air Force Association (AFA) named Kearney its 2021 Member of the Year. An AFA member since 2008, Kearney steadily worked her way up to its national level, where she now runs the Emerging Leaders Program.
"I'm still in shock to have won that award," Kearney says. "Some of the people who've won it before — they're giants, they're heroes of mine. Especially after a year of COVID-19, it made me grateful to know that I was making someone happy. It motivated me to want to do more."
But for Kearney, it's never been about awards or recognition. She's always been driven by her father's credo: Service before self. Fulfilling that, she says, is her greatest reward.
"My end goal, wherever I end up in life, is to have the greatest impact — to take care of as many people as I can. That's where I want to be."
tags