Even for specialists, detecting and treating congenital heart defects is never easy. These defects are relatively rare and often give no warning signs. Diagnosing them during pregnancy is especially difficult. At 18 weeks, for example, you're dealing with a developing organ that can be the size of an olive and beating between 120 and 160 times per minute.
"We had various tools that looked at specific sites of the heart, but nothing that examined the entire chamber," says Dr. Greggory DeVore, a specialist in maternal fetal medicine and a clinical professor in the department of obstetrics and gynecology at the David Geffen School of Medicine at the University of California, Los Angeles. "The heart had to be in a specific position — at 12 or 6 o'clock on the screen — to obtain proper measurements of cardiac function, which required an advanced level of diagnostic skills to learn the techniques."
But new technology is dramatically changing the story.
About three years ago, DeVore came across a software used to examine the heart's function in children and adults. The tool, called speckle tracking analysis, analyzes the motion of the walls of the ventricles in the heart. It made him wonder if he could use something similar for the fetus.
DeVore acquired the software and used it to study fetal hearts. To his disappointment, the software only reported values used in pediatric and adult cardiology, falling short of what he thought would be useful in the fetus. With some help, DeVore developed software to look at the fetal ventricles in 24 segments, thus obtaining measurements never used before in fetal, pediatric or adult analysis of cardiac function.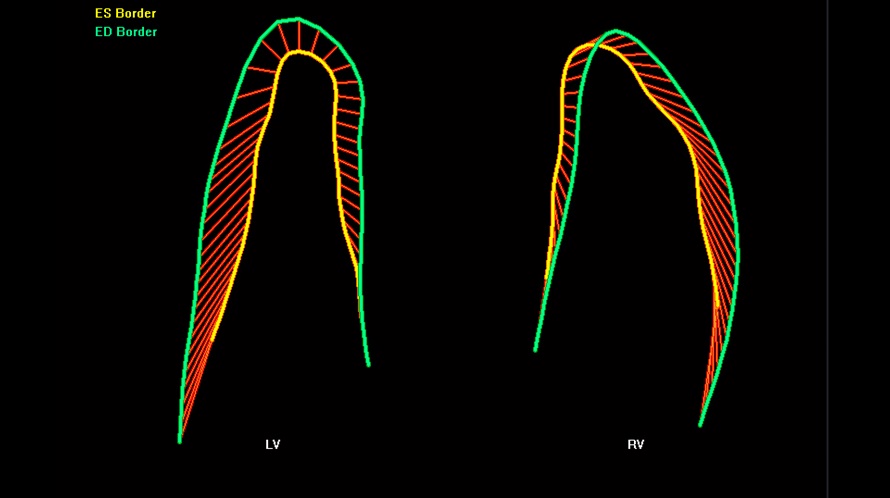 The breakthrough caught the attention of engineers from GE Healthcare and resulted in a new software, called fetalHQ, which is now available on the Voluson ultrasound systems used to image expectant mothers. Clinicians can now use the tool to simultaneously examine the size, shape and contractility of the fetal heart. This helps them make diagnoses that were difficult or impossible in the past. "It allows us to ask, 'How is the heart working?'" DeVore says. "We're now able to identify abnormal function, shape and size of the heart in less than 3 minutes — things we couldn't do previously in such a comprehensive manner."


"The fetal heart is one of the most complex organs to be assessed with medical devices," says Roland Rott, general manager of Women's Health Ultrasound for GE Healthcare. "We are excited that the close partnership with Dr. DeVore resulted in new approaches to this challenge, and hope to make significant impact in advancing care at this early stage of life."




Congenital heart defects affect one out of every 110 babies born around the world. To complicate matters, most women are completely blindsided by the diagnosis, as 90 percent occur in pregnancies where there are no known risk factors.




Consider a condition called coarctation of the aorta, which forces the heart to pump harder. Certain anatomical findings can suggest coarctation may be a problem, but there had been no sure way to diagnose it. Because of this, the clinician often has to play a guessing game to decide whether coarctation is present or not. By looking at the size, shape and function of the ventricles using fetalHQ, DeVore found he was able to flag coarctation with a high degree of accuracy.




Another use for the tool is with pregnancies where the fetus isn't growing properly, a description doctors typically apply when the weight falls below the 10th percentile, raising the risk of complications. In cases where weight is between the third and 10th percentile with normal blood flow to the placenta and brain, the pregnancy is typically deemed "normal" with no risk factors.




However, when DeVore examined these cases with fetalHQ, he discovered abnormal cardiac function among them. "This changes the whole paradigm as to how you interpret and manage these types of fetuses going forward," DeVore says.




A version of this article originally appeared on The Pulse, GE Healthcare's newsroom.
Categories
tags