Although many improvised explosive devices, or IEDs, are crude, homemade bombs, they're among the most destructive weapons U.S. soldiers have encountered over the last decade. "When we got into Iraq and Afghanistan, we weren't prepared for that kind of fight," Lt. Gen. D. Johnson, director of the U.S. Joint Improvised Explosive Device Defeat Organization (JIEDDO), said in July. "IEDs are not new," he added. "Unfortunately for the world, their use is growing."
During the 12 months ending in July, JIEDDO recorded more than 27,000 IED incidents, which caused 56,000 casualties around the world. While training and protection have improved, the military and its partners are also exploring the use of big data to fight injuries caused by the bombs.
There are at least two separate projects, including one involving GE, collecting data on injuries caused by IEDs. The research could make soldiers safer, lead to better equipment, and improve treatment and recovery. It could also help injured veterans return faster to civilian life. (GE alone employs more than 10,000 veterans and is looking to hire more.)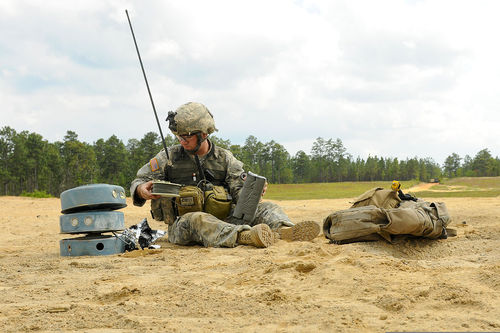 U.S. Army Staff Sgt. Andrew Brazell, assigned to 1221st Route Clearance Company, South Carolina Army National Guard, prepares C-4 explosives to detonate an IED during a route clearance training scenario at McCrady Training Center, Eastover, S.C., June 24, 2014. Image credit: Tech. Sgt. Jorge Intriago, U.S. National Guard
Surgeons at the U.S. Army Institute of Surgical Research are behind the first project. They have created a database called the Joint Trauma System (JTS), which gathers information on injuries, treatments and results coming from field hospitals and medical centers to obtain a more complete picture of what therapies work. "We realized we were generating all this data and that we needed to put it in a system," JTS director Col. Jeffrey Bailey told the Txchnologist blog. "If you want to start talking about probabilities of treatment success, you need to start talking about populations of patients. This system quantifies care more than [just] on a patient-by-patient basis."
The database applies some of the same principles used by digital patient records systems and outcome-based medicine. Trauma nurses on the battlefield input data into the web-based front end of the database as patients come in. "We now link the point of injury to the surgeon to the movement from the forward hospital all the way home," Bailey says. He explains that the database is "a communication link that gives a global perspective to the system so you can see all the way downrange to actions that might affect an individual patient later on. This is about getting up above the level of the individual facility you're working in—it's about raising the consciousness of the entire system."
The database now holds more than 150,000 records. Bailey says that the system has already helped surgeons improve the scheduling and timing of surgeries, and see what drugs work best to control major bleeding. "This isn't a static system, it's dynamic," he says. "The information that gets entered in can be analyzed concurrently — data collection and analysis drive near real-time improvement in our operational practices."
Top image: Douglas Woods of Georgia Tech is holding gear embedded with blast sensors. Image credit: Georgia Tech
The second project is underway at the Georgia Tech Research Institute (GTRI), where scientists are helping the military understand how IED blasts affect the human body. They've developed a wearable network of pressure sensors, a data recorder and an accelerometer, called the Integrated Blast Effects Sensor Suite (IBESS) to analyze explosions.
IBESS helps record and recreate the conditions of the explosion, a complex event where a supersonic blast wave and the compressed air riding in front of it can cause major types of damage to a person's body. "No one knows to what extent overpressure or acceleration causes injuries," said Marty Broadwell, another GTRI principal research scientist. "Nor do we know how quickly an injury will show up, how long it will last or which soldiers are more resistant to harm than others. The only way to understand the impact of a blast is to collect data, which is precisely what IBESS does."
GE's Intelligent Platforms unit supplied the Georgia Tech team with a rugged, off-the-shelf computer system, which can process large amounts of raw data from the body sensors and also sensors located on vehicles. The sensors record time, GPS location, pressure changes when an explosion goes off and other information.
The researchers will use the data to better understand how to prevent injuries and improve care. "We don't really have the information on how a soldier was injured," said Dr. Shean Phelps, a GTRI principal research scientist. "We don't really know in an underbelly blast all the pieces of the puzzle."
tags