We live in astronomically exciting times. No, really! Australia's Mars One candidates Dianne McGrath and Josh Richards are podcasting about preparations for life on the red planet. Virtual reality invites us to experience ripples in the fabric of space time. NASA scientists from the Cassini and Kepler missions are walking among us. And astrophysicist Professor Lisa Harvey-Smith has published When Galaxies Collide, a book that reconnects ordinary people to the wonders of the universe.
It must be National Science Week.

Your hypothesis proves to be correct. Until August 19, clusters of science events and hands-on opportunities are orbiting city and regional centres, school labs and district libraries. Many, like those mentioned above, have an astro spin, but you can also knit a neuron, immerse yourself in the science of politics, understand the future of cancer research, and marvel at the jewel-like beauty of slime moulds.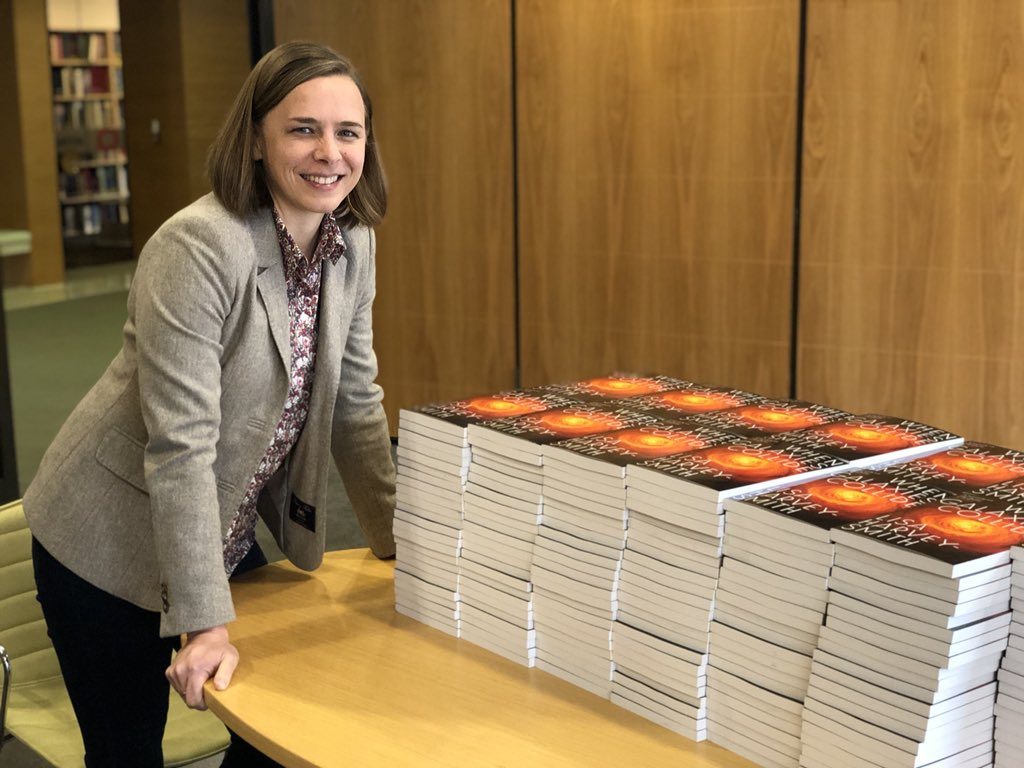 Dr Lisa Harvey-Smith's When Galaxies Collide aims to reconnect ordinary people to the wonders of the universe.

Harvey-Smith, ambassador for the Sydney Science Festival (a constellation of Science Week) can cite many reasons for her love of public science events: "They give scientists the opportunity to take stock of what they're really doing and connect that to the general public's interest … They bring art, science and music together in hands-on, mostly free activities like looking at the stars and making strands of DNA … And they keep scientists honest."

She explains: "I was talking about the Square Kilometre Array (SKA) to a group of students the other day and a student asked, 'Is it polluting the planet?' It was a really good question. In fact, the SKA has a solar power station, and half the energy it uses will be renewable, but questions like that don't occur to you unless you go and talk to people outside the project."

Where emus dare: an international radio telescope in the Outback

Harvey-Smith is a research group leader on CSIRO's Australia Telescope National Facility's (ATNF) Science Program, and was pivotal to making the case for Australia to host the SKA, a mega-powerful next-generation international radio telescope which will begin construction in 2020.

The 130,000-antennae of the array will be based at the Murchison Radio-astronomy Observatory (MRO) in a suitably radio-quiet zone of Western Australia, 315 kilometres northeast of Geraldton. In When Galaxies Collide (Melbourne University Press) Harvey-Smith tells the story of her journey to Murchison, sharing her morning run with an emu, and seeing the red-earth site for the first time:

"... my mind flashes to ten years hence, when this will become one of the global epicentres of astronomy … Just as archaeologists reconstruct the history of ancient cultures from pieces of broken pottery, astronomers will piece together the lives of galaxies that exist for tens of billions of years from the faint glow they emit into deep space. Who knows what riches we will discover?"

The SKA, she says, will provide people with an incredible opportunity to observe objects hitherto unseeable. "We'll be studying 70 million galaxies throughout the history of the universe, galaxies so far away that they might have been travelling for 10 billion years to reach this point."

Harvey-Smith is one of a growing cohort of articulate, heartfelt science communicators, who take every opportunity to relate their work to human experience.

As a researcher who studies the birth and death of stars and the properties of supermassive black holes, she says, "Science can be opaque. The mathematics can be difficult, the concepts can be complex, and the jargon can be impenetrable." But she believes, it's incumbent on scientists to speak plain English. "Research and development is a taxpayer-funded endeavour. People have a right to hear about what scientists are doing, and not just to be given advice. They want to know what science does for their world. Sometimes we don't know the answers, and that's important, too."



"With astronomy we can travel through time and walk with our ancestors and forsee our future. What a magical thing," says Harvey-Smith.

Unfathomed forces dictate the intergalactic cha-cha

For example, she says that 96% to 98% of matter and energy in the universe are "unaccounted for: we don't know what dark matter is, but it pulls the galaxies that we see towards it, and causes the cosmic dances in the galaxy clusters that we live in." There's a long way to go, says Harvey-Smith, energised by the prospect of inexorably adding to our unified understanding of space.

A seasoned explainer of the known realms and the frontiers of astronomy, Harvey-Smith has been a presenter on the tremendously popular ABC series Stargazing Live; in 2016 she was awarded the Australian Department of Industry, Innovation and Science Eureka Prize for Promoting Understanding of Australian Science; and she is particularly proud of her role as an ambassador for the Superstars of STEM program which just completed a phenomenally successful first year supporting 30 female STEM practitioners to become highly visible public role models.

The brainchild of Kylie Walker, CEO of Science & Technology Australia, Superstars of STEM is supported by GE Australia, and was designed to address statistics that showed only one in 10 of the quotes attributed to scientists in Australian news media were from women. The program's first cohort of now celebrity female scientists smashed all expectations, reaching more than 60% of the Australian population with a total of 682 media mentions.

"It was fabulous to see their confidence growing," says Harvey-Smith, who mentored two of the Superstars, and urges women scientists to apply for the next, expanded Superstars of STEM intake.

Harvey-Smith this week spoke at a special TEDxMelbourne talk, The great unknown: Who we've been. What we'll become. Co-curated by GE's VP of communications, Joanne Woo, the special event also brought Superstar of STEM and bioarchaeologist Professor Ronika Power to the stage to discuss the taboos of death in our culture.

Says Woo, also a mentor on the Superstars program, "Communication is the most powerful tool we have for exchanging ideas and inspiring people to think differently about the world. In doing so we can have a positive effect on big issues such as climate change. Our scientists are tackling the world's most urgent challenges, from energy to healthcare, and they need to engage the public in their work because the better people understand, the more we can all contribute to solutions."

Can you pick a scientific porkie?

Woo's pick of Superstar appearances is Adelaide event Tall tales of science — also known as 'Porkies in the pub'!"— where six Superstars of STEM will share science stories, including some that aren't true, inviting the audience to distinguish fact from fiction.

Harvey-Smith hopes everyone will be inspired by National Science Week to take advantage of these astronomically auspicious times and get into stargazing. "However you look at it, now is a golden age for astronomy," she writes. "As the Milky Way meanders towards its inevitable collision with its cosmic neighbour, the days of dark skies filled with pinpoints of light tracing out constellations are numbered …" Give it a few billion years, or order a copy of When Galaxies Collide, to discover how and why we end up as particles of a super galaxy known as Milkdromeda. Really!
tags