Image above was sourced from Bodyslam.
Like Bono, Sir Elton John, and Sir Paul McCartney, Thailand's Artiwara Kongmalai is a fellow RWC (Rocker with Compassion) who uses his star power to raise money for local communities in need.

As lead singer of Bodyslam - Thailand's biggest rock band - Artiwara (nicknamed Toon) is renowned for his full-on, head-banging performances in concert halls, stadiums, and music festivals nationwide.

Toon also channels this energy and vitality into community work. His stamina and extreme fitness was showcased when he ran 400 kilometers (km) in 10 days, to raise money for the Bang Saphan Hospital in Prachuap Kiri Khan in southern Thailand.

Toon's epic "Kao Khon La Kao" (One Step at a Time) charity run - from December 1 to 10, 2016 - was followed by millions via the Bodyslam Facebook page. Many others were eager to join him on the road from Bangkok to Bang Saphan.

Big Mileage, Big Rewards

To accomplish the target of running 40 km a day (a marathon is 42 km), Toon broke this into four 10 km daily runs - from 4.30am - 6.00am/6.30am - 8am/3pm - 4.30pm/ and 5pm – 6.30pm.

[embed]https://youtu.be/8qrwohifv5A[/embed]

Toon's run was profiled in a short clip broadcast on the Thairath news channel

While he set out to raise ten million baht per day (approx USD294K), this target was far surpassed as the final amount collected, and donated, to Bang Saphan Hospital was 63 million baht (approx. USD 1.8m).

Vital Equipment for Bang Saphan Hospital

As reported by the Thai PBS news agency, the money raised will be used to purchase urgently needed new equipment such as incubators for premature babies, surgical equipment, a water pump to drain flood waters around the hospital, and ultra-sound machines.

And as reported on the 1412 Cardiology Facebook page covering medical technology news in Thailand, Bang Saphan Hospital recently purchased a GE LOGIQ P9 ultrasound system.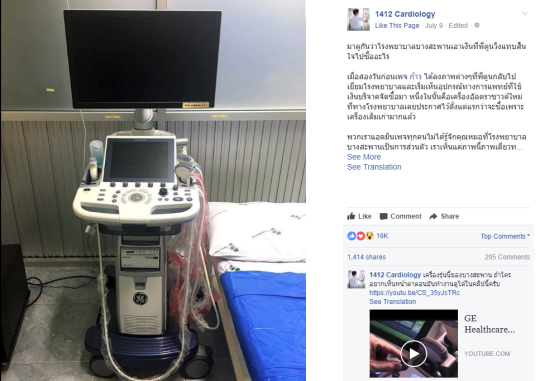 Categories
tags