"Nick Perugini always stood out, starting from the first time I met him," says David Burns, chief information officer for GE and GE Aerospace. "He had a passion for making connections and this innate ability to build rapport and trust with everyone around him. It's part of what made him such a great leader."
Perugini, 45, chief information officer of corporate functions and capital technology at GE, died in May in an automobile accident while traveling in Italy with his husband, Jim Ryan. Perugini was known to friends, family, and colleagues for his unbridled optimism, welcoming spirit, and a hearty laugh that could be heard across any room.
After starting at GE as an intern in 1999, Perugini went on to hold several mission-critical leadership roles at the company, including GE Capital CIO, GE Lighting and Current CIO, GE Power transformation leader, and most recently as GE corporate functions CIO. He was responsible for leading GE Corporate's digital technology transformation — with a strong focus on driving lean methodology and digitization — and was passionate about his team's work supporting the company's transition into three standalone global companies. As CIO of corporate functions, Perugini's direct contributions helped shape and execute GE's strategies. His efforts helped set GE on a positive path forward, and his imprint will be felt for years to come. Perugini also served as GE Corporate's digital technology diversity and inclusion leader and was operating leader of GE's 3,200-member Pride Alliance across more than 20 countries.
A Connecticut native, Perugini graduated in 1999 from Bentley University in Waltham, Massachusetts, with a bachelor's degree in computer information systems. He immediately joined GE's Leadership Program, relocating to Rome, Brussels, London, and other cities, before transitioning to a role with GE Capital in Connecticut in November 2002. Perugini and Ryan renovated a 19th-century mill house in Norwalk, Connecticut, and married there in 2014.
Burns met Perugini during the Information Technology Leadership Program when they were both early in their careers. Even then, amid a group of other young professionals who could be considered rivals, Perugini displayed a strong community-building spirit.
"He brought this amazing, positive energy to the room," Burns says. "There was no project that was too hard — or too small. There wasn't anything that didn't deserve his full attention and there wasn't a problem that couldn't be solved, as long as the team worked together. That was something unique about him."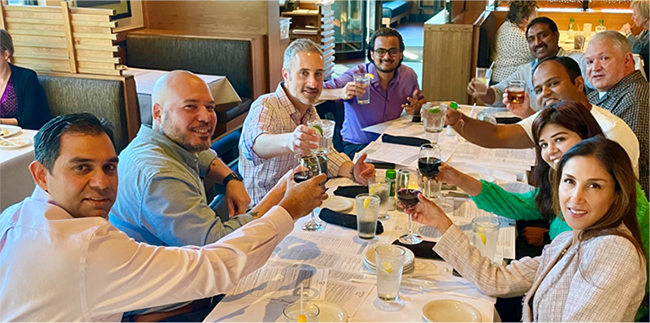 Shannon Whorton, GE corporate CIO and DT separation leader, also met Perugini when they were early in their careers. "I can still remember the first time we met in the early 2000s," Whorton says. "Even then he was at the forefront of technology but was always so humble. Nick got things done and never looked for the credit. When it came to problem solving, he was always one of the first people I went to when challenged with a big problem that needed a big solution."
Perugini was a compassionate, principled leader who went out of his way to support and mentor others. Colleagues admired his tireless work ethic, capacity for problem-solving, and exemplary communication skills. He believed that building strong teams and investing in personal relationships were the foundations for success.
"Nick always created a safe zone for his co-workers, recognized our efforts, and celebrated our wins," says Mary Jo D'Angelis, GE Vernova corporate functions executive.
Perugini was instrumental in the growth of her career and taught her — and many, many others — how to be a successful leader, says D'Angelis, who joined his team in 2016. "I wanted to be part of his organization from my first rotation in the Digital Technology Leadership Program," she says. "Nick led with patience, support, and trust; you just gravitated toward him. He left a huge void. However, his legacy is rooted in all of us."
Co-workers say Perugini had a big heart and wasn't shy about expressing his love for the people he worked with — or the company where he spent his entire career.
Known as an innovative thinker, Perugini led his teams through several difficult transitions over the years. As CIO of GE Lighting, he was called on to support the business's transformation while the market swiftly pivoted from incandescent lighting to LEDs and software-enabled products. "They needed positive, forward-looking thought leadership, which made Nick the perfect fit," Burns says.
"For the last year and a half, I had the privilege of working on Nick's direct staff as we navigated the biggest challenge Corporate DT has ever faced," says Nicole Leber, DT learning and development leader. "I grew so much as a leader and DT professional during that time due to his continuous coaching, but his reach didn't stop there. He was constantly asking how to support individuals on my team and showed up for our Digital Technology Leadership Program and Advanced Digital Technology Experience participants every time I asked. Nick's impact was and still is immeasurable."
A meticulous and thoughtful listener, Perugini often would surprise colleagues with information from months or even years before that he could pull out at a moment's notice. That skill complemented his talent for giving context to changes and why they were happening, says Jeff Caywood, director of sustainability and headquarters communications and fellow Pride Alliance leader at GE. "He was great at simplifying complex problems, challenges, or issues so folks could understand how they could take an action to make a difference," Caywood says.
As many can attest, Perugini had a special way of communicating and collaborating with people, making tough conversations and difficult decisions easier, which proved particularly important as GE began its historic transformation to launch three public companies. "Whether it was with his team, business partners, or those he reported to, Nick believed in communicating early and often, to make sure that everyone had the information they needed," says Sameer Sinha, CIO of corporate data and analytics at GE. "Everyone had time to think things through and came out much more aligned."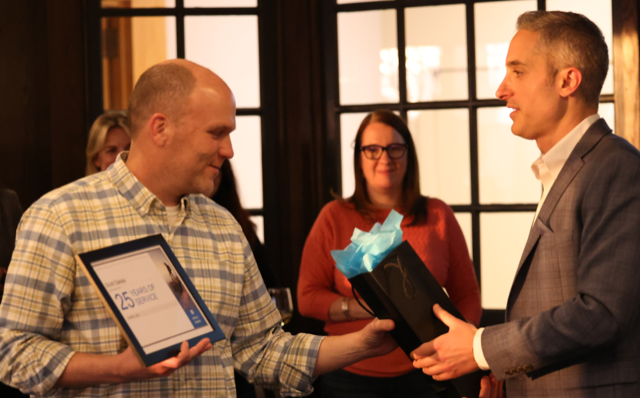 Shannon Whorton worked closely with Perugini on the technology strategy to support GE's transformation. "Nick never hesitated to pick up the phone and connect with people to understand the issues and collaborate on solutions," says Whorton. "When I thought of something that could be considered 'out there', he was the first person I would call to talk it through. He would never criticize, but instead ask questions and help to either make it better or morph it into something that could be accomplished."
Through all of the work, concern for his colleagues' well-being was always a constant for Perugini – he had a sincere interest in helping team members achieve their career goals.
"It didn't matter who he was meeting with, Nick always prepared like he was meeting the CEO," Sinha says. "If it was someone three layers deep in my organization, he'd still want to know, 'Who is this person? What are their goals? What are they worried about?' He gave whoever he was talking to his respect. I learned a lot about being a leader from him."
As the company began to emerge from the pandemic in 2021, Perugini saw the need to help people reestablish connections and get excited and energized again. He spearheaded a two-day virtual symposium for the Pride Alliance that was attended by more than 500 people from over a dozen countries.
"I wondered sometimes how Nick found the time during the day to do everything that he was committed to and still make every single person working with him feel like they were his number one priority," says Tim Mellitt, CIO of corporate financial systems at GE. "No matter what was going on, if you had a question or needed to talk, Nick never acted like he had more important things to do."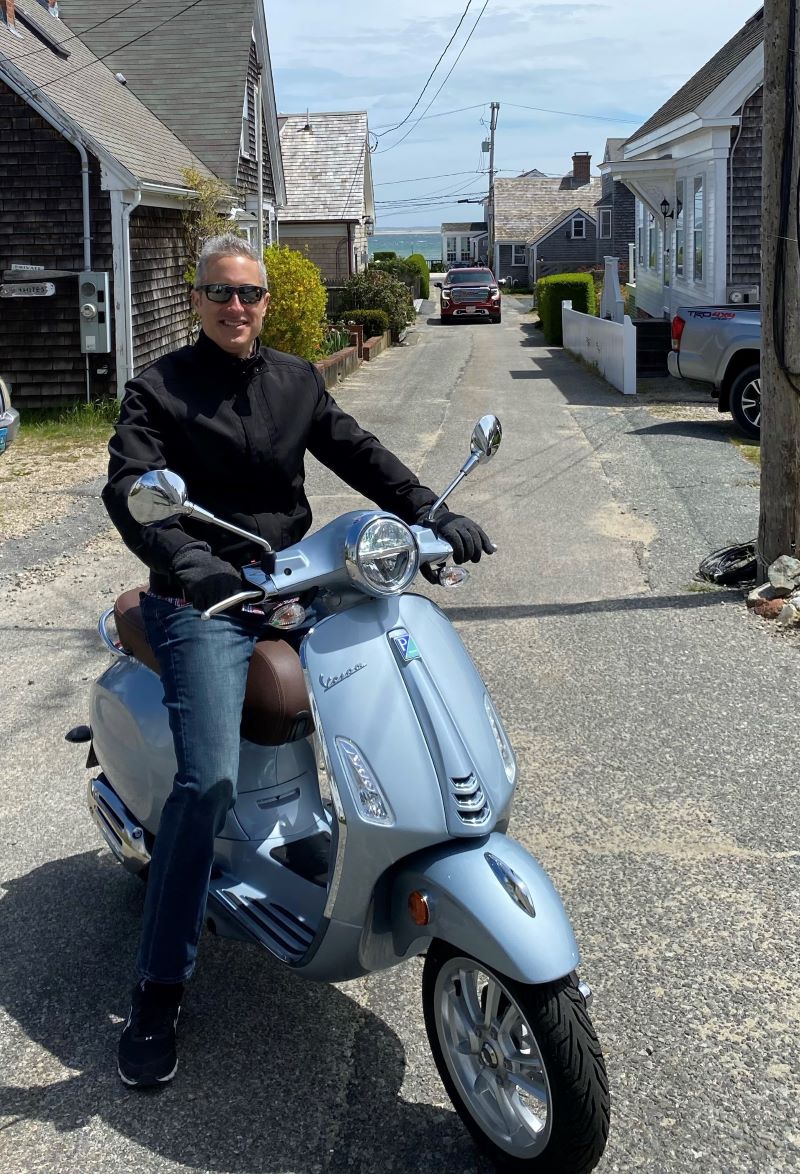 During a recent visit to meet with employees in India, Perugini touched a lot of people when he was one of the first to jump up after dinner to join in dancing the bhangra — a traditional dance featuring vigorous kicks, leaps, and thrusting arm and shoulder movements. That was part of Perugini's fun-loving side that many came to know and love across GE. He was known to buy the first round after work even though he never shut a place down.
"Nick didn't stay up late, because he got up to run every morning at 5 a.m.," Mellitt says. "But he didn't make a big deal about it. The joke was you'd catch Nick sneaking out to get to bed so everyone else could stay and have a good time."
Burns says Perugini's sense of humor was just one more thing that made him special. "Nick was a beloved member of our team who lit up the room with his energy and optimism," says Burns. "He will be sorely missed."
Perugini was dedicated to mentoring students and helping them succeed. To ensure that his support and legacy of leadership, service, and personal and professional development continues, Nick's family has established the Nick Perugini Memorial Scholarship at Nick's alma mater, Bentley University. You can learn more at: bentley.edu/PeruginiMemorialFund.
tags