It was in the southwestern German city of Stuttgart in the 1880s that Karl Benz devised what is considered the first automobile, the Benz Patent-Motorwagen No. 1. ­­­­­Today Stuttgart serves as the headquarters of automakers like Mercedes-Benz and Porsche, making the city synonymous with speed. So it's fitting that Stuttgart is now one of the sites where the country is racing ahead of the pack in one of the 21st century's biggest industrial challenges.
In March 2023, when the European Parliament raised the target for renewables in the EU's energy mix to 42.5% by 2030, Germany was already well past that benchmark, with more than 50% of the country's power coming from renewables. And this year the leadership in Berlin, which strives to support the Paris Agreement objective of limiting warming to 1.5 degrees Celsius, boosted its goal of 65% renewables by 2030 to an ambitious 80%. With fast-growing wind capacity in the north and solar in the south, the country aims to rapidly phase out coal while also reducing its reliance on gas amid the Ukraine conflict. The country also decommissioned its last nuclear plant earlier this year. When it comes to the energy transition, Germany is clearly feeling the need for speed.
The latest evidence is expected in the next two years at two power stations outside Stuttgart: Heilbronn and Altbach/Deizisau, both owned by EnBW, one of the largest power producers in southern Germany. At those two locations, coal-fired units will be replaced by GE Vernova 9HA.01 gas turbines, which, when they enter into operation (currently expected in late 2026), will provide a combined output of up to 1.34 gigawatts (GW) of electricity — enough to cover the equivalent needs of 2.4 million German homes — with about 60% lower carbon emissions as well as lower emissions of mercury, NOx, SOx, and particulate matter. 
"You can produce power through solar and wind, but in the winter period you need a different method of power generation, and so they have decided to replace these coal power generation plants with a lower-carbon-emitting version," says René Schertenleib, project director at GE Vernova's Gas Power business.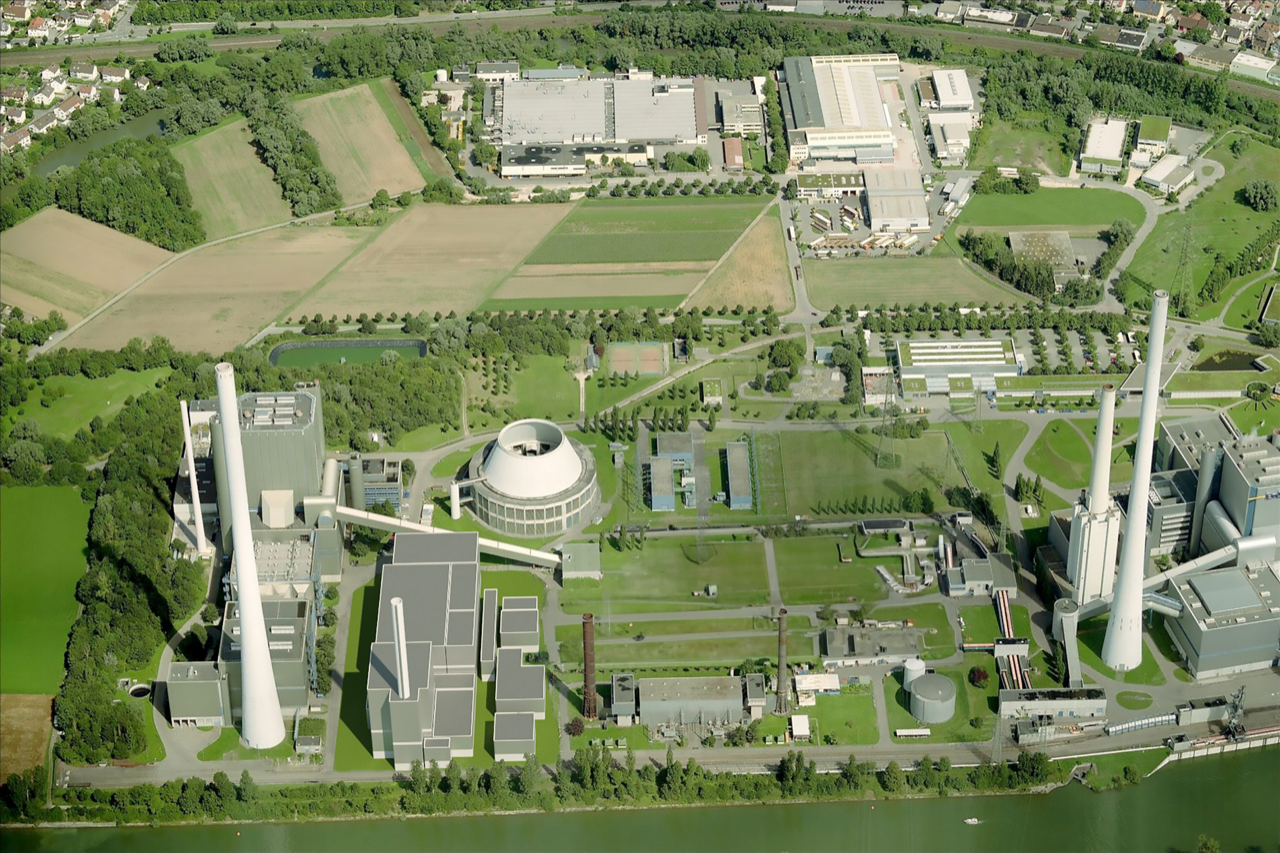 And it's not just power that they'll produce. The coal units have long fed into the local district heating system, so to fill that need GE Vernova will be installing a combined-cycle setup using an STF-D650 steam turbine, a W88 generator, and a heat recovery steam generator, which together will capture heat exhaust from the gas plant and use it to help heat the citizens, commerce and industry of Heilbronn and the larger Stuttgart area. A service agreement is also part of the deal, along with GE Vernova Digital's Asset Performance Management (APM) software and integrated Mark VIe distributed control system software. The engineering, procurement, construction, and commissioning of the plants, which will include the use of the existing concrete hyperboloid cooling towers, will be done in conjunction with Italy's Bonatti and Spain's SENER.
"They officially announced in Heilbronn that in June 2026 they will stop their coal-fired power stations," says Stefan Muff, the consortium project manager at GE Vernova. "So we plan our units to run at this time to secure energy supply through the winter."
Eyes on the Prize: Hydrogen
Just as a Formula 1 race car performs better with every upgrade to its fuel system, the two EnBW plants will be engineered to transition to a carbon-free-combustion fuel in the coming decade: hydrogen. Currently there's a limited supply of H2 in Europe, but as the wind and solar buildout continues in Germany, there will eventually be a surplus of power produced by those methods on windy or sunny days. That power, says Schertenleib, can be used to create "green" hydrogen, which can be stored in a hydrogen pipeline and used to fire up the 9HA.01s.
"This is a fuel-switch story at the moment, from coal to natural gas," Muff explains, "but GE Vernova also got selected because we have a machine that is capable of operating with a fuel mixture of hydrogen and natural gas at the planned commercial operation date. The target of EnBW is to be CO2 neutral between 2030 and 2035." A future upgrade to the 9HA.01s can make them compatible with 100% hydrogen combustion, and at that point you can pretty much raise the checkered flag.
Closing a deal of this size is not something that happens overnight. "You don't just supply a proposal and that's it and wait and see. Such a large project needs an ongoing conversation and exchange of information," says Schertenleib.
"It's also a kind of customized fit," he adds. "The customer had requirements, they had the framework and said, 'I need that and that and that. What is your solution?' So, for example, the steam turbine: Yes, we have this product, but it needs to be adapted to the purpose of the plant, and this is what we can do. GE Vernova's ability to customize and adapt in this way was basically the trigger in EnBW's finally selecting us."
"At GE Vernova we try to really push forward as front-runners in the fuel switching, doing really sustainable energy change," Muff adds. "EnBW is a pioneer, one who is also really pushing forward in Germany, and they're willing to invest significantly to achieve these goals."
As for the rest of the EU, "I think Germany will plow their way through," he says, "and the others will just follow, because there is no other way."
Categories
tags