In the ongoing effort to reduce emissions, retire coal, and support the growth of renewables, countries around the world continue to choose high-efficiency natural gas to complement renewables and smooth the path to lower emissions. Take Greece, for example, a country that's impressively built out wind and solar in recent years but still uses a good deal of coal and even oil in power generation. At Alexandroupolis, more than 200 miles (300 kilometers) north of Athens on the Aegean coast, Damco Energy is choosing GE's powerful 9HA.02 natural gas turbine, along with a steam turbine, a generator, and a heat recovery steam generator, in a package deal to create a new power plant expected to deliver 840 megawatts (MW). The plant will begin operations in 2026.
"Damco sees an opportunity to strengthen their grid with a more reliable, higher-efficiency system from a gas power perspective," says Jason Cooper, president and CEO of GE Gas Power's Heavy Duty Gas Turbine Equipment portfolio. "This can also give Greece the opportunity to bring down some of the coal-fired power in line with its decarbonization goals but also offers the opportunity to support broader regional energy security goals."
Even though wind and solar have reached an impressive 19% and 9.5% share of Greece's power generation, respectively, 10% of the nation's electricity still comes from coal. More troublesome is that oil-fired power, which is extremely efficient but extremely dirty, has hung on as the legacy source of generation in many of Greece's islands and still makes up a hefty 7% of the nation's power. Adding natural gas can balance out the country's quickly growing renewables portfolio while further eroding its reliance on coal and oil.
According to Cooper, the new plant at Alexandroupolis is also set up nicely to receive imported liquefied natural gas (LNG) from a new facility approved and to be built nearby. Greece has a stated goal of producing 60% of its power with renewable sources by 2030. Encouragingly, the country is already halfway to that goal.
The secret weapon in these latest turbines is their efficiency. The 9HA.02 will be installed in a combined-cycle configuration, meaning it captures its own heat and loops it back in, for extra savings. As Cooper explains, a simple-cycle turbine is able to utilize only 40% of the energy in the natural gas it consumes. The other 60% is entirely lost — and that's almost as bad as a car engine, which uses only 30% to 35% of the energy in the gasoline pumped into it. But HA combined-cycle units utilize up to an impressive 62% to 64% of the energy in the gas they consume.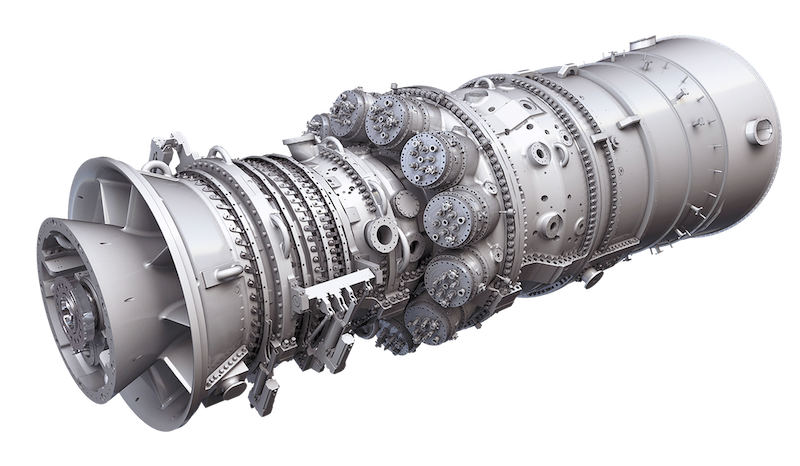 Down in the southern hemisphere, Eneva of Brazil also is choosing from the high-efficiency HA series. The power company will use the 7HA.02, and its associated steam turbine, generator, and heat recovery package, to expand its Azulao Power plant near Manaus, along the Amazon River. As a nation, Brazil counts on coal and oil for only a tiny 3% and 2%, respectively, of power generation — the country runs largely on hydropower, which provides a massive 55% of its electricity. But according to Cooper, this advantage comes with pitfalls. While hydropower is a comparatively very clean energy source, it can fluctuate greatly from year to year based on rainfall and reservoir levels. In 2021, for example, Brazil's hydro output fell precipitously, down 8% from the level of the prior two years. Other locations with historically big contributions from hydro, like California, have suffered similar losses as climate volatility increases.
"It's not obvious at first," says Cooper, "why Brazil would need some natural gas with all that hydropower. But they needed to do something to stabilize their grid because of the vulnerability of hydropower. With the added benefit of increased power availability to the electricity marketplace during healthy hydropower periods, this could help reduce the average cost of electricity in the country." The plant at Azulao is expected to be operational by 2027.
Like Greece, Brazil very much intends to march onward in the growth of its renewables portfolio, as it seeks to halve carbon emissions by 2030. Solar, for example, grew nearly fivefold from 2018 through 2021, and wind power has nearly doubled in the same period, now accounting for 11% of the nation's power. By choosing GE's highest-efficiency natural gas solution, both Brazil and Greece are adding gas. But they are adding gas as an enabler for other technologies that will support their journey toward meeting climate goals.
Categories
tags