Much has changed since GE opened for business 129 years ago, but one thing has remained constant: the company's focus on innovation. It is helping GE engineers find new ways to make the world more sustainable and help solve looming challenges like climate change, energy transition and decarbonization. Innovation is also the lifeblood of GE's push to develop precision healthcare that will lead to personalized diagnoses and treatments, and make healthcare more accessible to everyone. Take a look at our list: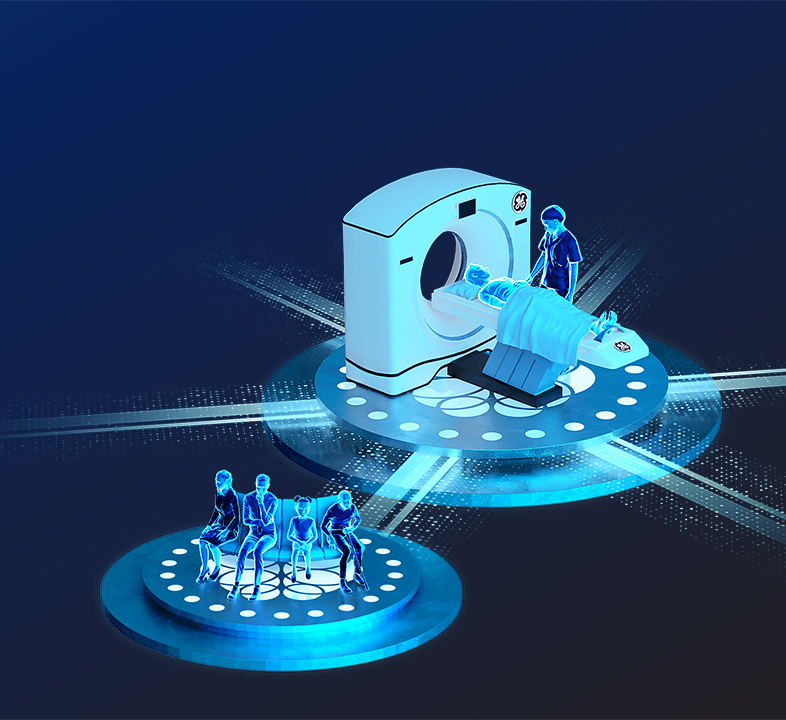 Clinicians have been turning to artificial intelligence (AI) to help them process reams of clinical data in a short time and discover valuable insights. Advanced algorithms, for example, can help speed the diagnosis and treatment of pneumothorax, cancer and COVID-19 complications. But in the hospital setting, AI can encounter unique challenges, including privacy regulations and standardization issues that may arise, say, when analyzing data from different MRI scanners. But there's a solution, and it's called edge computing.

Putting computers at the "edge" means placing them as close as possible to patients and doctors, right at the point of care, where exams and diagnoses take place. While putting the power of artificial intelligence at doctors' fingertips, computers can still connect to networks of supercomputers elsewhere. The approach can dramatically increase the speed and security of the data being analyzed.

Last fall, GE Healthcare introduced its latest edge computing technology, Edison HealthLink, which can aggregate, analyze, display and share data from a network of clinical devices. And it gives its users a way to connect to GE Healthcare's powerful Edison intelligence platform, host to dozens of applications that allow clinicians to perform tasks like analyzing high-res brain scans and measuring a given patient's aggregate radiation and iodine exposure. Keith Dreyer, chief data science officer at Boston's Mass General Brigham, has been testing the Edison ecosystem and hopes it ultimately will help doctors predict whether COVID-19 patients will take a turn for the worse.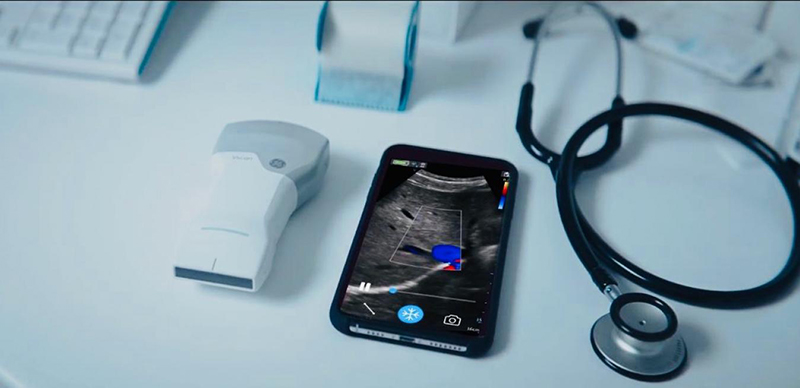 Last year, Dr. Yale Tung Chen, an emergency medicine clinician in hard-hit Madrid, Spain, became one of a handful of clinicians around the world testing Vscan Air™, a handheld, wireless ultrasound scanner developed by engineers at GE Healthcare. The device, which GE released for sale in the U.S. and Europe in March, beamed images from the ultrasound probe to an app on his smartphone. "I've been using it on COVID-19 patients, scanning hearts, lungs, blocked vessels," he says. It fit inside his white coat pocket and allowed him to examine his patients "and make decisions quickly right at the bedside."

Anders Wold, president and CEO of global ultrasound at GE Healthcare, envisions the Vscan Air™ "as delivering on the future of healthcare at a time when ultrasound has proven to be an essential tool at the point of care." The family of Vscan tech is making a big difference in a wide variety of settings. In Papua New Guinea, where roads are scarce and many babies are delivered at home, Vscan has been an invaluable tool for supporting expectant mothers and their babies. In Zambia, Sister Miriam Cibale Mushoda is using Vscan where she once relied on her hands to tell if an expectant mother was carrying her baby in breech. Dr. Nils Petter Oveland also has found the technology essential, whether on a three-month mission to Haiti or overseeing research and development at the Norwegian Air Ambulance Foundation. At St. Luke's University Health Network in New Jersey and Pennsylvania, widespread Vscan use is helping improve the standard of care and save money through increased efficiency.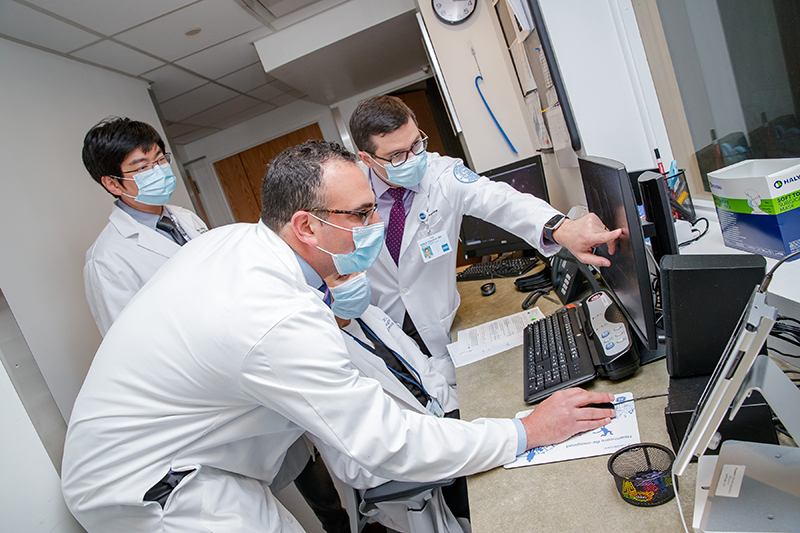 Radiologists know that when it comes to magnetic resonance imaging, some trade-offs are inevitable. MRI scanners use powerful magnets to excite hydrogen atoms within the body; those atoms then emit radio signals that are picked up by the scanner and transformed into a digital image, allowing doctors to see deep within. To get a sharper image, doctors need to achieve a higher signal-to-noise ratio, which can involve keeping patients in the machine longer. Radiologists can cut down on scan time, but that can involve sacrificing clarity. New technology from GE Healthcare, though, could enable doctors to eliminate some of the old trade-offs — with a little help from artificial intelligence.

The application, which is called AIR Recon DL and runs on GE's Edison platform, uses a deep learning algorithm to improve MR image reconstruction — essentially, it "de-noises" the raw digital data. "What AIR Recon DL has allowed us to do is image sometimes faster, even with a higher spatial resolution, and achieve equal to better image quality," said radiologist Darryl Sneag, who's started using the software at New York's Hospital for Special Surgery. "At the end of the day, it's helping us to potentially make alternative diagnoses or see anatomical structures much sharper and finer than we might have previously been able to." Any gains in time that the software yields will be a boon to radiologists as they work through MRI scans that have been deferred due to the coronavirus pandemic.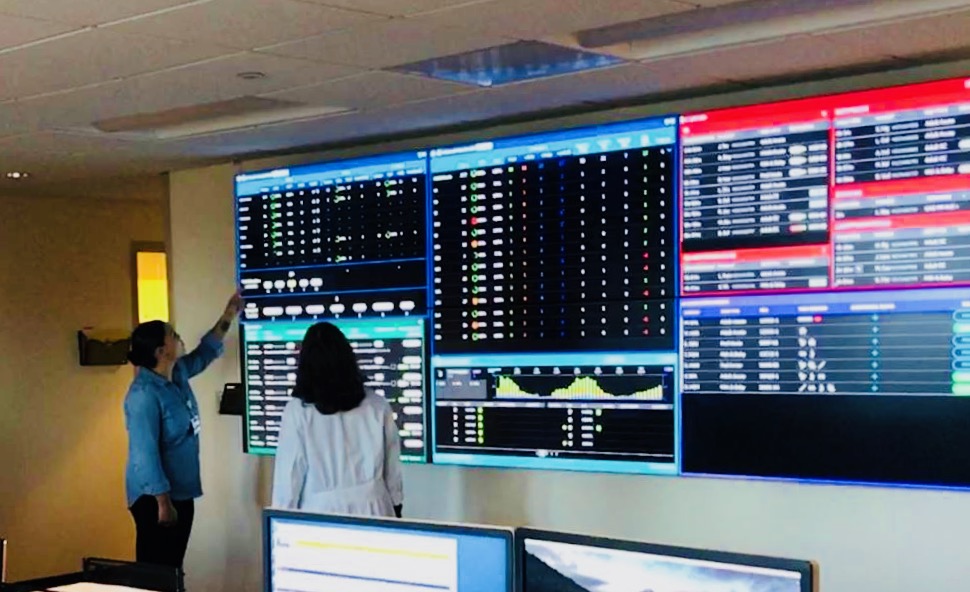 The wave of coronavirus cases that hit U.S. hospitals in 2020 and early 2021 is requiring them to think strategically about how best to manage critical resources like mechanical ventilators and ICU beds. In Oregon, though, healthcare providers are thinking through the challenge with the help of artificial intelligence. In 2020, some 64 of the state's hospitals, representing about 90% of its hospital beds, teamed up to roll out a software application that uses AI to help maximize lifesaving supplies. The Oregon Capacity System, based on GE Healthcare's Critical Resource Tile software, allows the hospitals to dynamically share critical asset information during the peak of the pandemic. "It's easy for clinicians to instantly see where the hot spots and excess capacity are across the whole network," said Jeff Terry, chief executive of GE Healthcare's clinical command centers.
Working in the background, AI algorithms developed by GE Healthcare gather and analyze data generated by hospitals and turn it into real-time operational insights. The "Tile" corrals 2 million data points every day from the state's hospital networks and updates every few minutes with a fresh batch of data on everything from admissions and nursing flows to ventilator usage and bed requests. Users can see all that information in a hospital's incident command center, or they can pull it up on a smartphone or tablet — it's "no harder to use" than a ride-sharing app, Terry said. "It is constantly connecting the dots, alerting to risks and making suggestions where the system can create capacity."
GE Healthcare command centers and software are working in several countries, including the U.S., U.K. and Canada. "Our goal with Command Center is to put actionable insights at each caregiver's fingertips," says Amit Phadnis, GE Healthcare's chief digital officer. "As we move towards data-driven, intelligence-based healthcare, this is an important aspect of GE Healthcare's vision, underpinned by our Edison Intelligence platform."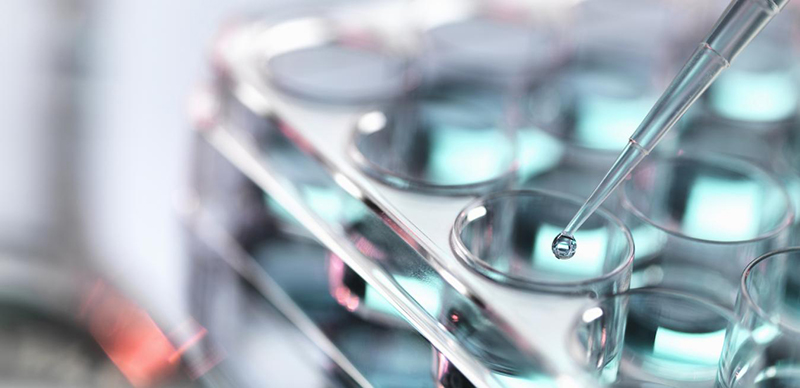 Julia Casey is a biochemical engineer by training, but she is also a deal-maker at heart. As general manager of GE Healthcare's Pharmaceutical Diagnostics Molecular Imaging business, she demonstrated her twin flair for finance and science in May when GE acquired Zionexa, a privately held French company developing and commercializing imaging agents that can help doctors diagnose certain cancers and other diseases. It was a natural fit for both companies. Three-year-old startup Zionexa is nimble and innovative, and operates in an area where GE sees the medical industry going — precision health.

Zionexa's expertise involves developing diagnostic agents known as radiopharmaceuticals, which are designed to bind to specific receptors inside the body and help doctors obtain more information about, say, a tumor and the kind of medicine it might respond to. It's part of a patient-centered approach that complements the diagnostics work GE was already doing, while giving Zionexa access to GE's global market muscle and decades of experience. "The future of medicine is about looking at individual patients," Casey says. "This deal is about helping doctors select the right treatment for that patient."



Computed tomography scanners use X-rays to make cross-sectional images of the body, slicing it virtually like a loaf of bread and enabling physicians to, for instance, spot a tumor. But CT scanners can run up against limitations, such as resolution and radiation dose — and that's where photon-counting CT scanners could make a difference.
Scientists and engineers have been trying to perfect photon-counting CT for decades. Detectors made from silicon were particularly promising, but they also presented daunting technical challenges. Then a chance encounter in 2015 between GE scientists and Mats Danielsson, CEO of Prismatic Sensors, led to a breakthrough. With his colleagues, Danielsson figured out the "Deep Silicon" technology that is at the heart of the new photon-counting detector. In an indication of how important the promise of this technology is, in 2020 GE Healthcare announced plans to acquire Prismatic — GE's first acquisition since Larry Culp became the company's chairman and CEO in 2018.
Categories
tags